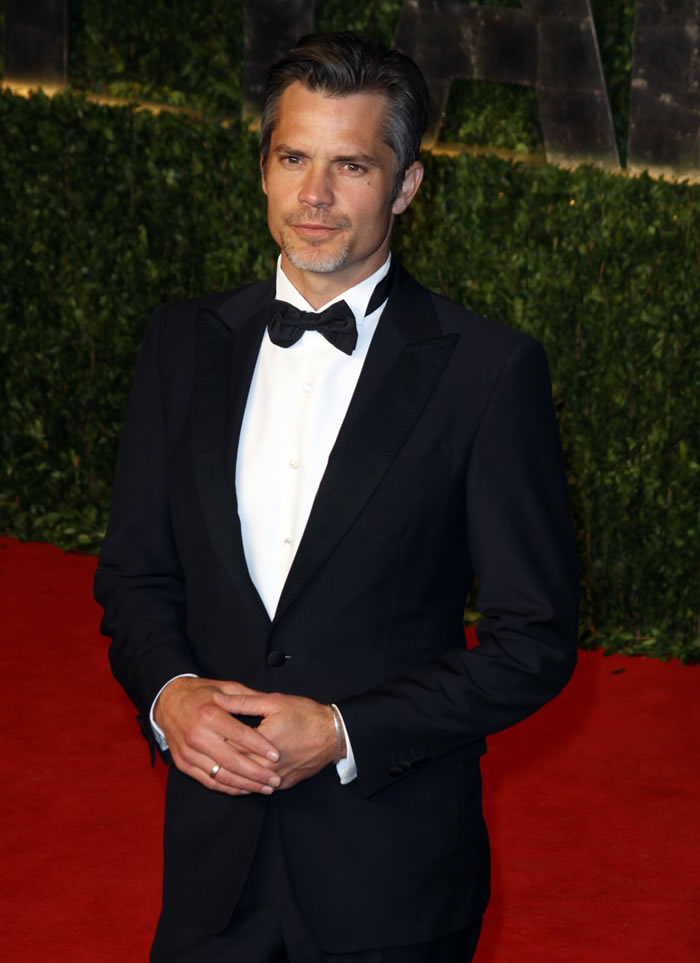 Before I jump into this story, there's something very strange that I've noticed about Timothy "Swagger" Olyphant, and it's been bugging me for awhile. While he and his wife Alexis Knief have been married since 1991 and have three (presumably gorgeous) young children together, Timothy seems very low key about his marriage. As in, low key to the point where he wears his wedding ring on his right hand instead of the left. Is that weird? At first, I thought maybe he was left handed and found it irritating to wear a ring on his left hand (since I'm right handed, I have no idea whether this would be a factor or not). However, Timothy is in fact right handed and had to struggle to learn to play left-handed guitar for a role in 2008′s High Life, which is a perfectly dreadful movie despite the presence of Olyphant. And trust me, I've tolerated many crappy films in the pursuit of Olyphant.
So this business of Olyphant wearing his wedding ring on the right hand still stumps me. Does it seem like he might be publicly downplaying his marriage while still being the good guy and actually wearing the ring?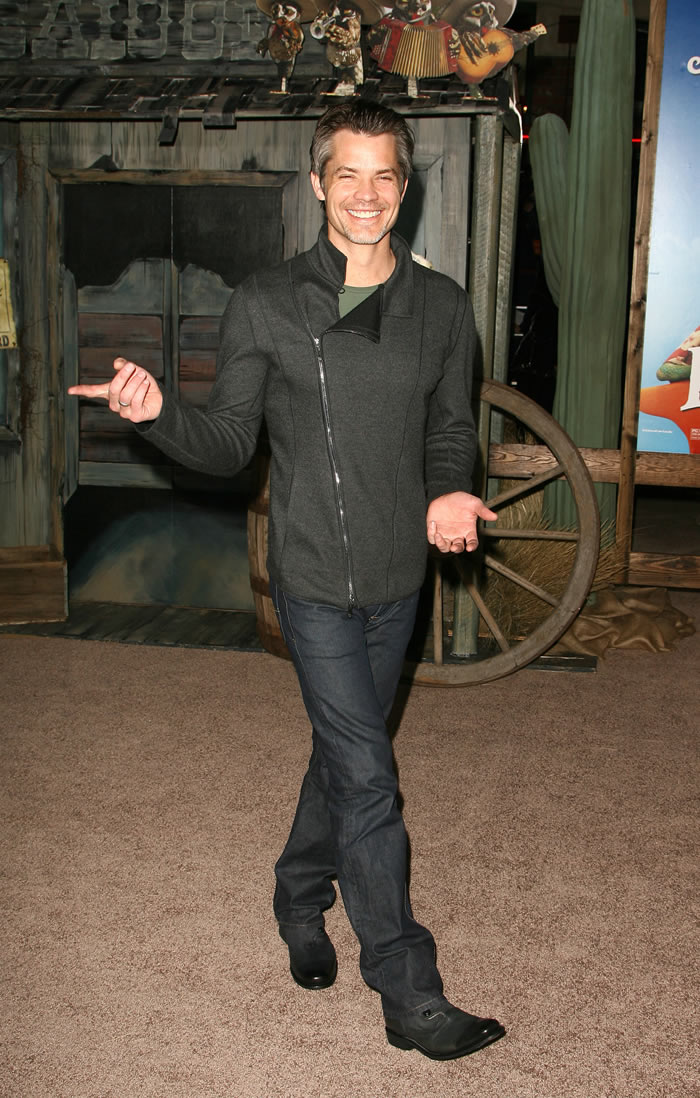 All this time, I've been wondering whether the "ring phenomenon" has bothered his wife at all, but it seems like she might have a very healthy sense of humor about their relationship. Olyphant's appearance on last night's episode of the Conan O'Brien show (to promote the third season of "Justified") would confirm as much, for Olyphant reveals that he had an interesting Emmy speech planned if he'd have won in 2011:
"Kyle Chandler won the Emmy, it was lovely, I was very happy for him. I feel like he deprived some people of a good speech. My opening line — this was my wife's idea actually — I was going to look at [the trophy] and then look out at my wife of twenty years and say, 'Well, honey, this is it. I'm finally leaving you.'"
When I really stop and think about it, twenty years really is a hell of a long time (Timothy and Alexis were college sweethearts), so I'd think that the ability to joke about leaving his wife (and the fact that it was her idea in the first place) says something about Olyphant's view of Hollywood. At this stage in his career, he's finally broken into mainstream awareness with "Justified," and if he did what many other actors do during such periods of success, well, we'd expect him to leave his wife for some hot young piece. In fact, there were some pesky, unsubstantiated rumors last year (mentioned in passing during a Lainey podcast) that Olyphant might be leaving his wife for his co-star, Natalie Zea, who plays Olyphant's on-off love interest on the show. Maybe Olyphant and Alexis were actually poking fun of those rumors with this prospective Emmy speech. They seem like a very solid couple but also quite laid back as well. Alexis is rarely seen on the red carpet with Timothy, and the most recent appearance I could pull up was at the 2006 Flags of our Fathers premiere: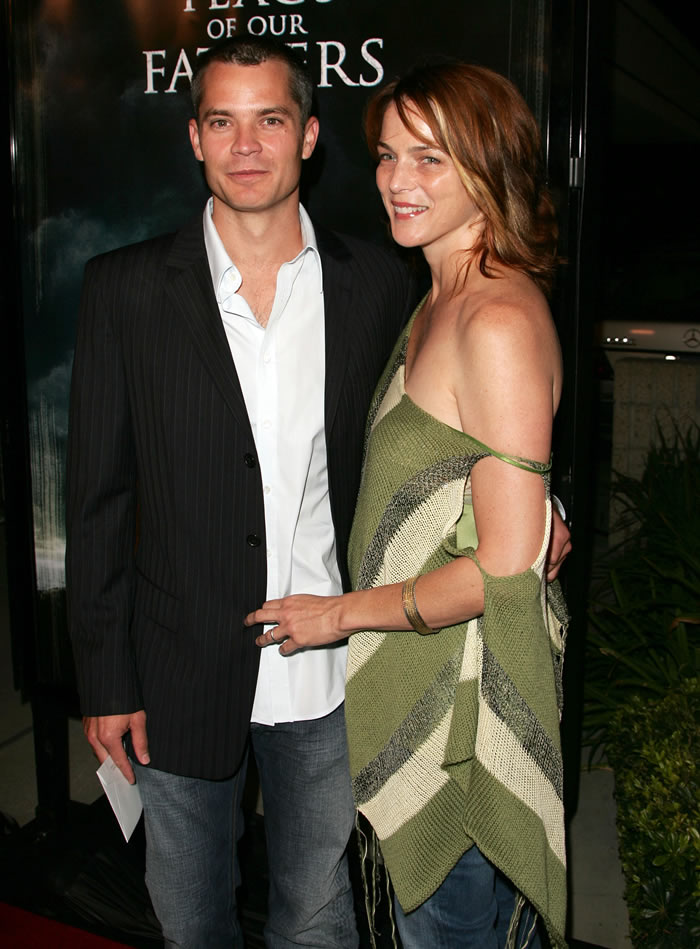 They were also photographed back in 2008 while Christmas shopping together at Beverly Center. Nice bulge, but I wish he'd get his hand off the escalator railing. Germs should never taint my Olyphant.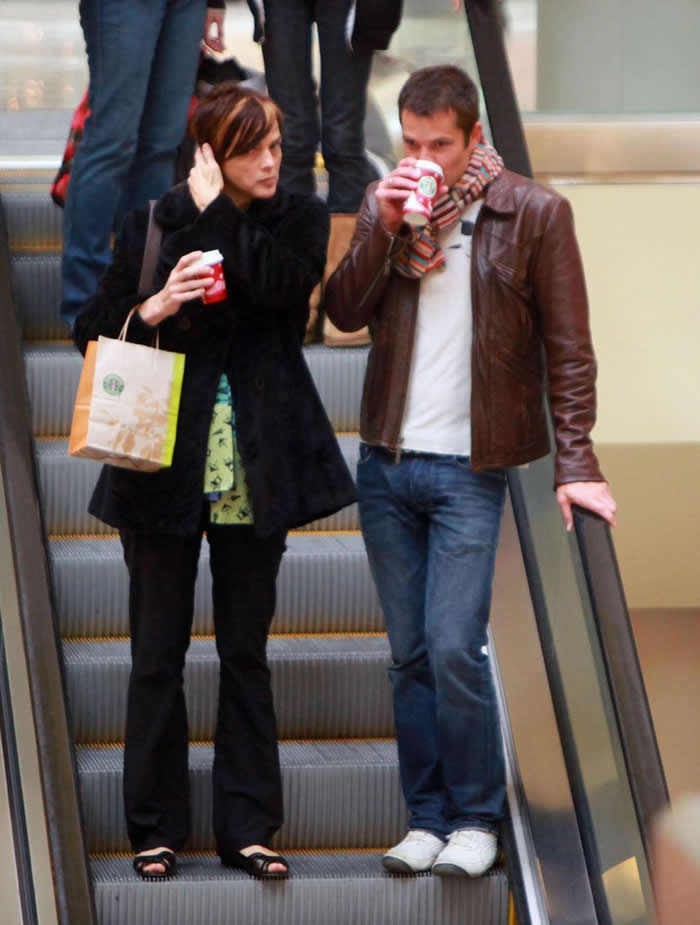 As for the very, incredibly alleged affair with Natalie Zea, well, I don't see it happening, and I think the rumors might have surfaced in part because many of Olyphant's fans really don't like Zea's character at all:
What's the toughest thing about starring opposite Justified's Timothy Olyphant? "Women don't like me," Natalie Zea tells TVGuide.com.

Zea plays Winona Hawkins, the ex-wife of Olyphant's character Raylan Givens. But now that the two are back together, Zea says she's feeling the hate.

"It's hard to be a foil … to a character so charismatic and so liked. Winona touches on some sensitive buttons with women. They don't like her getting on their man," she says.
[From TV Guide]
Certainly, I see her point, and I've had a few fleeting moments where I want to drag Winona off Raylan during one of their many love scenes. People are very attached to the Raylan character, and Winona just seems like trouble waiting to happen, but it sucks that Natalie Zea has to deal with the backlash when she's only doing her job by playing her role as written. Sure, Natalie and Timothy have great chemistry, but I think he's probably keeping it in his pants.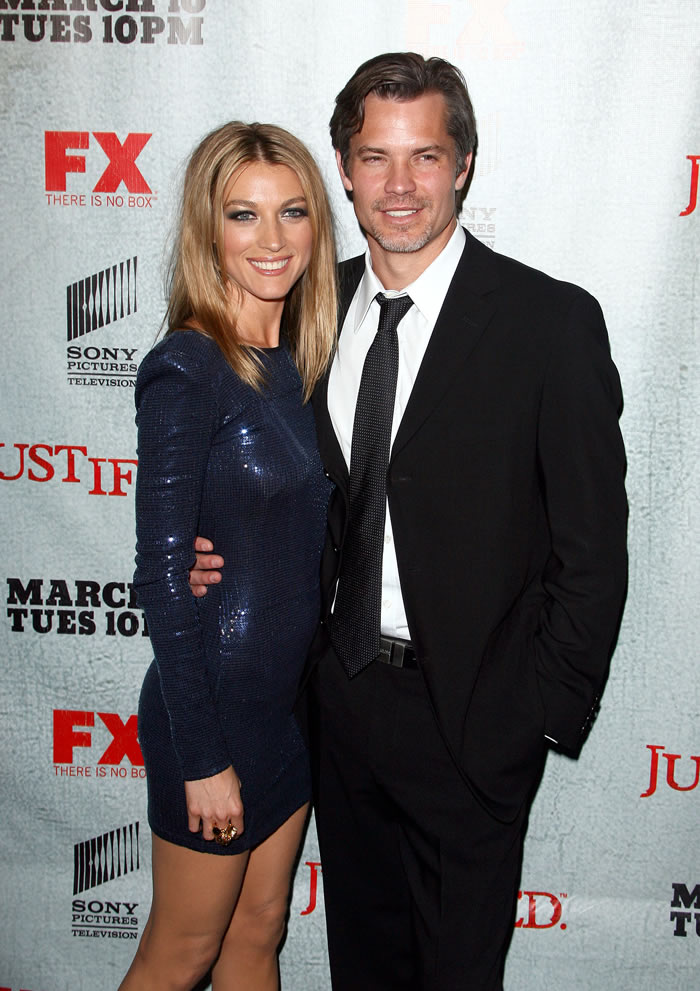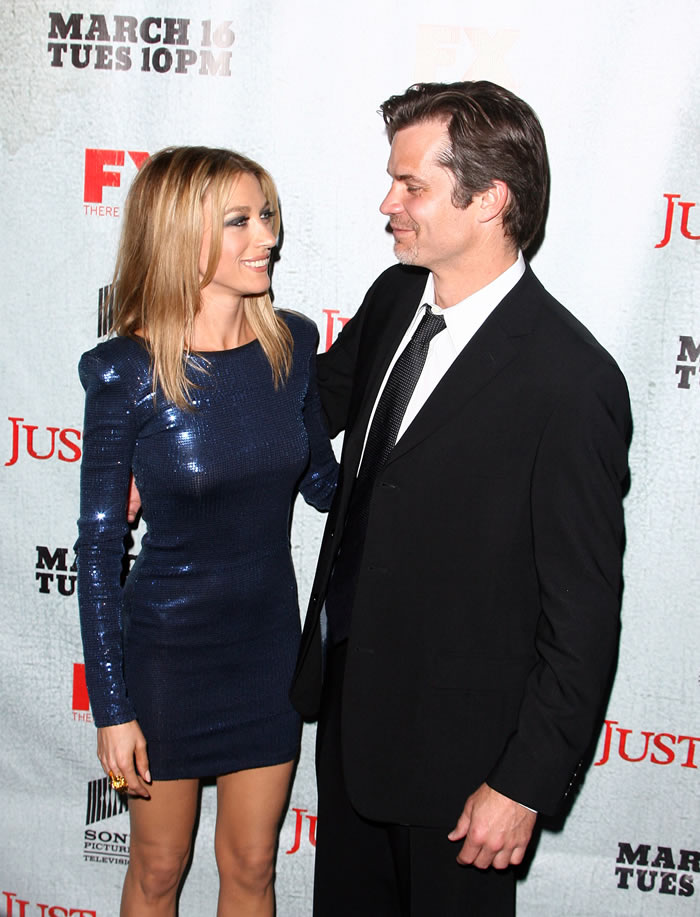 Photos courtesy of Fame/Flynet and Pacific Coast News