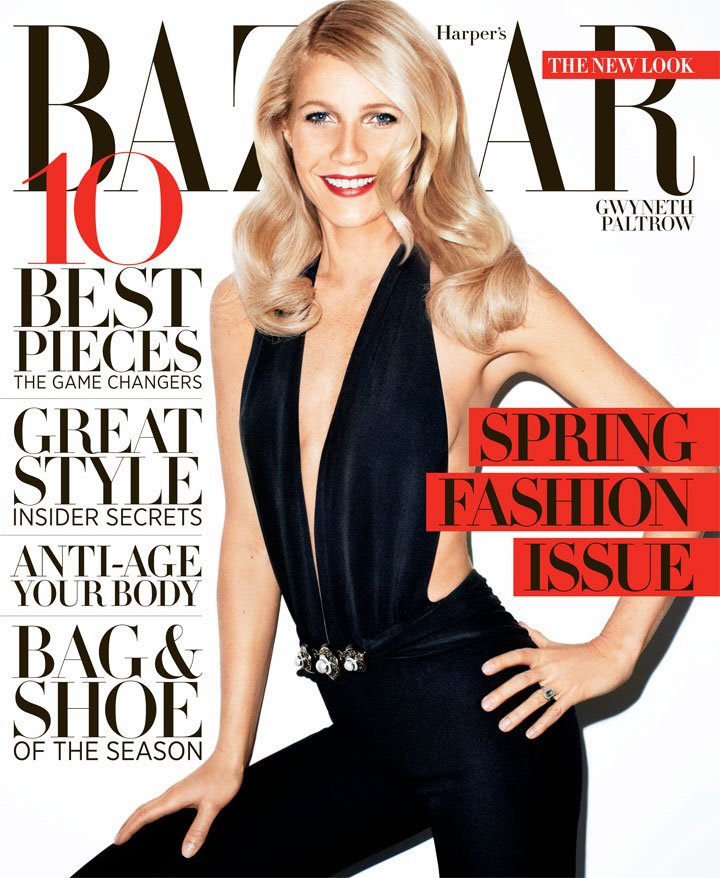 Gwyneth Paltrow is the cover girl for the March issue of Harper's Bazaar. The photo shoot was done by Terry Richardson, and… I don't really care for it. It's like Goop is trying to look all shiny and glitzy/sexy, with maybe some hints of rock-star-trashy. And that style simply doesn't work for Goop. That being said, I think the subscriber's cover (the one where you don't see Goop's face) is intriguing and interesting. Mostly because you don't see her face. You can see the full Richardson photo shoot here (and the full online interview too). Here are some highlights from Goop's Bazaar interview:
She doesn't like Botox: "I'll take my wrinkles," she says. "I don't like the Botox thing." But she does enjoy sunshine for the vitamin D, despite "my dermatologist yelling at me." (She admits to "little things, like lasers" and regular facials, often with the London-based Vaishaly Patel.)

She still trains with Tracy Anderson: Today, like every other weekday morning, she has spent an hour and a half with her trainer, Tracy Anderson, doing dance aerobics and a precise series of exercises that changes every 10 days. The aim, she says, is "that you're muscular, but you don't get used to anything."

She's detoxing too: Right now, the dedicated eater (see Gwyneth chowing on a bocadillo with Mario Batali in Spain or on fried chicken while filming Country Strong down South) is also on a 12-week detox program. "I have a lot of inflammation in my system, so I'm not having anything I'm allergic to—no gluten, no dairy, no sugar." The trigger for these seasonal detox sessions, she says, is recognizing her physical symptoms: "I'll wake up exhausted; I can feel my adrenal cortex being really high. When I get into bed, my heart will pound, my skin won't be good, I'll feel cranky, and then I'll just know it's time." But such consciousness has an emotional impetus as well: She cites the death in 2002 of her beloved father, director Bruce Paltrow, from throat cancer at 58—after decades of vodka and smoking—as a catalyst for her own conversion to clean living. "All I've learned about nutrition and health came from his cancer," she says. "I'll probably have a long and healthy life because he didn't."

When she's not detoxing: "I eat whatever I want. I like bread and cheese and wine, and that makes my life fun and enjoyable." But an outline of her regular diet, along with the rest of her timetable, reveals a model of restraint. She's up every morning around 7:00 with her two children, Apple and Moses (seven and five, respectively). "I don't really like eating that early, so I usually just have coffee and then a couple of bites of their leftovers, like granola and yogurt or scrambled eggs."

What does she do all day? During the day, Gwyneth's attention turns to her rapidly expanding and soon-to-be-redesigned Web site, goop (which now has more than a million viewers a week and is relaunching next month), and its associated apps, including a new range of city guides, starting with Los Angeles and moving on to London and other world capitals. Then there's her second cookbook to complete. (The first, My Father's Daughter, came out last spring; this one, as yet untitled, will focus on "really delicious health food.")

The Goop Brand: "Everything I've done has been completely organic, and that's why the brand is a strong brand, because there is no ulterior motive behind it," she says.

Chris Martin is described as "hugely supportive": The two of them seem affectionately relaxed together—"he's very communicative," she says, "which is rare for a British man"—at ease with their nine-year relationship and their roles as parents. "If I'm in L.A. for three days working, then my husband does the school run; it's always one of us," although they do have a nanny for the children. "She's French, so she's teaching them French, and their previous nanny was Spanish, so they're fluent in Spanish." But it's Gwyneth who gives the children their bath—"we all get into the tub together"—and she's the one who cooks dinner for them before Apple and Moses go to bed at 8:00. It's a family dinner, unless she goes out with Chris to eat at her favorite Japanese restaurants in London or for seafood at the members-only Arts Club.

She's archiving her wardrobe for Apple: "I've been saving my clothes for her since before she was born. I was like, I'll bet you anything I'll have a daughter, and she'll be a really cool butch lesbian and be so above clothes, and I got a very clothes-obsessed child. So if she's a lesbian, she's a lipstick lesbian. She doesn't like anything avant-garde at all. She likes anything that's pretty, pretty, pretty or has a bow or a ruffle or is pink."

Goop name-drops Beyonce: As it happens, while Beyoncé was headlining the Glastonbury Festival last June (the night after Coldplay), Gwyneth was watching by the side of the stage with Jay-Z and testifies to the fact that her friend's performance was punctuated by the miserable side effects of early pregnancy: "She was absolutely incredible, especially as she was barfing in between."

She's a traditional wife and mother: "I have little kids in school. I want to maintain my marriage and my family, so I have to be here when he comes home." Hence her recent advice to a girlfriend (who remains tantalizingly unnamed): "She is an actress and in a new relationship with someone else with a big career, and I said this may not be feminist, but you have to compromise. It's been all about you and you're a big deal. And if you want what you're saying you want—a family—you have to be a wife, and that is part of the equation. Gloria Steinem may string me up by my toes, but all I can do is my best, and I can do only what works for me and my family."

On her exes: Gwyneth remains discreet about her previous boyfriends, who include Brad Pitt (they dated for nearly three years from 1994 and were engaged for six months) and Ben Affleck (in the late '90s). She met Chris Martin in 2002, three weeks after her father's death, and married him the following year. But she does confess that she knows what it feels like to be betrayed—"I had a boyfriend who used to cheat on me all the time. I was quite naive. I knew on a cellular level, but I bought his story"—while making it clear that infidelity is not part of her marriage.

But she's not judging cheaters: She does not condemn others who stray. "The older I get, the more open-minded I get, the less judgmental I get. Life is long. I have friends who I love and admire who have had an affair. When I was younger, I would have said he's a terrible person or she's a terrible person. But who made these laws?" And if the commitment to remain within a relationship can be renewed, she believes, then it should survive the inevitable challenges… "I think you do fall in and out of love and you just keep going, and every time you go through a really difficult phase, you rediscover something new and it just gets better. We've been married for more than eight years now, and we're still into it."
[From Harper's Bazaar]
I mean… ugh. Nothing she said offended me on a deep level, but there's some interesting and controversial stuff in here. I find it interesting that Gwyneth is putting herself out there as the anti-feminist, the woman who is holding up traditional values, the one who advises peasant womanfolk to stand by their men and make sure to take care of their families. As for the conversation about infidelity… well… I don't even know. I think Goop's marriage is a lot harder than she wants to admit, and she puts up with a lot more than she'll admit. Which makes me sad for Goop – it feels like she's "given up" a lot of herself to keep her marriage and family going.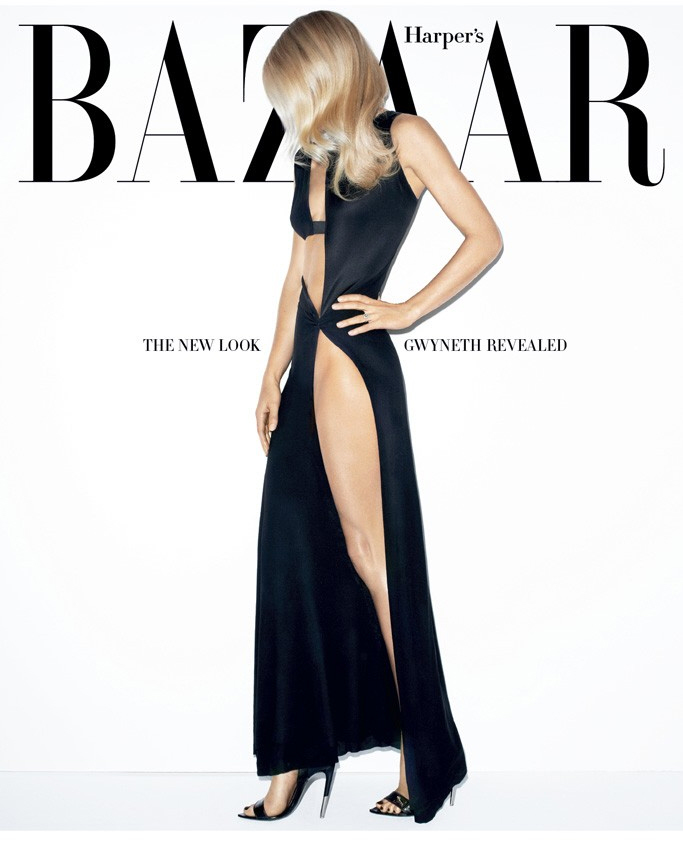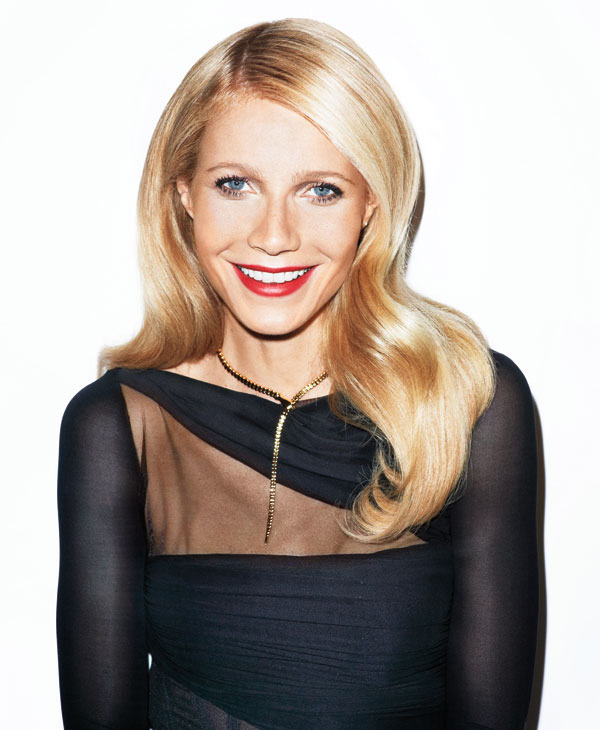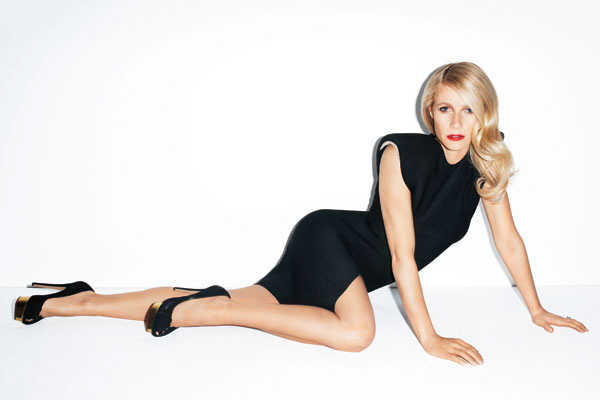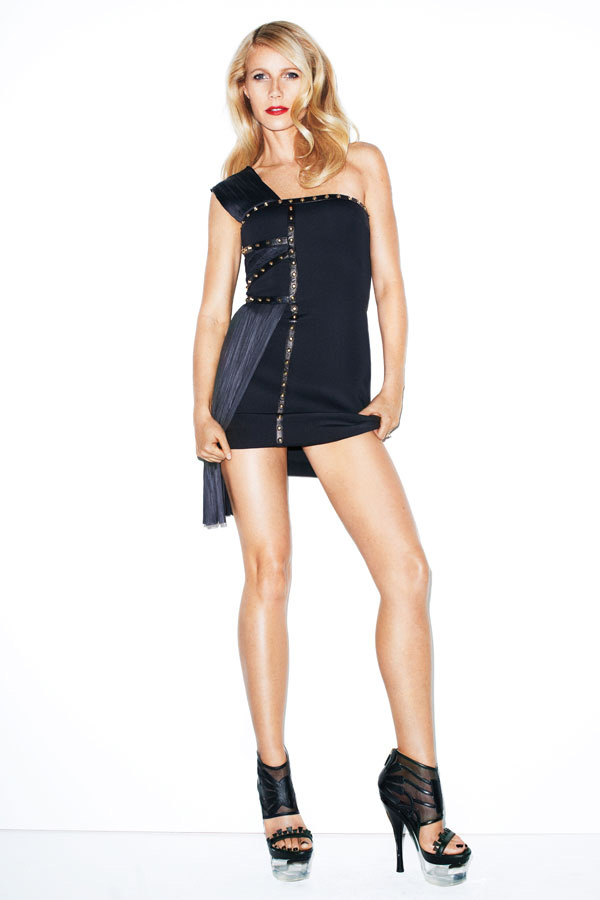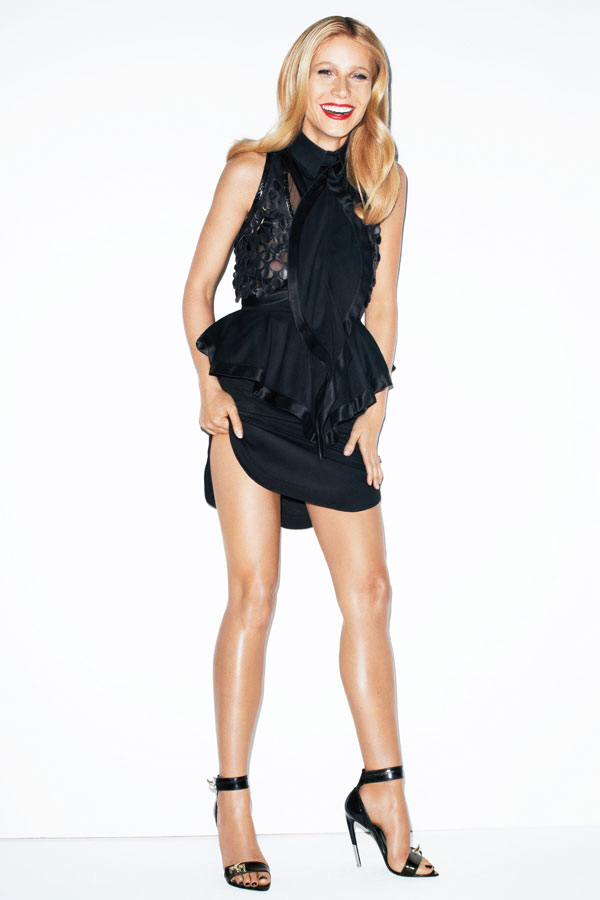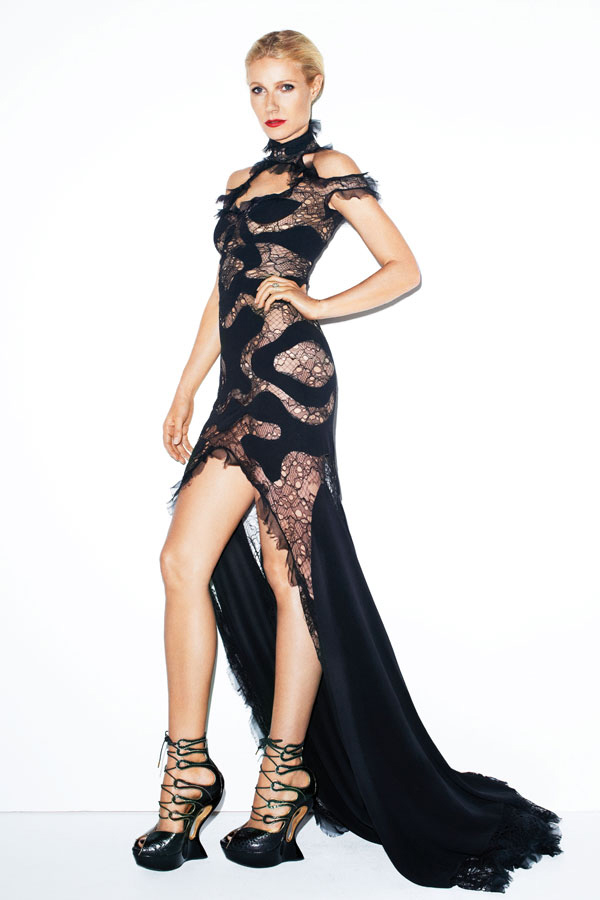 Photos courtesy of Terry Richardson/Bazaar, slideshow here.