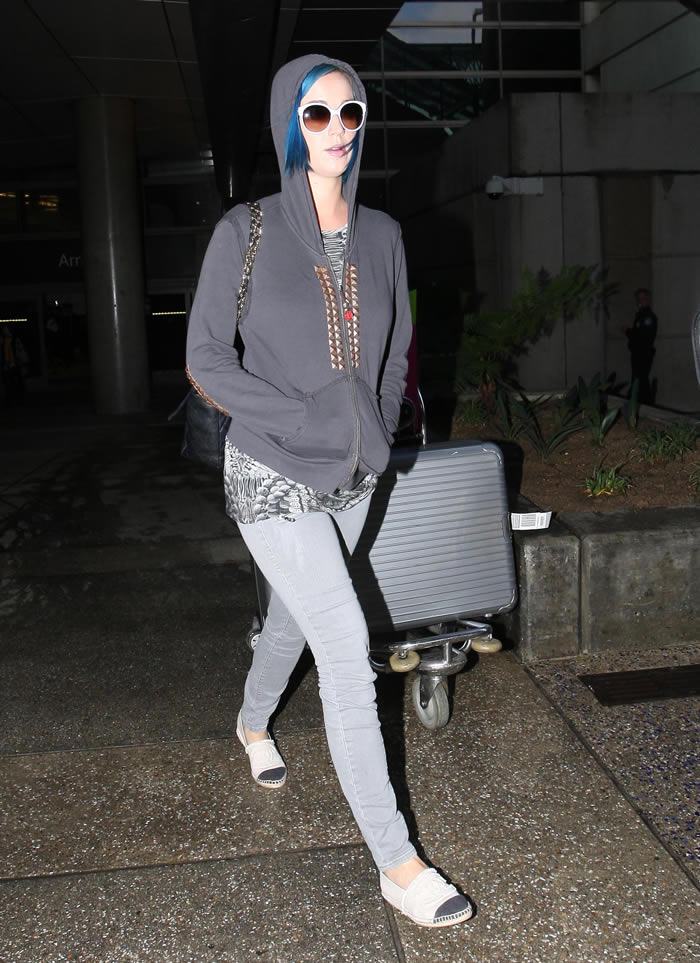 Katy Perry continued her reemergence into the post-Russell Brand limelight by performing a mini-concert at the DirectTV Super Saturday Night ahead of Super Bowl XLVI. You can see photos from the event here, but for now, we're stuck with the above photo of her ducking through LAX in mid-January while attempting to go incognito. With blue hair.
Of course, Katy's already done her first (semi-sympathetic) red-carpet appearance, but she seemed to have a lot more fun at the DirectTV event. During the musical set, Katy alluded to the rumors of having a crush on Tim Tebow (the Broncos quarterback and anti-sex symbol who refuses to take off his pants for a Jockey underwear campaign) by giving him a shoutout:
She scores!

Katy Perry performed her first U.S. concert since splitting from hubby Russell Brand in Indianapolis, Ind., Saturday night, delivering a party-starting nine-song set for guests at Mark Cuban's DIRECTV Super Saturday Night party.

And the pop star seemed to have Super Bowl fever: Sporting a glittery, football-themed top and high-cut grey spandex shorts, Perry kicked off the show at 11:45 p.m. by bursting through a banner emblazoned with her name, just like a hometown gridiron hero.

"Who else is excited for Madonna?" she asked later on, referring to Queen of Pop's Sunday halftime show. "That's the only reason that I came!" (Madonna's daughter, Lourdes, was spotted at Perry's concert.)

Perry, 27, made no references to Brand, 36, throughout the set, but she did jokingly give a shout out to one special fellow who was on her mind. "This one goes out to Tim Tebow," she said, before launching into her single "Peacock."

Post-show, Perry partied with her pals in a roped-off area in the center of the room. Says an insider, "She was having the best time and was in such a great mood."
[From People]
Naturally, People takes special care to characterize Katy's dedication as "jokingly" delivered (Us Weekly further reveals that Katy added, "Hi, Tim. My parents say, 'Hi'"), but I'm not so sure if her words were completely said in jest. In some strange way, I think that Katy would truly go there if Tim was into it. Just look at the song she dedicated to him! Here are some of the highly illustrious lyrics from "Peacock":
I wanna see you peacock, c*ck, c*ck
You peacock, c*ck
You peacock, c*ck, c*ck
You peacock
I wanna see you peacock, c*ck, c*ck

Are you brave enough to let me see you peacock?
Don't be a chicken boy, stop acting like a biatch
I'm a peace out if you don't give me the pay off
Come on baby let me see
Whatchu hidin' underneath
Are you brave enough to let me see you peacock?
Whatchu waiting for, it's time for you to show it off
Don't be a shy kinda guy I'll bet it's beautiful

Oh my God no exaggeration
Boy all this time was worth the waiting
I just shed a tear
I am so unprepared
You got the finest architecture
End of the rainbow looking treasure
Such a sight to see
And it's all for me
[From Perry's "Peacock" via YouTube]
It's not exactly "Firecracker," right? Katy basically dedicated a song to Tim that says she wants to be the first one to get into his pants. While Tim wasn't present at the event, I imagine this would have been his immediate reaction to the tribute: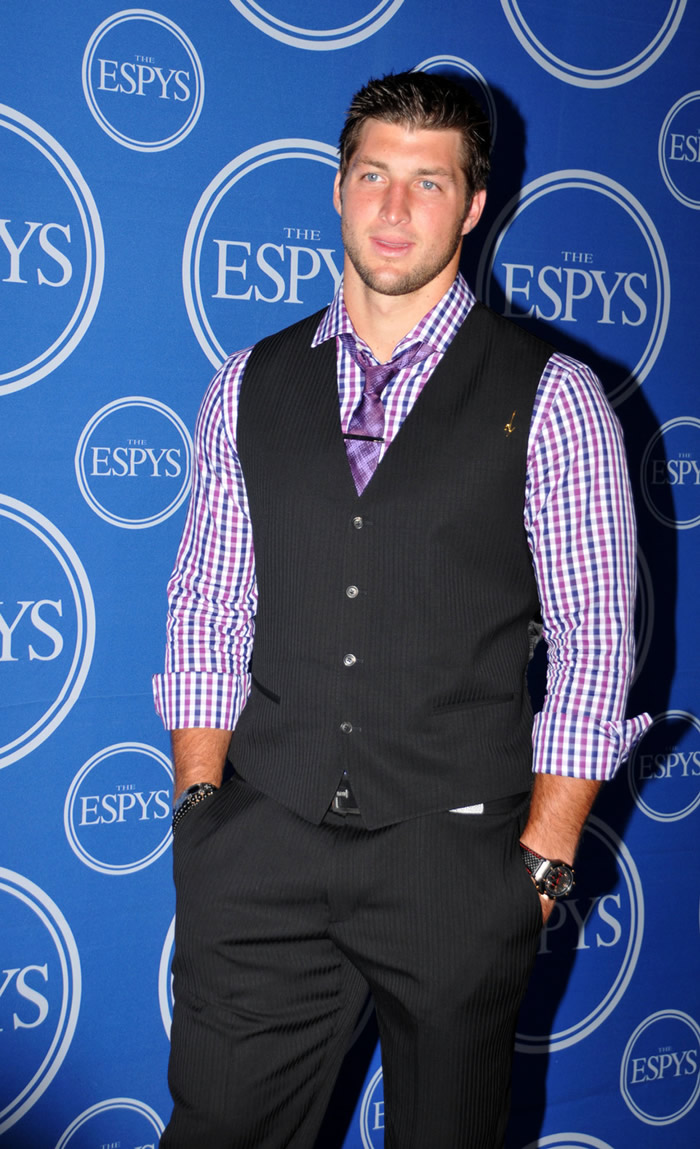 Not that Katy is tying herself down to any one potential flirtmate. While handing the Rookie of the Year award to Cam Newton, she reportedly stated "You'll be the first straight man I've had a photo with in a long time, so live up to it." Still, I maintain that Katy would totally be down with the idea of Tim even though I know that many of you wouldn't agree. Hey, we've already discussed how Kim Kardashian wants to date him because she basically thinks it would repair her image. After that story came out, Kim even went so far as to transparently claim she wants to start a Bible study group for the cause. Like it or not, the dude is a hot commodity for a certain species of recently and quickly divorced starlets.
Meanwhile, Tebow finds himself with no shortage of lovely ladies with whom to chat, and Page Six reports that he was the prime target for many females at an ESPN party on Friday evening. He particularly seemed taken by the presence of Maria Menounos:
Tim Tebow was the center of attention for all the women at ESPN the Magazine's Next party in Indianapolis on Friday night. Hordes of cocktail-dress-clad ladies surrounded the Denver Bronco quarterback, angling for a personal kneeling session. But it was "Extra" host Maria Menounos who seemed to command his attention. While Tebow politely chatted with many of the girls, one source told us that "he only seemed to have eyes" for brunette beauty Menounos, who was spotted "chatting to Tebow for over an hour. It looked quite flirtatious. They were taking pictures Tebowing together." The two, along with a big group of friends, were the last to leave well after 2 a.m.
[From Page Six]
Interesting tidbit there, for now Tebow has shown public interest not only in spending time with a lady but also in keeping a very late bedtime as well. Perhaps he's human after all? Although I'm not sure whether Maria is technically available for the taking since she's been reportedly been dating director Kevin Undergaro for the past decade and has been photographed with him as recently as late December during a romantic holiday getaway. Maria has also claimed to not be in any huge hurry to wed or make babies — she even claimed to have frozen her eggs just in case she waits too long. Well, at least we know Tebow (sort of) has a type.
Incidentally, Maria was also one of the participants at Saturday's DirectTV Celebrity Beach Bowl where she was tackled by Snoop Dogg during a game of touch football. Although there were no reported injuries as a result of the tackle, Maria likely sustained a contact high, thereby tainting herself and (presumably) rendering herself ineligible as a future Bride of Tebow. Dang.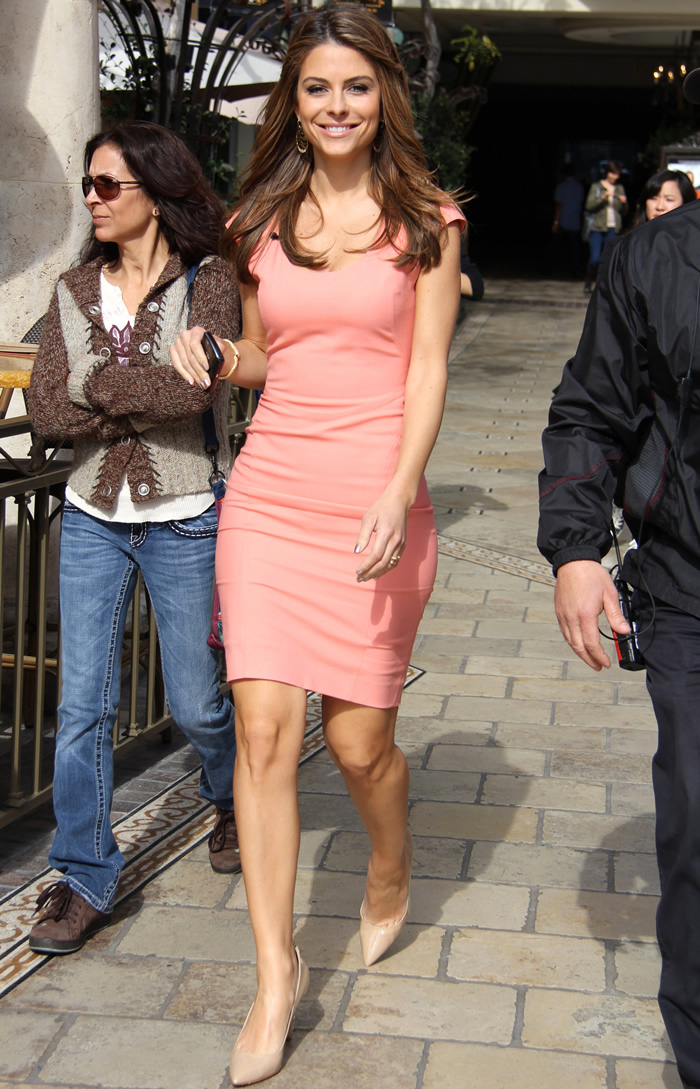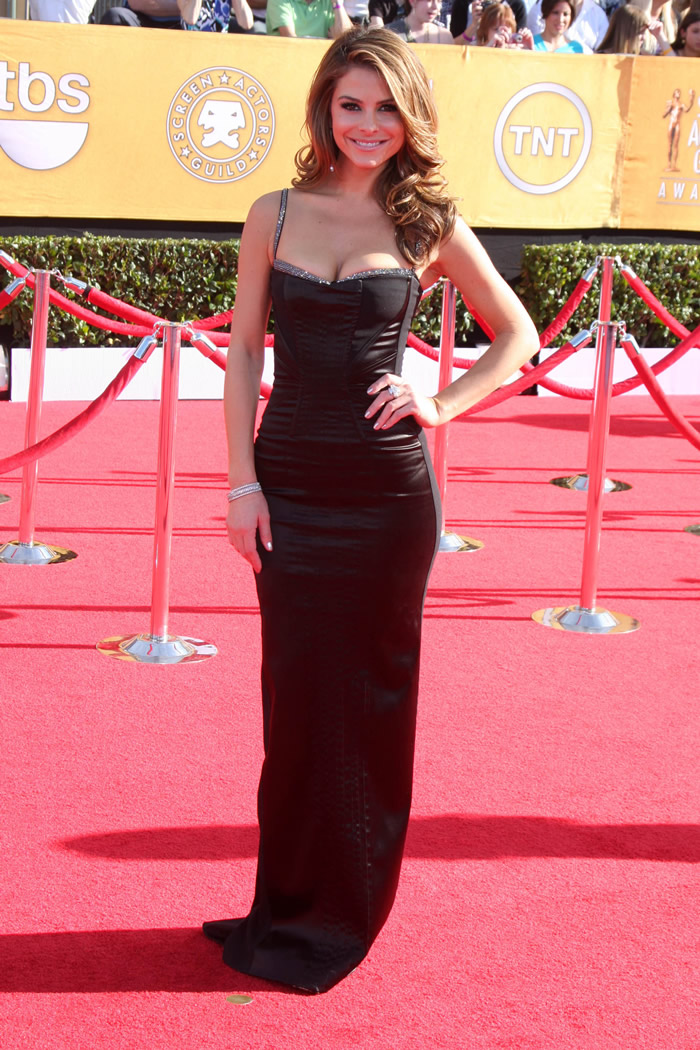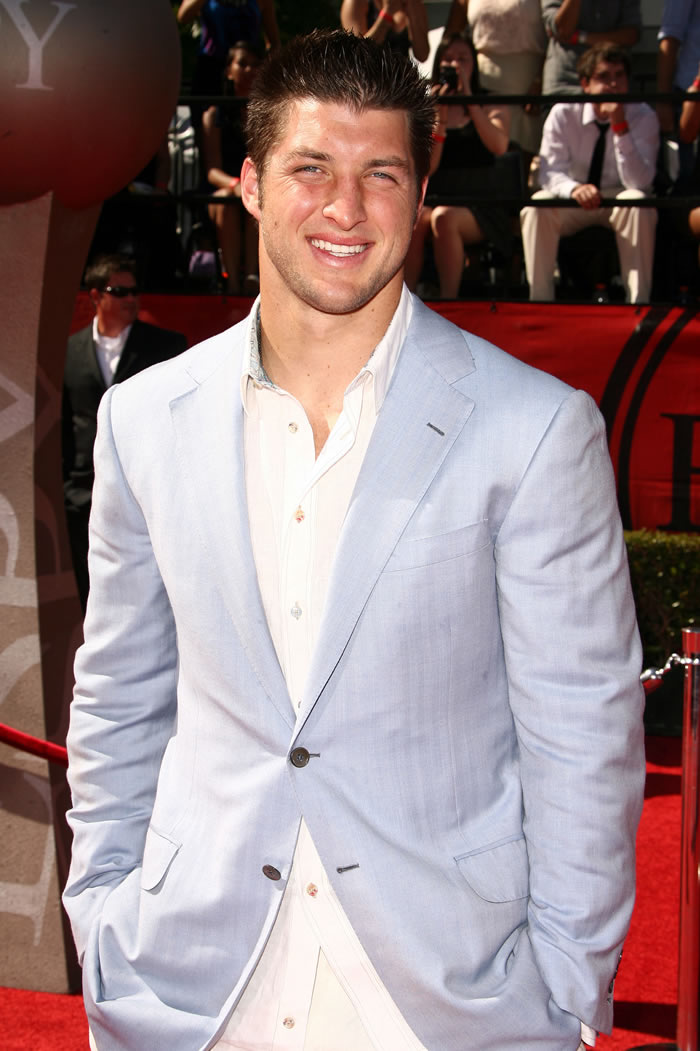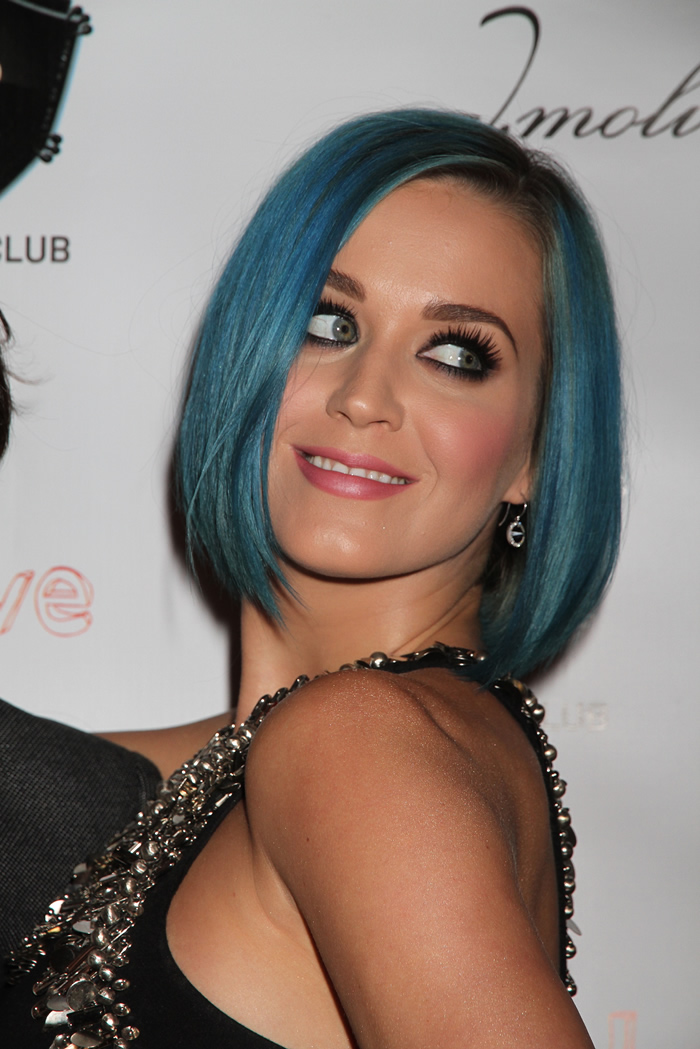 Photos courtesy of WENN, Fame/Flynet, and Pacific Coast News