Nicki Minaj's Grammy performance: derivative Gaga hot mess and/or sacrilegious?

21221223435 by YardieGoals
This news came out yesterday, but that just goes to show how much we pay attention to Nicki Minaj, even when she's making headlines for yet another stunt. So Nicki took a page out of the Madonna/Lady Gaga handbook and went for shock value with a religious-themed exorcism and alter ego performance at The Grammys. Not only was it a bad copy of something we've seen other artists do to death, it was also predictably offensive to religious groups. The girl showed up at the Grammys in a Red Riding Hood nun costume with a Pope lookalike in tow. Of course she expected this kind of backlash and she was surely hoping for it in order to extend whatever mileage she could get out of her performance. It worked, sort of. I'm not thinking she'll be around much longer, but that was my assumption about Katy Perry circa 2008′s "I Kissed a Girl" and I was so wrong about that. Here's more on the controversy:
Nicki Minaj is known for her over-the-top stage persona, but her performance at Sunday's 54th Annual Grammy Awards took things to a whole new level.
Wearing an Oscar de la Renta dress, the 29-year-old shocked viewers when she performed her new song "Roman Holiday" for the very first time. Channeling her alter ego Roman Zolanski, Minaj's performance pushed religious boundaries.

"I had this vision for Roman for him to be sort of exorcised," she explained on Ryan Seacrest's KIIS-FM radio show Monday. "People around him tell him he's not good enough because he's not normal and he's not blending in with the Average Joe."

The Grammy nominee's performance included a Catholic confessional, demonic possession, dancing monks and a levitation scene.

"The people around him are afraid because they've never seen anything like him. He wanted to show that not only is he amazing . . . but he's never going to change. He's never going to be exorcised," Minaj said. "Even when they throw the holy water on him, he still rises above."

The rapper's performance angered the the right-wing Catholic League, who issued a press release condemning it Monday. "Whether Minaj is possessed is surely an open question," president Bill Donohue said, "but what is not in doubt is the irresponsibility of The Recording Academy. Never would they allow an artist to insult Judaism or Islam."

"It's bad enough that Catholics have to fight for their rights vis-a-vis a hostile administration in Washington without also having to fend off attacks in the entertainment industry," Donohue seethed. "The net effect, however, will only embolden Catholics, as well as their friends in other faith communities."
[From US Weekly]
A male alter ego named Roman Zolanski, really?
I'm a former Catholic, so I'm probably not the person who should be commenting on this, but you know I will anyway. In theory I don't have a problem with making fun of Catholicism. It's not like they're some persecuted religion struggling for recognition. They're a huge, powerful religion with a history of abusing their power. Nicki's performance was incredibly over the top, though, and unlike Madonna or Gaga she didn't just use a few religious props – she threw the whole lot at us in one sensory-assaulting go. It's like a church threw up all over an 80s music video. Some people are saying that this performance wasn't just offensive to Catholics, but to Christians in general and that it was inappropriate for the Grammys. Personally I'm not offended, but I can see how people would be.
My issue with this performance is how much it sucks and uses religion for cheap shock value. It starts with a confessional booth and an exorcism and takes place in a faux church complete with dancing monks and altar boys. They even have the stained glass windows "shatter." Give me a break. At least she's singing live and not lip syncing.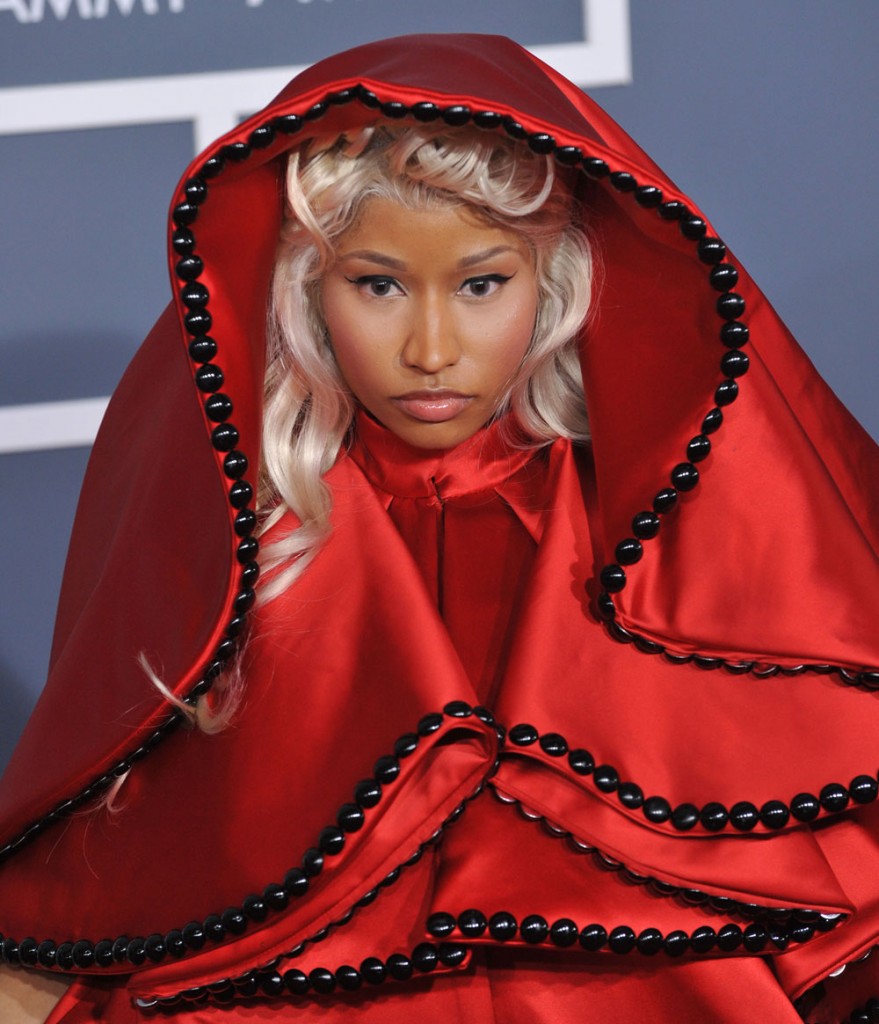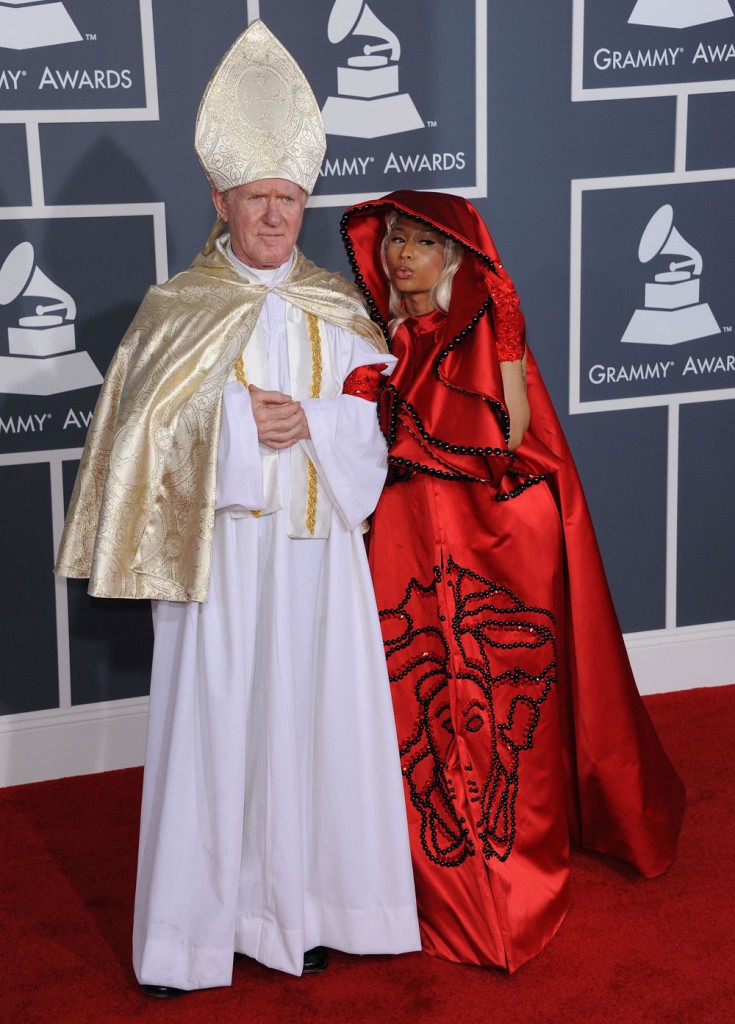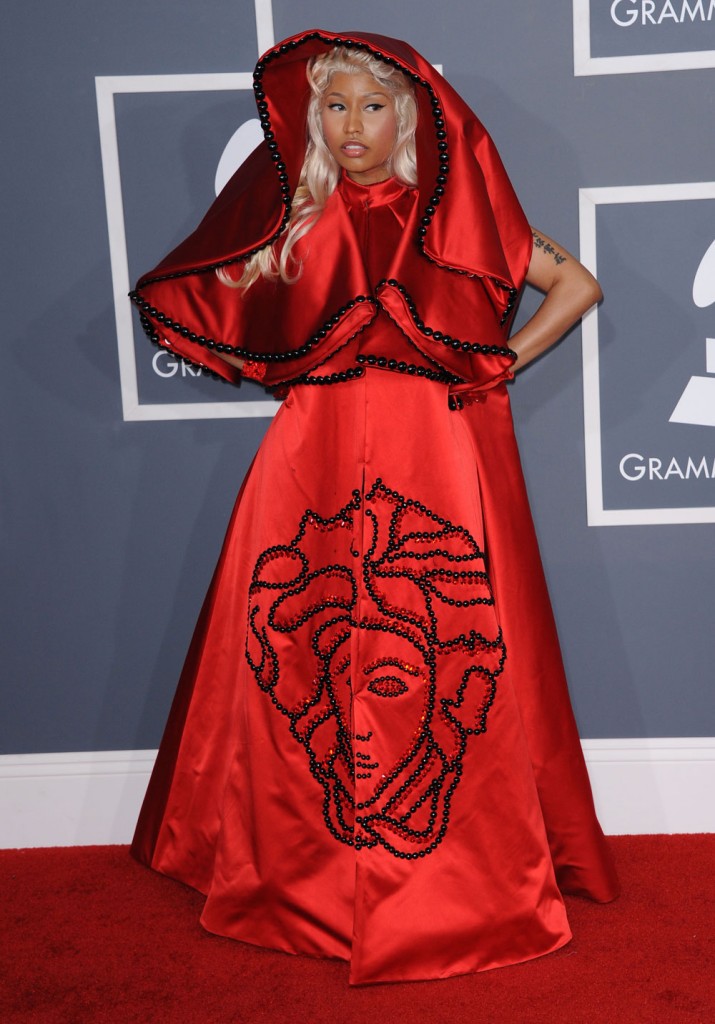 Video via VH1′s Tuner
Written by Celebitchy

Posted in Controversies, Grammys, Music, Nicki Minaj, Photos, Religion

- Zach Galifianakis is awesome [Buzzfeed]
- Prince at the Billboard Music Awards [D-Listed]
- Bieber's Billboard look [Go Fug Yourself]
- Married to Medicine recap [Reality Tea]
- Celebrity first marriages [Pajiba]
- The last Mad Men baffled a lot of people [Lainey]
- Karolina Kurkova's crazy hot dress [Moe Jackson]
- Jennifer Garner on set [Popsugar]
- Kitten vs. Lizard [CDAN]
- Doetzen Kroes' great butt [Celebslam]
- Shameless star Jeremy Allen White [OMG Blog]
- RIP Ray Manzarek [Bossip]
133 Responses to "Nicki Minaj's Grammy performance: derivative Gaga hot mess and/or sacrilegious?"