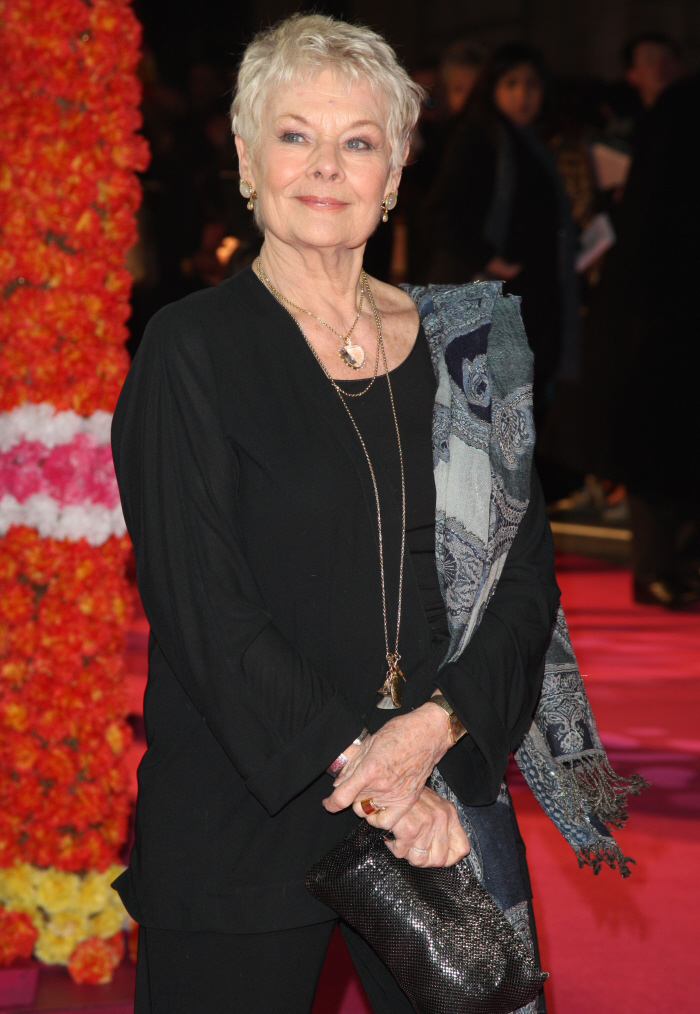 Dame Judi Dench is currently promoting her latest film, The Best Exotic Marigold Hotel, which was shot in India and also features actors like Dev Patel, Maggie Smith, Bill Nighy and Tom Wilkinson. It's about British seniors who "retire" to India in a nursing home/hotel/facility operated by Dev Patel's character. It looks rather cute, and the quality of the actors makes me think the film will be good. Would you like to see the trailer? Here you go:
Cute, right? Anyway, Dame Judi has several new interviews, but everyone is talking about her recent admission that she has been diagnosed with a degenerative disease that could lead to blindness. Poor Judi!
Actress Dame Judi Dench has been diagnosed with a condition that can lead to blindness, she has revealed. The Oscar-winning star told the Daily Mirror she had age-related macular degeneration (AMD) and struggled to read scripts or recognize faces. But the 77-year-old has had some treatment and is hoping it might slow the decline in her eyesight.

AMD affects more than 600,000 Britons and last year research was published suggesting it could rise to 750,000.

Dame Judi, who is due to reprise the role of M in the 23rd James Bond film, Skyfall, told the Mirror: "I can't read scripts any more before because of the trouble with my eyes. And so somebody comes and reads them to me, like telling me a story."

AMD, which affects the macula at the back of the eye, is the cause of more than half of registrations for blind and partially sighted people in the UK.

She said: "I've got what my ma had, macular degeneration, which you get when you get old."
[From BBC]
Poor Judi – wait, she's 77 years old?!?!? Damn, that old broad looks GREAT. As for her eyesight… I can't even imagine how difficult it must be for a woman who has had her sight for so many years to now be beholden to other people to read to her – especially when learning her lines is so important for her job! I hope her treatment goes well – prayers for Judi!
Additionally, Judi gave an extensive and lovely interview to The Telegraph which I wanted to point out – you can read the full piece here, and here are some highlights:
Judi on working in India: 'I've never been to India before and I didn't know how I would react to the poverty. In the event I absolutely loved it and I can't wait to go back.' One of the reasons she liked it so much was that scarcely anyone knew who she was. 'I was recognised a little bit in Rajasthan because of the Bond films [in which she plays M] – nothing else.'

Playing a widow after being widowed 11 years ago: She plays a woman whose husband has just died and ever since the death of her own husband, Michael Williams, 11 years ago, she's steered clear of playing widows. 'It wasn't just an emotional decision,' she says. 'There were professional reasons, too. I think if I'd played a grief-stricken widow too soon after Michael died I might have over-egged the part. Or at least I don't think my judgment would have been that good.'

Working through grief: 'I had this extraordinary energy after Michael died. I went off to Nova Scotia and did six weeks on The Shipping News. Then I came home and two days later started Iris. Then I did some more work on The Shipping News. And two days after that I started The Importance of Being Earnest. My poor agent nearly had a fit because I was cutting things so fine. But I found working at that pace and doing those kinds of parts helped me. Whereas playing a grief-stricken widow would have been no help at all.' In fact, she's always set a pretty daunting pace. 'I've worked for 54 years, almost continuously,' she says proudly.

Being called "the greatest actor of all time": 'The difficulty with any sort of esteem is that more is expected of you. I prefer not to think about it. I'd rather do a part because I want to, not because great things are expected of me. Then I get frightened and I rather resent that… People seem to have this idea that I've always been very ambitious. Nothing could be further from the truth. I've never had any idea what parts I would like to play. All I ever wanted was to be employed.'
[From The Telegraph]
God, I love British actors. "All I ever wanted was to be employed." Thank you for that, Dame Judi. Tell that to the Jessica Biels of the world. Tell that to the Rooney Maras of the world. It's just about getting work, and making the most of it. Isn't Judi the best?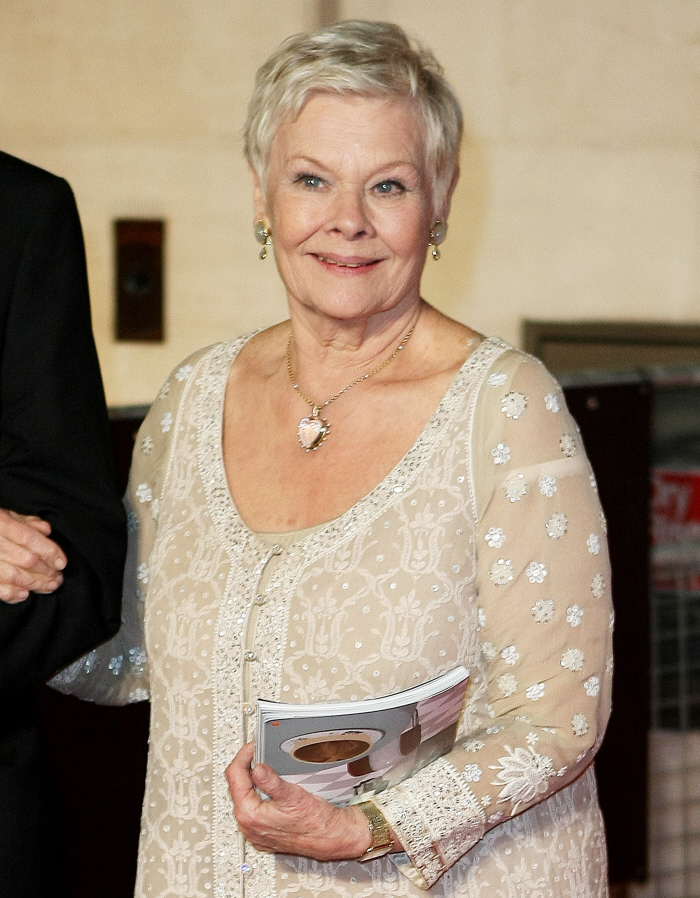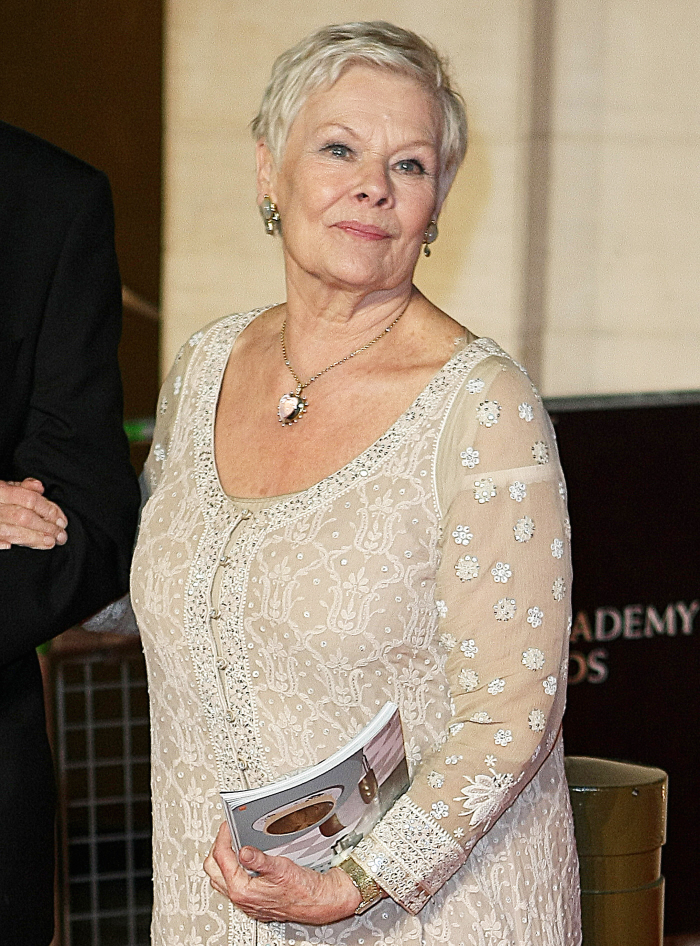 Photos courtesy of WENN.