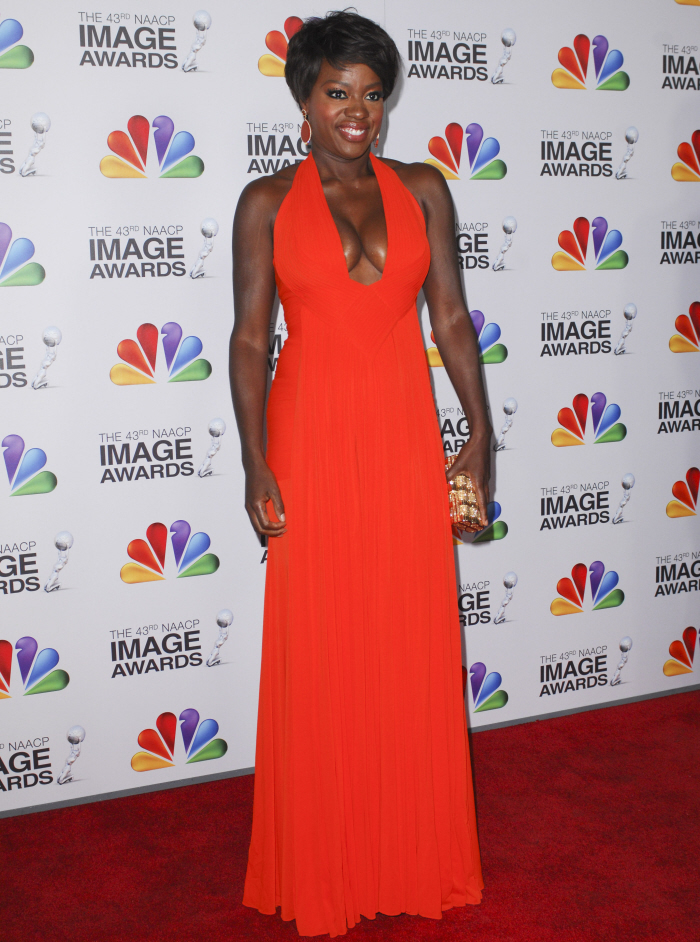 The Help won big at the NAACP Image Awards two nights ago, taking home Best Film, Best Actress (for Viola Davis) and Best Supporting Actress (for Octavia Spencer). You can read more about the awards here. What I really want to talk about is the fashion. First, let's set the mood. Like, I understand that the Image Awards are not the Oscars. Most ladies do wear gowns and get their hair and makeup professionally done, but it's not a full-on crazy high-fashion event – Lenny Kravitz came in leather pants, for the love of God.
So, with that in mind, what do you think of Viola's extremely low-cut orange Hervé L. Leroux dress? I just… I don't know. Viola's body is INSANE. She's beautiful, she looks so strong and sexy and fit. But I also feel like I don't need to see this much of her rack, you know? I feel like her boobs detract from the real issue – which is that she should and hopefully WILL win the Oscar. Also, I've been loathe to discuss this other issue, but I think we need to say something: Viola has an issue with too-bright colors. I understand that her gorgeous dark skin tone means that she CAN pull off really bright, vivid colors, and yes, she owns them in a way that other women cannot. But some of her color choices are just… too bold. Too vivid. I hate to say it, but some of the colors she's picking are kind of tacky. Tacky color plus boob buffet equals… trashy. Damn it, V! You better wear something gorgeous to the Oscars. And NOT TOO BRIGHT.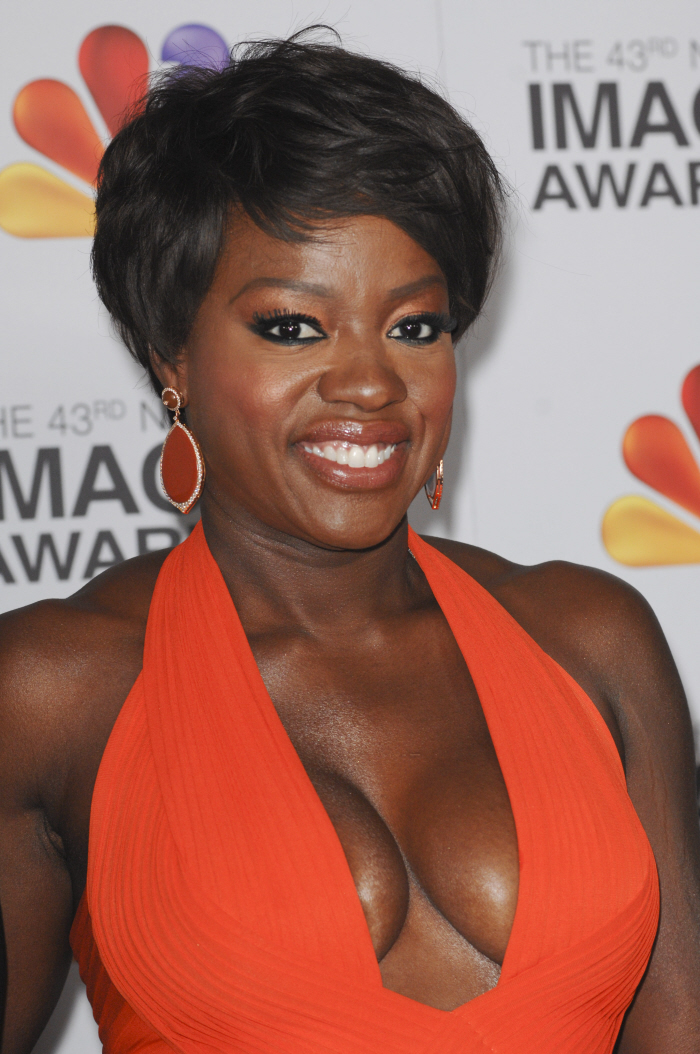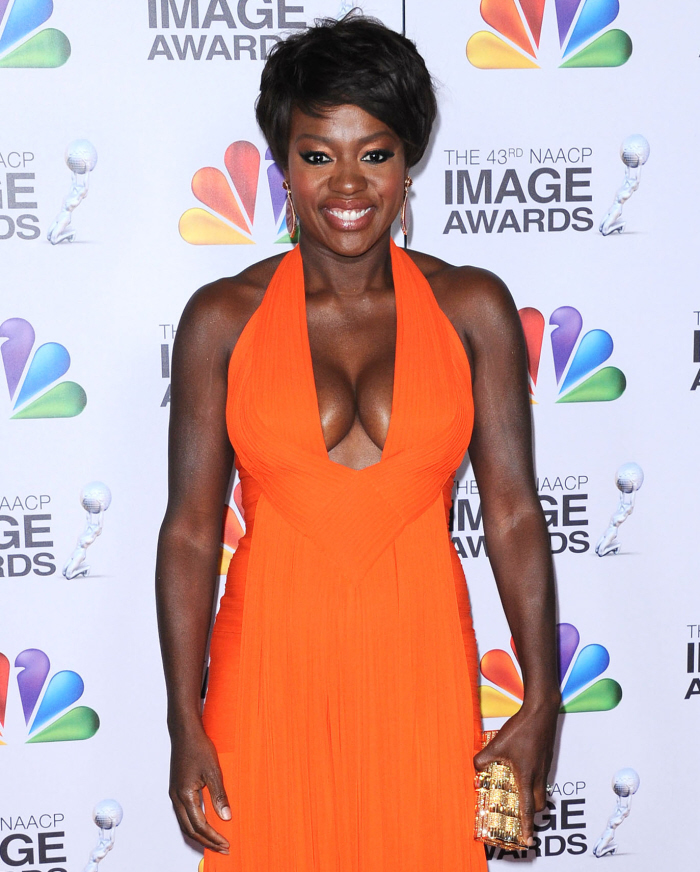 And here's Octavia in Tadashi Shoji. The color of this dress photographed very differently depending on the light, so I'm not going to call it too-bright when I don't know what it looked like in person. I do like the style of the dress on a voluptuous woman, though – the wrap effect at the bust is very flattering. That's something us large-busted girls figure out fast. V-necks, wrap effects, a loose sleeve, they all help to flatter our bust.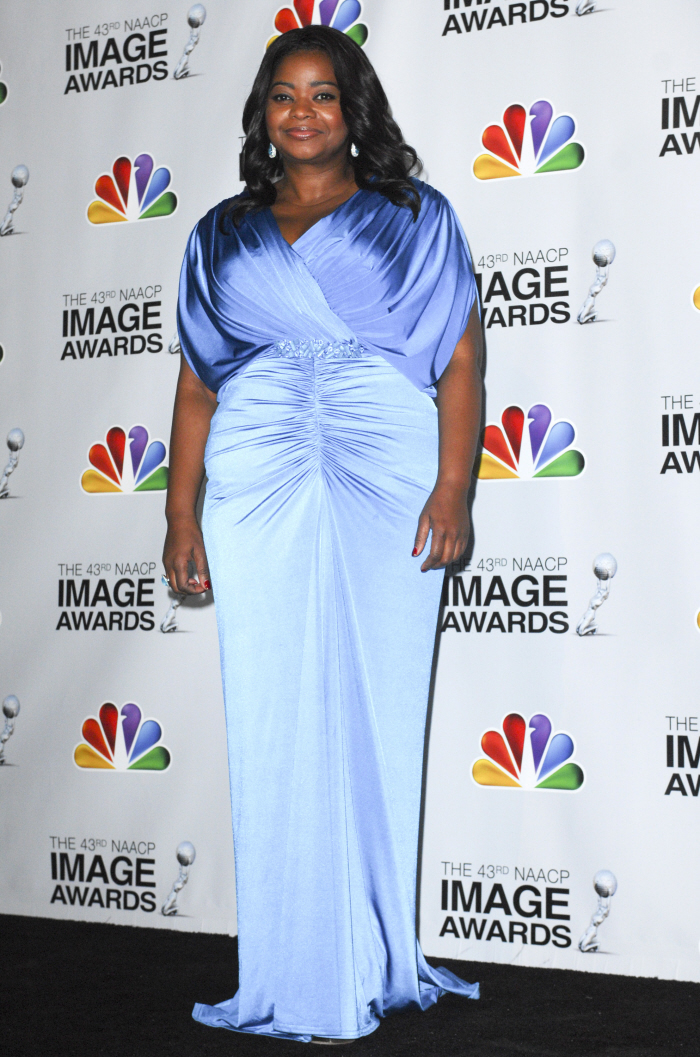 Last girl that I want to discuss – Taraji P. Henson in Randi Rahm. Like Viola, Taraji's body is crazy and beautiful – she's very strong and sexy, but this girl has not figured out how to dress her body. With her bust, she should not be wearing something this high-necked. The whole thing makes her look thick-waisted, which she isn't.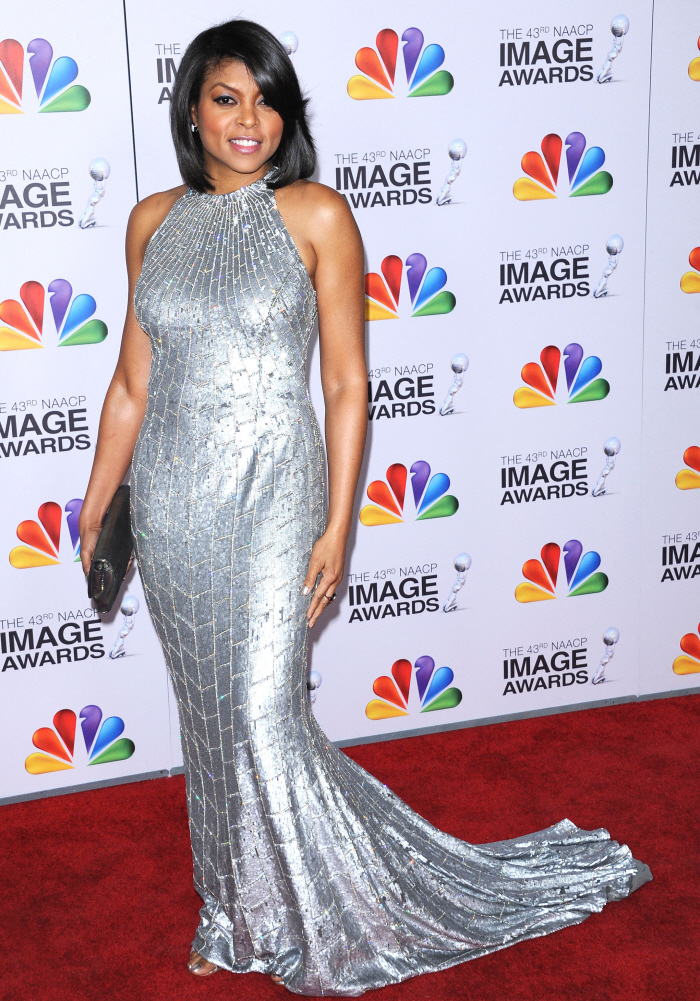 Photos courtesy of WENN.