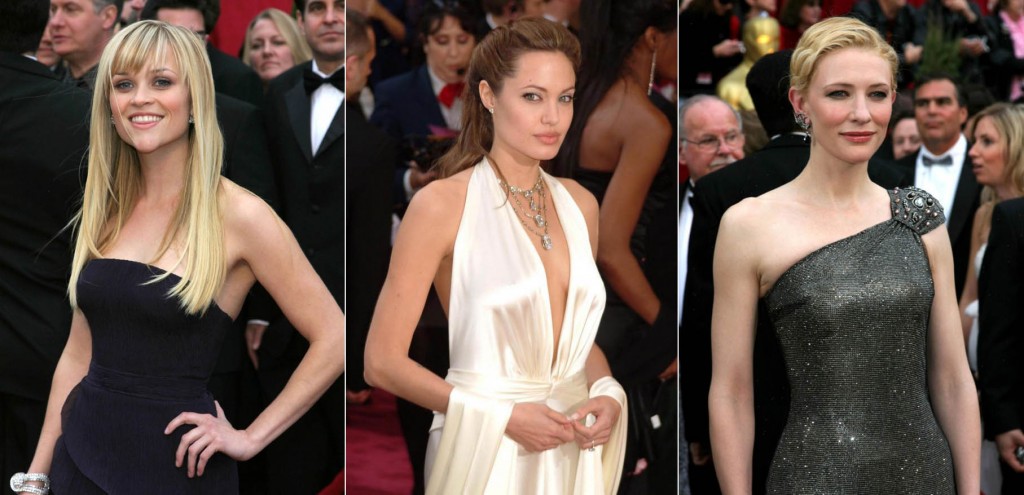 I keep noticing various sites are running Oscar fashion retrospectives, so I thought we should try it too! And yes, it's really slow today. The dresses I've chosen to profile aren't my picks for "Best Oscar dresses ever!" Nor are they my choices for "Best Dresses of the last 20 years or so." Our photo agencies have archives, sure, but there are limits, and those limits seem to be "The Year 2000." So these are some of my favorite dresses of the past dozen years (or so). Retrospect is a powerful thing – some of these dresses didn't blow me away when I actually saw them for the first time, but I admire the choices more and more over the years, as I see that some of them were prescient, ahead-of-the curve, harbingers of styles to come.
Some of my picks might seem like I'm trying to avoid "the obvious gowns" – which is true. I truly hate some of the "popular" gowns – like Sandra Bullock's hideous Marchesa in 2010, or Michelle Williams' mustard Vera Wang in 2006 (it was an unflattering color, and an unflattering cut). Which brings me to another point – I'm not opposed to doing a "Most Hideous dresses of the last dozen years" post, so we'll see how this one turns out. Let's begin!
Angelina Jolie in 2004 & 2009. Angelina in 2004 was maybe the best she's ever looked. She'd just filmed Alexander, and she was strong from training for Mr. and Mrs. Smith. Her body looked gorgeous, and the white dress was just perfect on her. At the time, I hated the overdone necklace, but in retrospect… it worked. It totally worked. As for her black gown in 2009 – I liked the simplicity of it. It was tailored beautifully, and she kept her jewelry stunningly simple with those emeralds.
Angelina Jolie in Elie Saab, 2009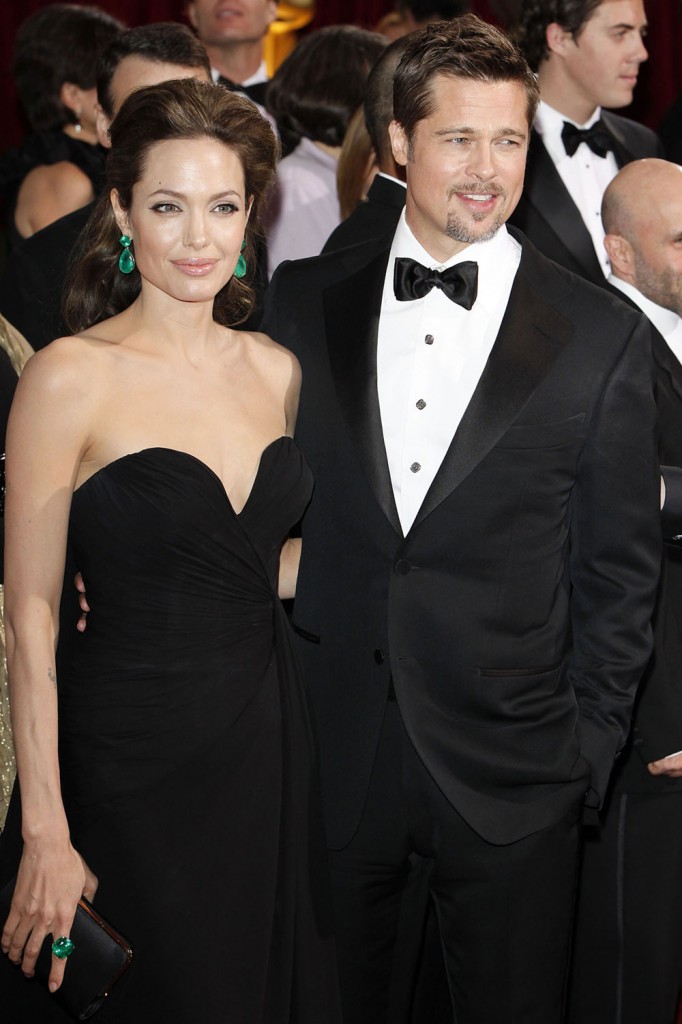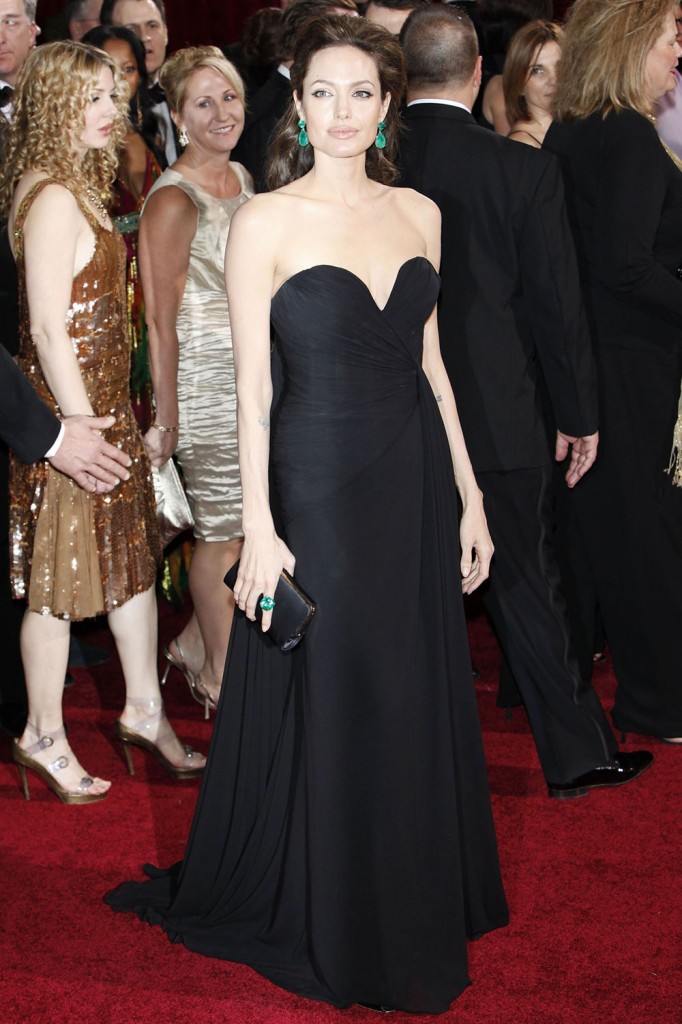 Angelina Jolie in Marc Bouwer, 2004.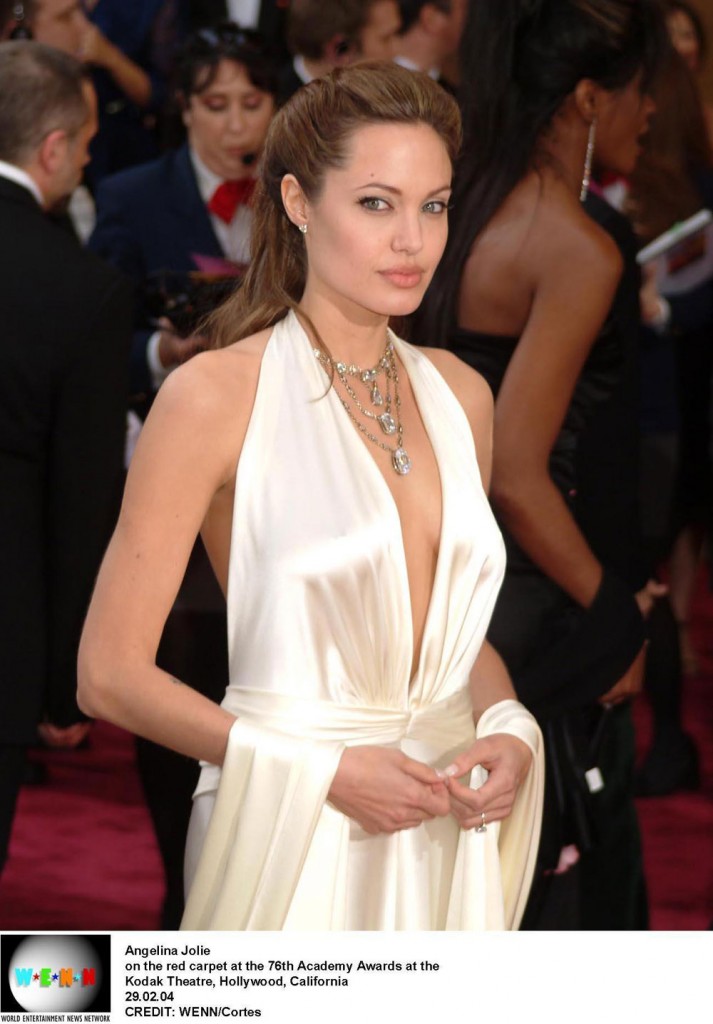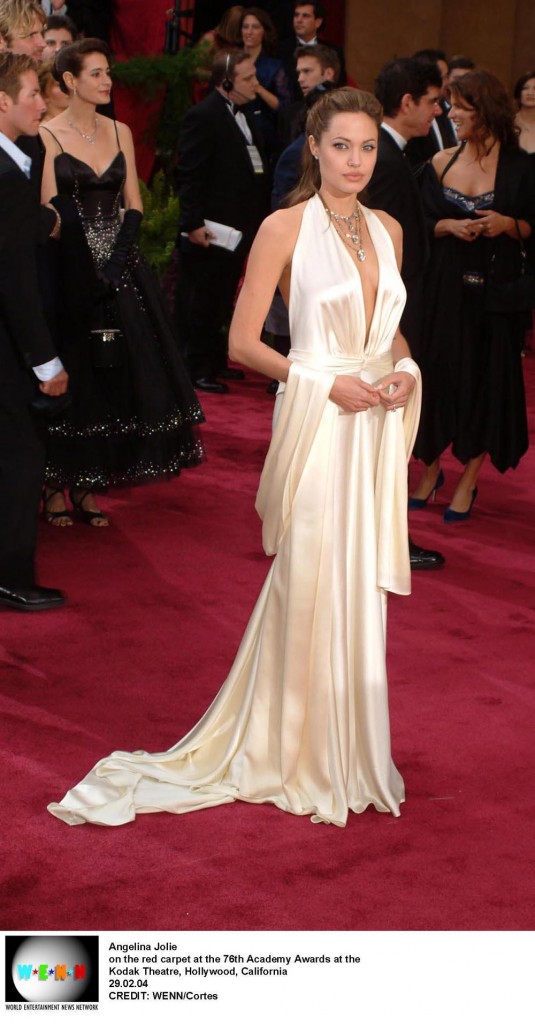 This Renee Zellewger choice is not my first one – I loved that yellow vintage gown she wore, but this one is a good choice too. Renee was filming the second Bridget Jones movie, so she was carrying some extra weight, and it looked so, so good on her. Plus, this was the beginning of her long-time collaboration with Carolina Herrera, and that pairing is magic. I loved how classic she looks here – and she won too!
Renee Zellweger in Carolina Herrera, 2004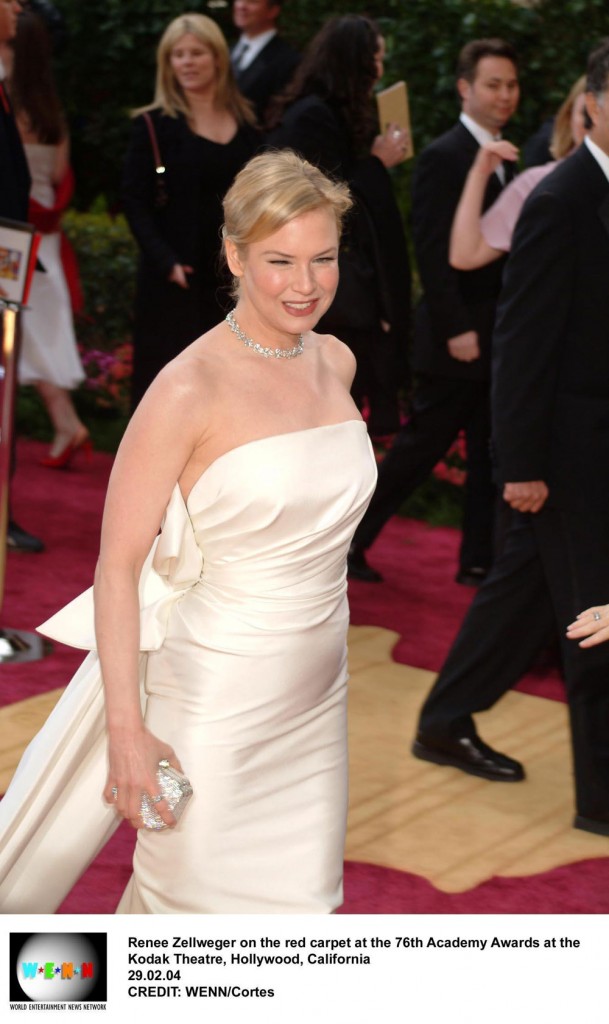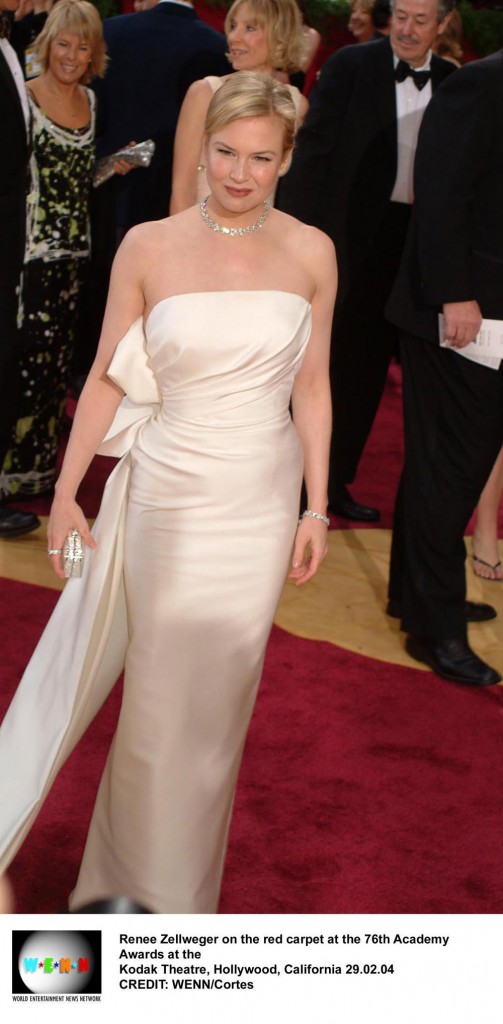 Nicole has so many strong Oscar moments, it's hard to choose just a few. So I went for the more unconventional picks – her Gaultier in 2003, which is when she won for The Hours, and the Chanel in 2004. The Gaultier is great because Nicole used to love black so, so much, and it really was an unconventional choice for her, especially because she won. This is dark, goth Nicole that I miss. As for the Chanel – it was just exquisite. It was simply a gorgeous dress.
Nicole Kidman in Jean-Paul Gaultier, 2003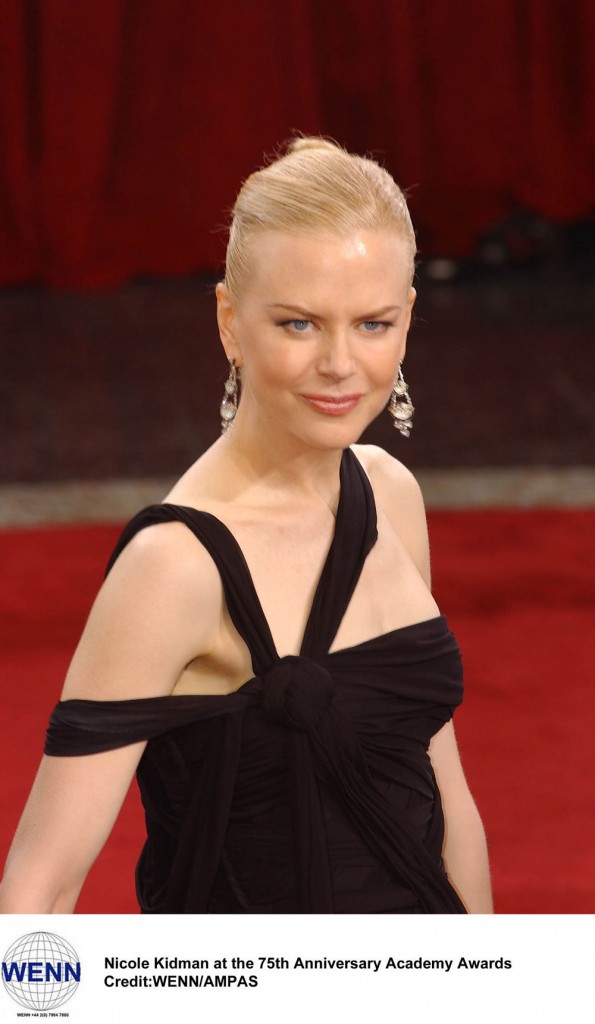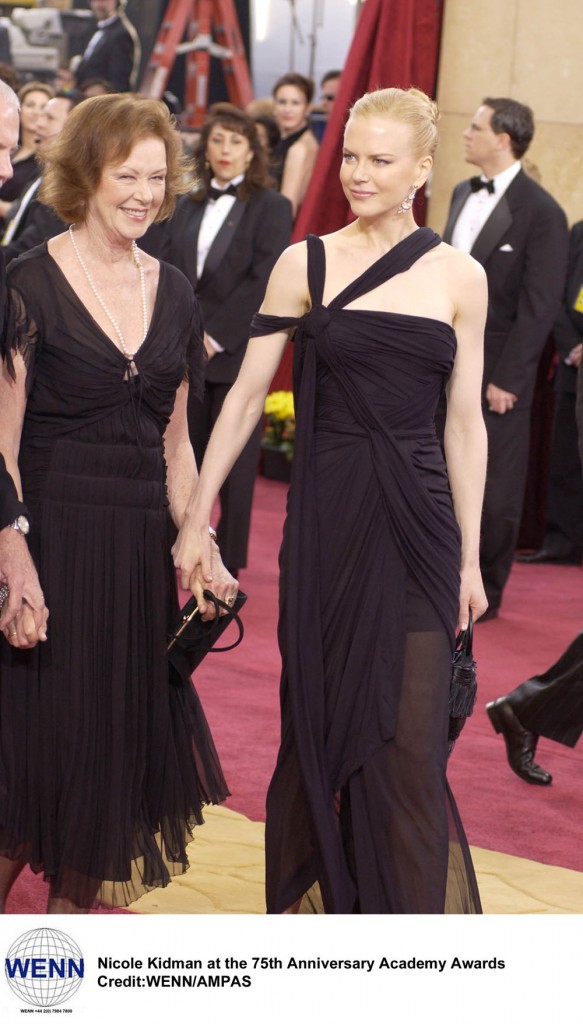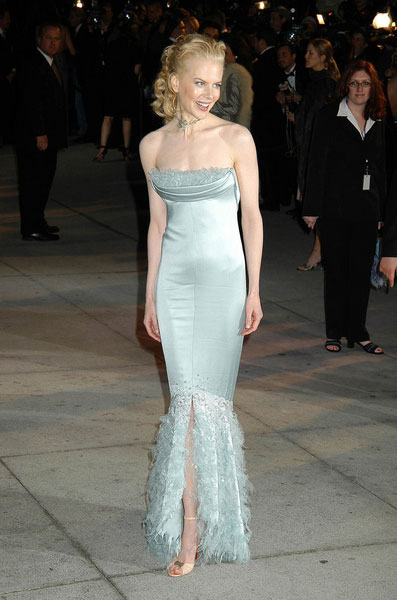 Like Kidman, Cate has so many great Oscar red carpet moments. These are just two of my favorites, although I really wish we had photos of her black Gaultier in 2000, which was so amazing. Here we have Cate's Valentino – a fascinating combination of yellow and red, and Cate looking so glamorous and old-Hollywood. Also, her metallic Armani, which is even better years after the fact.
Cate Blanchett in Valentino, 2005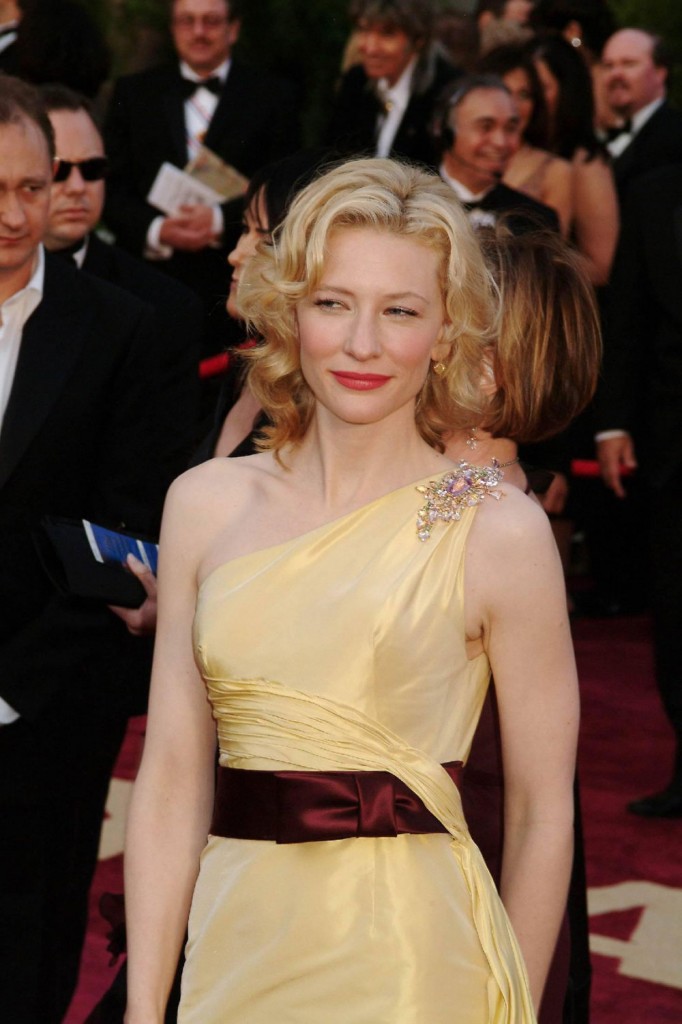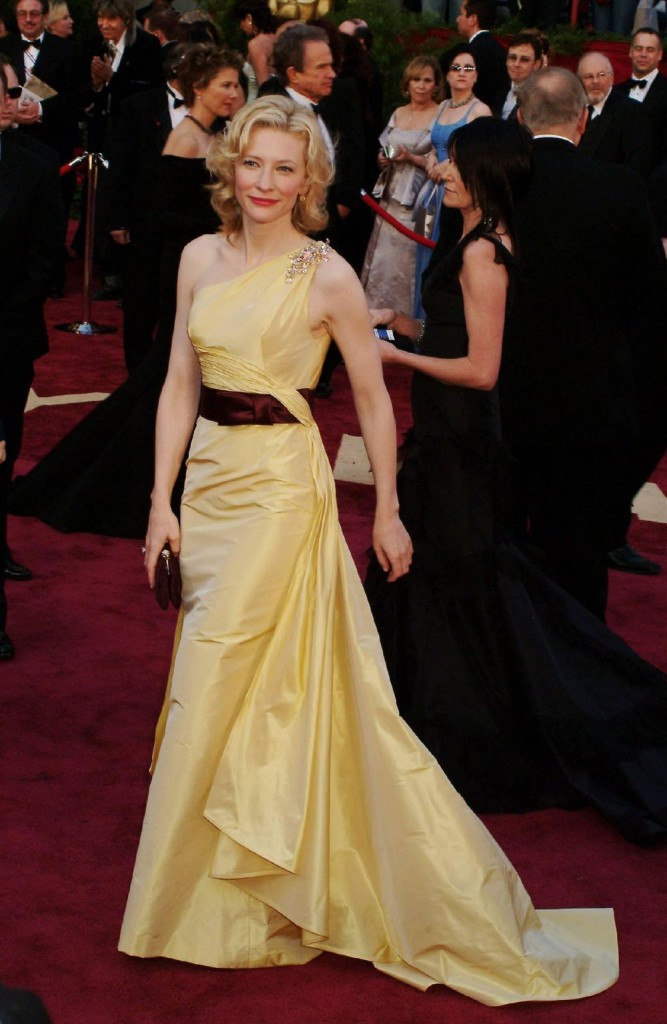 Cate Blanchett in Armani Prive, 2007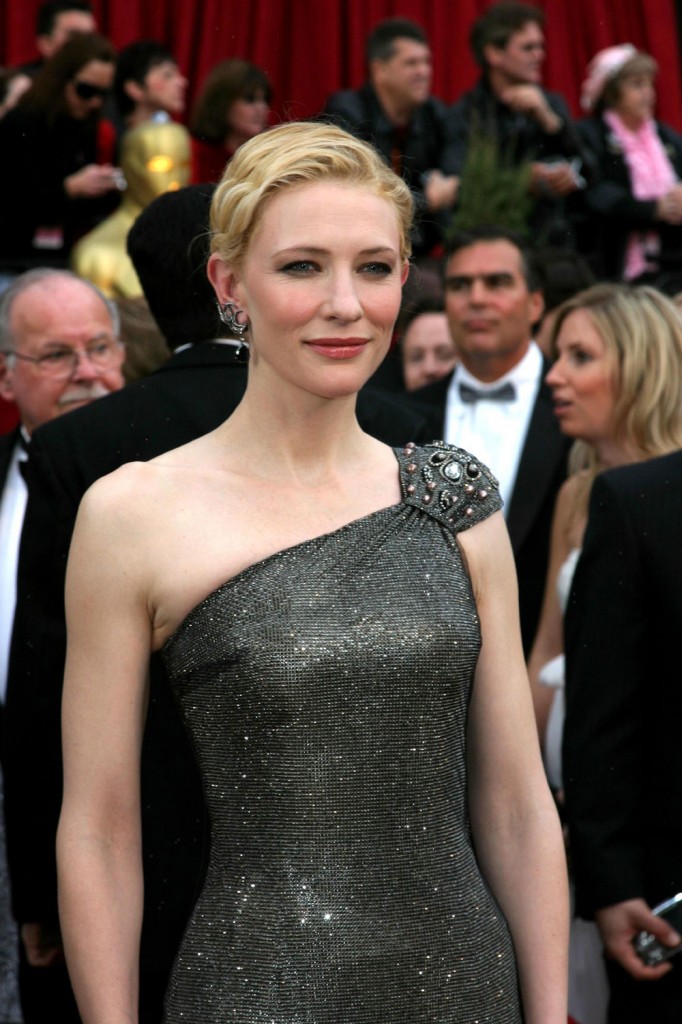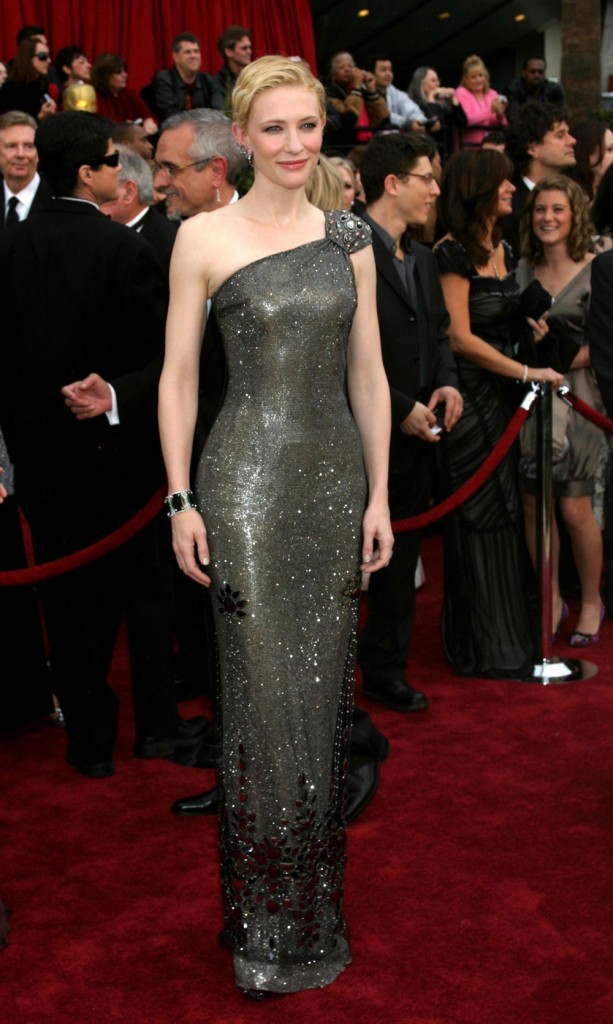 This is the one CB and I were debating – CB didn't think Halle's Elie Saab was anything great. I think it is – even more so in the history of Oscar fashion. I didn't think much of it when I first saw it on the red carpet, and I couldn't believe that she had chosen it. But then she got on stage when she won… and all of a sudden, I understood the dress. The dress looked PERFECT on the stage. Plus, I love that she wore a little-known designer (at the time) – Bradley Bayou.
Halle Berry in Elie Saab, 2002.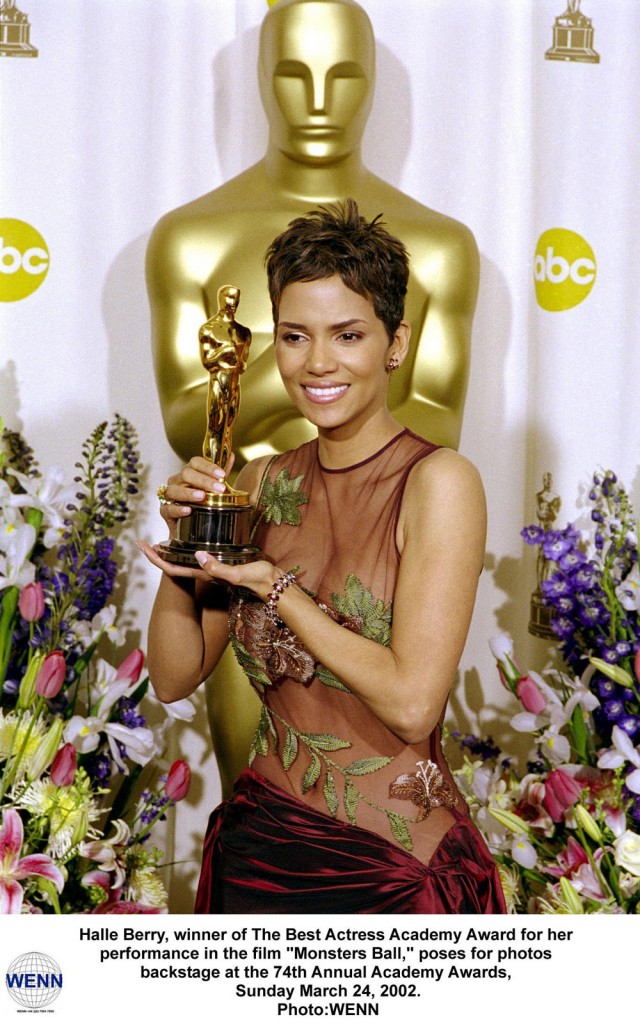 This is maybe my favorite thing that Kate Hudson has ever worn. I'm not a huge fan of hers, nor am I Hudson hater, but this fashion moment was timeless. I almost always hate blondes in these pale, beigey shades, but Kate had just the right amount of tan, the perfect makeup, the perfect hair and the perfect body for this gown. Instead of looking fussy, the beaded lace looks expensive and gorgeous.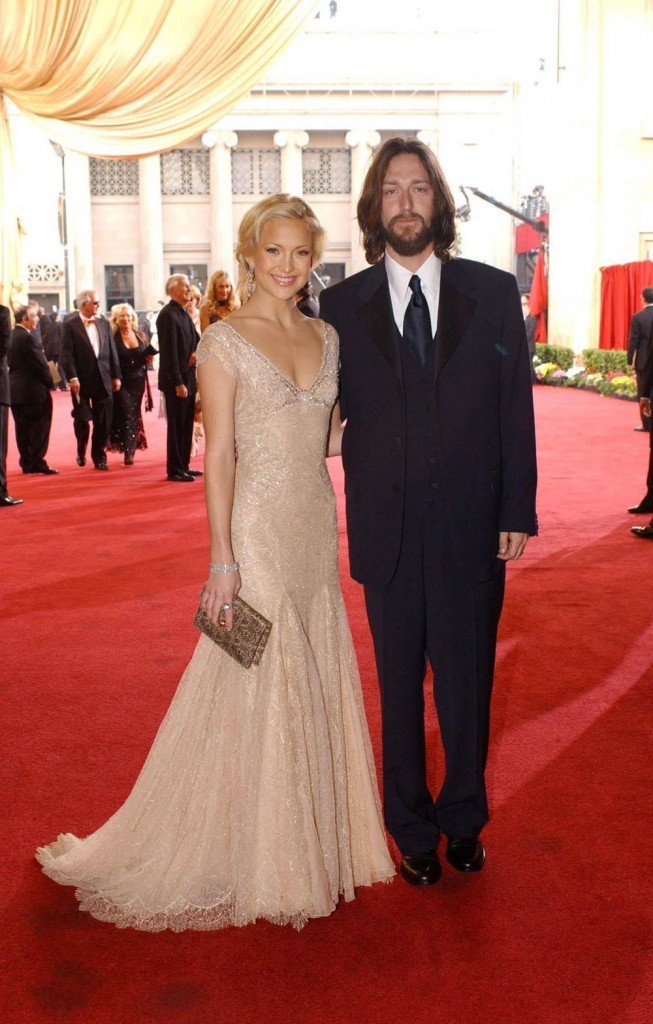 I said I hated Michelle's 2006 mustard gown that always makes everyone's top ten. And here's why – because she can pull off this kind of strong, glamorous, perfect look. This is how a movie star should look at the Oscars.
Michelle Williams in Chanel, 2011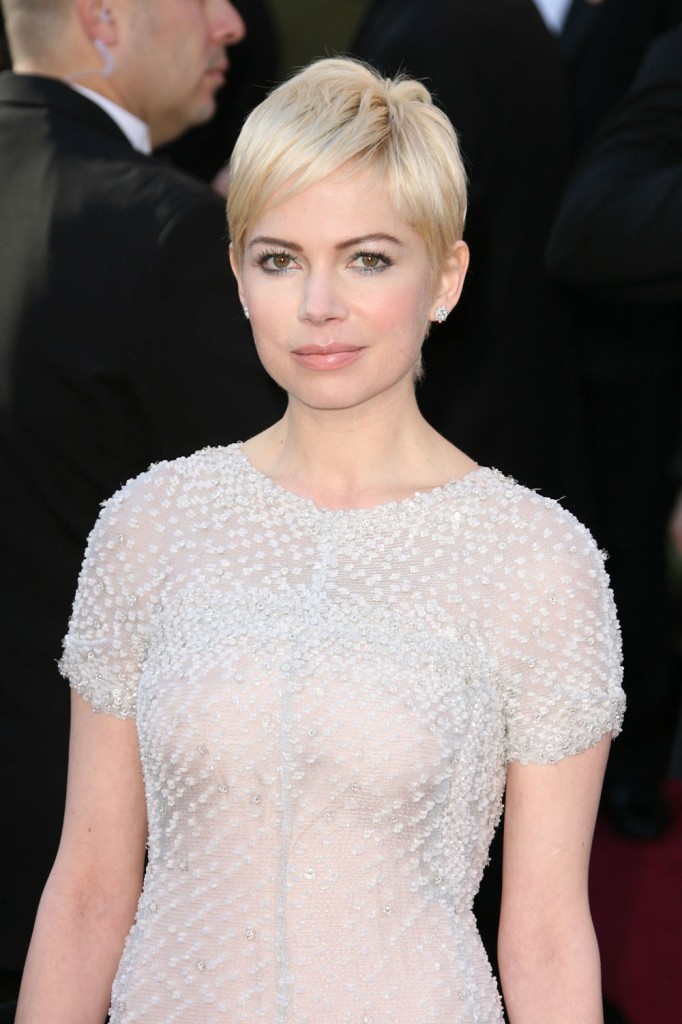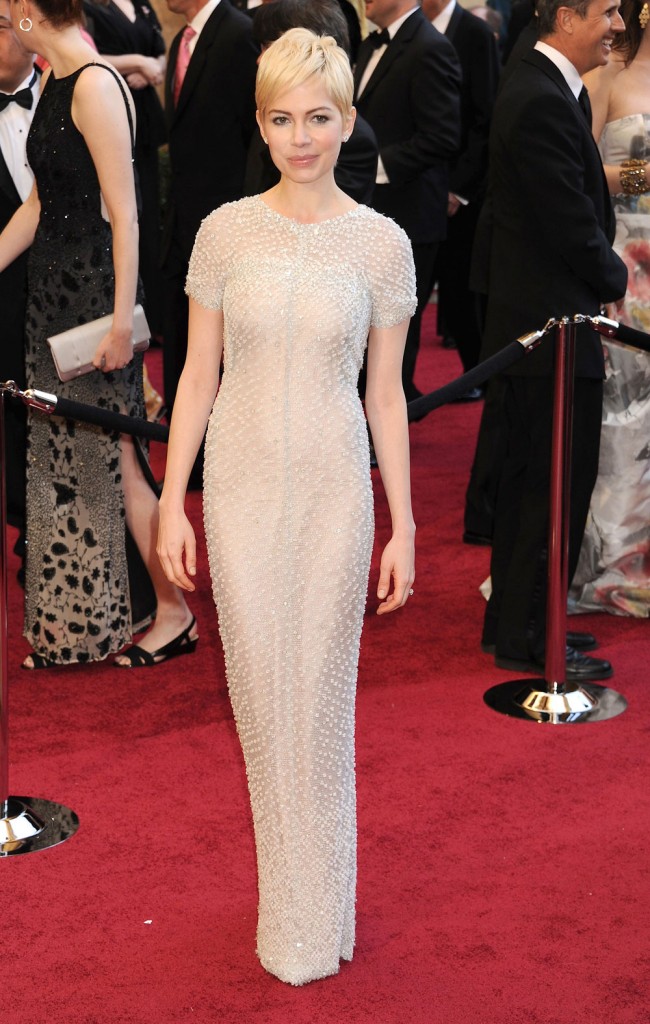 Charlize is a red carpet all-star, and what she wears to the Oscars always manages to make headlines. I feel like Charlize, Nicole Kidman, and Penelope Cruz were in a style death-match for several years, each one trying to out-do each other for the "strongest" look. Charlize's strength is that she can wear clothes that look like they came right off the runway – her looks is "editorial" as they say. Here's Charlize bringing two HUGE style trends to the carpet. We're still seeing variations on these gowns today.
Charlize Theron in Christian Dior, 2005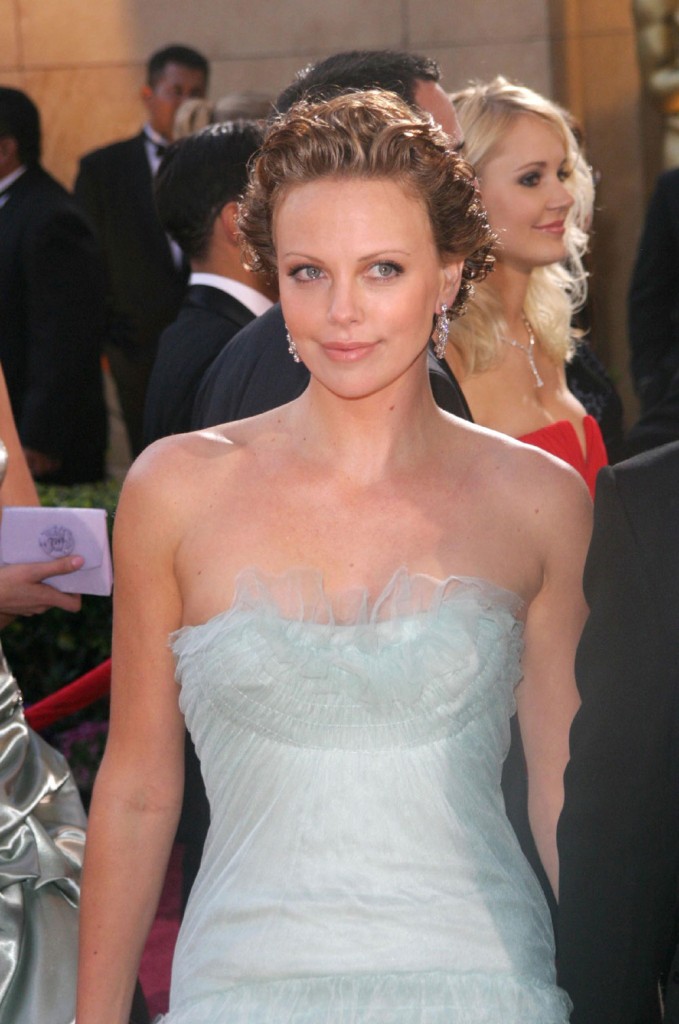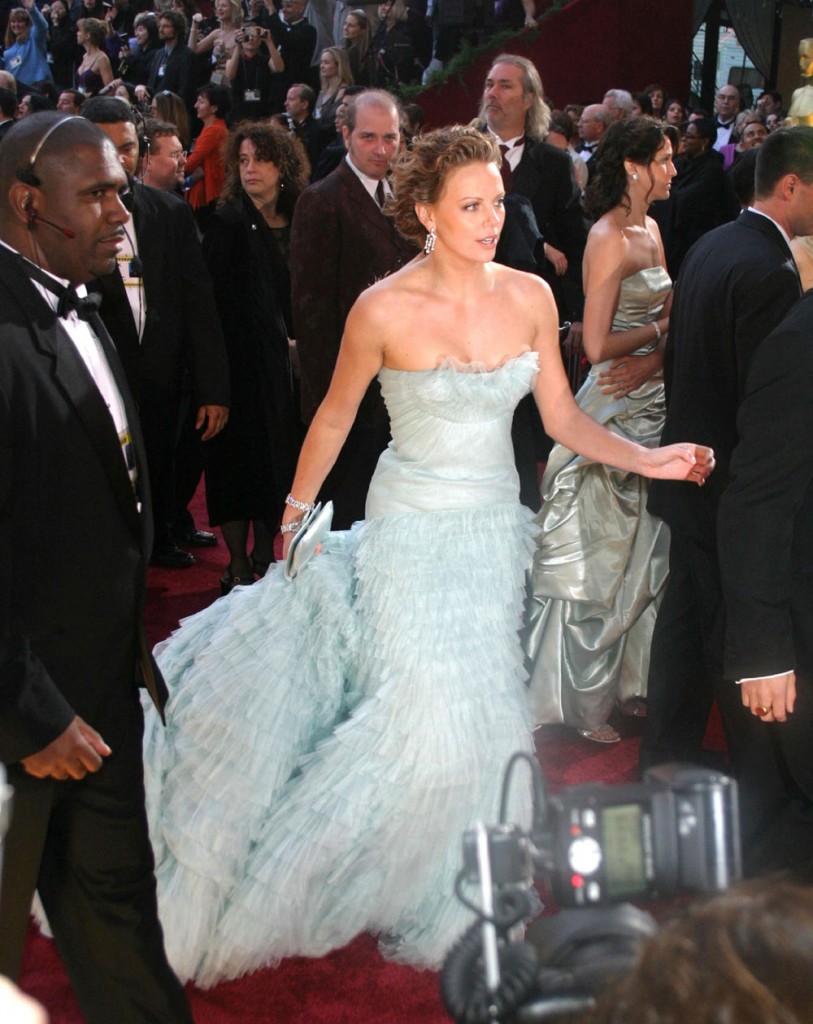 Charlize Theron in John Galliano for Christian Dior, 2006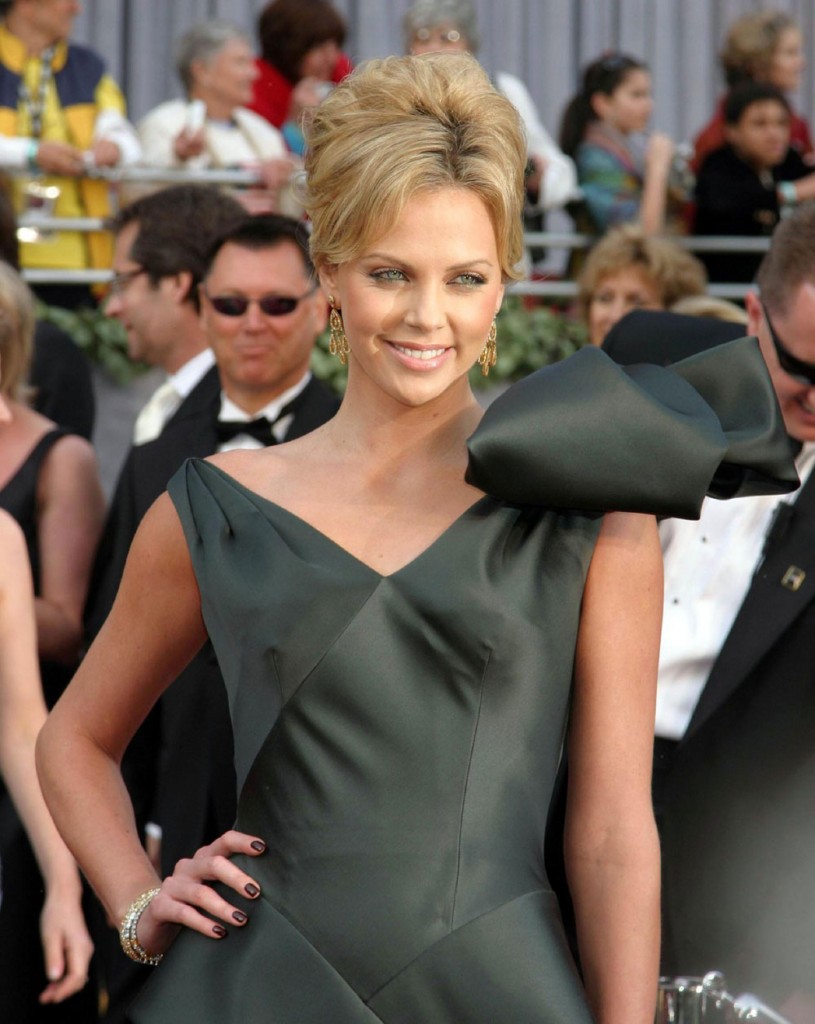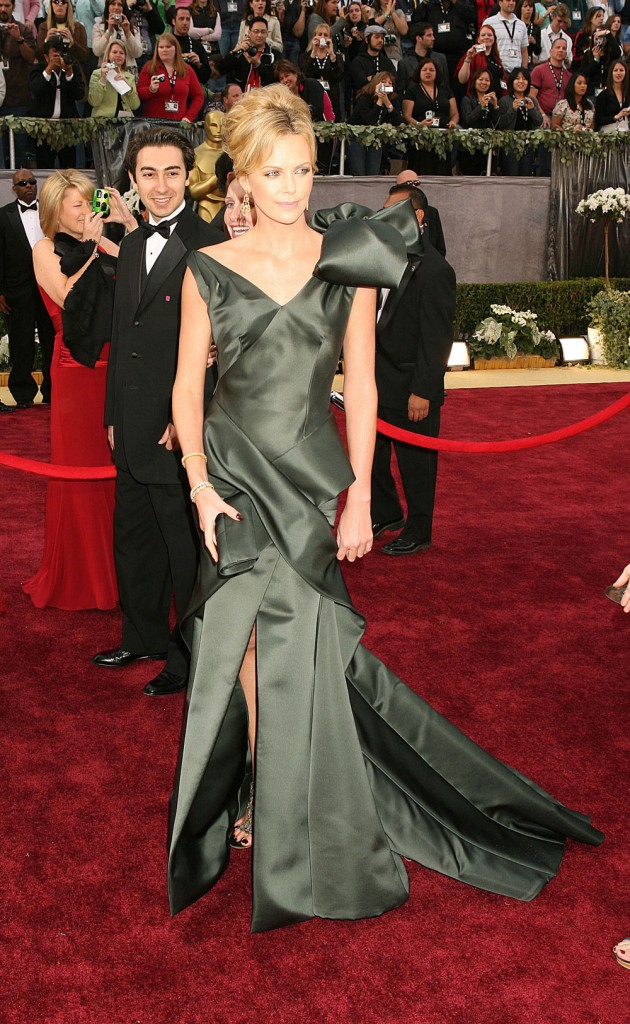 Some people thought Penelope was copying Charlize's look in 2007. But I don't think so. I remember when I saw this for the first time, I wanted the gown to decide what it was – I wanted it to be all-fitted, or all-frou-frou. But in retrospect, Penelope looked amazing and everyone is still trying to copy her.
Penelope Cruz in Atelier Versace, 2007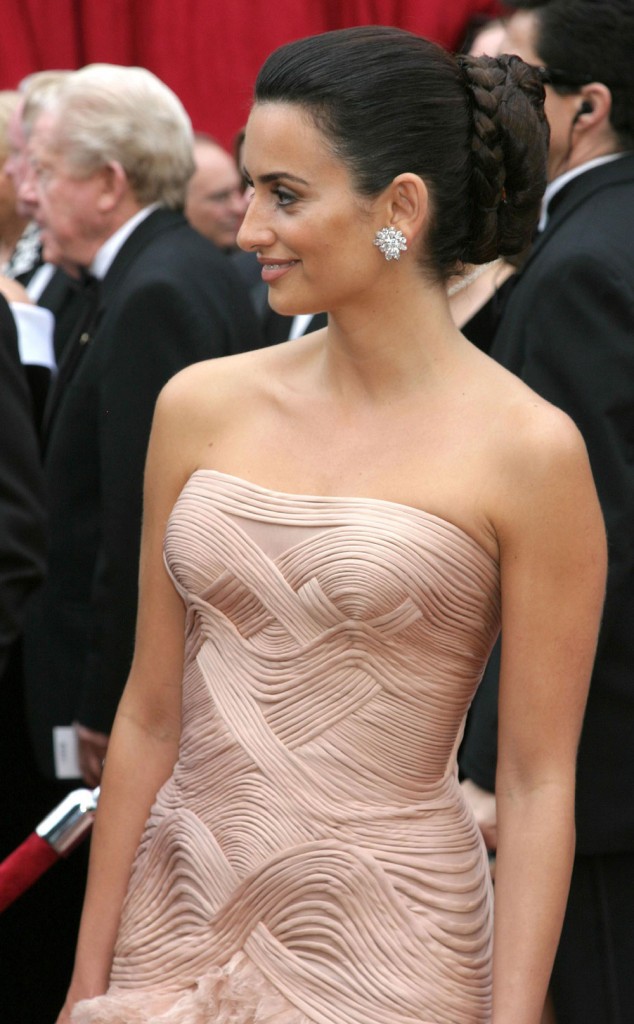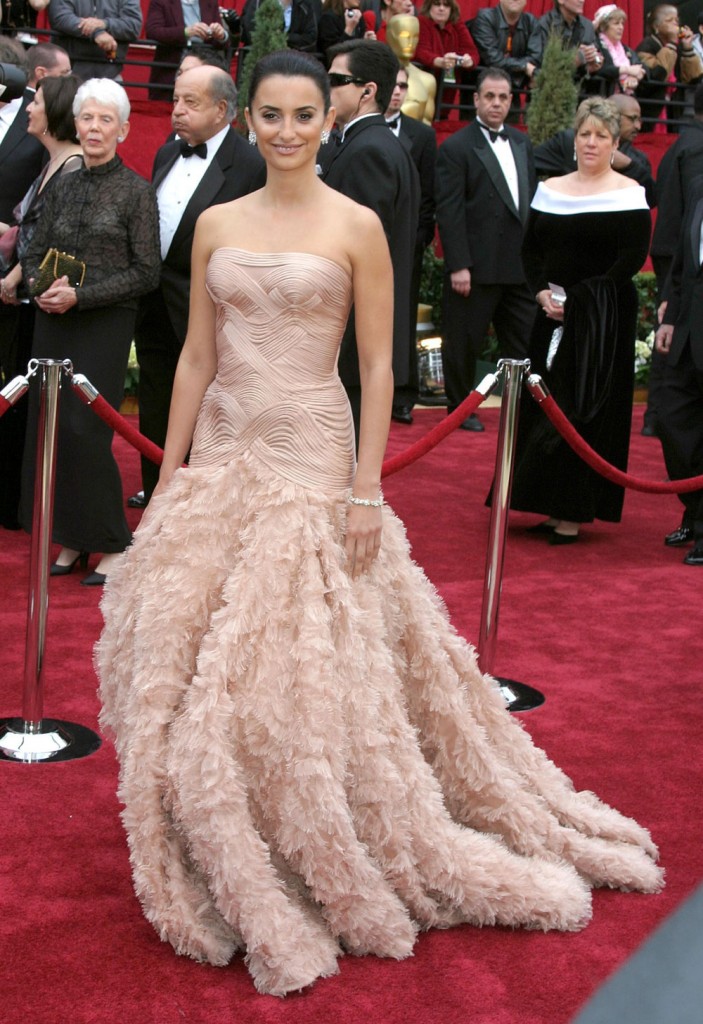 This dress still holds up, and it will hold up for years to come. This is one of those moments, where a celebrity simply looked their absolute best. Nowadays we know Alba is miserable, but back then? She was the hottest thing, and she looked perfect on the red carpet.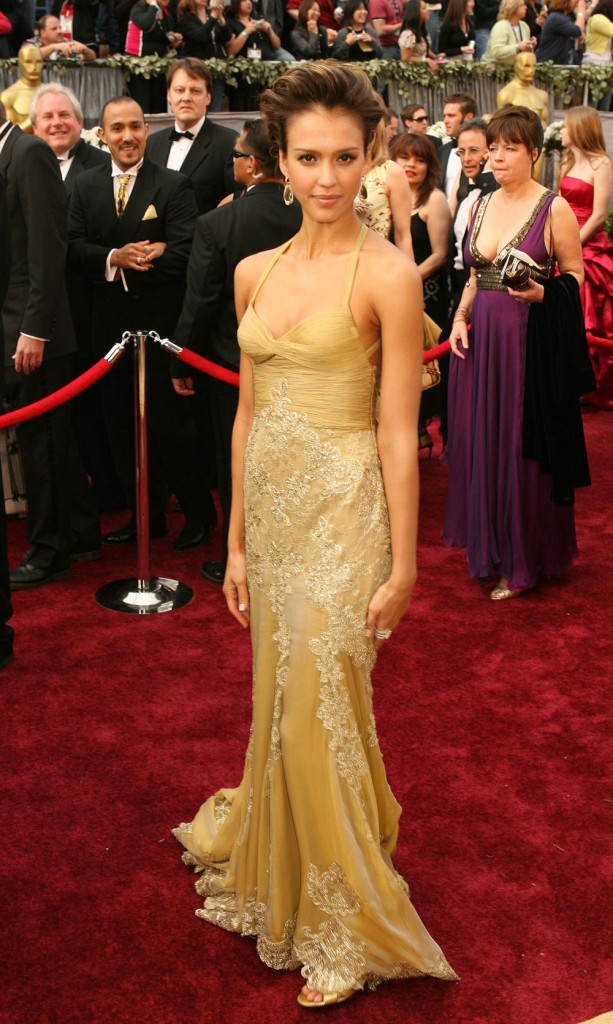 Reese's Nina Ricci is still a marvel of simplicity, smart design and minimalism. She was post-divorce, and she gave up the cotillion styles and this was the culmination. I'm still completely in love with this shade of purple too.
Reese Witherspoon in Nina Ricci by Olivier Theyskens, 2007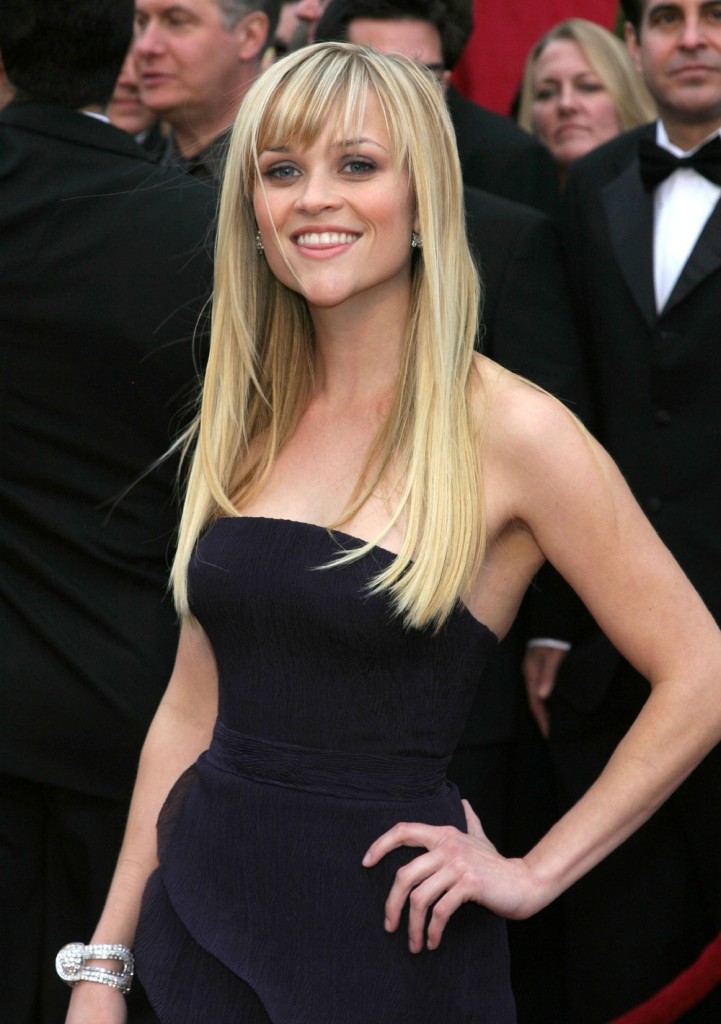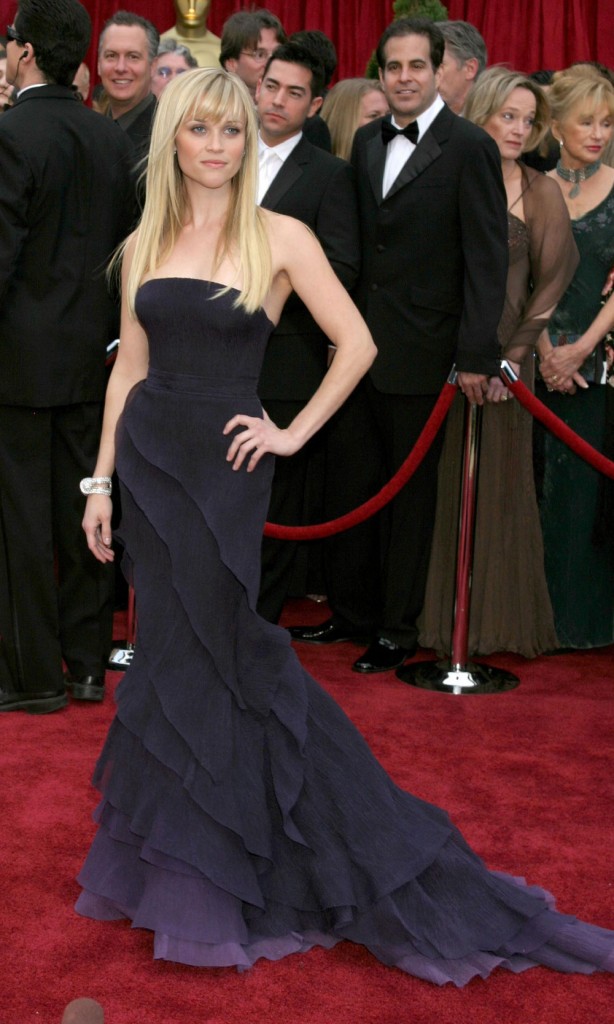 Here's what I love about Oprah's Oscar fashion: Oprah knows it's a big deal. She gets a gown specially made. She goes on a diet. She wears huge diamonds. I also love that Oprah shows the world that you can be a "bigger" woman and still look gorgeous at the Oscars.
Oprah in Gianfranco Ferre, 2004.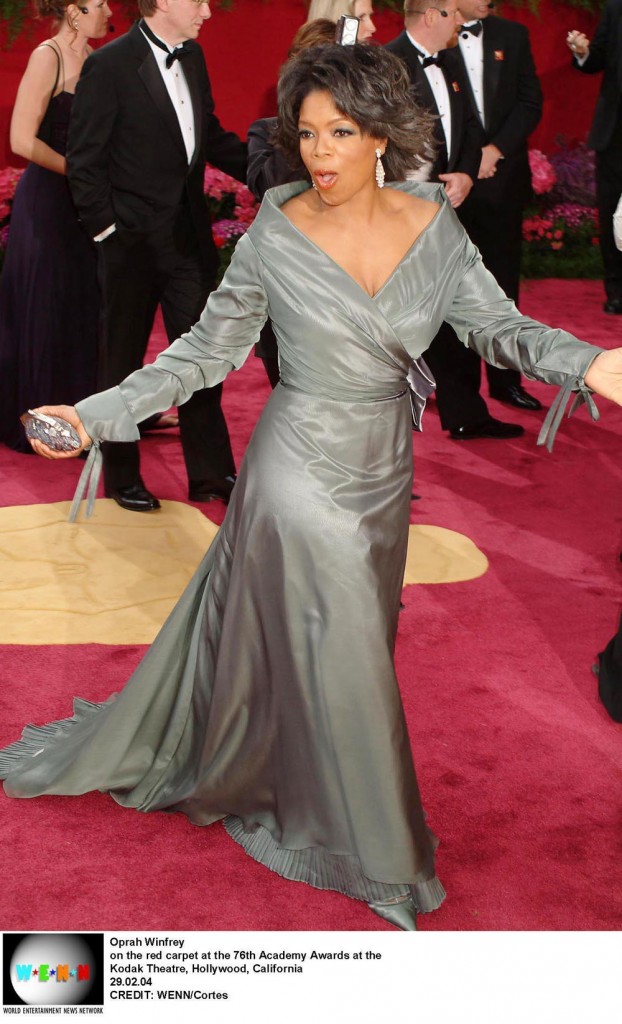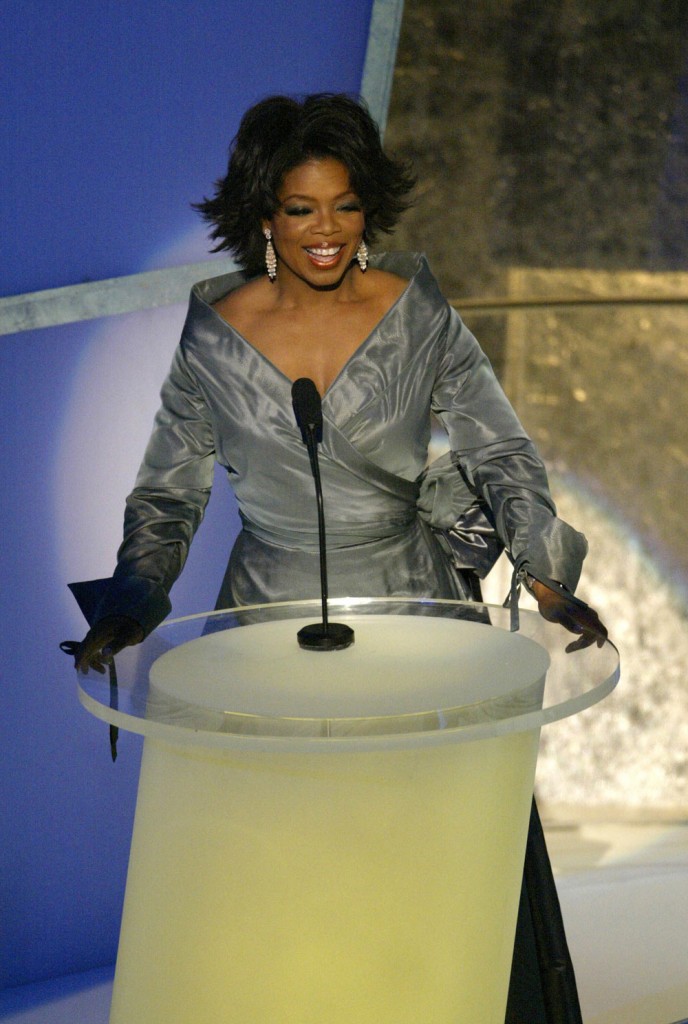 Oprah in Vera Wang couture, 2005. Shown with Halle Berry in Atellier Versace.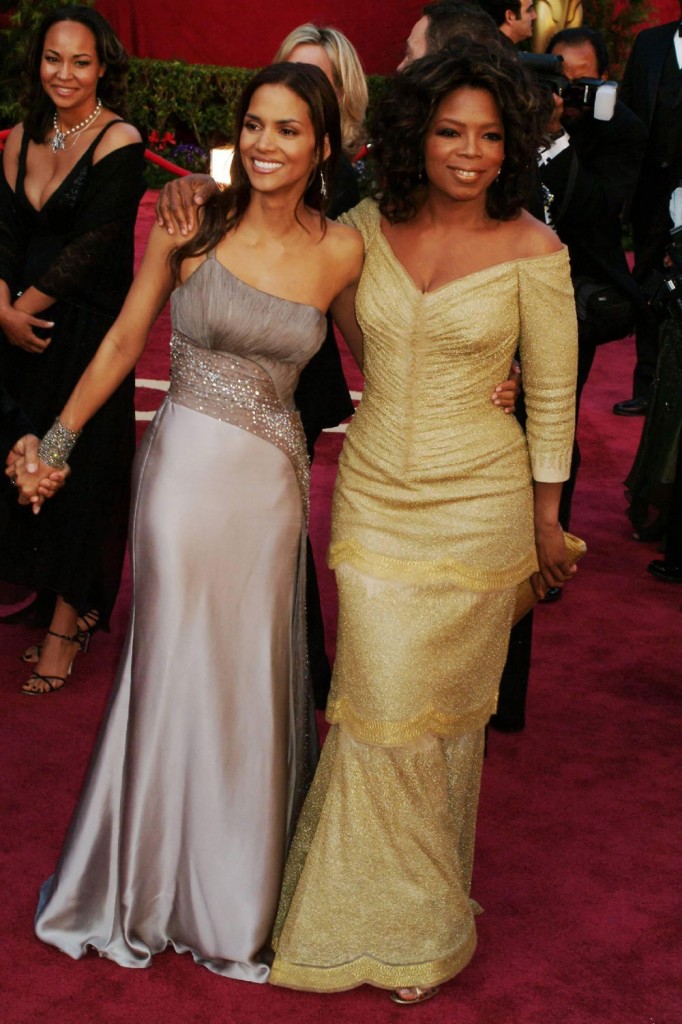 Photo credit: WENN, Fame and PRPhotos.