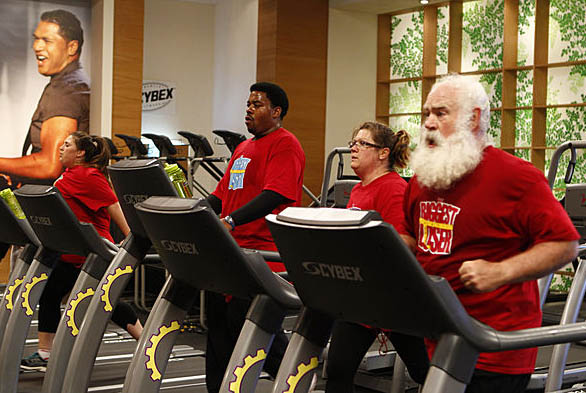 Note that the older gentleman, Roy, couldn't have been one of the walkouts as he was just eliminated
This news came out yesterday, but we didn't know how much interest there would be in it and we're honestly a little scrapped for stories this morning. (Thursdays are usually slow before the tabloids come out, and everyone must be gearing up for the Oscars this weekend. I have the feeling that they're going to suck, but we'll see.)
So the remaining contestants on "Biggest Loser" apparently walked off set halfway through the season when they heard of producers' plans to bring back some of the eliminated contestants to compete for the final prize. This has shut down production for "at least a week."
There's a big, fat problem on the set of "The Biggest Loser" — TMZ has learned nearly all of the remaining contestants have walked off the show and are threatening to quit after learning about a secret "twist" that could seriously affect their shot at the $250,000 grand prize.

Multiple sources connected with the show tell us … the mutiny took place this week … when the losers got word that producers were considering bringing back previous contestants to compete for the grand prize.

We're told most of the current contestants were pissed — feeling it was unfair that prior losers would get a second bite at the apple … so they banded together and decided to protest by walking off the show in the middle of shooting an episode.

Sources tell us … show honchos have shut down production for at least a week while they figure out how to handle the situation.
[From TMZ]
Biggest Loser trainer Bob Harper semi-confirmed this news, telling Radar that the contestants this season were "bullies." He named the people he liked and I guess you can figure out whom he's referring to by process of elimination. He said:
"They hate me saying that but it's like you know what? It's true. It's nasty and it's tough."

The hateful drama each week on the NBC show has shown the least inspirational characters yet this season, and Bob hesitated for about one second when asked if he liked anyone on the show.

"I mean…No."

With Conda, Kim and youth pastor Mark leading the pack of bullies, Bob did say there were contestants he liked, but they weren't on his list.

"There are some. I'm going to regret this. Emily, Cassandra, Chism, I love them they're really fantastic. Buddy, buddy's a really sweet guy. The rest of them, they're nasty!"

And the bad attitude they're showing to other contestants isn't sitting well with Bob, who called them out for their behavior.

"Bullies, they're bullies."
[From Radar]
For those of you who watch this, is it true? Is the dynamic especially mean this season? A lot of people in Radar's comment section are pointing to Conda as an instigator, and saying Kim and Mark are in on it. What's more is that trainer Jillian isn't around to keep people in line and put a stop to it, according to chatter about the show. (She wasn't around last season either when Anna Kournikova took over.)
So is it understandable that the contestants are striking in opposition to a policy that was sprung on them mid-season? Is it suddenly unfair to switch the rules around without warning? It sounds like it is, but I'm not watching this show. The contestants could just be pains in the ass this season.
On a side note, isn't Bob Harper dreamy?