Jennifer Lopez in two Zhuhair Murad gowns: which was the better Oscar look?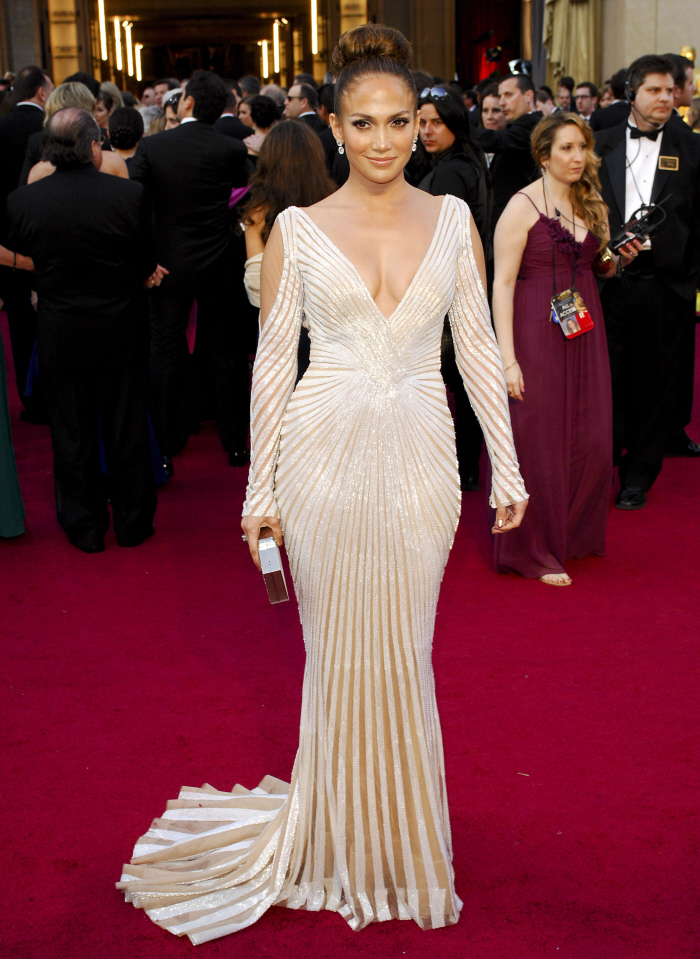 Oooooh, Jennifer Lopez. She wore two Zhuhair Murad gowns last night, and I kind of think she should have switched them up. She wore the white beaded gown to the actual Oscars, and then she changed into the gorgeous blood-red Murad for the Vanity Fair party. The red one would have made an amazing statement on the Oscars red carpet, right? But instead we got J.Lo, with her hair pulled too tight, falling out of her hideously striped dress. Yes, you heard me. Everybody is debating whether or not J.Lo's nip came out to play while she was presenting on stage with Camy Diaz. I don't think it did – you can see video here. I think her white dress was just a shade too tight, and what people saw was the dress pinching her boobs, and there was a shadow effect. Just my opinion.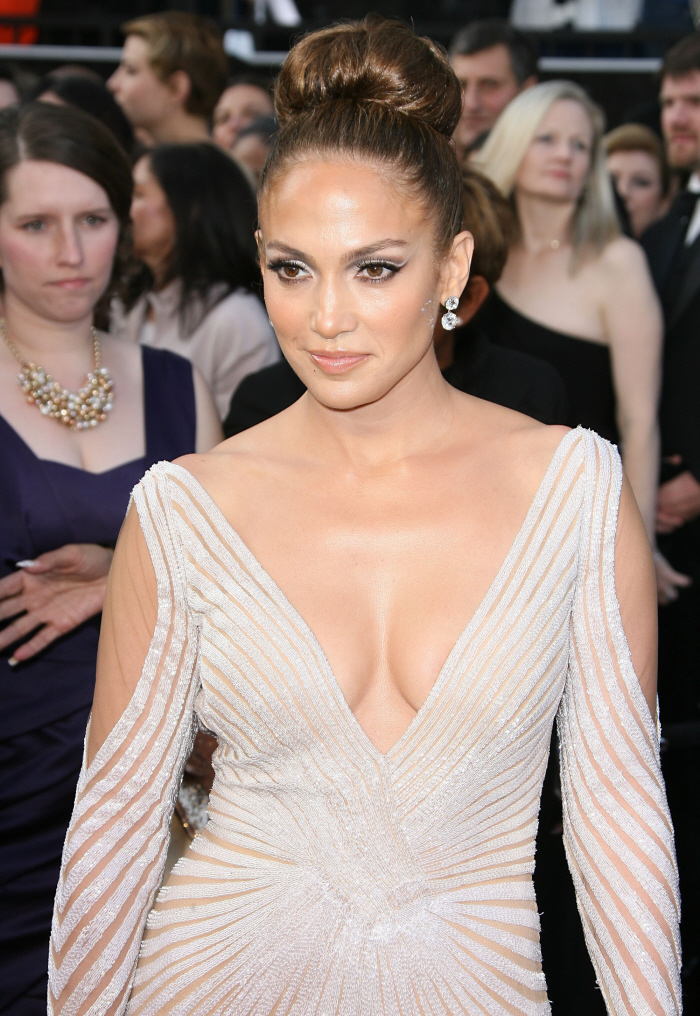 When Jennifer spoke to Tim Gunn, she told him: "I've always loved fashion since I was a little girl. I love playing dress up. Over the years… I grew up in the Bronx, my style was very kind of street and hip-hoppy when I first started out… I take that wherever I go. I've been exposed to so many beautiful things. I've evolved with that."
Oh, and where was Casper Smart?!?! BOOOOooooooo!!!! I wanted to see Casper on the Oscar red carpet, but he was nowhere to be seen! It just goes to show you – Jennifer probably isn't as loved-up with her facially-challenged boo as we think she is. She's actually a little bit ashamed of her boyfriend. Although… Just Jared claims Casper was spotted at the Vanity Fair party with Jennifer. So he did get to leave the house, but he just didn't get the photo op.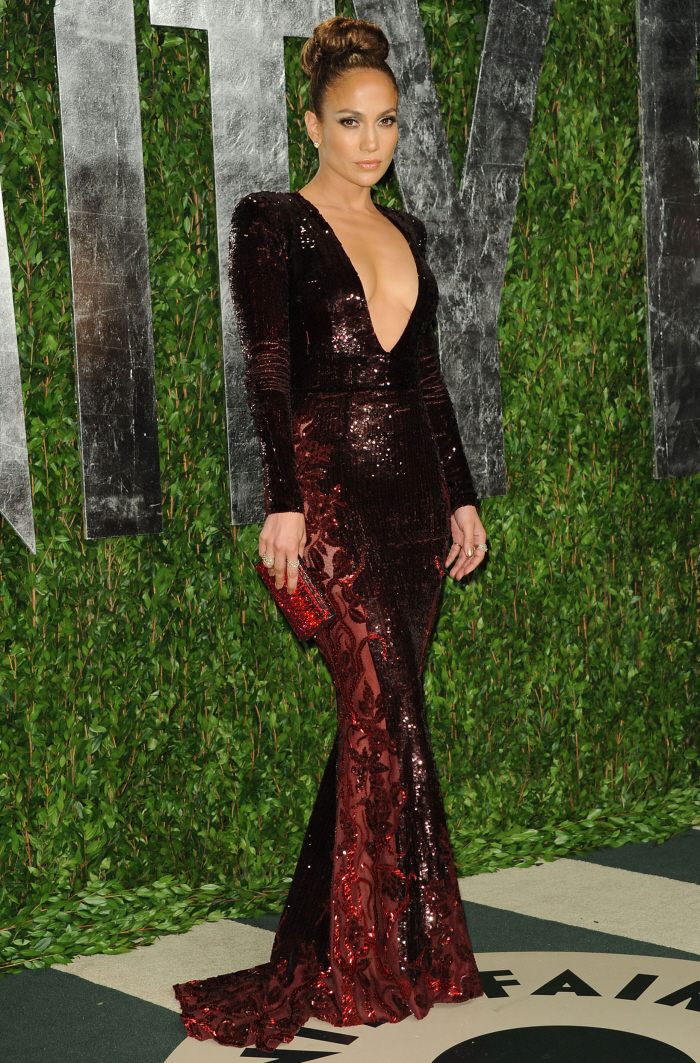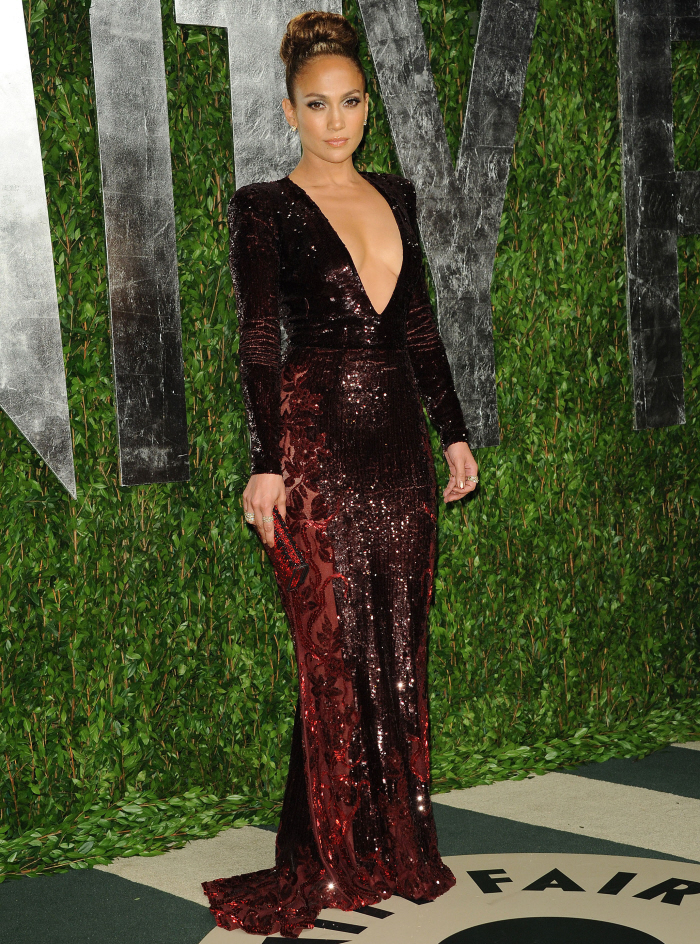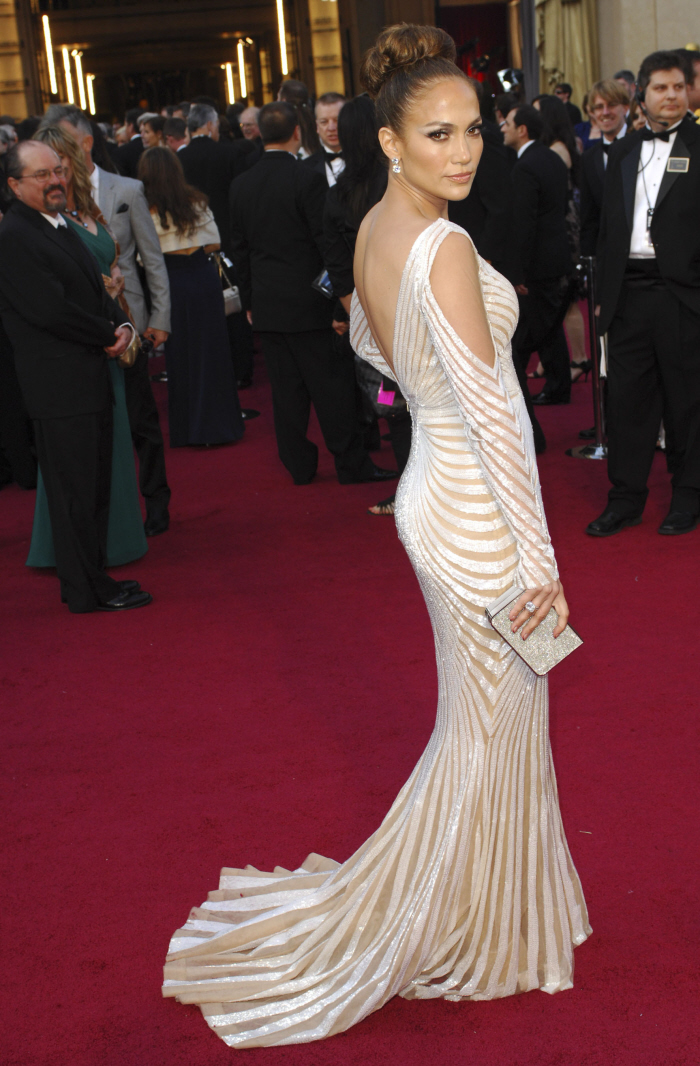 Photos courtesy of WENN.

Written by Kaiser

Posted in Fashion, Jennifer Lopez

- The Blemish interviews Carmen Electra [The Blemish]
- Rumer Willis joins Pretty Little Liars [Lainey Gossip]
- Morgan Freeman falls asleep during interview [D-Listed]
- Fug or fab: Isla Fisher [Go Fug Yourself]
- Tamra Barney confirms spinoff [Reality Tea]
- Movie franchises that rebounded [Pajiba]
- Why Dylan McKay is the perfect boyfriend [Buzzfeed]
- Saoirse Ronan could have been a Lohan [Evil Beet]
- GIFs from Cannes [Popsugar]
- Cat massages a dog [CDAN]
- Heather Graham is so pretty [Celebslam]
- What is Lucy Hale wearing? [Moe Jackson]
104 Responses to "Jennifer Lopez in two Zhuhair Murad gowns: which was the better Oscar look?"