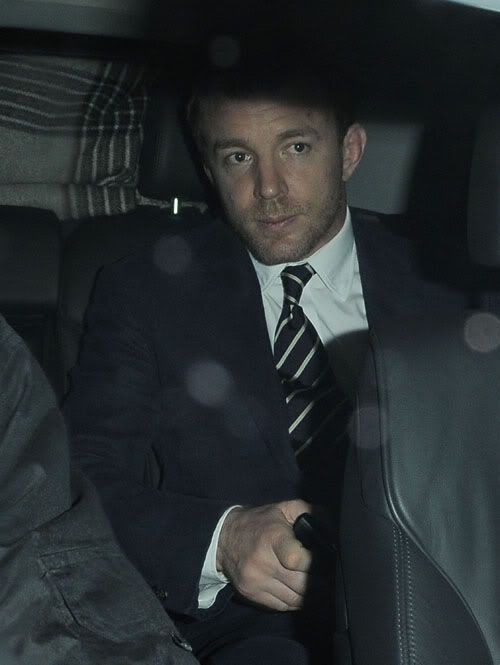 As we reported yesterday, Guy Ritchie was joyfully reunited with his sons after not seeing them for weeks following the breakup of his marriage to their mother, Madonna. You can see how happy both Guy and Rocco are to see each other in the photos at the Daily Mail. But according to that same publication, the boys were accompanied by a long list of rules to be followed while they were with their dad.
According to a text photo at Daily Mail.com, the following rules were set by Madonna for visitation:
1. Under no circumstances should they be allowed to read newspapers, magazines, or watch TV or DVDs

2. They must adhere at all times to a macrobiotic, vegetarian, organic diet with no processed or refined food

3. All water they drink, even when it is to dilute organic juice, should be Kabbalah water

4. They should wear only the clothes Madonna has sent with them, if they need to be bought anything new, it should not contain any man-made materials

5. The boys' hands should be regularly cleaned with disinfectant spray if they are in public places

6. They should not be bought toys that are spiritually or ethically unsound

7. The divorce should not be discussed with them

8. Madonna should have contact by phone with them when and how often she chooses, as often as three or four times a day at times she sets

9. Guy should not introduce the boys to any of his new friends, especially any new female friends

10. Madonna wants the boys to spend their time she's given with Guy, and not large amounts of time with his parents, their grandparents

11. The boys should not be photographed when they are with Guy and it's his responsibility to arrange security so it doesn't happen

12. At bedtime, Guy should read Madonna's English Rose books to David
I'm sending transcendental encouragement to Guy Ritchie for a long movie night, with delivery pizza, soda pop, friends and grandparents and the phones shut off. And a permanent ban on the English Rose series from the home.
The more I read this list of rules I imagine safety-pinned to Rocco's shirt, the more incredulous I become. Would Madonna really expect more of Guy than she does herself? And does she really believe she still has control over the time the boys spend with their father? Then I think about those questions and I realize that yes, she probably would and probably does. It's a long standing tradition that parents who are no longer together have a power struggle when it comes to how the kids will be raised when they are in the custody of the other. Watch any divorce based movie. I just watched The Squid and the Whale, a perfect example, and a depressing movie. The kids suffer way more than the parents when a battle for the parental upperhand occurs.
Guy Ritchie is shown outside his Punchbowl Pub on 11/7/08. Madonna and Rocco are shown outside the Kabbalah Centre in LA on 11/8/08. Credit: WENN