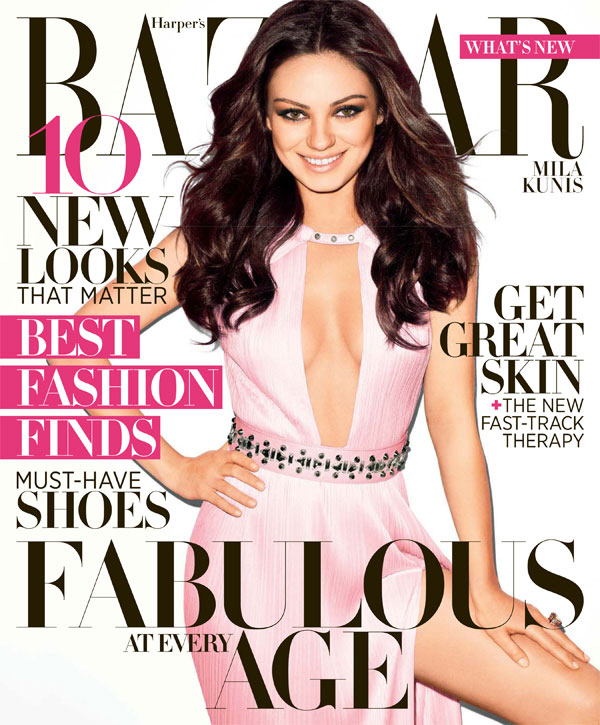 Mila Kunis covers the April issue of Harper's Bazaar (US), and these are some images from the Terry Richardson photo shoot. I don't know why Mila agrees to be photographed by Richardson – he did her GQ photo shoot last year as well, and I have to say… even though the GQ shoot made me sick to my stomach, it was much better than this. Something about Mila Kunis looking strung out, wearing tiny baby doll dresses and eating cotton candy, all while be photographed by a known pervert… it's really, really gross. I remember when fashion magazines were a celebration of womanity. I can't believe a major magazine would do a shoot that seemed so… pedophilia-themed. Anyway, you can read Mila's full Bazaar interview here, and here are some highlights:
On Black Swan and how it changed her career: "I honestly thought, 'This is going to be a Darren Aronofsky movie. Maybe people will see it, maybe they won't.' I didn't for one second think, 'I'm making a movie about ballerinas. People are gonna run to see this.'" Before Black Swan, "I had anonymity," she says. "Right now, not nearly as much."

Immigrating from the Ukraine at seven, speaking not a word of English: "We came with nothing, and my parents had to work for everything," she recalls. "The easygoing aspect of me comes from the fact that when you have nothing, you have nothing to lose."

Her parents don't approve: "If it was up to my parents, I would have never done this," she says of acting, "but now I'm 28, so what can they do?"

Does she make friends easily? "No. It's hard to open up to people because often they're more curious than they actually care about you."

Is she more paranoid now? "Yes. Incredibly."

Her phone wasn't hacked: "No, my e-mail that hasn't been valid in over three years was hacked. They got a photo of me. I'm not naked or anything. I was covered in bubbles, eating."

How she safeguards: "Well, I don't send naked photos." Then she laughs. "Not that there's anything wrong with that." Mila emerged from Hackergate unscathed, unlike fellow actress Scarlett Johansson, who was allegedly a victim of the same culprit. "The sad thing is, she shouldn't even have to explain who it's for," Mila says.

On dating: "I don't get asked out. This past year, I haven't been home, so who's going to ask me?"

Macaulay Culkin: Her last serious boyfriend was Macaulay Culkin, whom she dated for eight years, until 2010. "It was fantastic," she says. "I mean, I honestly think being single's great. Being in a relationship's great. It's all about the timing. I loved it."

She's not a wild girl: "I don't go out very often. I prefer to stay home and have a nice little beverage and watch television." She cooks too. "I can make anything out of leftovers. I want to be a judge on Top Chef." She works out with a trainer three times a week, mostly because that enables her to keep eating and drinking. "My glass of wine and I are besties."

Gaining weight, post Black Swan: After her drastic weight loss for Black Swan (20 pounds off her already lean frame), Mila notes that her body "has never been the same. My shape is different. When I got down to 95 pounds, I was muscles, like a little brick house, but skin and bones. When I gained it back, it went to completely different areas." Like the rear? "No, I'd be happy if my ass got bigger. All the weight that left my chest went to my side hip, my stomach." She's wary of another role that would require a body transformation. "I'm not going to say I'd look forward to it, but if an offer came along, I'd do it."

Her style icons: "I've always been a fan of Kate Winslet. She's very classy and a sexy little thing too. Victoria Beckham — she's very confident in whatever she wears. Oh, and Cate Blanchett," she says. "Obviously."

Aging: "I will not put a needle in my body unless I have a medical reason," she says, "but ask me in 10 years. Right now, I'm like, 'I'm going to embrace it,' but … I'm probably going to want to have something done. I have no doubt."

Stereotypes: "People have interpretations of what you're supposed to be like," she says. "If you're unattractive and overweight, you must have a great personality. If you're attractive, then you must not be the nicest person. People are always taken aback that I'm easygoing but not necessarily stupid."
[From Harper's Bazaar]
She comes across as an interesting person, I have to admit. There is an eerie directness to Mila's interviews – she doesn't talk around things, she doesn't hedge, she's not trying to create another "image" for herself. I'd also like to believe that she really is this low-key, that she simply prefers to drink wine at home and take a bath rather than go out clubbing constantly. I still wonder what went down between Mila and Justin Timberlake, though. I think it was probably just a fling while they were promoting Friends with Benefits. Maybe Justin wanted more, and maybe Mila wasn't into it. That's how I prefer to think of it, because obviously, she could do a lot better.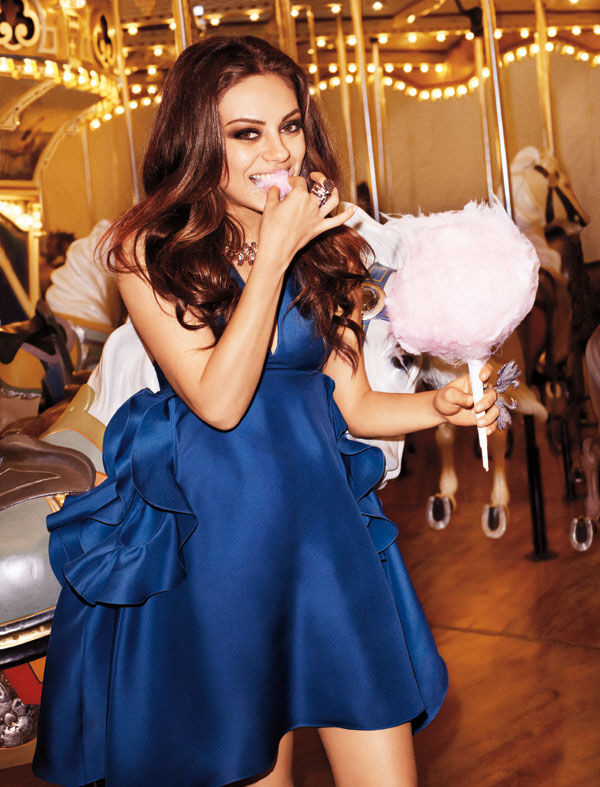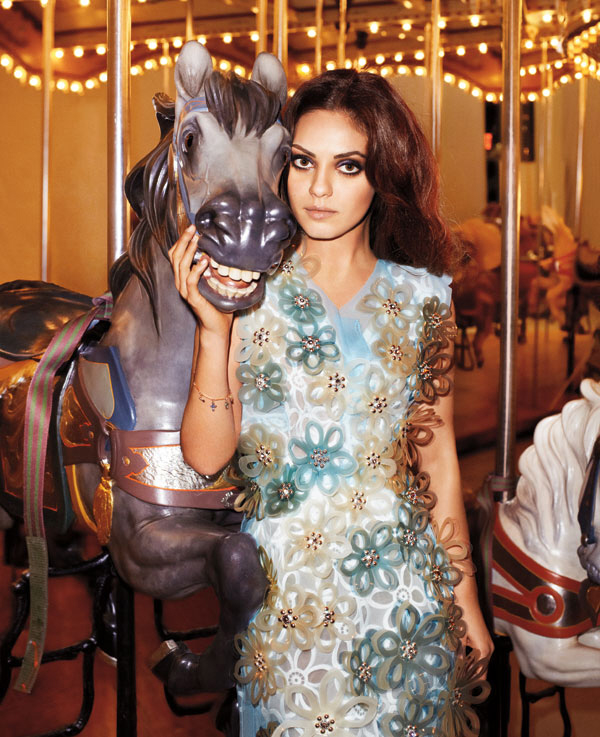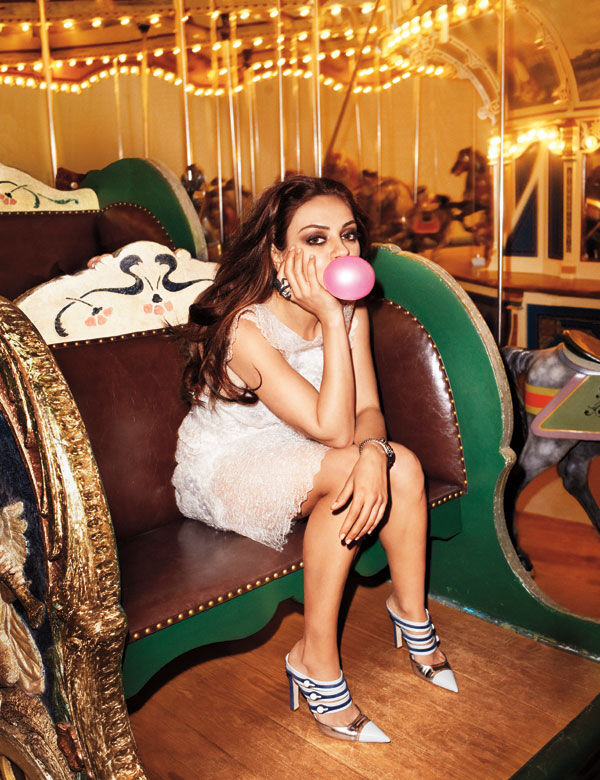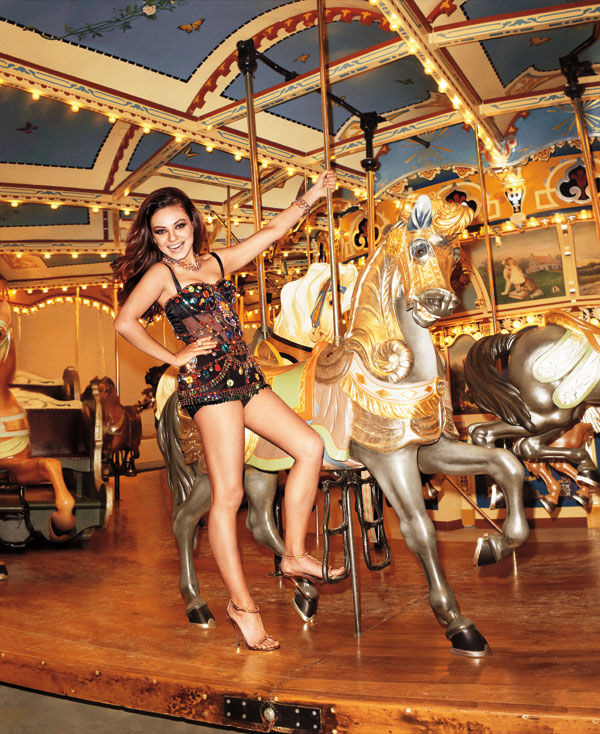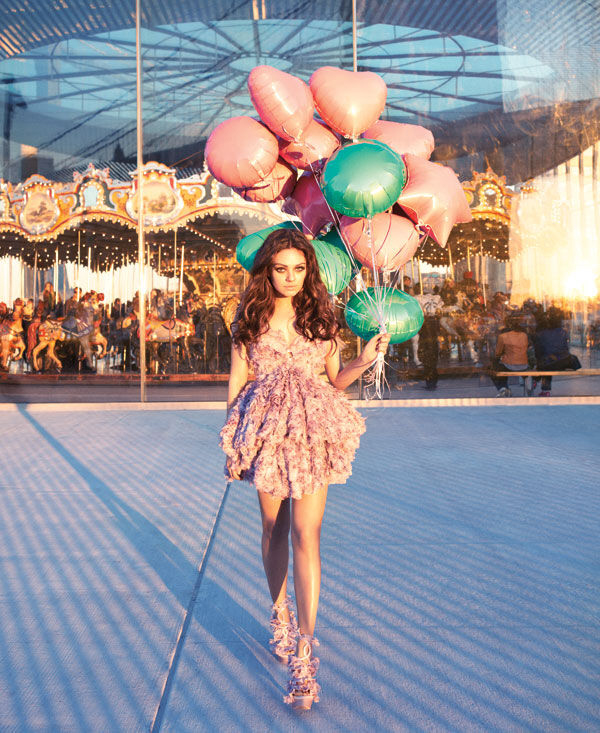 Photos courtesy of Harper's Bazaar.