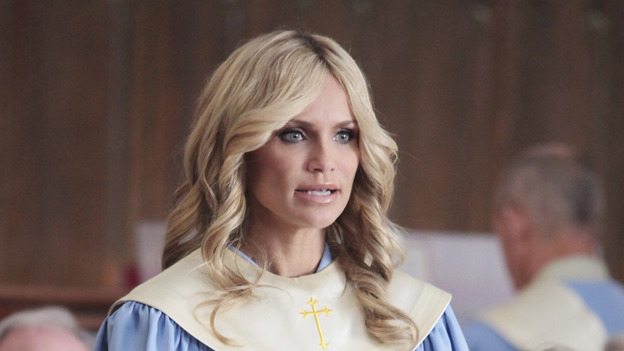 I'm reporting this because I want to give a little love to the new ABC show GCB, not because I think these complaints are particularly worth paying attention to. I saw the pilot episode of GCB on Sunday night, because if you put the word "bitches" in your TV show, you know I'm going to give it a chance. It was campy and over the top, but I really enjoyed it and will keep watching. (Most of my favorite shows are either winding down or over for the season, so it's a welcome addition.) Of course at least one group is up in arms over GCB, short for "Good Christian Bitches," probably just because it pairs the words "bitches" with "Christians," but tries to sanitize it a little by abbreviating it. The only sex in the pilot episode (spoiler I guess, although it's a minor one) was between a married woman and her husband. Oh and there was the intro segment with a guy driving his car over a cliff while getting a bj from his mistress. I guess I forgot that one. Anyway this one watchdog group, which also hates Glee, went off on GCB, but I doubt they saw it. Star Kristin Chenoweth made the same point.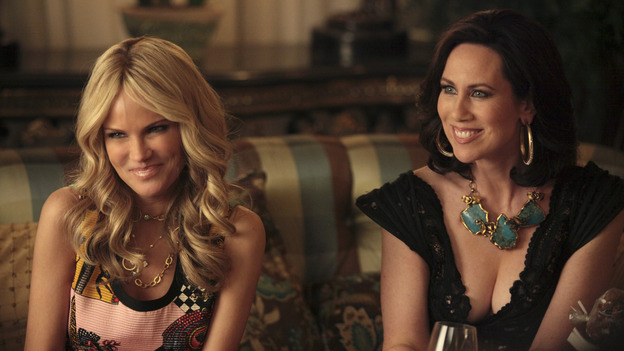 Kristin Chenoweth's new primetime show GCB has been called "the new Desperate Housewives," a "catty suburban and humorous drama," and a "modern day soap opera," but RadarOnline.com can exclusively reveal that one conservative group has much harsher words to describe it.

"Trying to find one bad point to discuss in the foul and hateful GCB is like trying to find one individual liberal in Hollywood. You can't. There are too many," Dan Gainor of the Culture and Media Institute told RadarOnline.com in an exclusive interview on Monday.

"GCB short for 'Good Christian Bitches,' is a sex-filled attack on Christians, conservatives and Texans, especially."

As RadarOnline.com previously reported, GCB is based on the book Good Christian Bitches by Kim Gatlin, and tells the story of one-time mean girl Amanda Vaughn (Leslie Bibb) who returns to her hometown of Dallas after the death of her Ponzi-scheming husband. Amanda has changed her ways, but the girls she left behind — former ugly duckling Carlene (Chenoweth), insecure Sharon (Jennifer Aspen) and glamorous Heather (Marisol Nichols) — won't forgive and forget.

Packed full of sex, plastic surgery and bible-quoting women in haute couture, the show is already ruffling feathers within a day of the ABC show's premiere on Sunday.

Gainor went on to slam a specific plotline that has caused outcry among many family values groups involving one of Carlene's rich girlfriends, who knowingly married a gay man (played by Mark Deklin) who keeps his sexuality secret from the church-going community, and is really in love with a ranch foreman, not his designer-clad wife.

"The gay plotline is just one more way that the 'writers' who scripted this garbage can attack those they hate — and that seems like a long list. Next time they should try less bile and something better than a Keeping Up With The Kardashians level script," said Gainor.

A good Christian girl in real life, Tony winner Chenoweth defended GCB's controversial story lines and homosexual character.

"The Bible tells us that we're not supposed to judge, and people shouldn't judge before seeing the show," she told ABCNews.com. "I'm a Christian, I think that's pretty well known, and I would never do anything that I think crossed the line.

"I'd say go to church and take a look around the room and see if you see any women who might be married to a man who might be gay," she went on to say. "I'd say be very careful of judging someone who's in marriage who is gay because they don't want to be told they're going to hell. I think that happens and I think it's horrible."

The Broadway star turned TV actress compared the scandal-filled soap to "chocolate cake and dessert," and thinks that it is a delicious drama even if the racy plot riles up her right wing fans.

Thanks to her musical success, Chenoweth has a huge gay following which she embraces as much as her Christian fans, and reminds anyone who criticizes her about that of a motto that her grandmother used to say.

"Even as a young child, I thought, 'Why is being gay bad?,'" she said. "I didn't understand it. So I asked my grandma, who is the best Christian I ever knew. I'd say, 'What about my friend Denny, he's gay, is he going to hell?' She told me, 'I read the Bible like I eat fish. I take the meat that serves me well but I don't choke on the bone.'"
[From Radar]
I love what she said about enjoying the meat of the bible and not choking on the bone! Chenoweth is awesome in that show, and she basically plays the head bitch. My only concern for GCB is that the characters eventually evolve and don't remain stale cardboard cutouts. I want to feel more sympathy for Chenoweth's character and learn more of her backstory. I'd like to have my opinion of her character change. This is a trashy soap opera, though, not Downton Abbey. It's superficial and so enjoyable.
As far as the criticism goes, I doubt anyone thinks this is a generalization about Christians or that it's even particularly realistic. It's a TV show, and the characters go to church and act catty. They stand up and make testimonies in church that are aimed at cutting their enemies down. It's fun to watch but not at all likely. On FX's "Justified" one of the main characters is a very religious crime kingpin who used to be a white supremacist, but you don't hear anyone complaining that his character is an attack on Christians.
GCB's pilot ratings were decent, but not fabulous. Unless the numbers pick up it probably won't have a second season.