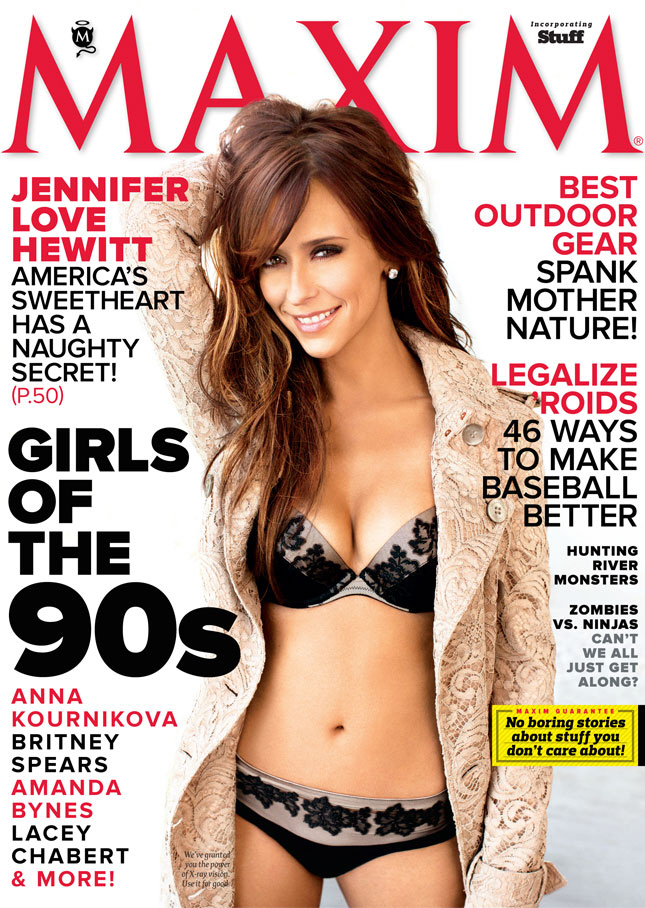 Believe it or not, I actually like Jennifer Love Hewitt. Like, I think she's the very definition of "Man-Repellent" and I think it's funny how clueless she is about men and relationships – this is a girl who vajazzles to feel special, and this is a girl who has three "pre-selected" engagement ring options at Tiffany's, which she shows the men she's dating. And then she acts all, "WHAT? Why can't I find a man?!?" Poor J. Love. So how does she still manage to get boyfriends (of declining quality)? Well, she's pretty. And she has great boobs. And so that's what she's left with – talking about her boobs as she shows off her boobs on the cover of the new issue of Maxim:
Gracing the cover of PEOPLE's 2011 Hottest Bodies issue, Jennifer Love Hewitt appeared confident baring her cleavage in a colorful two-piece bathing suit. And the self-assurance she has when it comes to those body parts is no act, she says.

"It's horrible to say, but I like my boobs," Hewitt, 33, tells Maxim in its April cover story when asked what body part she is most proud of. "They've always served me well. They're good."

The svelte star also admits to doing something else to get in tune with her feminine side: pole dancing. Hewitt, who will play a prostitute on Lifetime's The Client List series, says, "It's a great way to get in touch with your sexuality. I also love to cook, so I can have a cake in the oven while I do a pole dance."

But lately, the currently single starlet says there doesn't seem to be anyone to watch her sexy moves.

"It might sound so stupid, but guys do not hit on me," she notes. "I'm not really sure why."
[From People]
Oh, J. Love. "It's horrible to say, but I like my boobs"???? WTF? Why is that "horrible" to say? Also – "It might sound so stupid, but guys do not hit on me." Why does that sound "stupid"? Either she's got epic low-self-esteem to the point where she thinks it's "horrible" to talk about her favorite body part, or she's so egomaniacal that she honestly can't figure out why every dude isn't asking her out. As for her epic lack of self-awareness – "I'm not really sure why" – yes, we know. Put down the vajazzler. Tell Tiffany's to stop keeping those three engagement rings on permanent hold. Stop talking about getting married when you're on a first date. It really is that simple.
By the way, this photo shoot is really good… for her. Her body looks great, and she looks sexy/cute, which is her strength. She's like the B/C-list Jennifer Aniston, isn't she?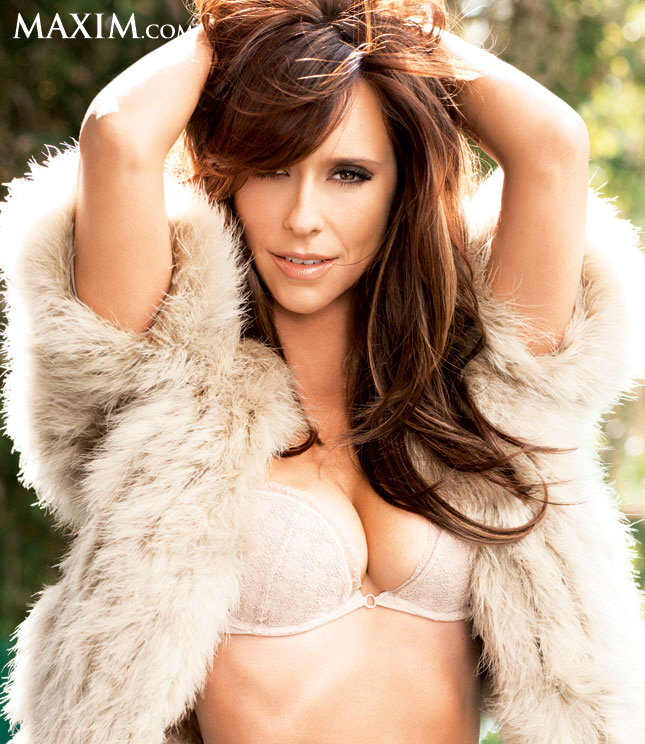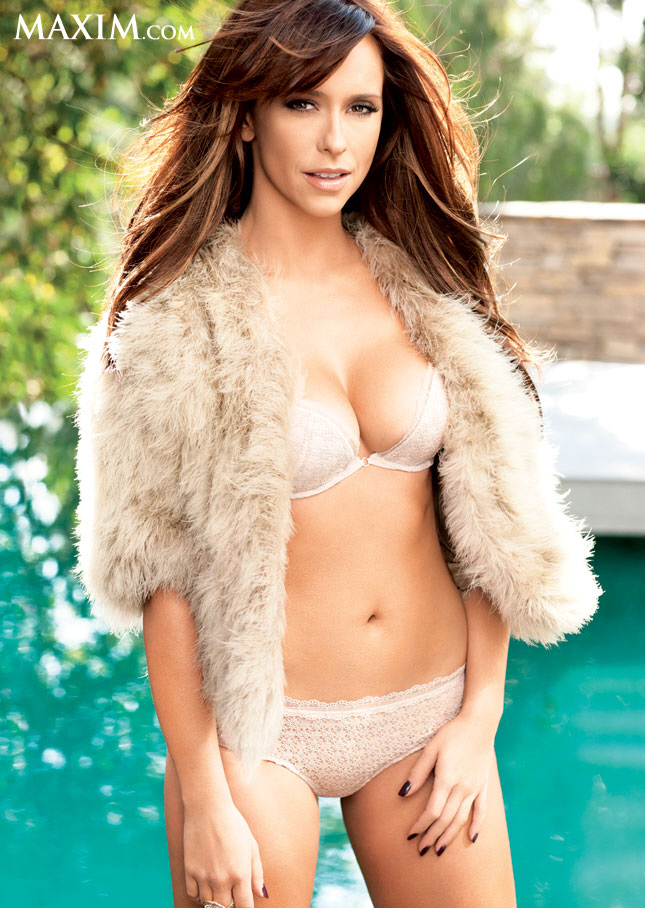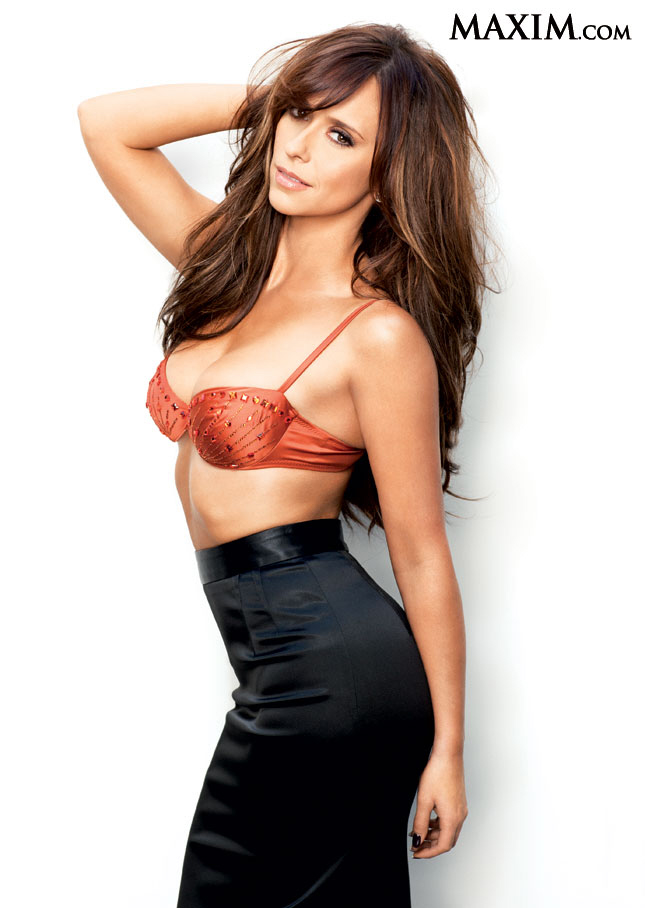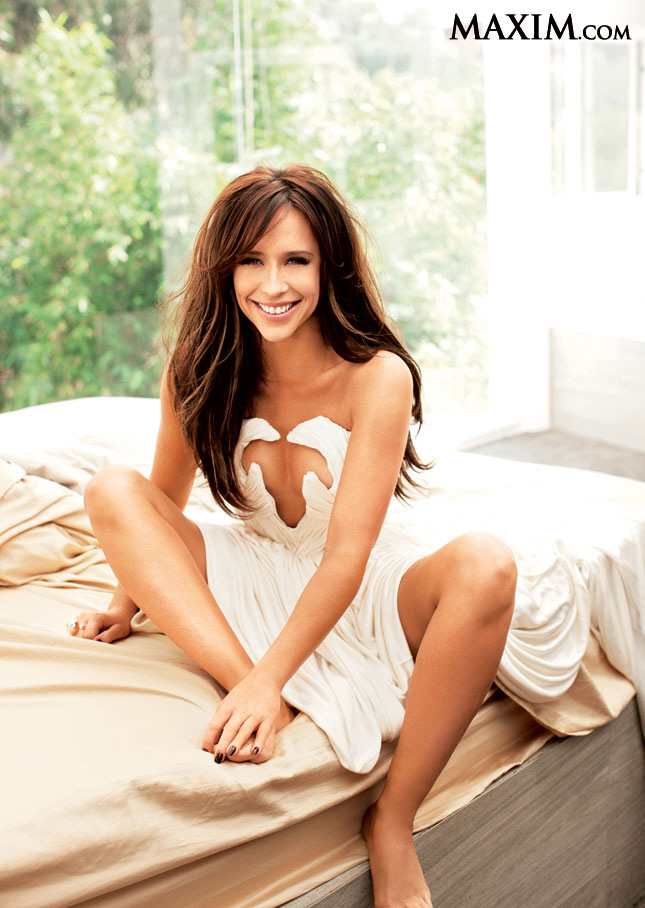 Photos courtesy of Maxim.