Stephen Baldwin scores guest spot on Hannah Montana with tattoo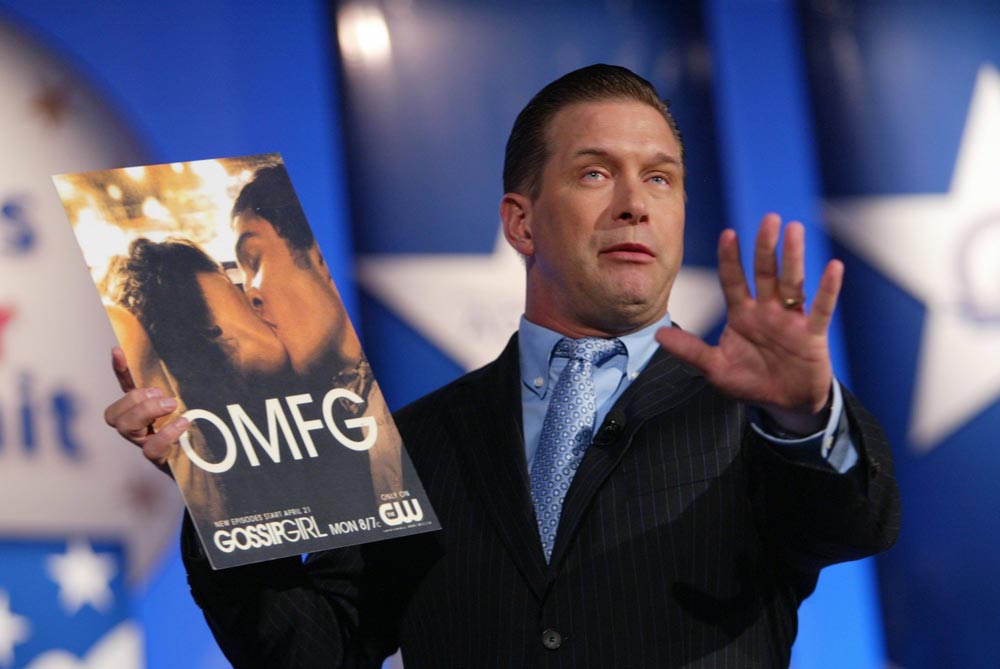 Token conservative Baldwin brother Stephen was described by his brother Alec as someone who could be eating soup in a restaurant and look up to say in a serious voice "all these people are going to hell." He does seem to have a playful side though, or at least an ass-kissing tendency, and has endeared himself to Sarah Palin as well as Miley Cyrus. After a personal dare from Miley last year, Stephen had the Hannah Montana initials tattooed on his left shoulder, which earned him a guest spot on Miley Cyrus' Disney show, a favorite of his daughters.
Holy Stigmata! Stephen Baldwin has branded himself with Hannah Montana's initials, all because Miley Cyrus dared him to.

Here's how the whole thing went down. We're told the unlikely friends met last year at the White House, where the 15-year-old dared Baldwin to get Hannah Montana's initials and in return she would let him appear on her Disney TV show since his daughters are huge fans of the series.

Fast forward to yesterday in Nashville, where sources tell us Miley's little sister, Brandi, heard on the radio that the 42-year-old outspoken Christian was also in town to promote his new book. So Miley, her mom, Brandi and Miley's boyfriend Justin Gaston decided to surprise Baldwin at a book signing. When they arrived, we're told Stephen showed off his "HM" tat and asked if he could cameo on her show, at which point Miley (reluctantly?) agreed.
[From TMZ]
I'm conflicted as to whether Baldwin is a hero to his girls or if he's being selfish by hogging the spotlight. Wouldn't he want to give the guest spot to his daughters instead of take it for himself? Maybe they're too shy to appear, but I doubt it.
Baldwin is a born-again Christian and made the conversion after the September 11th attacks. He was first introduced to the religion by his wife, who joined a charismatic church after being influenced by a Brazilian housekeeper. He tries to bring young people into the fold with the "Breakthough Ministry," a touring youth ministry that includes hard rock Christian bands and extreme sports like skateboarding. Stephen probably sees a guest spot on Hannah Montana as a way to reach more youth with his message.
[Some details from Wikipedia and CBSNews]
Stephen Baldwin is shown at a rally for John McCain on 11/2/08 and denouncing Gossip Girl on 9/12/08. Credit: WENN TMZ has some photos of him showing off his tattoo to Miley at a
book signing.
Written by Celebitchy

Posted in Photos

- Mariah Carey lip synced on American Idol [CDAN]
- Colin Firth is looking good [Lainey Gossip]
- Internet celebrity charged with murder! [D-Listed]
- What is Paz Vega wearing? [Go Fug Yourself]
- New bachelors on The Bachelorette [Reality Tea]
- Goodbye to The Office [Pajiba]
- Bachelor Sean's fiance cheats on him [Evil Beet]
- Britney Spears out with her man [Popsugar]
- Nina Dobrev works it [Popoholic]
- Cindy Crawford needs to lay off the 'tox [Celebslam]
- Who said it: Carrie Bradshaw or The Dalai Lama? [Buzzfeed]
15 Responses to "Stephen Baldwin scores guest spot on Hannah Montana with tattoo"