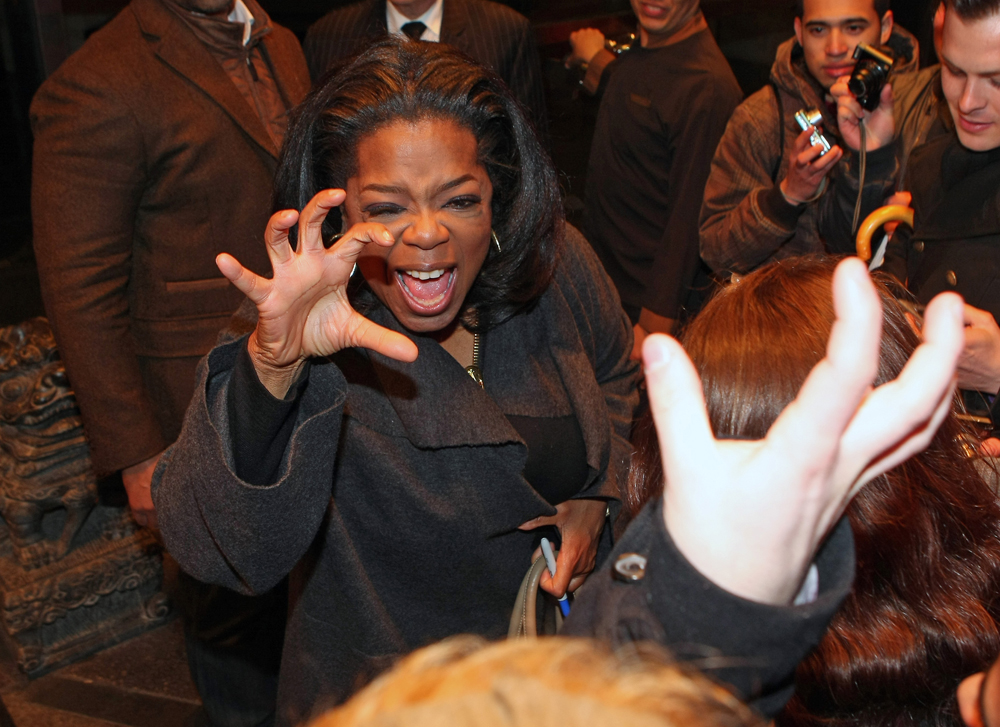 Yesterday, we briefly mentioned that Oprah had unceremoniously yanked Rosie O'Donnell's talk show from the OWN network after six months of disappointing ratings. Originally, Rosie and Oprah had signed a deal with the hope that Rosie could help save Oprah's (clearly dying) network, but it just didn't work out that way. Certainly, it didn't help that the show had a small budget and was based in Chicago (where Rosie relocated), and most celebrities weren't willing to fly in just for an interview while reportedly being asked to travel in coach class. Matters were made worse when Rosie's show premiered to lackluster ratings that only grew worse after several format changes that started out as an hour-long comedy format with a live audience and ended up as a closed-studio, interview only show that featured the likes of a bunch of C-listers like Kat Von D., Jaleel White, and Dance Moms, not to mention Chelsea Hander and her neverending stream of little people jokes.
Furthermore, Rosie herself seemed to clash with most if not all of Oprah's former staff, who Rosie took over as part of the deal along with Oprah's old studio. Soon, Rosie fired Winfrey's longtime stage manager, clashed with Winfrey's former director, and humiliated her bandleader because he wasn't able "play obscure Broadway songs off the cuff right when she named them on live TV." Here are some more details that are excerpted from The Daily Beast's discussions with several jilted staffers: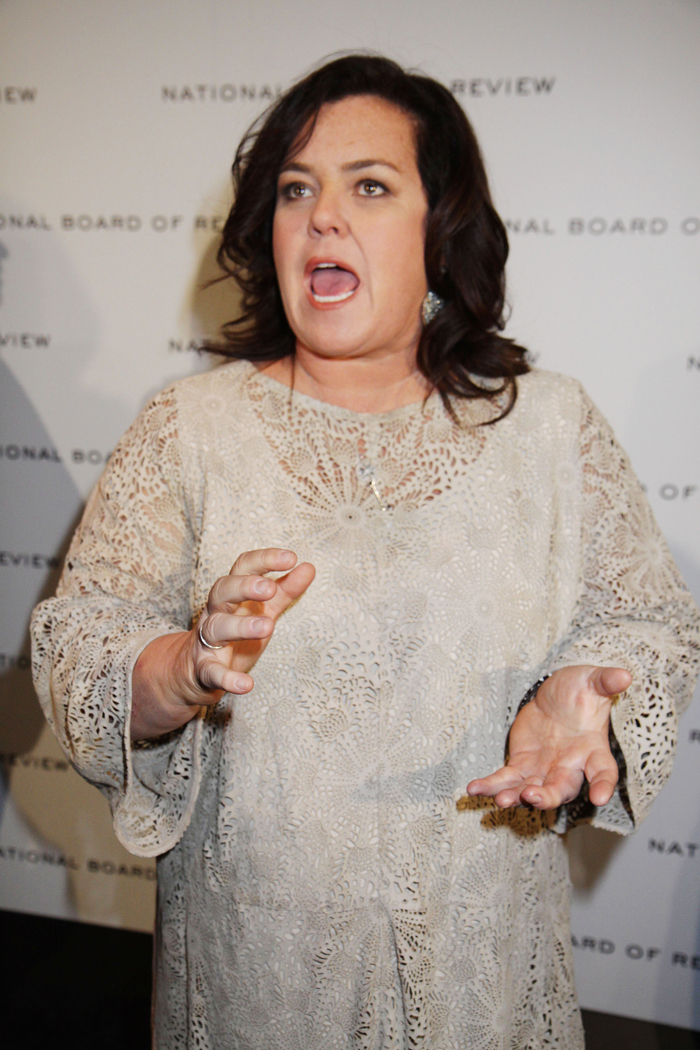 Through all the changes, some 30 employees from producers to writers had left because of budget cuts and possibly because of a boss who couldn't decide what she wanted and frequently humiliated them in public. "It was such a f#*king hellhole," says one former staffer.

What went wrong? Multiple insiders interviewed for this story say that both Ro and O are to blame; the network never fit O'Donnell, and O'Donnell wasn't able to make the splash she was supposed to. At first, the new Rosie Show was a lot like the old Rosie O'Donnell Show, which is to say it featured the Rosie that America used to love. Rosie cracked jokes with her live audience and belted out Broadway numbers. She ended each episode with a game show that paired her celebrity guests (Roseanne, Sharon Osbourne, Valerie Harper, etc.) with regular people. The critics–those who could find OWN on their TV dials–offered a smattering of raves.

OWN wasn't so sure, however. The premiere debuted with only 497,000 viewers, and by the end of the first week, Rosie had tumbled to less than half that audience. One issue was the time slot. OWN wouldn't air Rosie during the day, because it didn't have any original daytime programming. That also meant most of Rosie's core demographic–soccer moms–would be eating dinner during its airtime.

O'Donnell was confused, too. She didn't know what she was supposed to be and was losing confidence in the funny material that once made her great. She started spinning in different directions (should she be more political?) and frequently lost her temper, according to staff members.

There was another tricky problem. Market research had indicated that even the show's gay-friendly audience was tiring of all the gay references and hearing O'Donnell talk about being a lesbian, but O'Donnell disregarded that critique. On a recent Friday night, she advertised on Twitter that she was doing a special where she talked about being gay in America. The show ended up being an interview with Randy Roberts Potts, the grandson of televangelist Oral Roberts, and it featured clips of Rosie talking to her staff about coming out. During another episode, she implied on TV that one of the younger staff members was gay, when he had never talked about his sexual orientation. The incident left him upset and embarrassed.

When O'Donnell returned from Christmas, she ordered that her staff build her a new set. She wanted a smaller, more intimate talk show. A few episodes later, she completely removed the audience. She traded down for a tiny side studio, with no band and no announcer. Without an audience, O'Donnell looked and sounded deflated. Although early test research indicated that O'Donnell didn't rate well when she spent too much time interviewing celebrities, the new format had that as the focus. O'Donnell spent nearly an hour grilling the character actor Dermot Mulroney about his life, his childhood, his marriage, and fame. If the interview weren't tedious enough, she had him play his childhood cello. (He wasn't very good.) The full hour with Tony Danza wasn't much better. Last week, Rosie had Liza Minnelli on, and the two women gushed about each other for the entire show. The interview was so toothless, it felt more like eavesdropping on two patrons having lunch at the Sizzler.
[From Daily Beast]
Rosie has apparently taken the cancellation very poorly, which is sort of understandable, but she apparently fled Chicago and refused to tell the staff the bad news herself. So they had to find out via the press release, which seems to only add insult to prolonged injury. Now the inevitable bitchfight between Rosie and Oprah has commenced:
It's becoming the battle of the talk show queens, as Rosie O'Donnell and Oprah Winfrey aren't talking to each other after Ms. O's decision to cancel Ro's talk show on her embattled cable television network, RadarOnline.com is exclusively reporting.

Winfrey did call Rosie to tell her that the show was being canceled and "it was a very strained conversation, obviously," according to a source close to the situation. "Oprah wanted to handle the announcement of the cancellation in a professional and dignified manner. Rosie thanked Oprah for the opportunity and ended the conversation very abruptly. OWN's public relations team and Rosie's publicist handled the language in the press release. Rosie didn't like the initial language of the press release because she felt that it placed sole responsibility of the failure of the show on her. Oprah didn't need to get Rosie's input or approval for the press release, but she was trying to be gracious. Up until the moment that the press release was sent out, Rosie wanted changes made, but Oprah instructed the release to go out, because it needed to go out, and she was just over the drama," the source added.

In a statement announcing the cancellation of Rosie's show, Winfrey said: "I thank Rosie from the bottom of my heart for joining me on this journey. She has been an incredible partner, working to deliver the best possible show every single day. As I have learned in the last 15 months, a new network launch is always a challenge and ratings grow over time as you continue to gather an audience. I'm grateful to Rosie and the dedicated Rosie Show team for giving it their all."
[From Radar]
Radar goes on to mention that Rosie had instructed her own "people" to call Oprah in an attempt to dictate what the press release should include, but since Rosie refused to call Oprah herself, O just released the announcement on her own grounds. It sounds like Oprah at least handled the statement itself in a diplomatic manner, and I don't see how Rosie could've possibly made it sound any better with all of her (likely) crazy demands.
However, Oprah's troubles continue even after getting rid of Rosie and (unfortunately) firing that show's staff. TMZ reveals that about 30 other people at OWN got laid off today, and those workers range from high level executives to newcomers. It sounds like the entire network is on the outs and won't last much longer. At least Oprah seems to realize that these decisions must be made for the sake of business, but of course, Rosie is probably taking this all too personally.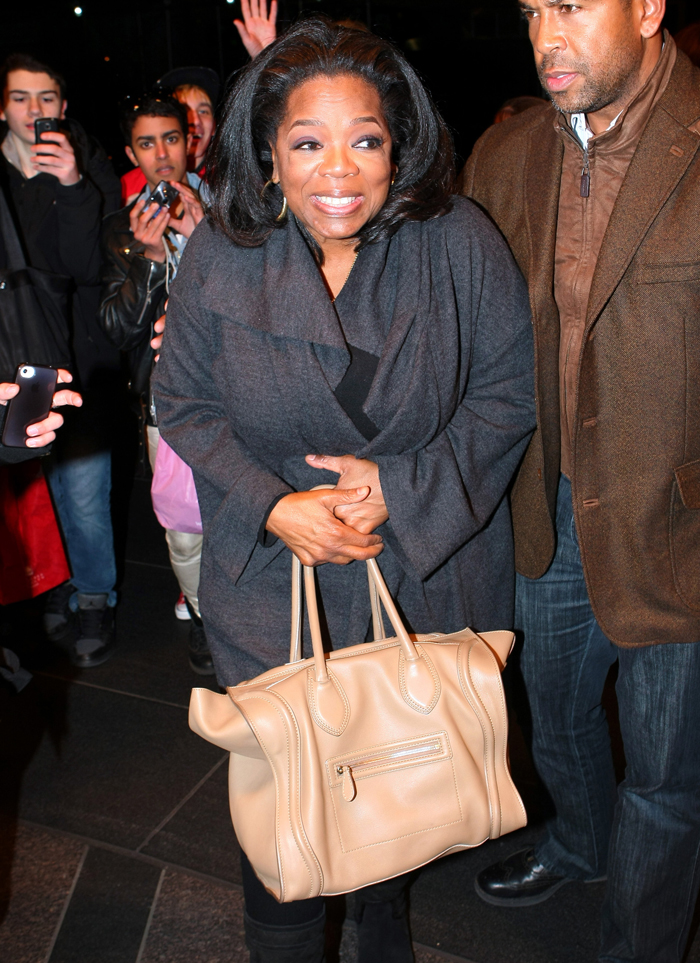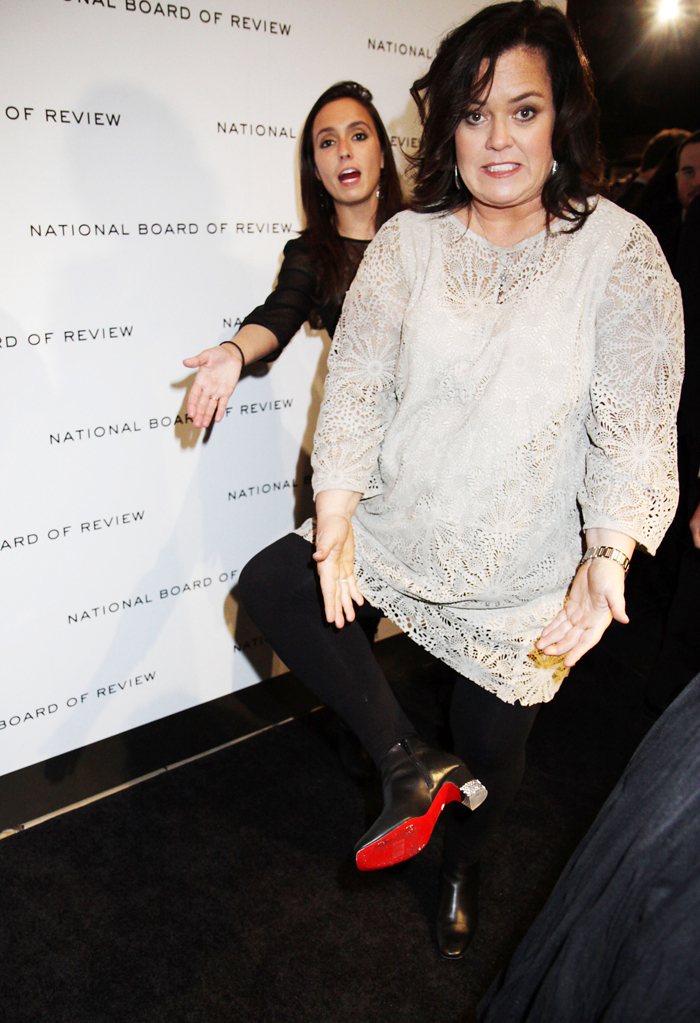 Oprah shown in NYC on 3/1; Rosie shown in NYC on 1/10; Photos courtesy of Fame/Flynet