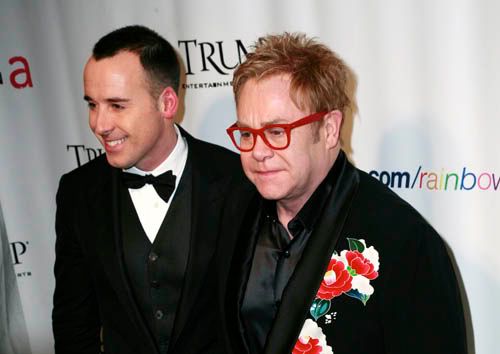 Elton John has made an argument that sounds like it's about semantics but is more about basic rights. The 61 year-old pop star has been in a civil partnership with his same sex partner, David Furnish, since 2005. They threw a huge reception for the event with many celebrity guests at an estimated cost of £ 1 million.
Elton says a civil union is all that same sex couples need and that they should confuse the issue by asking for full marriage rights like opposite sex couples:
Elton John says the reason Prop. 8 in California passed, banning gay marriages, is because of one word — marriage.

"I don't want to be married," he told USA TODAY's Donna Freydkin at a New York fundraiser last night. "I'm very happy with a civil partnership. If gay people want to get married, or get together, they should have a civil partnership," said John. "The word marriage, I think, puts a lot of people off. You get the same equal rights that we do when we have a civil partnership. Heterosexual people get married. We can have civil partnerships."

Of his partner David Furnish, he says, "We're not married. Let's get that right. We have a civil partnership. What is wrong with Proposition 8 is that they went for marriage. Marriage is going to put a lot of people off, the word marriage."
[From Blogs.usatoday.com via Showhype]
Marriage may just be a word, but it also involves a whole set of rights and allowances not afforded in a civil union in the US, particularly recognition by the federal government. Activists say that civil unions are a kind of "separate but unequal" partnership for same sex couples and that they still face countless legal and monetary issues that don't affect married couples. Elton John doesn't care about any of that stuff, though, he's richer than some countries and doesn't have to worry if his partner will get insurance money or his government pension if he dies or becomes disabled. He thinks that all the other gay couples be satisfied with a tenuous legal status too. Maybe he's secretly worried that his assets won't be protected if he ends up getting married.
Elton John and David Furnish are shown on 11/11/08 at a benefit for his Aids foundation at Cipriani Wall Street in NY. Credit: WENN