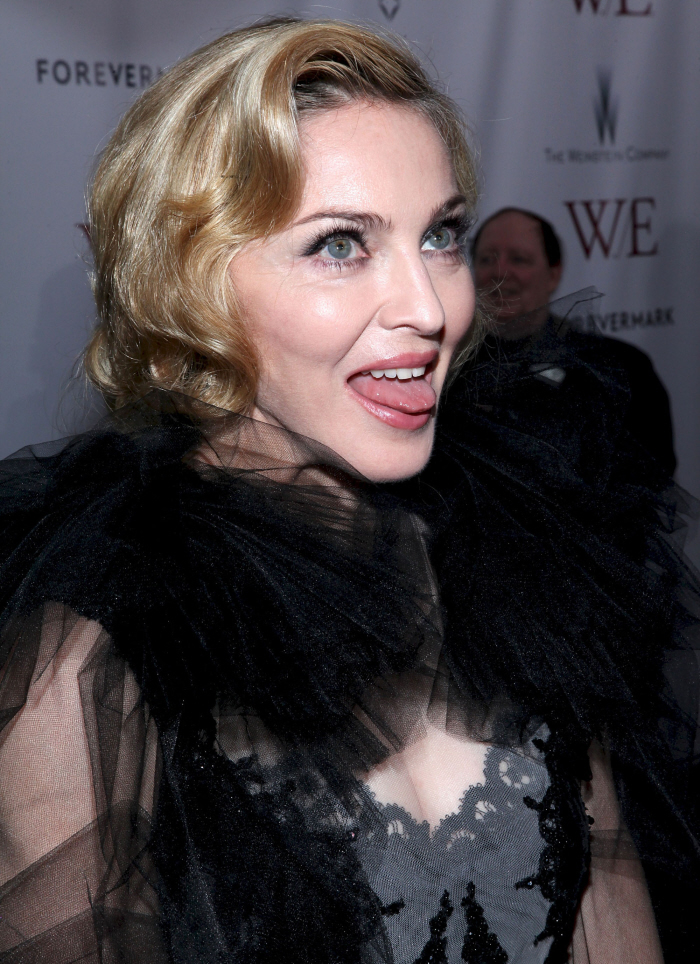 Yesterday, we discussed the new photos of 15-year-old Lourdes, puffing away on a cigarette. I was surprised by how many of you didn't think a 15-year-old smoking was any big deal. I guess I was a late bloomer when it came to cigarettes, though – I tried cigs years AFTER I tried pot and LSD. Hmm… what does that say about me? Anyway, Madonna was asked about her daughter's cigarette-smoking in an interview yesterday, and Madge didn't seem all that concerned. All she said was, "I have to keep my eye on her." I kind of like that Madge didn't get into it publicly – that if she has an admonishment for Lola, Madonna will do it privately. Madge did say that Lola is very talented though: "She plays the piano beautifully. She's an incredible singer. But she's going through that 'I-don't-want-anyone-to-notice-me phase.'"
Meanwhile, in a turn of events, music producer and DJ Deadmau5 hates Madonna for Madge's "MDNA" album title and Madge's recent reference to "Molly".
Madonna missed her "MDNA" album release parties at the Delano in Miami Friday and at Lavo in New York Saturday to head to electronic festival Ultra — but producer and DJ Deadmau5 would have preferred that she skipped the onstage drug slang.

The Material Girl made what he took to be a drug-related reference while introducing Swedish DJ Avicii at the festival in Miami Saturday night, asking: "How many people in this crowd have seen Molly? [the slang term for MDMA, the active chemical in ecstasy, which also rather sounds like her album title]."

While "Molly" is also the title of a new track by DJ Cedric Gervais, the resident DJ at Miami club Liv, Deadmau5 took offense to the reference, bashing her on his Facebook page: "Very classy there madonna . . . 'has anyone seen Molly???' such a great message for the young music lovers at ultra. Quite the f–kin' philanthropist. but hey, at least yer hip and trendy! F–kin' cant smack my head hard enough right now…I can appreciate [Madonna's] metoric career, and all good deeds done, but WHAT THE F— WAS THAT?…That's your big message to Ultra attendees? Hipsterspeak for looking for drugs? F— off you f—ing IDIOT. "
[From Page Six]
Do I have to have an opinion on this? Because I don't really. Madge was trying to seem hip and cool and "look at me, I can make drug references!" But I don't really think Deadmau5's criticism of Madge was on target – instead of bashing her for her fake philanthropy (which is another discussion altogether), he could have just said something about how out-of-touch she is these days.
Speaking of Madonna being out of touch, she joined Twitter for a day to promote her album, and Justin Bieber ended up tweeting her. So Madge responded, "Come and join me on stage when I'm on tour when we are in the same city and congrats on your new single." Madonna wishes.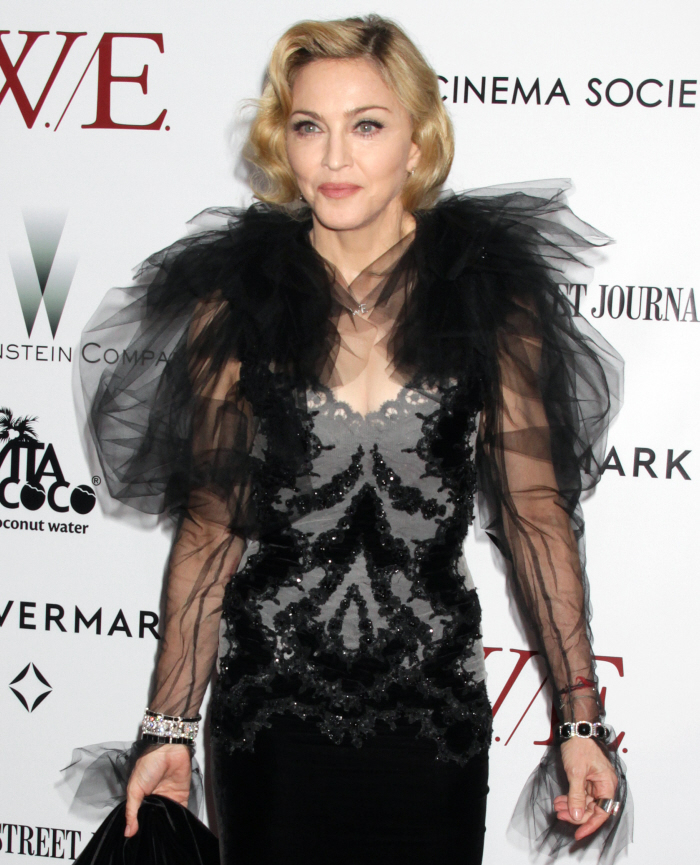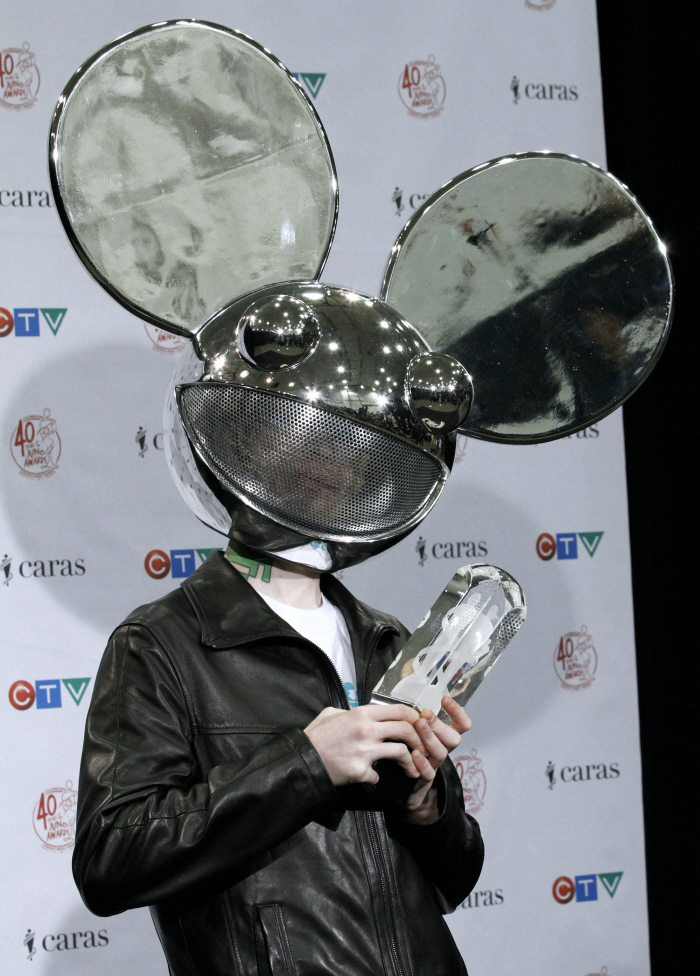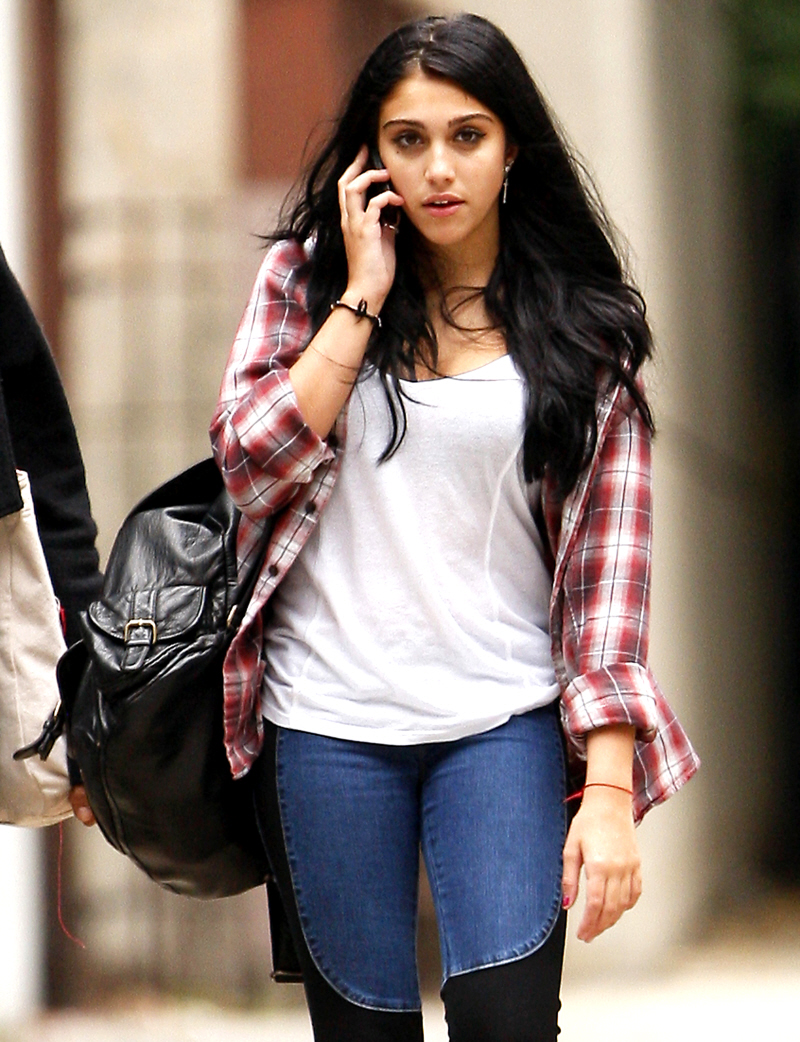 Photos courtesy of WENN and Fame/Flynet.