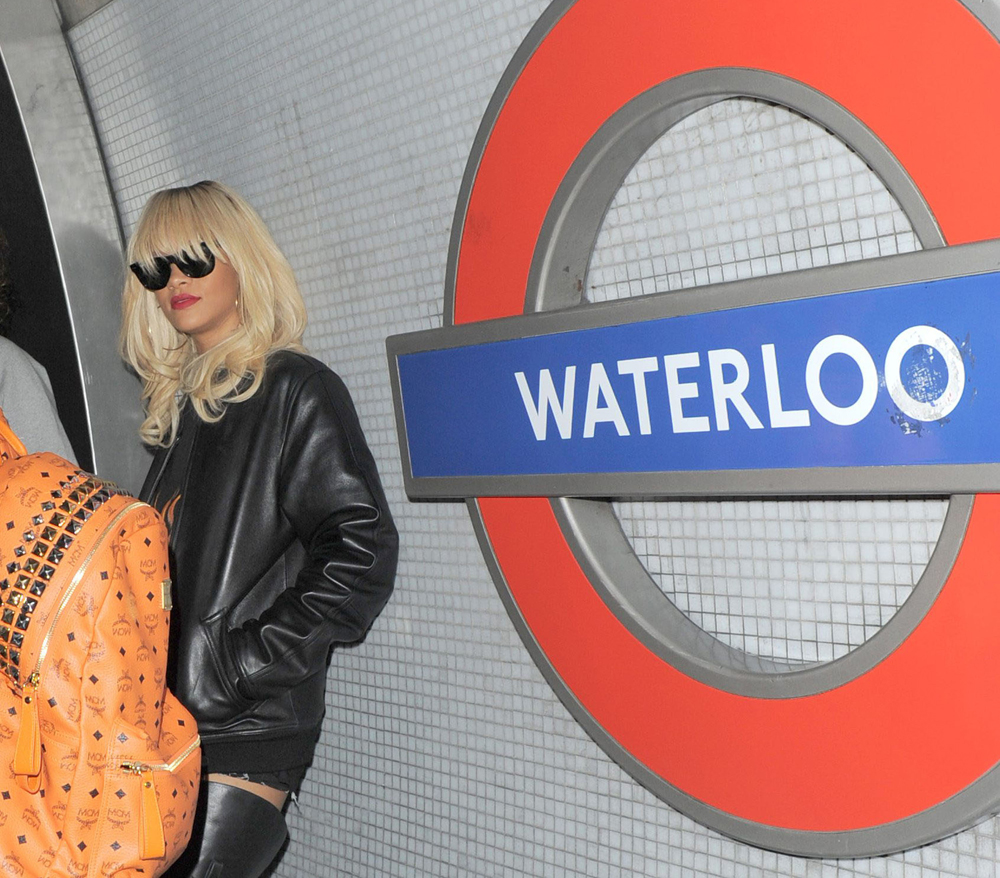 Here are some photos from Rihanna's current London trip where she's been tripping around in high heels and taking the London Underground, a.k.a., "the tube," or "the subway." Apparently, it's a lot faster to take that method of transport in England's capitol, but I also figure it makes RiRi feel more like a thug-gangsta-geisha, which is how she pretty much refers to herself these days. Anyway, Ashton Kutcher has not been in London with Rihanna, and this fact throws a bit of a wrench into their reported hook-up status or eight-week fling, depending on the source. Speaking of the douchebag extraordinaire, Rihanna has denied dating the dude in a recent press conference. However, Kaiser points out that she's probably "boning him though. Semantics!" — and I could totally believe that is what is going on with these two. Here's RiRi's official denial:
Rihanna would like to set the record straight: She's not dating Ashton Kutcher. In fact, the 24-year-old singer-actress says she's completely unattached.

During a press conference in London for her new movie, Battleship, the Barbadian beauty was asked by a gutsy reporter if Kutcher would be visiting her across the pond.

Ri-Ri's response?

"Wow, how disappointing was that question," she said. "I'm happy and I'm single, if that's what you're really asking."

Battleship, costarring Taylor Kitsch and Liam Neeson, hits theaters May 18.
[From E! Online]
Notice that Rihanna never really mentions whether she's been seeing Ashton just whether or not she's technically "single." Nice little evasion there, right? If you want to take this theory even further, Star magazine (via Hollywood Life) says that Rihanna really is banging Ashton and also hitting the sheets with Chris Brown on occasion as well. What a mess:
Not only is RiRi Ashton's late night bootycall — she's also hooking up with ex-boyfriend Chris, too!

Tsk, tsk Rihanna! More evidence has surfaced that the "S & M" star has been busy bed hopping.

In the middle of her Twitterwar with ex-boyfriend Chris Brown's girlfriend Karrueche Tran, Rihanna shocked fans when she was caught at Ashton Kutcher's pad around midnight on March 21.

"It was a booty call," a source tells Star magazine. "It wasn't the first time. Rihanna is wild in the bedroom and Ashton loves that."

But Ashton isn't the only man who can't get enough of Rihanna's wild ways. Sources also tell the mag the 23-year-old is definitely still hooking up with Chris. Yikes! While we're all convinced Rihanna still harbors feelings for her violent ex Chris, but with Ashton, sources say it's just casual sex.

"Ashton and Rihanna are not having a real relationship," a source tells Star. "I don't see it ever being more than casual sex."
[From Hollywood Life]
The really sad thing is that Rihanna seems so self destructive that I can not only buy her sleeping with a douche like Ashton but also indulging in sexual antics with Chris Brown as well. I really do want to think that she's at least better than interacting in any way with her former abuser, but I've pretty much given up hope in that regard.
Meanwhile, the Mail says that Demi Moore is still (unsurprisingly) keeping tabs on Ashton and is "sick to her stomach" after reading the recent reports that Ashton has been shagging Rihanna. I really wish Demi realized that she could do better than Ashton because he's SO not worth it.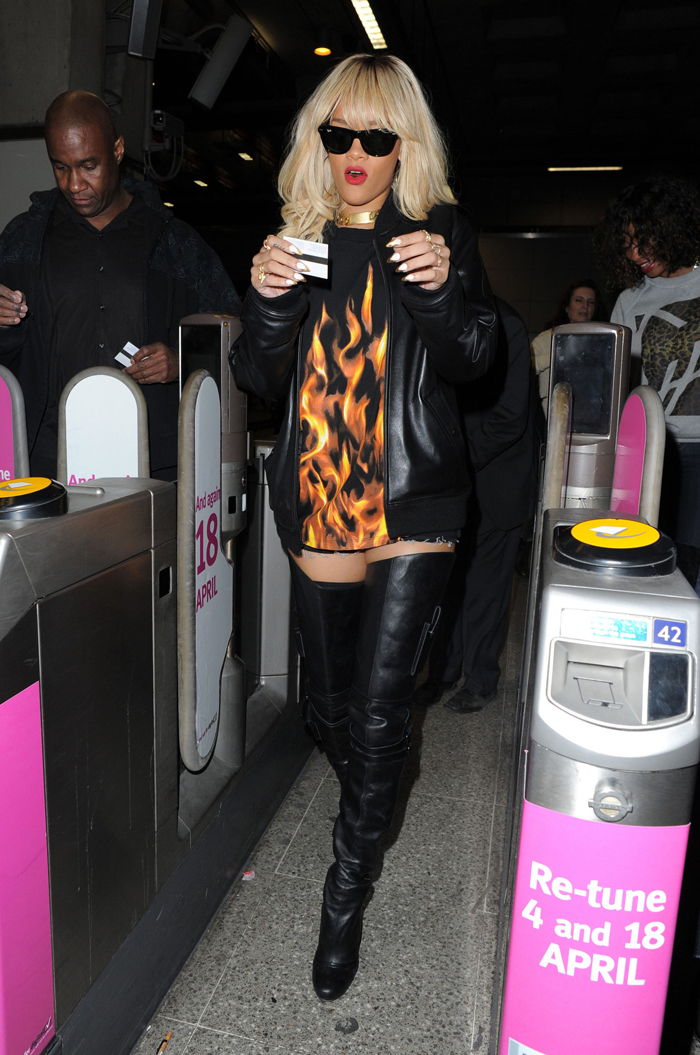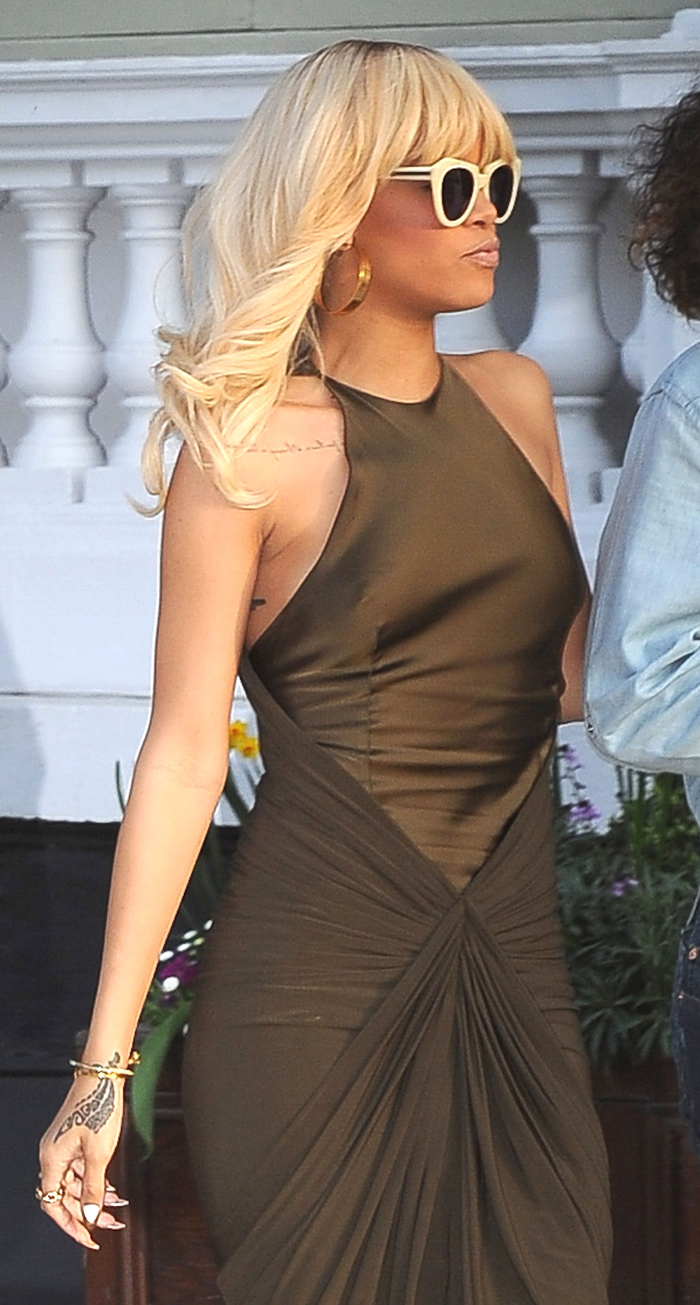 Photos courtesy of Fame/Flynet