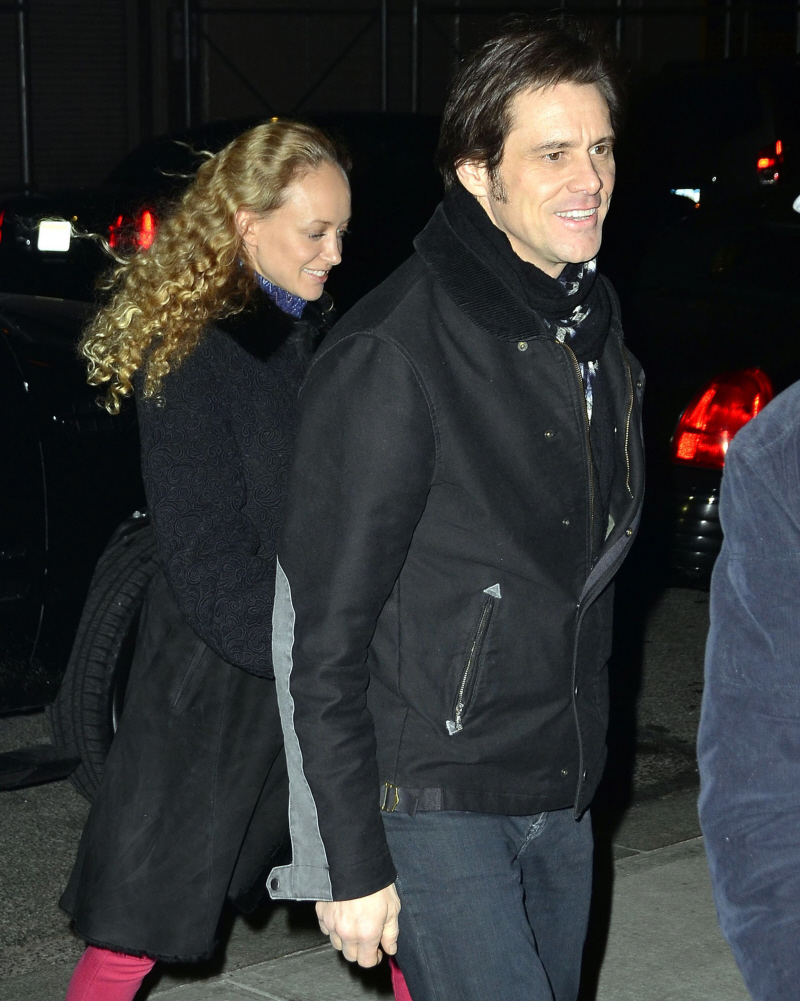 Towards the end of last year, Jim Carrey got himself a new girlfriend. Initially, nobody knew anything about her because she seemed to be a "normal" person – not a celebrity, not some C-list also-ran, not someone attached to the industry in some way. I pegged the lady at mid-30s, and refreshingly normal-looking – she's not plucked, sucked, tucked and 'Toxed. Later, outlets claimed that Jim's girlfriend was Russian, 30 years old, and a "student" – her name is Anastasia Vitkina. Allegedly, she went to Parsons in NYC in 2007-08, which doesn't make her a current "student" so…? I kind of think the "30" is false too, but whatever. In any case, Radar/Star claims that Jim is going to propose:
It appears Jim Carrey has found his eternal sunshine with stunning 30-year-old Russian student Anastasia Vitkina, Star magazine is exclusively reporting.

"Jim is going to propose!" an insider told Star. "He's absolutely crazy about Anastasia and couldn't be happier."

The insider said that the twice-married star decided to seal the deal with the stunner when he turned 50 this past January. After splitting from Jenny McCarthy two years ago, Jim dated breathtaking America's Next Top Model beauty Anchal Joseph, but now he's finally ready to settle down again.

Star notes that Jim "was still seeing other women" when he first met Vitkina through a mutual friend in October, but he "decided to commit to Anastasia by his 50th birthday, in January."

Anastasia is "really smart, but what he likes best about her is her sense of humor," the insider exclusively told Star. "She makes him laugh — Jenny would drive him to tears."

"Jim confessed to Anastasia, 'It's not always easy being with me, in more ways than one,'" the insider said. "But he added, 'I promise to make it worth your while.'"
[From Radar]
For what it's worth, "a member of Carrey's inner circle" tells Gossip Cop that Jim has no plans on proposing. But… I don't know. I've been worried ("concern-trolling") about Jim for a while. I hope that he's found someone who makes him happy, and someone who will be a constant in his struggles with his own mental health. But I have my doubts as to whether this is the girl, you know? Twenty years younger than him (ha), a Russian girl with very little backstory or verifiable history…? It feels like a weird situation.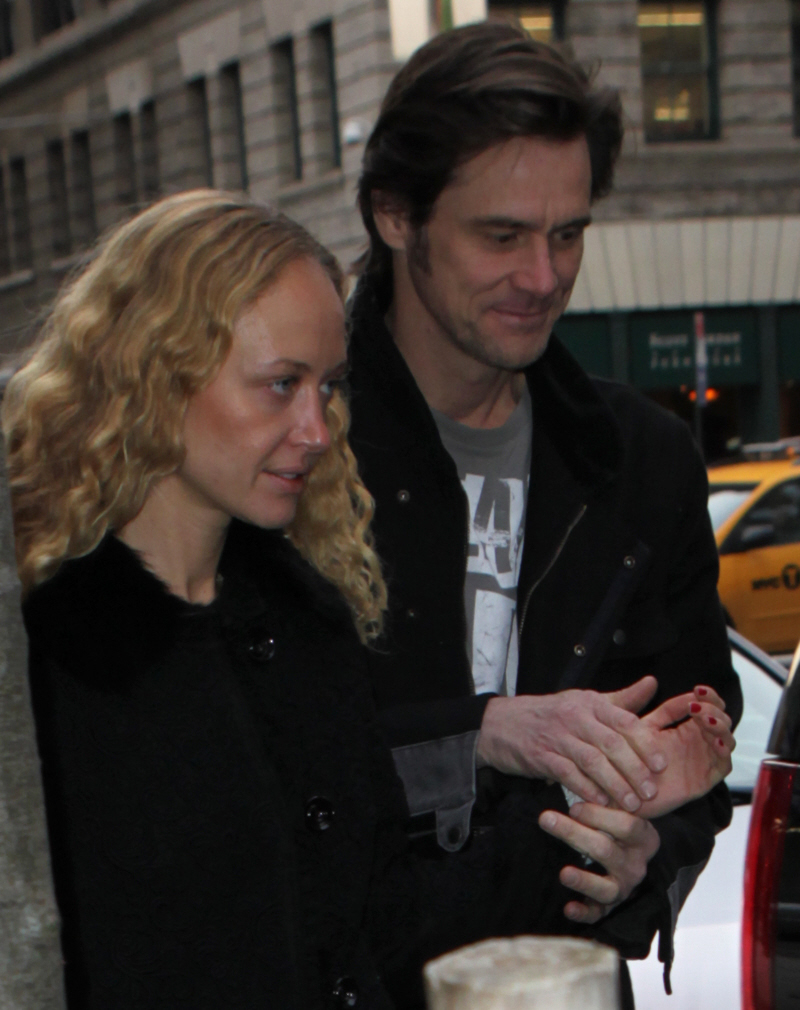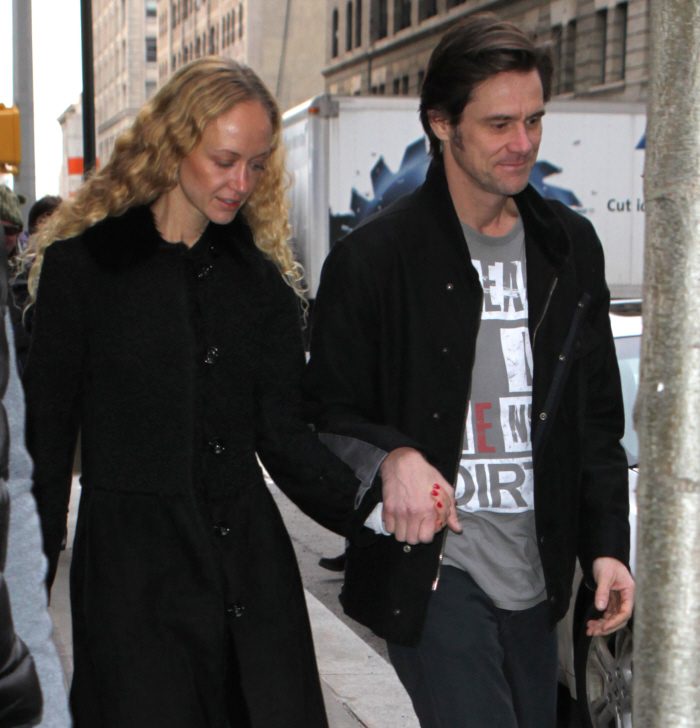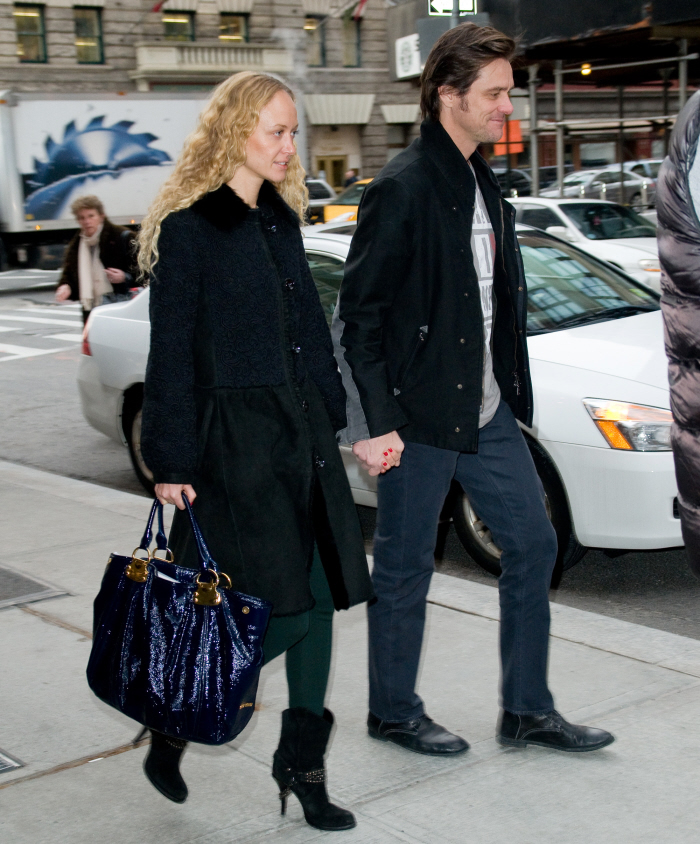 Photos courtesy of Fame/Flynet and WENN.