Jennifer Aniston on Oprah, part 1. The part about the Vogue interview is around 4:30 in to this video
Jennifer Aniston's appearance on Oprah aired yesterday and although she seemed very relaxed, upbeat and comfortable I couldn't help but notice that her face just wouldn't move. It was like she had botox the day before and was struggling to emote. She looked gorgeous, though, in a simple black tank top over black jeans with that perfect hairstyle that just keeps working for her.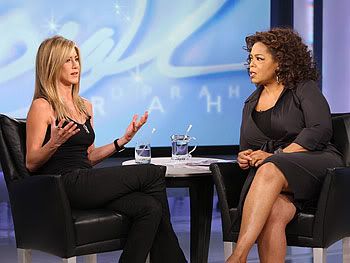 On the "uncool" statement: "I didn't say that, exactly"
Aniston got a little hesitant when Oprah brought out the Vogue issue and mentioned the media storm surrounding it. Aniston said "It must have been a slow news day," and as to the "uncool" statement, she deflected it, saying "I didn't say that exactly." She also tried to suggest that the one small blurb on the cover didn't reflect the whole interview and that Vogue shouldn't have focused on that. "That was so not 'in Vogue' in my opinion. The cover line does not even… does not reflect the cover."
Oprah: you did say what Angelina did was uncool? You just didn't expect that to be on the cover.

Aniston: He asked me a question and I basically just answered it as honestly as I could. I don't go there, you know what I mean? It's a hundred years old for Christ's sake.

Oprah: But since it's what all the pundits… are talking about this morning. What you're saying was uncool was a statement that Angelina had made earlier saying that it would be nice later on to have their children look at film of them falling in love.

Aniston: (Laughs, shrugs) Somethin' like that.

Oprah: That's it was very uncool?

Aniston: You know. I don't know, that's just me. What else did they say? (swallows a little)
[Transcribed from Aniston's appearance on Oprah, 11/14/08]
Then they go into how Aniston is doing, and Oprah tells her she seems to be doing well. Aniston says "The unfortunate reality is that good news just isn't as interesting. And I think that, you know, especially in a time when there's such positivity in the collective… negativity is still what sells."

The Obama cake Aniston make from a Duncan Hines mix for Courteney Cox and David Arquette's election night party. She said it was very easy and took just three steps
On her fans: "That's really nice" that people care
Oprah: You were deemed America's sweetheart a long time ago, America's great girl next door 'Friend' and so this, even though you're still not on once a week people are still following your life and want to know what's going on in your life and everybody wants you to be 'happy.' Don't you think that's just going to follow you forever?

Aniston: Well that's really nice, isn't it? I mean, I think it's a really nice think to have so many fans and people that really care. I think for me I just go… 'I lead a really charmed life.' I feel like I've been unbelievably lucky in love. It just might not look the way it's supposed to look at this point.

On Brad and his family: she's proud
Aniston: I am [proud of Brad and his family]. He's done some amazing things in the last couple of years, so I just think he's doing great.
Then they talked about her film opening on the same day as Brad's and she said she hopes their movies tie at the box office. Aniston talked about doing Marley and Me and how it was a departure for her because she'd never played a mother before and the film is a portrait of 15 years in a marriage. She said "it was an important experience for me. I really loved every minute of it."
After the break in the second part of the interview, which is not shown in the video above, Aniston confirmed that she's dating Mayer but she didn't elaborate like advance stories claimed:

On John Mayer: "Yes!" she's dating John Mayer, doesn't go into details
Oprah: Dating John Mayer or not?
Aniston: Yes!
Oprah: Pregnant or not?
Aniston: No! (snaps fingers)
Oprah: So that eliminates the having twins.
Aniston: No twins. No. (laughs). I'm still nauseous.
The advance details that had Aniston gushing about Mayer just weren't true. All she said about him was that "yes" she was dating him.
They had Aniston's two dogs, Norman and Dolly, on remotely through Skype with a guy who was probably the trainer but said "we're just friends" when asked about it.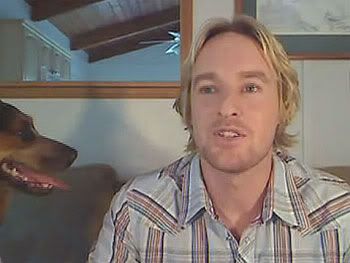 Owen Wilson also Skyped in from Maui with his dog, Garcia. He said Garcia got jealous of him on set because he would come back to his trailer smelling like other dogs. Wilson talked about his love of dogs since he was a boy, and they showed cute pictures of him with his dogs as a kid. His parents play his real parents in a montage scene in the film and he joked about it.
I have to say that Marley and Me looks really cute and I think it's going to be a hit.
Aniston handled all that controversy over her Vogue interview extremely well on Oprah and came across as both likable and grateful for her success. I can't hate on this woman despite her poor choice in a recent partner. She didn't go on about it, though, and was both gracious and funny.