Jennifer Lopez's new music video featuring Casper Smart: busted, terrible or sexy?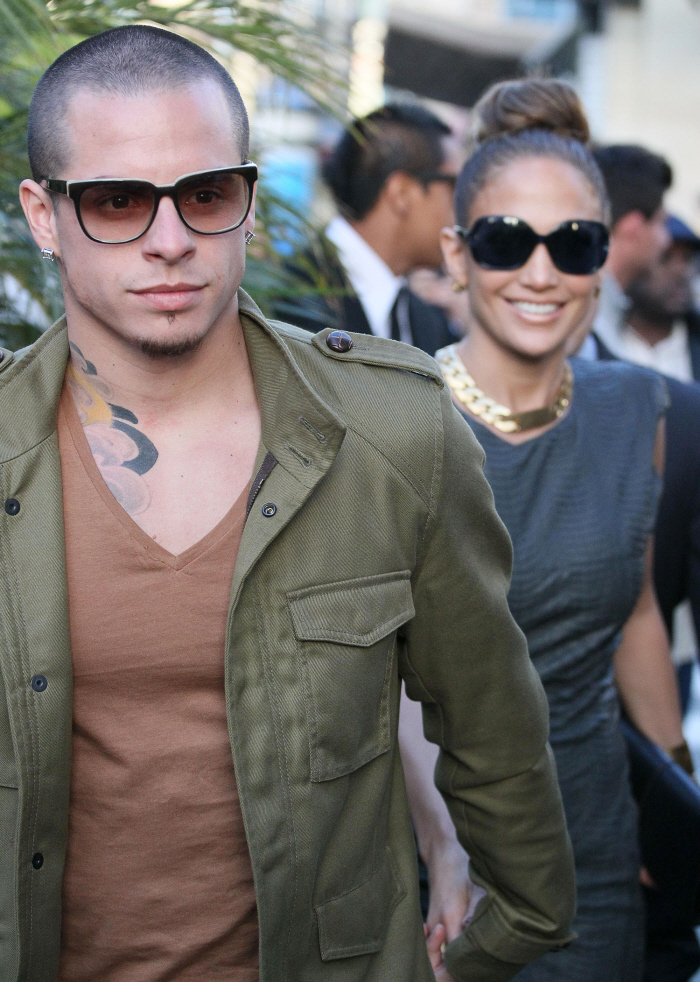 These are some photos of Jennifer Lopez and Casper Smart out and about yesterday – during the day with her kids, and then in the evening, they went to the opening of Jennifer's newest restaurant in LA. Why so many photo-ops in one day? Because Jennifer Lopez is super-smart. Her new music video premiered on American Idol last night, and she knew everyone would be talking about this mess, so she gave us some new photos to go along with our stories. She's very Smart. Mrs. Casper Smart.
So, the video… Us Weekly had a story before the AI premiere about the video possibly containing an "orgy scene" – a source says, "There's a hot and steamy, sexy scene in the video where J. Lo, Casper and the dancers are on the floor pawing at each other… They're very scantily clad." Prepare yourselves. Gird your loins. We'll watch it together for the first time:
GLITTER LOPEZ! Oh, the first "orgy" part is around the 0:22 second mark. It's less an orgy and more "a group of scantily clad people sleeping in a pile." Other random thoughts: Jennifer's body looks great, especially when she's wearing a leotard/bustier thing. You know what I mean? I think Jennifer's default-style is showing her abs, and I like it better when her abdomen is covered up and she's showing off her legs and cleavage (which is sexier, IMO). Ew… around the 1:30 minute mark, Casper really starts showing up. Casper and Jennifer have very little on-screen chemistry.
2:45 DANCE BREAK!!! I love that Jennifer puts good old-fashioned dance breaks in her videos. She's so dated. Also: I love that J.Lo makes sure that Casper is behind her at all times. He might be her boyfriend, but she's not going to let that mofo upstage her EVER. Everything past 3:30-ish is just awful, though. Blah. All in all, the video made me nostalgic for this…
Ben Affleck was then and is still the best of Jennifer's video costars. I STILL CAN'T BELIEVE HE DID THIS. Controversial opinion: I still f–king love this video.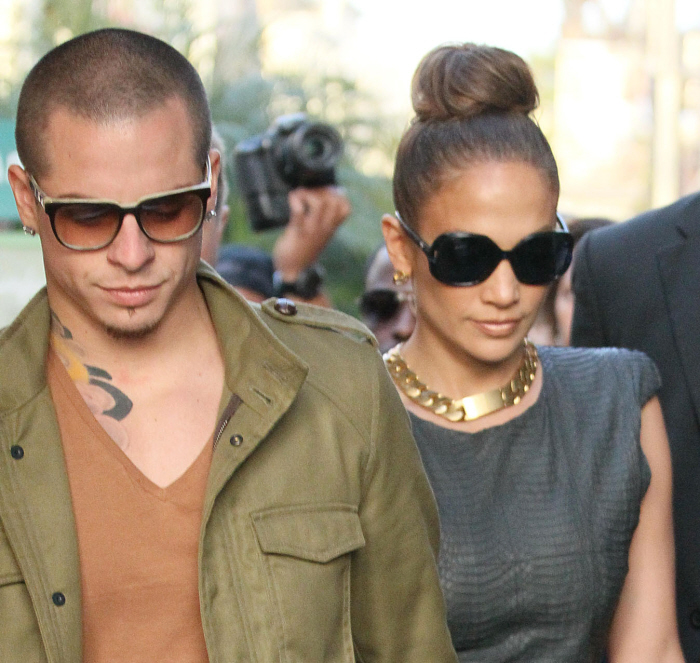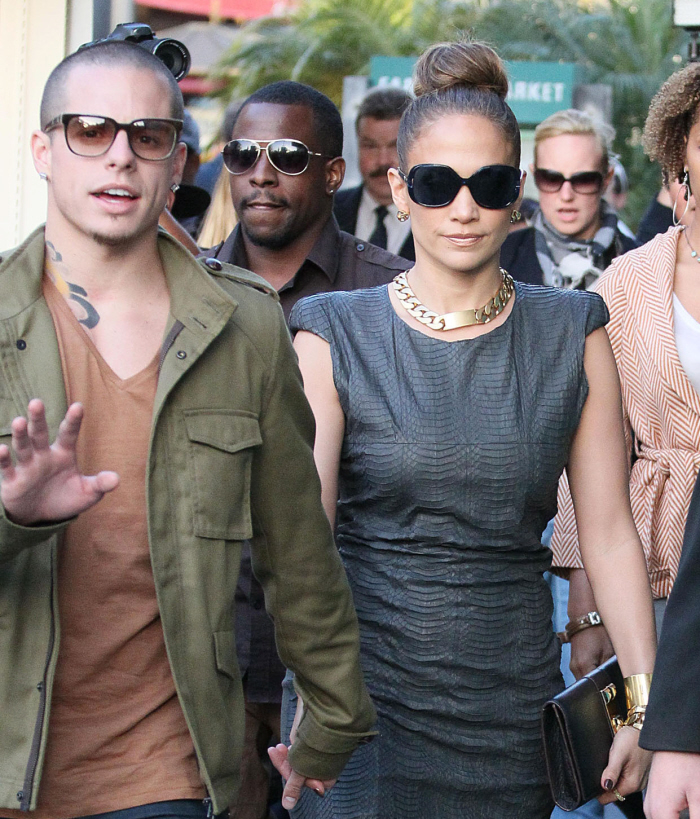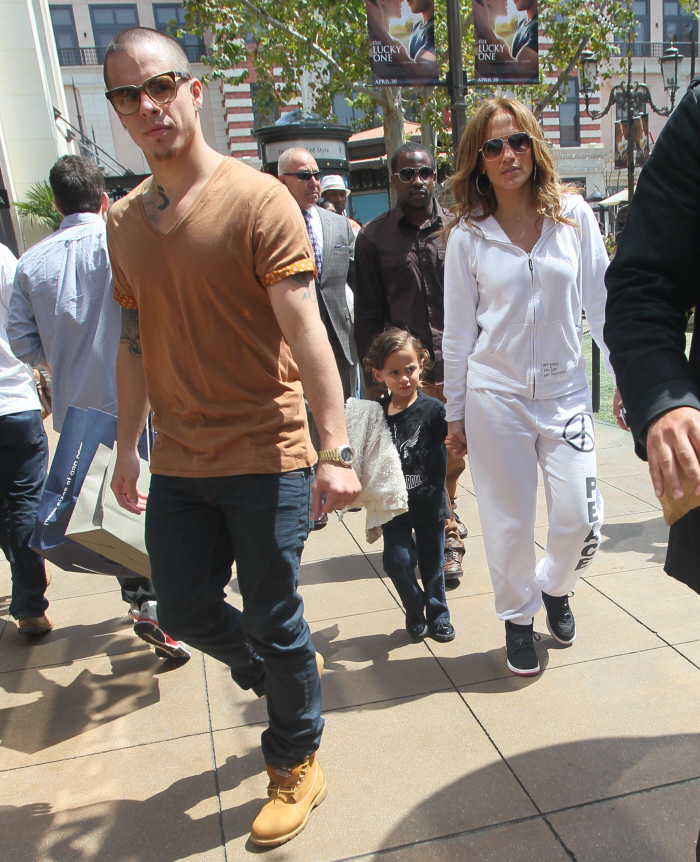 Photos courtesy of WENN, Fame/Flynet.

Written by Kaiser

Posted in Casper Smart, Jennifer Lopez, Music

- The Blemish interviews Carmen Electra [The Blemish]
- Rumer Willis joins Pretty Little Liars [Lainey Gossip]
- Morgan Freeman falls asleep during interview [D-Listed]
- Fug or fab: Isla Fisher [Go Fug Yourself]
- Tamra Barney confirms spinoff [Reality Tea]
- Movie franchises that rebounded [Pajiba]
- Why Dylan McKay is the perfect boyfriend [Buzzfeed]
- Saoirse Ronan could have been a Lohan [Evil Beet]
- GIFs from Cannes [Popsugar]
- Cat massages a dog [CDAN]
- Heather Graham is so pretty [Celebslam]
- What is Lucy Hale wearing? [Moe Jackson]
94 Responses to "Jennifer Lopez's new music video featuring Casper Smart: busted, terrible or sexy?"