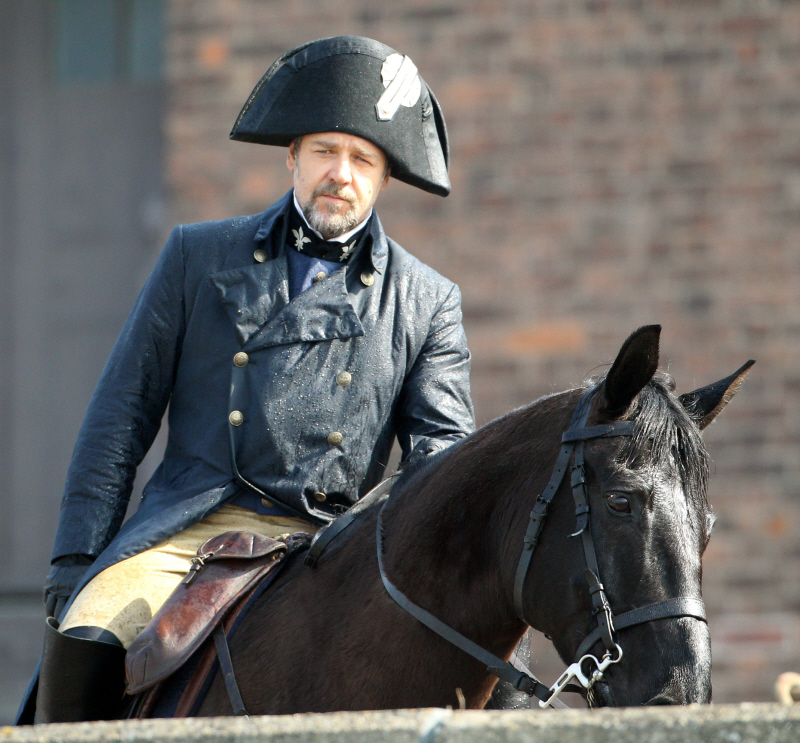 I keep forgetting that Russell Crowe is in that Tom Hooper-directed production of Les Miserables, also starring Anne Hathaway and Hugh Jackman. Unlike Jackman and Hathaway, we aren't being overwhelmed by photos of Russell in character as Inspector Jarvert. I'm including some photos of Russell on the set in this post – thankfully, it doesn't look like Rusty is wearing a dead cat wig (side-eye at Hugh Jackman). Anyway, I bring this up because Les Miserables is filming, for the most part, at the famous Pinewood Studios outside of London. This is the same studio where Angelina Jolie will be filming Maleficent, which should start production any day. So Russell decided to be a nice guy and he invited Angelina and her kids to come by the studio and watch him film some scenes. Isn't that cute?
Who knew Angelina Jolie and Russell Crowe were so close?!

In the U.K. to begin work on Disney's Maleficent, newly-engaged Jolie, 36, spent Monday on a different film set with three of her six children: Maddox, 10, Pax, 8 and Zahara, 7.
A source close to the family tells Us Weekly Crowe, 48, personally invited Jolie to check out filming of Les Miserables at Pinewood Studios and the actress decided to bring her kids along for the day.

"Russell and Angelina caught up at the F Stage, where Les Mis is being shot," the insider tells Us, adding that Jolie and her kids watched Crowe act — and sing! — for almost an hour. "The kids were all fitted with [protective] ear defenders because it's quite a loud sound stage. It was really exciting for the children to see the movie being shot."

Pinewood Studios is soon to become Jolie's home away from home as she begins work on her latest Disney project. Though she is not yet fully immersed in filming, Jolie is in the area to do "light testing," according to a source.

Brad Pitt's love — who confirmed her engagement April 13 — is "very excited about the film and in such a great mood," the insider explains.

Equally as excited are the Jolie-Pitt kids, the actress recently told Entertainment Weekly. "It's a really great script. I'm having a lot of fun. I've already got my horns fitted," the actress, who begins production in June, told EW. "My kids are very happy."

The project is "not anti-princess, but it's the first time they're looking at this epic woman [in a different way]," she explains of the new take on the fairytale classic.
[From Us Weekly]
I wouldn't have guessed that Rusty and Jolie (sidenote: "Rusty & Jolie" is an excellent name for a band… or a children's book about a scruffy dog and a fancy cat) were this friendly. I would imagine that they've been at the same awards shows throughout the years, and maybe they have a passing, professional friendship, and that Brad is part of the friendship too. Or, you know, Rusty is trying to seduce her. God knows. I don't think Angelina is his type, first of all, and second of all, I buy that Russell is pretty happily married. He probably just wanted his kids to have a play-date with the Jolie-Pitt kids. Because everybody knows Empress Zahara is the best kid ever.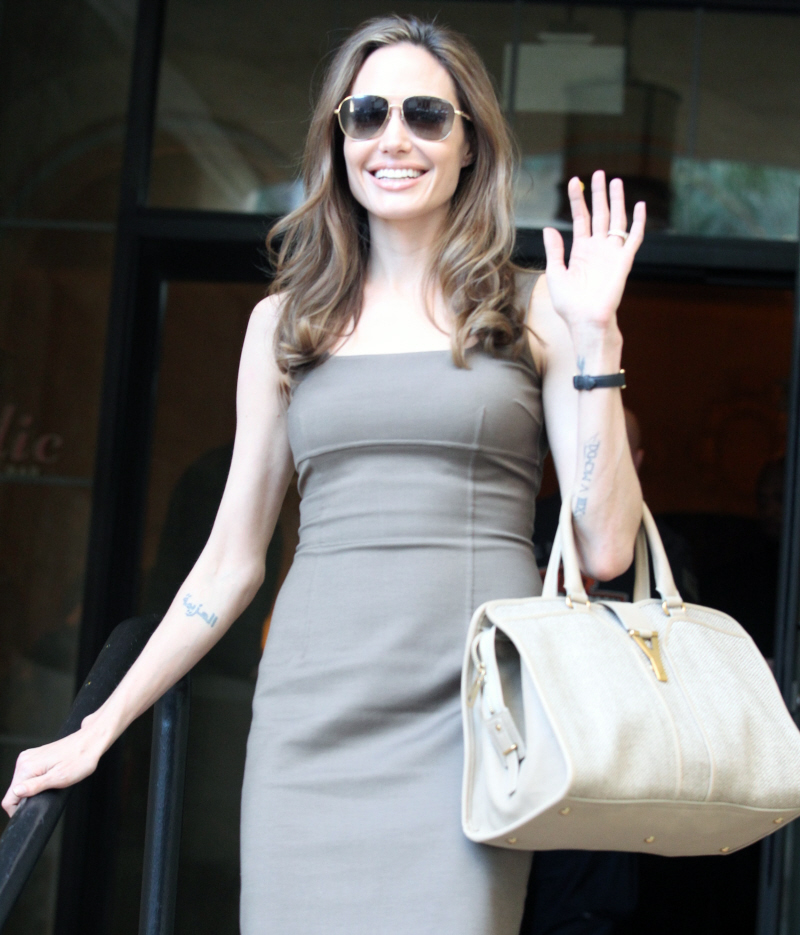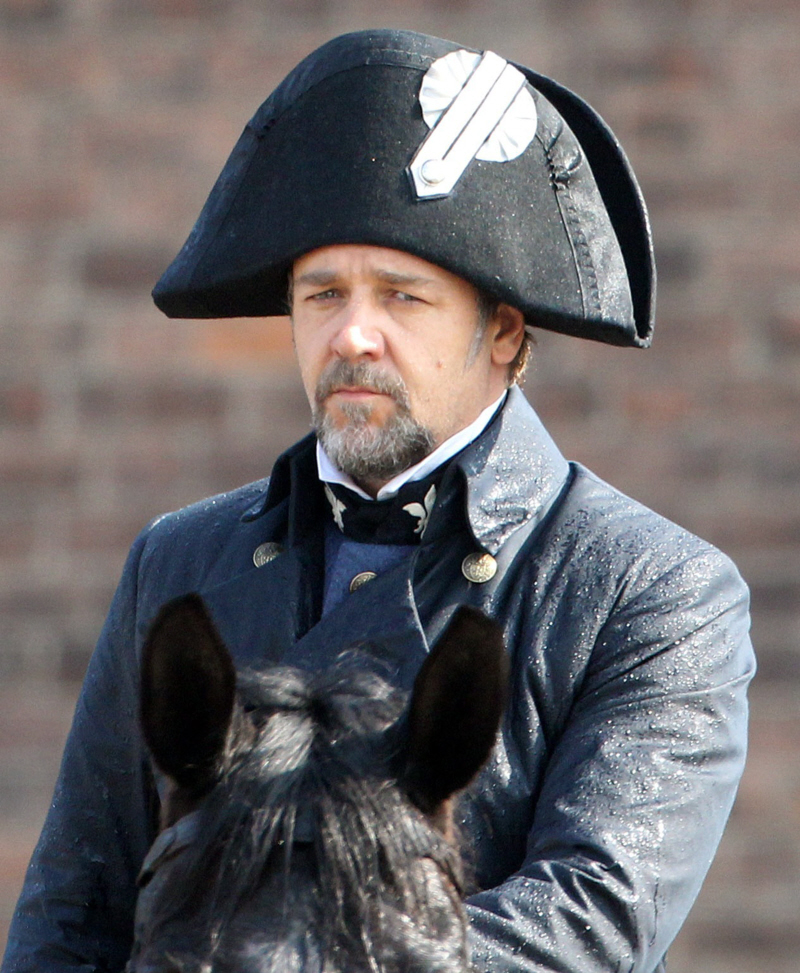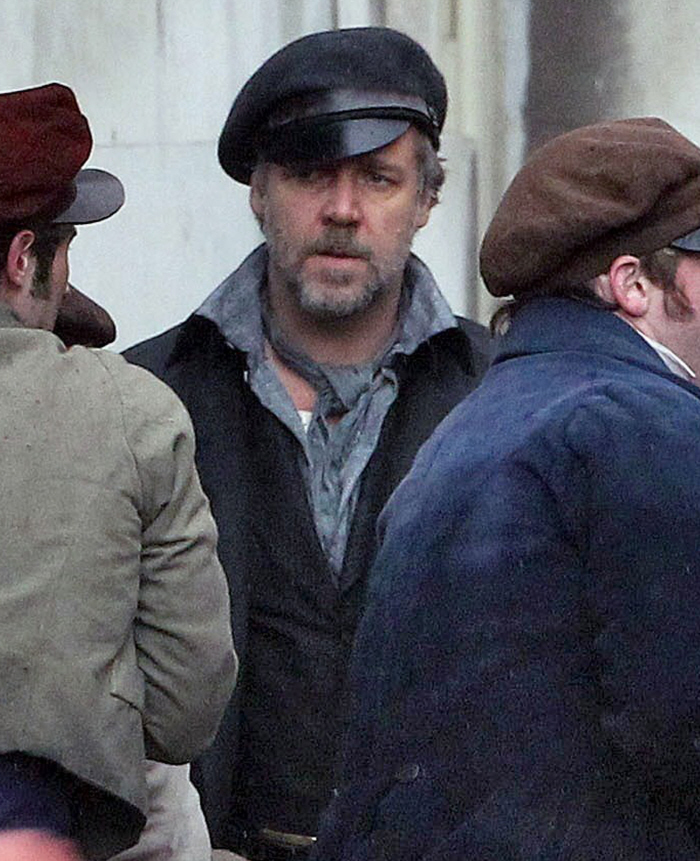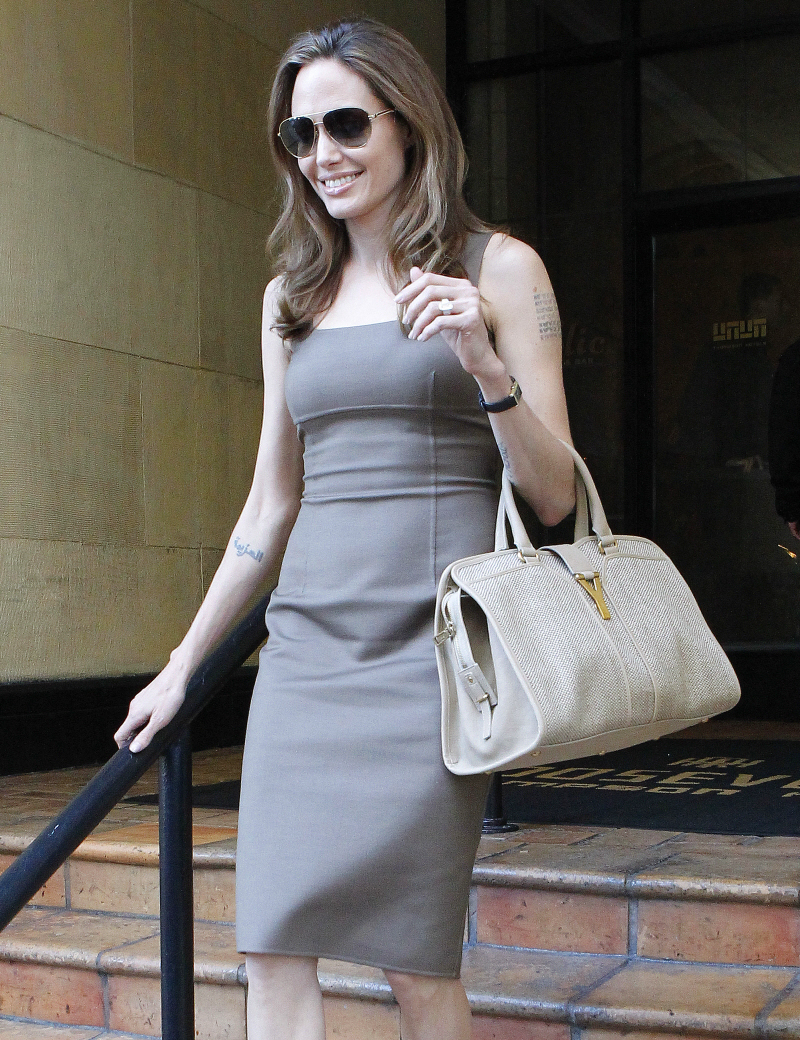 Photos courtesy of Fame/Flynet.