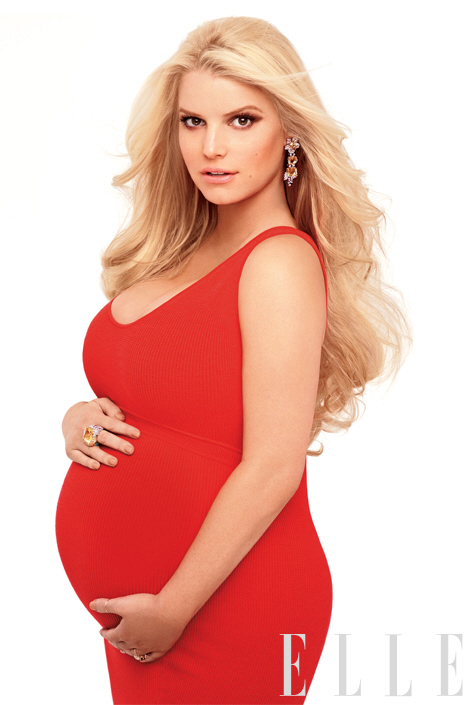 Back in February, Beyonce and Jay-Z trademarked their daughter's name. Many assumed that the move was for profit, and that we would be facing a deluge of "Blue Ivy"-branded products. Well… nothing has really happened, as far as I know. Beyonce and Jay don't need to sell baby Blue Ivy baby products – they both have full-fledged careers that have nothing to do with selling us baby stuff. But… here comes Jessica Simpson with her newborn Maxwell Drew. Jessica's sole purpose is selling us stuff and making millions of dollars from marketing her own clothing, jewelry and shoe lines. Of course she's going to start a maternity line. Of course she's going to start making baby clothes. So Fox News is trying to add it all up – just how much money is Jessica Simpson going to make off of her baby?
After what seemed like the longest pregnancy in gestational history, Jessica Simpson has finally lost her baby bump. And now that Simpson is officially a mommy, she is about to get a financial boost to the tune of about $14 million, if she plays her cards right. And knowing Simpson, she will.

How can Jessica Simpson make money off her 9-lb. 14-oz. bundle of joy, baby girl Maxwell Drew? Let us count the ways.

First, we're not talking about selling off her baby pictures to People or OK!. That is so 2006. Jessica is a smarter businesswoman than that.

Simpson's branded empire already grosses between $750 million and $1 billion a year. Now she can add mom-friendly products to her line—that means diaper bags, maternity-wear, baby blankets and 6-inch pump baby shoes. We would not put it past her.

Jessica's take home from her business has been estimated in the range of 14 percent of wholesale sales and is likely in the range of $10 million to $20 million a year. Baby product extensions could serve to make her at least another $5 million annually.

"Once people have babies it puts them in a totally different category. It starts when they get engaged and then they become a mommy and then they have the family. Now we will see the Jessica Simpson collection can go into kids things and baby things," explains Lori Levine, the founder of Flying Television, a celebrity-based marketing agency. "Being a mom is her new platform."

There is also money in endorsing other people's brands. The market for celebrity mommies — mama-preneurs — is huge these days, as every product from strollers to stretch mark cream wants a famous mommy to talk about their product. Simpson can make a stack of cash signing on to promote other people's products, particularly through social media where she can be paid as much as $5,000 to tweet about baby things. Just by tweeting, Jessica can make seven figures. Easy.

The real money, though, is in reality television. Now that Simpson is navigating the world of being a new mom, viewers will an intimate look at what her life is like. A reality show could bring Jess as much as $5 million a year, and even more if she capitalizes on product placement the way we have seen on Bethenny Frankel's show and the Kardashian empire. And don't forget all that baby weight! Celebrities can make up to $33,000 per pound lost with a diet endorsement deal and Jessica has already been negotiating with Weight Watchers. Criticize her baby weight gain all you want. She is likely going to laugh at us all the way to the bank to the tune of at least $3 million.

Add it all up, and you have $14 million. Or more. Whoever said having babies was expensive didn't factor in Ms. Simpson.
[From Fox News]
I think Fox News probably has most of this stuff right. For one, I think Jessica is now going to get top dollar for the first baby photos. The sale will probably go to People – I don't know if they've already worked out the deal or what, but I would imagine Jessica gets more than $1 million. And yes, Jessica will totally extend her brand to all things maternity and baby. And why not? It's her thing. Plus Weight Watchers. Plus some more "exclusive" paid interviews, plus, plus, plus. God… Jessica is going to make buckets of money off of this baby. Ridiculous.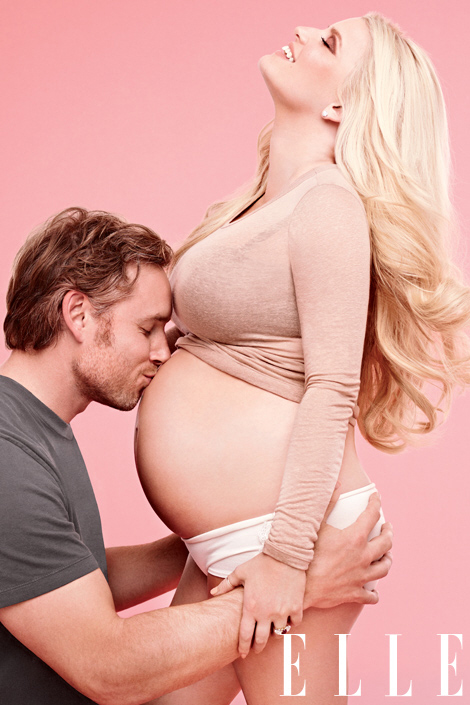 Photos courtesy of Elle Magazine.