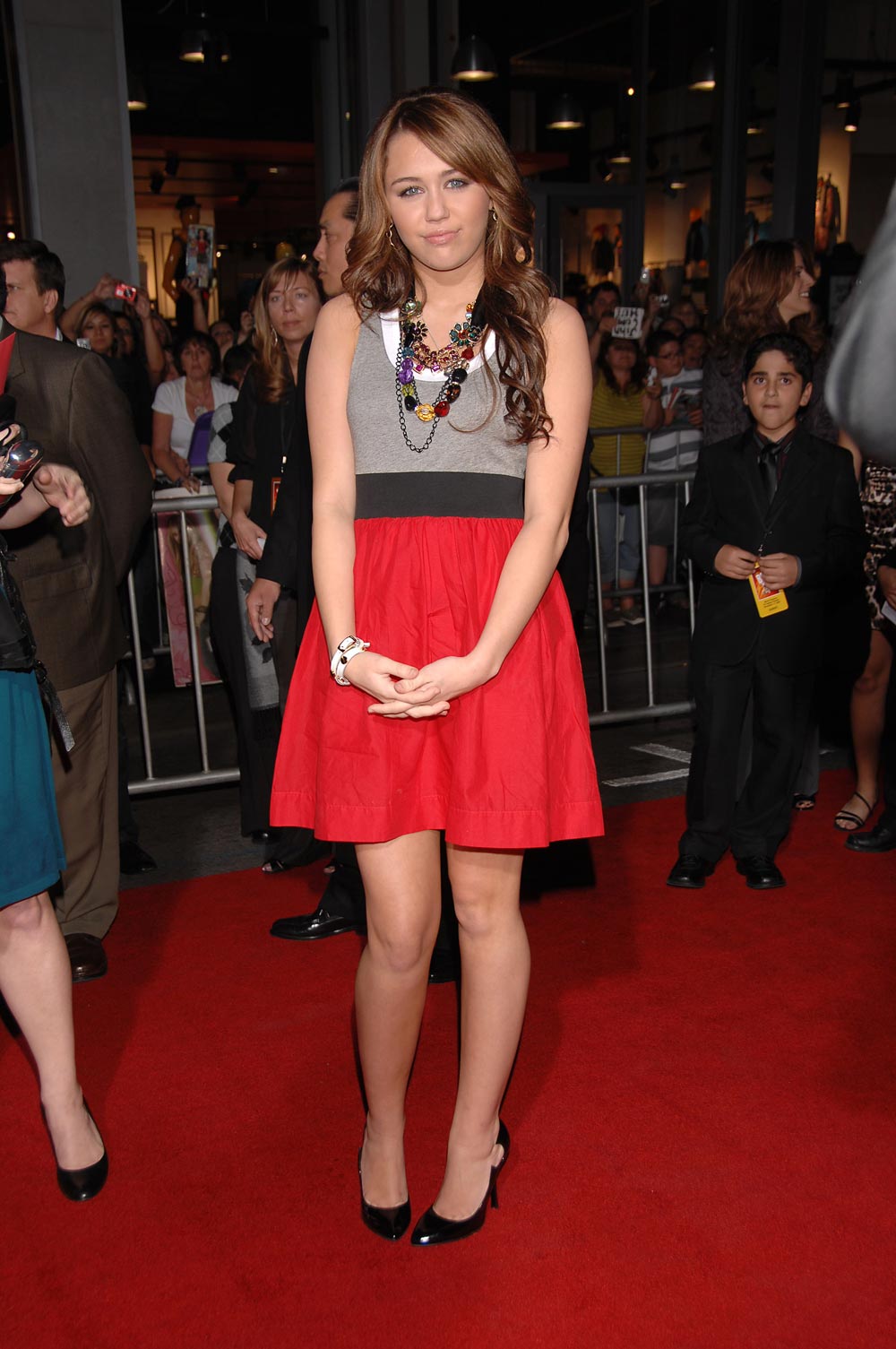 According to dad Billy Ray, 15-year-old Miley Cyrus' relationship with 20-year-old model Justin Gaston is just as perfect as can be. He talks about what a great team they are, and how they're so in sync that they write songs together. As Celebitchy quipped, "So that's what they're doing up there in her bedroom at night." Billy Ray doesn't know how to do anything but talk about Miley in super cheese ball fashion, and it's getting to the point where it's making me sort of ill.
Billy Ray Cyrus says his 15-year-old daughter Miley and 20-year-old underwear model Justin Gaston are making sweet music together. "I'll tell you what – they are great friends, and they make a good team," he told Usmagazine.com at Monday's Bolt premiere in L.A. "They write a lot of songs together, and they sing – it's incredible." He called his daughter's latest big screen effort, the animated Bolt, "amazing."

"It's going to be a great night," said the "Achy Breaky Heart" singer, who walked the carpet with wife Tish. "I'm looking forward to seeing the film." What advice does he have for his daughter? "Make good choices. Do the best you can do – mostly have fun," he told Us. "I always tell her that as long as she's having fun, then it's working.

"When it starts being work, then it ain't working," he added. "She loves what she's doing. She has a real passion for making music as an artist. She loves being an actress, and we all feel very fortunate being in the Disney family and getting to do both of our loves."
[From Us Weekly]
Wow, talk about towing the Disney party line. Billy Ray seems to be saying a lot of good things about Disney lately. It could be because Miley's 8-year-old sister Noah wants to get into show business too, and Disney would be a good way to go. Billy Ray is sending a pretty bad message in terms of a work ethic. It makes sense that Miley should have fun while she's young, but if she's taught that it "ain't working" if it feels like work and she carries that mentality into adulthood, that's not a great lesson.
Miley's costar in "Bolt" is John Travolta, who was donning some interesting new hair. A week ago he was totally bald, and it didn't appear to be a cap. Now he's back to a full head of hair, and I find it utterly confusing. And we're supposed to act like we haven't noticed. Miley, however, had nothing but nice things to say about John, and managed not to comment on his follicle situation.
Miley is not only achieving a teenage milestone this year, she's maturing as a performer as well, co-starring with John Travolta in Bolt. She calls working with the actor "a dream come true" adding that, "[John was] an actor I had wanted to work with for a long time, so I got to do that so I'm really happy," she says.

It also fulfilled her mother's dream! "My mom was so happy I got to work with him…so happy. She said, 'You won't believe I had posters of him on my wall,' and I was like, 'Okay, you keep that to yourself when you meet him. Zip that tight!'"
[From OK!]
Miley was born right around the "Look Who's Talking" years, so she probably is too young to remember lame John Travolta and only knows about cool, "Pulp Fiction" comeback Travolta. Otherwise I seriously doubt anyone would have wanted to work with him for a long time. Sorry, I just want to make fun of him for his hair and I'm trying not to, so I have to go back to bad talking baby mockery.
Photo Credit: WENN