SWEET HOLY GINGER.
That's a good photo, right? I believe it's an outtake from Michael Fassbender's Esquire UK pictorial. Fassy pictorials are the gifts that keep on giving! And as the Prometheus promotional tour begins, I'm expecting more magazine appearances from Fassy. Apparently, he's got a feature in the new Elle UK – the photos seem to old pics from Fassy's appearance in GQ last year, but the interview seems new! Here's more from the Elle interview:
Michael Fassbender says Los Angeles "makes you soft". The actor was born in Germany, raised in Ireland and has lived in England for the past 15 years. Michael has no desire to set up home in Los Angeles after falling in love with life in London.

"I've met some cool people out there who say I haven't found the right LA, but I just prefer here," he told the latest UK edition of Elle. "I think LA makes you soft – people never get anything done. It's a city where people give out their business cards. I think London has a sense of humour. I like the parks, I like the mentality here. I like walking. I like the immediacy of the city."

The 35-year-old hunk is one of the biggest names in Hollywood after appearing in movies such as Shame, Inglourious Basterds, A Dangerous Method and X-Men: First Class. Despite his successful career, Michael still enjoys anonymity. He is relieved that he can continue going out in public without being mobbed by fans and insists he never craved fame.

"I don't really get noticed. That part hasn't really changed. I thought it would in the last few months, but no," he explained. "I'm not bothered about being famous. That was never the game plan. I wanted to be good – that was the goal."
[Via Film News]
Sh-t. This means that I'll have to move to London to become his girlfriend? I mean, I'll totally do it, but it would have been more interesting if he had come to me. Why don't we compromise and live in NYC? Oh, and I totally don't believe that he goes unrecognized in London. Several of you British Fassy-obsessed girls follow me on Twitter, and his movements are being well-documented. He does not go by unnoticed. (PS… Fassloonies, please keep sending me updates, I love them!)
Also, Charlize Theron, Fassy and NOOMI RAPACE (!!) appear on the cover of this week's Entertainment Weekly. I love how O'Toole-ish Fassy looks here: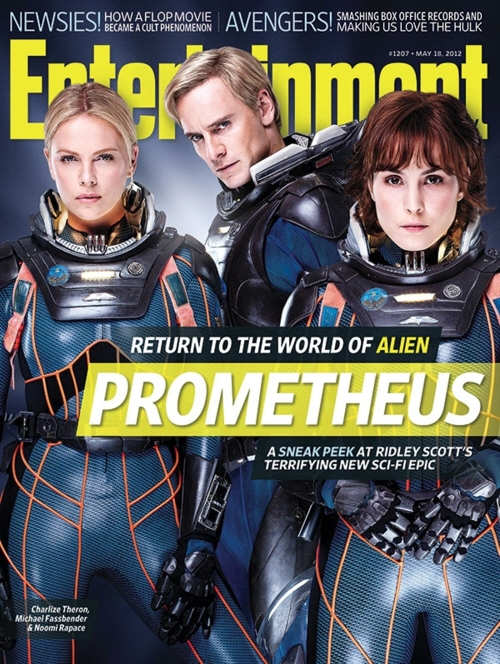 Meanwhile, Fassbender will be going somewhere he's never gone, all to promote Prometheus. Yes, Fassy is scheduled to appear at the MTV Movie Awards. Crap!!!! Now I have to watch it, right? Fassy is a confirmed presenter for the June 3rd ceremony, along with Charlize Theron, Mila Kunis, Kristen Stewart, Andrew Garfield and on and on. You can read more about it here. It should be a very kid-friendly event, although I'm not sure that's a good thing. Did you hear that Prometheus has gotten an R-rating? Well, Damon Lindelof, the writer and executive producer of Prometheus, tweeted this gem:

Damon Lindelof is listening to us. He knows what's in our souls. And seriously, WHY NOT? Why not have David the Dong-bot drop trou at some point during the movie? It would make the movie better. Trust me.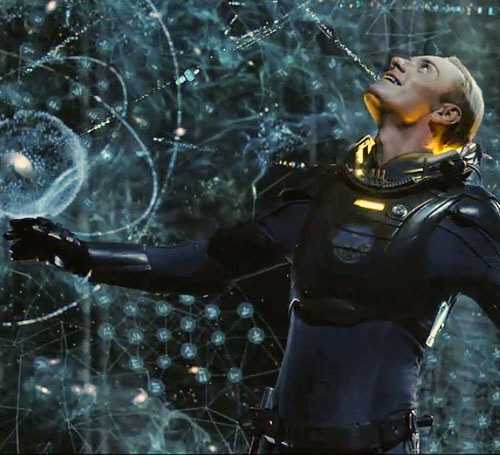 Photos courtesy of the Fassbender the Ginger Tumblr.