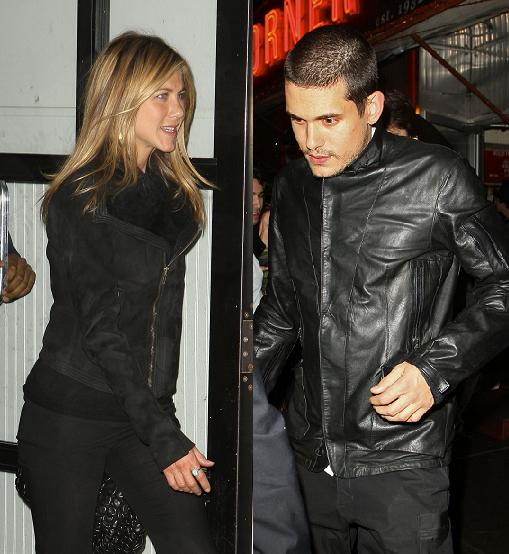 Jennifer Aniston and John Mayer seem to be doing pretty well on their second go. Aniston's got some fire in her lately which has been nice to see, and John Mayer, while often seen as a doucheY player, certainly has his own kind of self-effacing humor which is charming in its way. Even though I don't trust Mayer because of his track record, I find myself liking him despite my best attempts not to. He can be a paparazzi whore but he's still funny, and few celebs have mastered the self-deprecating humor like he has.
Aniston and Mayer went out on a date last night and ran into Nicole Richie and Joel Madden. The couples gabbed for a bit before parting ways – according to People, Jen and John were totally into each other.
Sunset Tower Hotel was the place for star gazing Monday night, when Jennifer Aniston and John Mayer dropped by for a late-night meal. "They were positively glowing in the candlelight," an onlooker said of the couple, who took a corner table in the dimly lit Hollywood landmark, where the couple is frequently spotted. "You could see her classic 'Aniston smile' on her face."

The on-again couple – just back from their jaunt to New York City – talked closely in low tones. But they did take time to chat with another celebrity couple, Nicole Richie and Joel Madden, who were dining nearby. "There was a lot of excited talk between the two girls," the onlooker noted, "with Nicole's head bobbing up and down as she talked to Jen." (When Richie star-exited the restaurant a short time later, she gave an "exaggerated, very happy wave" to her new Friend.)

But for most of the night, Aniston, 39, and Mayer, 31, only had eyes for each other. "They were very happy and goofy," the source added. "They seemed to revel in their privacy."
[From People]
John and Jen are really growing on me. I still don't think John's going to settle down until he's in his late seventies, but that's not necessarily the only measure of his worth. It just depends on what Aniston is looking for from him. Since the day she and Brad Pitt divorced, people have assumed that Jen's done nothing but try to find someone else to marry. The thought that she might be happy dating and remaining unattached in the long run seems unfathomable to most. But perhaps that's exactly what she wants.
Here's Jennifer meeting up with John at La Esquina in the SoHo neighborhood of Manhattan on Thursday. Images thanks to Bauer-Griffin.