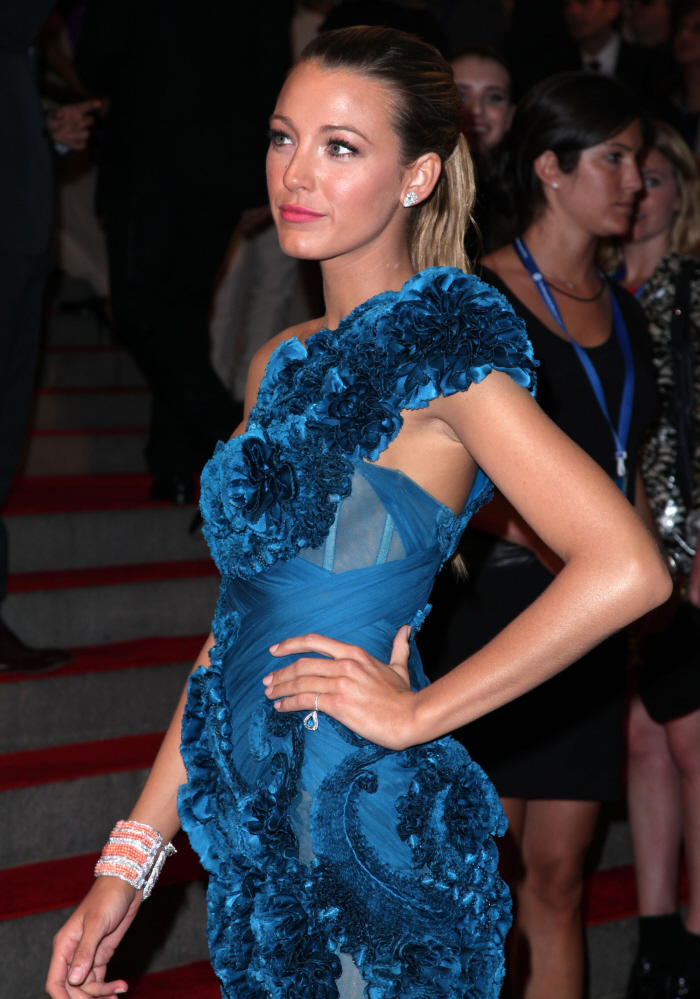 There was an odd little story about Ryan Reynolds and Blake Lively last week and I never got around to talking about it. You know how they're all WASPy and perfect now, and how there were many reports that Blake and Ryan had purchased a Bedford, NY country home together? Well, first of all, there's some reporting that indicates Blake bought the Bedford home herself, without Ryan's involvement whatsoever. Ryan also seems to have bought another property in the area recently – basically, they're both buying real estate like it's going out of style. But! The New York Post reports that whether or not both their names are on the deed, they are spending time together in Bedford, NY. And Ryan doesn't seem happy about it at all.
After months of looking for digs in the city, Blake Lively and Ryan Reynolds have opted to buy a $2.3 million mansion in Westchester's tony Bedford area. The house sits on 2 acres and overlooks the Cross River Reservoir.

We hear the couple, who met on the set of "Green Lantern" last year, were "over the top" in their demands for confidentiality with their purchase. And Reynolds, who divorced Scarlett Johansson in 2010, hasn't been making friends with the locals.

When another couple happened to walk out of Richard Gere's Bedford Post Inn restaurant at the same time, Reynolds became hostile. "Are you following me?" he snarled at the diners, who thought the actor needed a reality check.
[From The New York Post]
I used to hear lots of stories about Ryan being a d-bag to many, many people. Maybe he's a really nice guy when you get to know him, but the idea I have of him is of a dude who is rather temperamental, rude and tightly wound. So, basically, I have no problems believing that he's not making friends in the area.
Meanwhile, many of us wondered why Blake Lively was not at last Monday's Met Gala. Surely she was invited – she has a Chanel contract, she's a self-styled fashion girl, she's on Gossip Girl… why not go to the Met Gala? LOVE. She didn't go because of LOVE.
Blake Lively blew off the ball for her beau. Sources tell us the "Gossip Girl" beauty — who was the belle of the Metropolitan Museum of Art's Costume Institute Gala last year — passed on attending Monday so she could go on a lengthy romantic trip with boyfriend Ryan Reynolds.

Beginning the last weekend of April, an insider says Lively and Reynolds, who've been together seven months, jetted to Napa Valley, where they stayed at the world-class Auberge du Soleil luxury resort and restaurant in Rutherford, Calif. The couple then headed to San Francisco, where their activities included an intimate dinner at Charles Phan's revered Vietnamese restaurant, Slanted Door.

The leggy Lively and the abs-fabulous Reynolds also took time to stroll the city's artsy Red Light District. They then made a brief stop in Los Angeles before traveling to Reynolds' hometown of Vancouver. Our source points out that the lovebirds were visiting Reynolds' family the night of the Met Ball on May 7.

Instead of walking the red carpet at Vogue editor Anna Wintour 's haute happening, Lively, 24, and Reynolds, 35, ate dinner with one of Reynolds' four brothers and his wife at Asian restaurant Blue Ginger, in Nanaimo on Vancouver Island. They stayed overnight and returned to the mainland the next day. According to the insider, Lively and Reynolds stayed at the Coast Hotel in Vancouver, but have since relocated to Parksville in British Columbia to continue the more-than-two-week idyll.

Fashion insiders were surprised Lively skipped the Met Ball, since the style- and shopping-obsessed actress was the hit of last year's party. The blond bombshell is the face of Chanel Mademoiselle handbags and attended last year's soiree on the arm of the French fashion house's creative director, Karl Lagerfeld.

Our first source says Lively's absence from the fashion extravaganza is a sign that she has really fallen for Reynolds. A second source notes that Lively would have been more than welcome at the "Oscars of the East Coast," but decided on the low-key vacation with Reynolds instead.

"Anna loves her," notes the insider.

Lively also missed the Cinema Society screening of her film "Hick" here on May 3, because she was traveling. She and Reynolds have become increasingly serious during their seven-month courtship. After shopping for homes in Westchester and Connecticut together, Lively recently purchased a $2 million estate in Bedford Hills, N.Y.

Our initial source says Reynolds has been spending a lot of time at Lively's new pad, and also "gets along great with Blake's [half] sister Robyn ."

A spokeswoman for Lively did not respond to our request for comment by deadline.
[From The NY Daily News]
At some point does it become unprofessional? That's my question. I don't have any problems with Blake and Ryan being loved up, and I don't have any issues with Ryan settling down with the first big-boob'd blonde he finds. I also think the mini-breaks are cute. They're both working actors with lots of appearances and obligations, so when they can find the time to go on holiday, why not go? But that's the problem, isn't it? Blake is ignoring some of her appearances. Like, how could she not even go the premiere of her film? Is she that important? And surely her Chanel contract requires her to put in appearances at some of the big fashion events of the year, like the Met Gala. Ugh. Blake, what's going on with you, girl?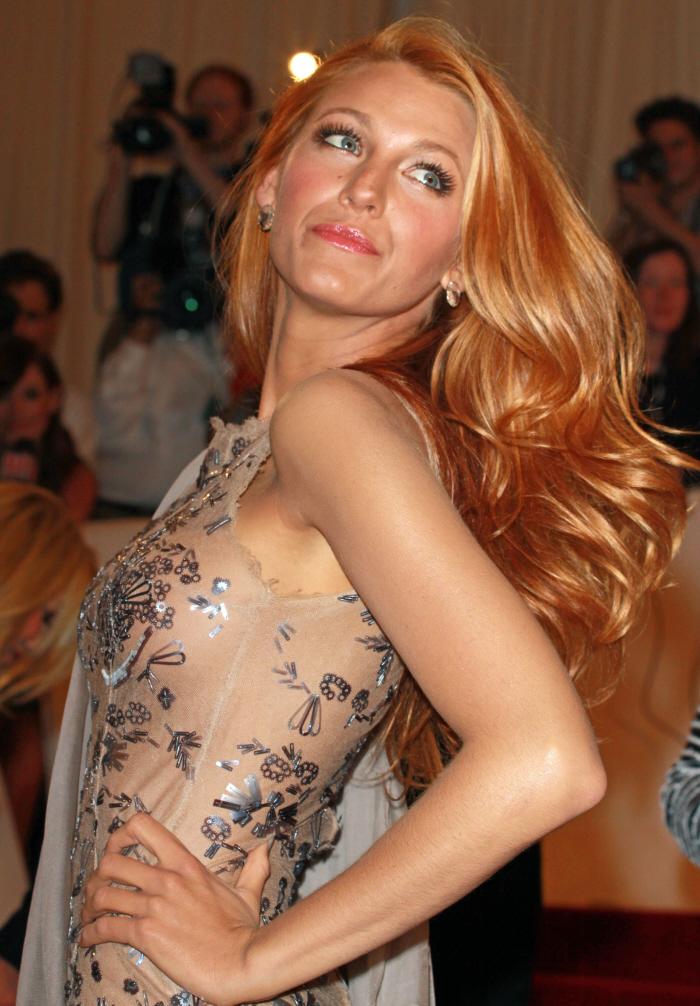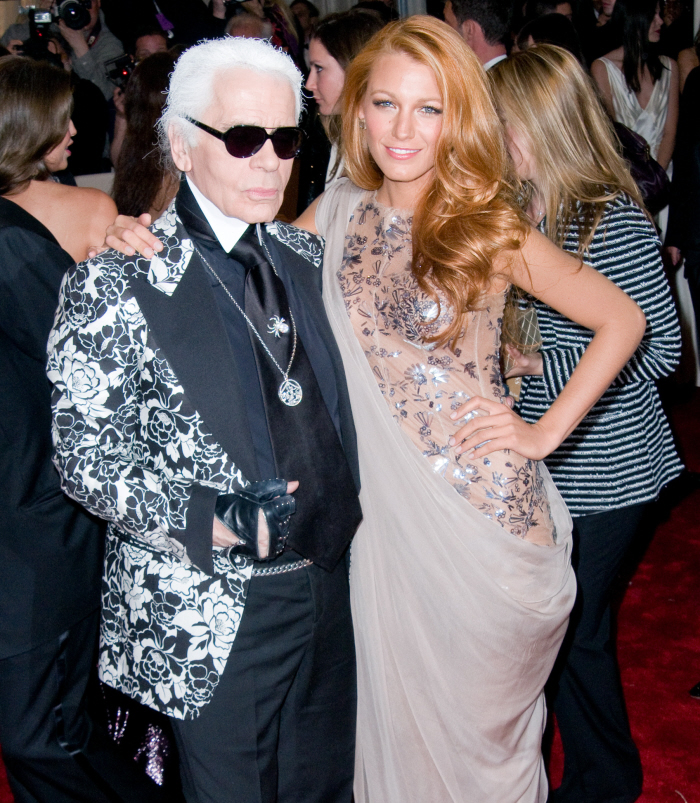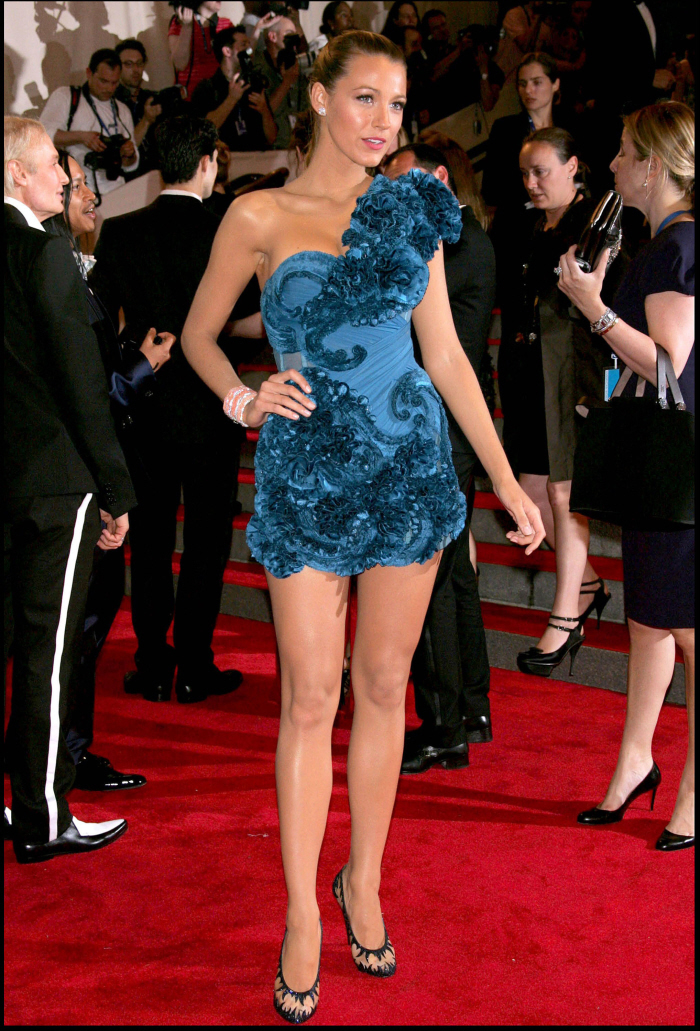 Photos of Blake at the 2010 & 2011 Met Galas, courtesy of WENN.
[gallery