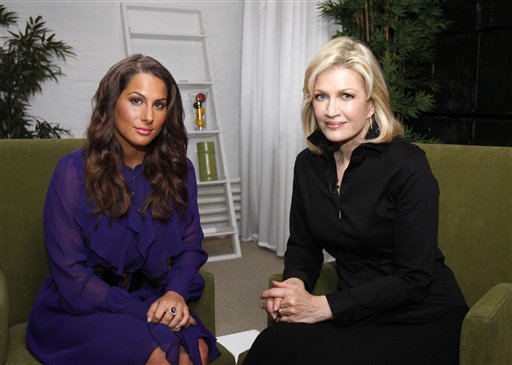 Disgraced former NY Attorney General Elliot Spitzer's call girl, 23 year old Ashley Alexandra Dupre, is doing the press rounds and has interviews with People and "20/20." Dupre's talk with Diane Sawyer will air on ABC Friday at 10pm. 20/20 bills it as the story of how an "upper middle-class, girl next door got into the profession and the psychological journey she continues to experience."
Dupre reveals in her interview with People that she didn't know who Spitzer was when she got paid for sleeping with him. She said he was polite but just wanted to do the deed and didn't chit chat with her ahead of time.
She's either trying to get her singing career off the ground, wants the public to see her as a normal person, or a little of both. Her statements are full of cliches about how she was just trying to make ends meet and how she doesn't see how prostitution is any different than going on a date.
Her descent into tabloid mayhem began the night of Feb. 13, 2008, when Dupré – who had worked as a high-end escort to help pay the bills on and off since 2004 – met a client who turned out to be the Governor of New York.

Dupré claims she had no idea who the man was that night. What she does recall is that "Client 9," as Spitzer was reportedly known at her escort service (which was shut down in March), "was polite.

"Some guys, they want to have conversations and really get to know each other. With him, it clearly was not like that. It was more of a transaction. Strictly business."

Casually dressed and with no entourage in tow, Spitzer didn't strike Dupré as someone important. Besides, "I was there for a purpose – not to wonder who [he] could be."

FBI Steps In
In fact, she didn't find out who he was until March when, just days after learning she was mixed up in some sort of FBI investigation, she saw the Spitzer apologizing on TV. "It was surreal," Dupré says of seeing the client she had met a month before. "I felt like I was sinking."

As for the former governor, "I think he's been punished enough." Asked what she might tell his wife, Silda, who stood at Spitzer's side when he announced his resignation, Dupré offers, "I'm sorry for your pain."

In the interview, Dupré also opens up about her troubled past – running away at age 17 into a non-stop life of drinking and partying – and how a girl from the suburbs could fathom becoming a prostitute: "This wasn't any different than going on a date with someone you barely knew and hooking up with them," she reasoned. "The only difference is I can pay my rent…

"I'm 23 years old," she says. "I want to do music, to do fashion, to write books – there's so many things." One thing she won't be doing: selling her body to make ends meet. "No," she says. "Never again."
[From People]
It's crazy to think there's no difference between dating and hooking up and having sex and getting paid for it. That's incredibly warped reasoning, but I guess that's what you might expect to hear from someone who did it for a living. It's not like she wasn't out of control before she became an escort. There are plenty of provocative photos of her floating around and she did make that Girls Gone Wild video when she maybe wasn't even 18 yet.
This woman got her 15 minutes and she's going to drag it out as long as possible. You can see the fascination with her, but she's really no different from anyone else in that profession. I'm trying not to judge here and realize that I have a lot of preconceived notions about prostitution that maybe aren't fair. It's the world's oldest profession and there's a stigma attached to it for a reason. That doesn't mean that former prostitutes shouldn't go on to other things in their lives, just that when they try and use the media to their advantage they're going to be met with skepticism.