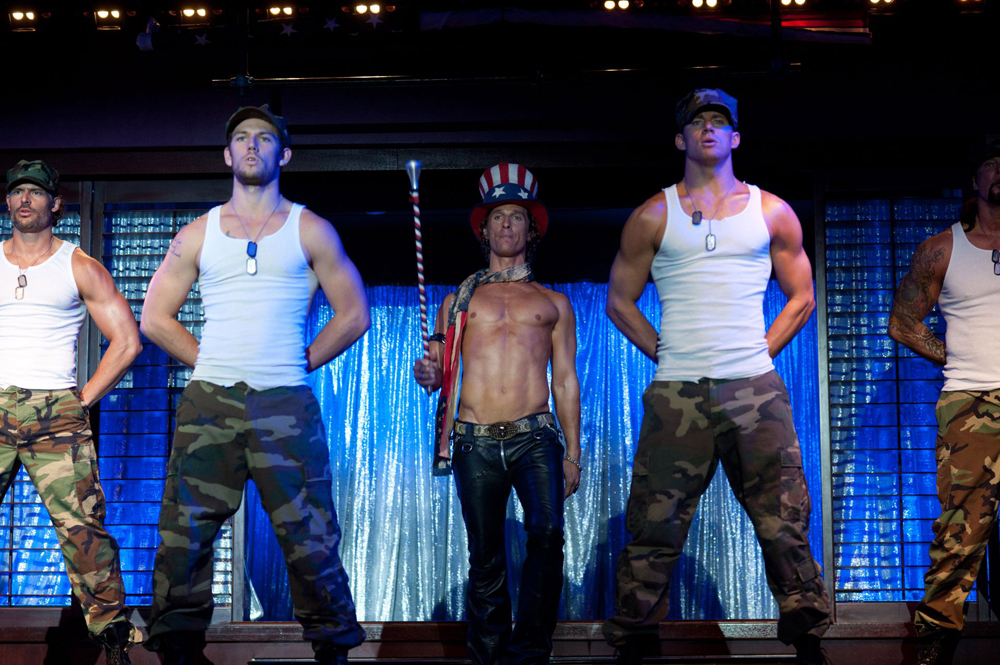 Matthew McConaughey and his exaggerated Southern drawl have sat down for an interview with the June issue of The Advocate to promote — what else? — Magic Mike, which has already been credited with reinvigorating some measure of McConaughey lust for both Kaiser and myself. Apparently, there's also been a huge enthusiastic reception from the gay community towards the impending arrival of Steven Soderbergh's male-stripper, rom-com movie starring Channing Tatum, McConaughey, Alex Pettyfer (meh), and Joe Manganiello. Is this response entirely unanticpated? Well no, but I guess my assumption was that it would appeal mostly towards women who've had a bad experience with male strippers and are seeking to remedy said experience. Whatever the case, Matthew is talking up the film all over the place and wants the world to know about his own striptease. Here are some excerpts from the interview: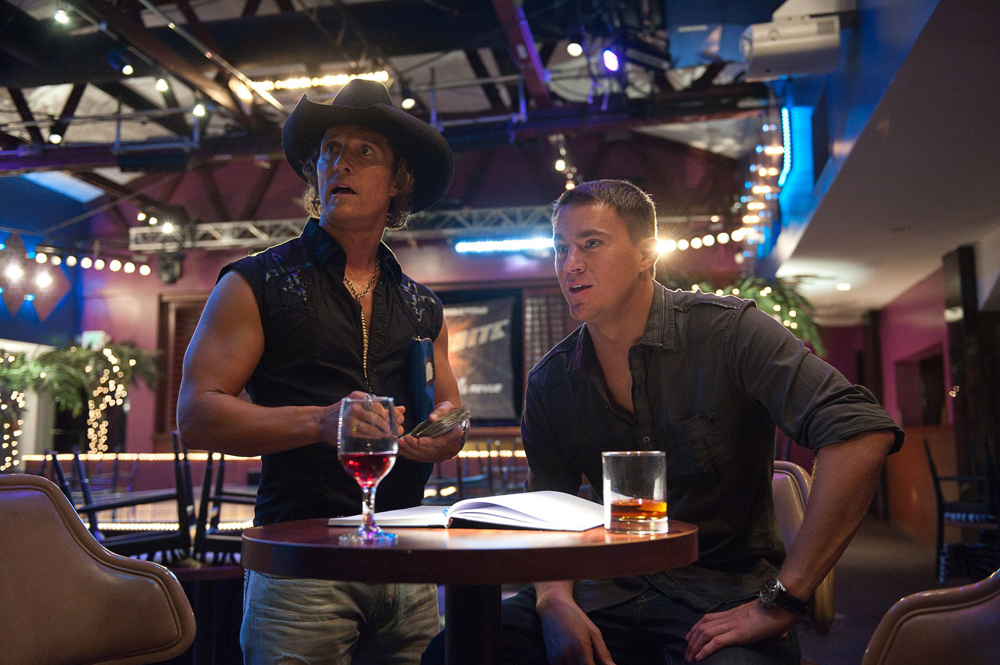 On his inspiration for Dallas in Magic Mike: "When Soderbergh first called and pitched me the part, I just laughed and said yes. On the phone, I asked, 'Do you have any initial direction for me to go on?' He took a deep breath and said, 'Well, you really can't go wrong.' So I just took off and flew with this guy. I was going for Jim Morrison meets A Clockwork Orange, because he's like a deity in his own mind."

On his character's striptease: "It wasn't in the script, but Soderbergh said in the beginning that if it felt right, I could strip at the end of the movie. I said, 'I gotta dance, man.' I would regret it for the rest of my life if I was in a male stripper movie and didn't get up there and strip myself. …At first it was scary as hell, but then it became like a drug, and I couldn't wait to do it again. Look, I love to dance, but I've never been a stripper. Channing's one of the best hip-hop street dancers I've ever seen, and I didn't want to challenge his style, so I worked on my own strengths. I also knew that my dance had to be the dirtiest. It had to be wonderfully filthy."

Did he use a stand-in for his striptease? "No way. That's all me up there. I don't need a stunt ass."

On who's the hottest stripper in Magic Mike: "Dallas, of course. Everybody was pretty damn ripped already, but boy, if you really want to get men in great shape, just tell them they're going to play male strippers in a movie and have their sh-t onscreen for the rest of time. Vanity, baby."

On the gay community's early enthusiasm for Magic Mike: "Well, I would hope and reckon so. They should be pumped, and they should come out in droves, because they won't be let down. I think they'll come out more excited then they came in. I look forward to hearing the chatter of the gay community after they see it, including their answer to your question of who's the hottest."

On the first time he became aware of the gay audience: "I know exactly when. It was about 1995, I go into a coffee shop on Santa Monica Boulevard, and the guy behind the counter has a picture of me from Boys on the Side taped to the tip jar. Is that not classic? I gave that guy a big tip."

On laughing off gay rumors about he & Lance Armstrong: "Well, I'm really secure in my skin. I'm heterosexual, and I'm just fine with that. Those rumors have to make the rounds, and I know that I was fun target for them."

Will he ever play a gay role? "It's not on the 'no way' list, but it's not on the bucket list either. Just tune in to all my films that are coming out in the next year or so, and you might get a little surprise. That's all I'll say."

What would he do if one of his children came out? "That's got to be really hard for a child, even if they think the parents' reaction is going to be great. I'd sit down, talk to them, and ask them to walk me through how they knew, because I'd want to be open about it. There's nothing in me that can understand disowning your child because they're gay. You deal with it, you support them, and you also help prepare them for how some people in the world will treat and think of them. I don't think you can sugarcoat it, because they will run into some adversity and roadblocks."
[From The Advocate]
Matthew is such a gentleman in every sense of the word. He's also not faking it at all in regard to his respect for the gay community. I mean, can you imagine how douchebag John Mayer would have answered such difficult questions if he were an actor? "Would I ever play a gay role? That depends on if I was rocking out with my David Duke c-ck out or not." Perish the thought. In sharp contrast, Matthew is pure class. He might not be the best smelling dude around, but he'll treat everyone equally right.
Here's Matthew presenting at the Texas Film Hall of Fame Awards on 3/8. He's such a Texas boy, and speaking as an Oklahoman girl, I will say that is very appealing.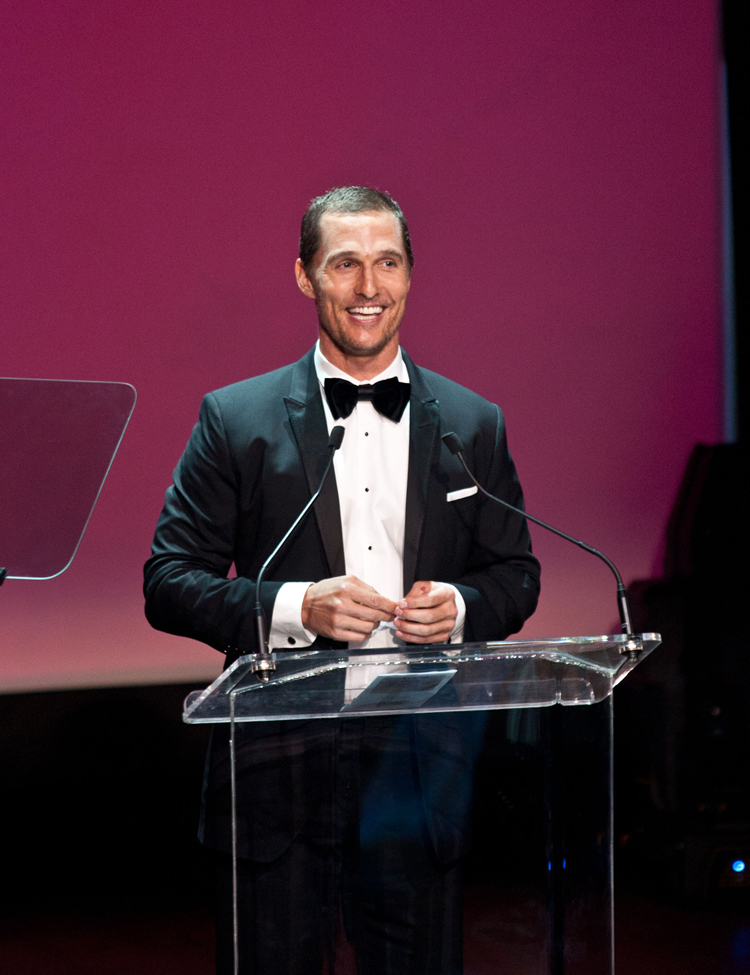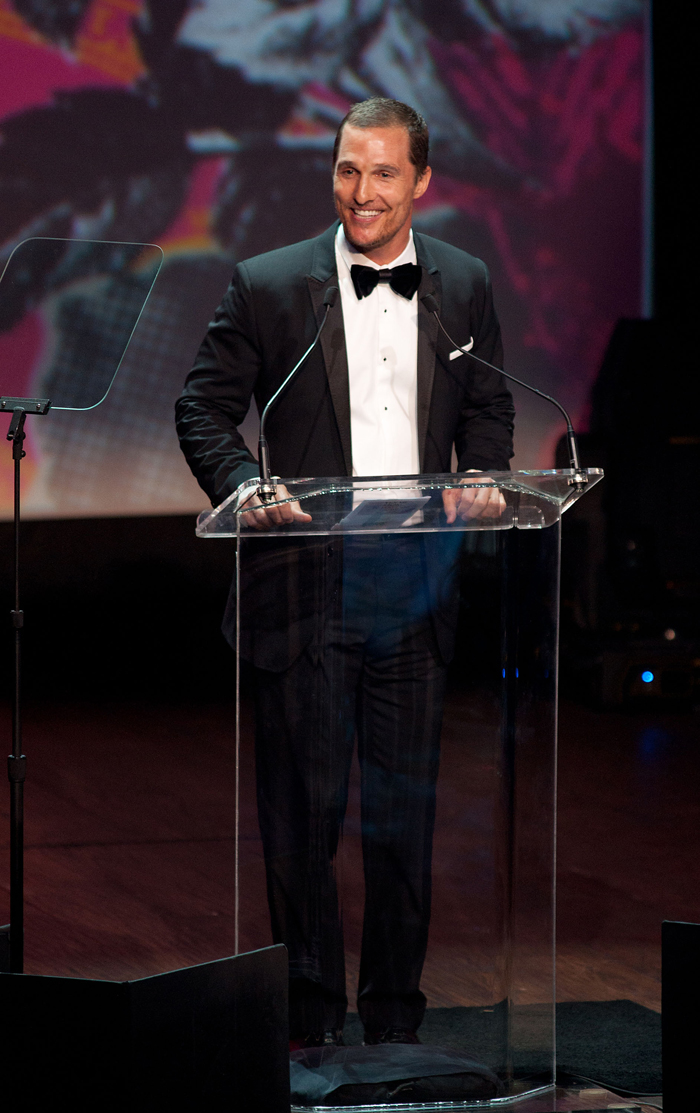 Photos courtesy of The Advocate and WENN