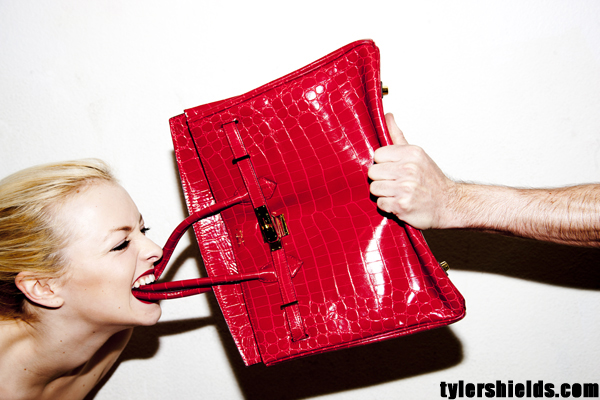 Update: E! Online sent us this video clip from "Mrs. Eastwood and Company" of Tyler presenting Francesca with the bag and telling her it's real and that she has to destroy it. On the video, the bag looks SO FAKE to me. It's shiny and cheap looking. He goes on to denounce it as "just a bag." This is a publicity stunt for the show, and it worked.
---
One of the big stories yesterday was about a series of photos of Francesca Eastwood, 19, taken by her 30 year-old boyfriend, celebrity photographer and fameho extraordinaire, Tyler Shields. In the photos, Tyler and Francesca were shown destroying what they claimed to be a Hermes Birkin crocodile bag, which retails for $100,000 and up. In
a post to his blog
with the photos, Tyler wrote that "
Destruction is a beautiful version of freedom
" and asked people if they would want the bag, and if they were "
sad to see me destroy it
." People were understandably outraged at the stunt, and pointed out all the good that could have been done with the amount of money the bag was worth. Francesca supposedly told TMZ that she didn't understand the fallout from the photos, and that she felt that people "
didn't understand art
." A lot of people countered that she didn't understand how hard it is to make ends meet in the real world.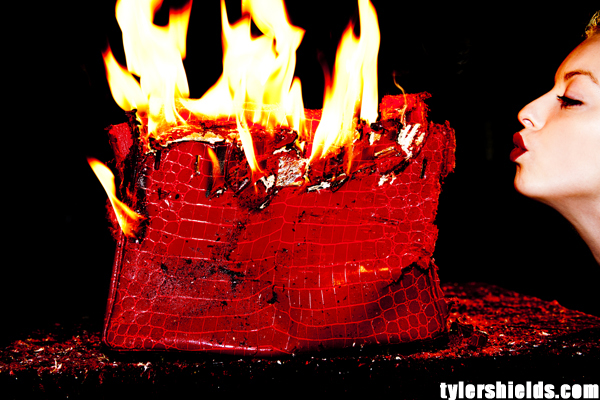 It turns out this little stunt might have been done with a fake Hermes Birkin. Reader "thatsh*tcray" points us to this post on The Purse Blog forums that claims the bag is fake, and gives a little more insight as to whatever (tired, obvious) point they were trying to make/provoke:
Two things to note:

1. It's a fake bag.

2. The statement they are wanting to make, I guess, is this: People who can afford to buy a croc Hermes have "money to burn". That would be the literal interpretation!

Ergo, it's just a point of view. One could ask the same of Damien Hirst's sliced up animals, and many other works of installation or performance art. What was the point of all that?
[From The Purse Blog]
I don't think that dissecting a cow or filling a room with oil is equivalent to torching a $100,000 item, but what do I know? There's expense associated with everything, and some of Hirst's art has been outrageously expensive.
Also, I never knew the story of how 90s British band The KLF burned a million pounds in real money as part of an "art" exhibition in 1994. That's much more outrageous to me, and you can read about it here. (Thanks to Tapioca for pointing this out.)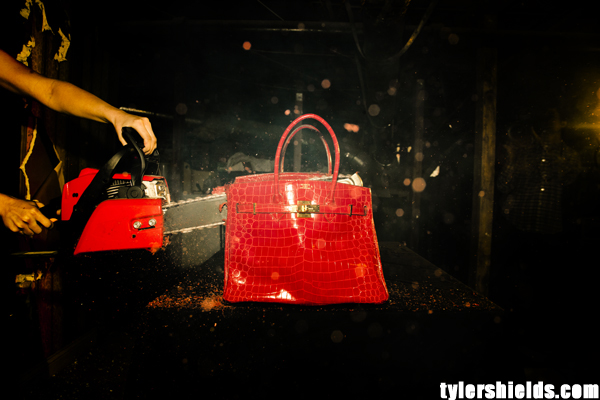 Getting back to whether the bag is a cheap replica, now that I'm looking at it closely I believe it is. Here's a link to a website where you can buy a knockoff red "crocodile Birkin" for $279. It looks shiny and cheap with fat seams, just like this bag. The difference is that the gold "lock" on the bag is a cheap looking crocodile print instead of a more realistic lock on the real version. In the bag that Tyler and Francesca are destroying, there is no lock that I could see. Also, there are higher end knockoffs made with real crocodile leather that sell online for around $9,500. So it's possible it's just a copy.
If it was a fake, does that make this stunt less offensive? I hope I don't sound callous when I say I'm impressed by it on some level. I still find it obnoxious, though. They destroyed a $300 item and got press for destroying a $100,000 item. That's what this Tyler Shields character is all about, controversy.
Knockoff Birkin Bag, $279: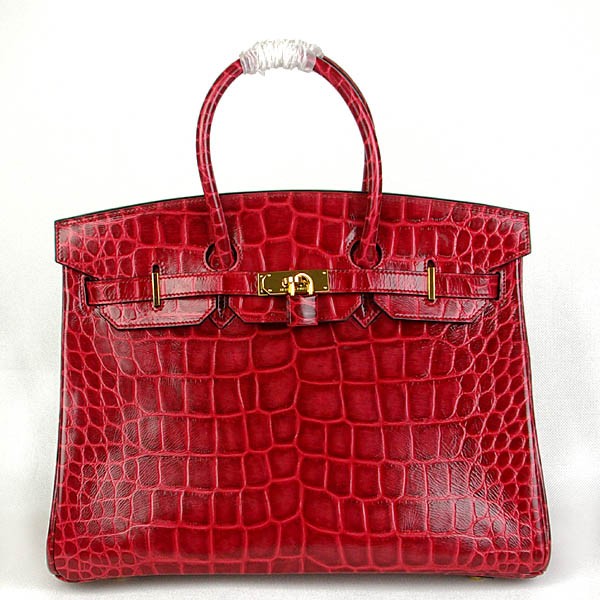 Real Birkin Bag. Retails online for $69,000. This bag is more matte than shiny.