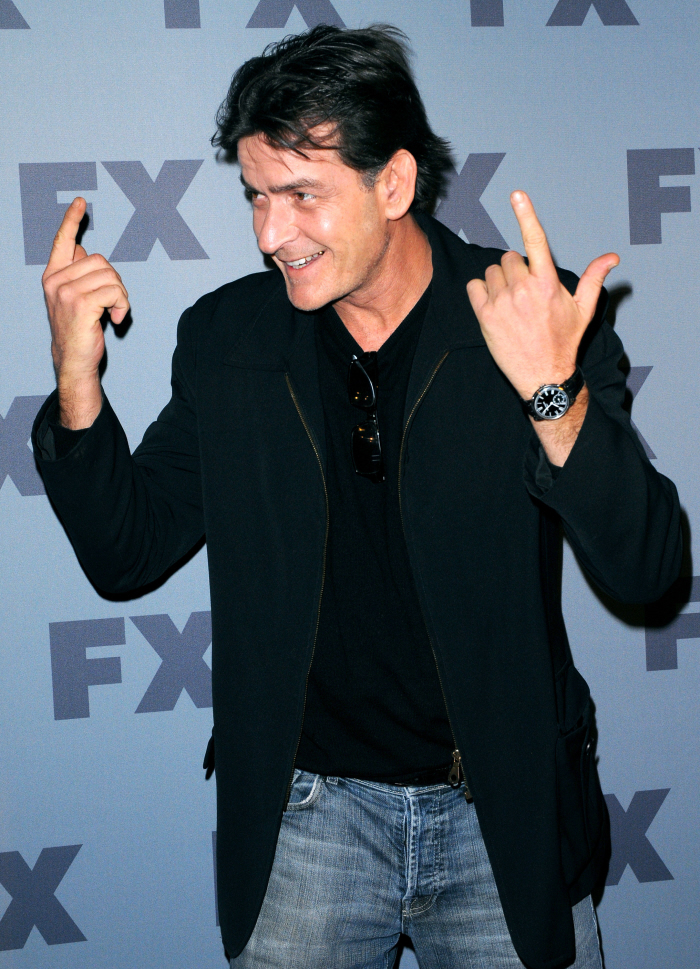 Last year was The Year of Cocaine Charlie Sheen. I have such a low tolerance for most of these larger stories of celebrity-breakdowns – at some point (very quickly for me), it just becomes too gross, too tragic, and I don't even want to watch it anymore (exception: The Cracken, for various reasons). I really thought Charlie Sheen was going to die last year, and I wasn't interested in watching it. I'm sort of shocked that Charlie is still around – and not only is he still alive, but he's also got a job and he's been seeming sober-ish for about nine months. I'm not saying Charlie was actually sober or anything, I'm just saying that the crazy booze-and-blow bender seemed to wind down and Charlie was still crazy with or without the help of drugs. But this too shall pass.
Charlie Sheen has been partying until the wee hours of the morning at his Beverly Hills mansion, and he's had a number of random vehicles parked in his driveway, RadarOnline.com is exclusively reporting.

Sheen's ex-wife, Brooke Mueller, also partied at the actor's home and subsequently suffered a drug relapse, which resulted in yet another trip to rehab. Mueller is on probation for a cocaine possession conviction, but it appears unlikely her relapse will result in her being sent to jail.

Sheen's neighbors near his swanky Mullholland Estates home tell RadarOnline.com exclusively, "there has been an abnormally high levels of activity at the house all hours of the night. Cars containing scantily clad women arrive very late in the evening and don't leave until the next day. The women always appear to be wearing the same clothes they arrived in, and looking a little worse for the wear.

There are also a number of random vehicles parked all over his driveway and in front of his house. The party goers, including Sheen, will smoke cigarettes outside in his backyard and swear loudly. It's becoming a nuisance, and the residents don't like outsiders lurking around all the time. People move to Mullholland Estates for security and privacy because it's a gated community. Slash lives down the street from Charlie, and you never hear or see anything odd going on at his house. In fact, he is very low key and very quiet. Too bad some of that doesn't rub off on Charlie."

The actor has been "partying because he isn't working right now. Filming for his new television show, Anger Management, is done for the first season of the show. Things always go awry with Charlie when he isn't working," the source says.

Sheen recently told Matt Lauer during a recent interview that he still drinks alcohol, despite having a drug problem in the past. A shocked Lauer said at the time, "You've admitted issues with drugs: I don't know one addiction specialist who would tell a guy in your position, 'It's okay to drink'."

The former Two and a Half Men star responded, "Well, if you do, I should probably go to that guy! I have different theories about the whole thing, one of them is, park near the VIP exit!"

Board certified addiction specialist, Dr. Drew Pinsky previously told us, "I truly worry for Charlie because of his extensive history of drug addiction. Under no circumstances should Charlie, or anyone in recovery from prescription drugs, street drugs, etc., consume alcohol, period. There is no grey area on this. Yes, Charlie does seem to be doing better now than he was last year, perhaps he is on some psychiatric drugs that are controlling his bi-polar issues and mania, but he is holding a loaded gun in his hand by drinking alcohol."

Sheen's new TV series, Anger Management, debuts Thursday, June 28 on FX.
Of course, "a few neighbors complaining" is still a long way away from "hiring ten p0rn stars and hookers to do a mountain of blow while playing with guns for 50 days in a row." I guess we'll know it's serious when Charlie's cars start ending up in ditches or going off cliffs again (that was always one of the biggest mysteries to me).
Anyway, Charlie Sheen responded to the reports by giving a statement (of sorts) to TMZ. This is what TMZ claims Charlie emailed them (?):
I can't speak to anyone's opinion or judgement.
I was there
they were not.
their tepid
hearsay is a baseless
static drone.
a mantra.
their theme.
I refuse to be held hostage by their 'constitutional'
privelidge,
to judge those
who can and who do.

nabobs.
CS
[Via TMZ]
Can you imagine being so high/crazy that you're writing haikus to TMZ? Oh, pardon me – FAILED haikus.
I'm shocked that Charlie was not approached to play Richard Burton to Lindsay Lohan's Elizabeth Taylor. He would have been perfect.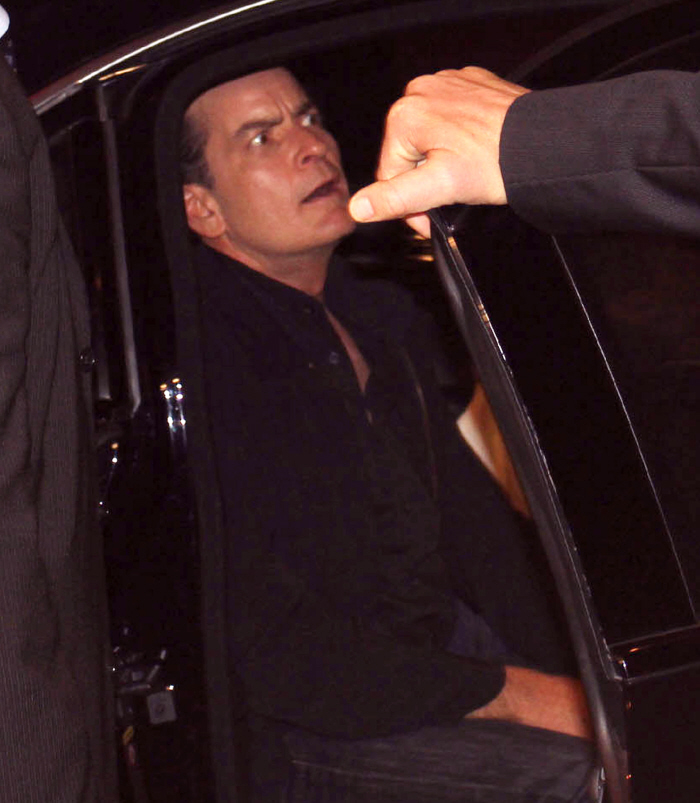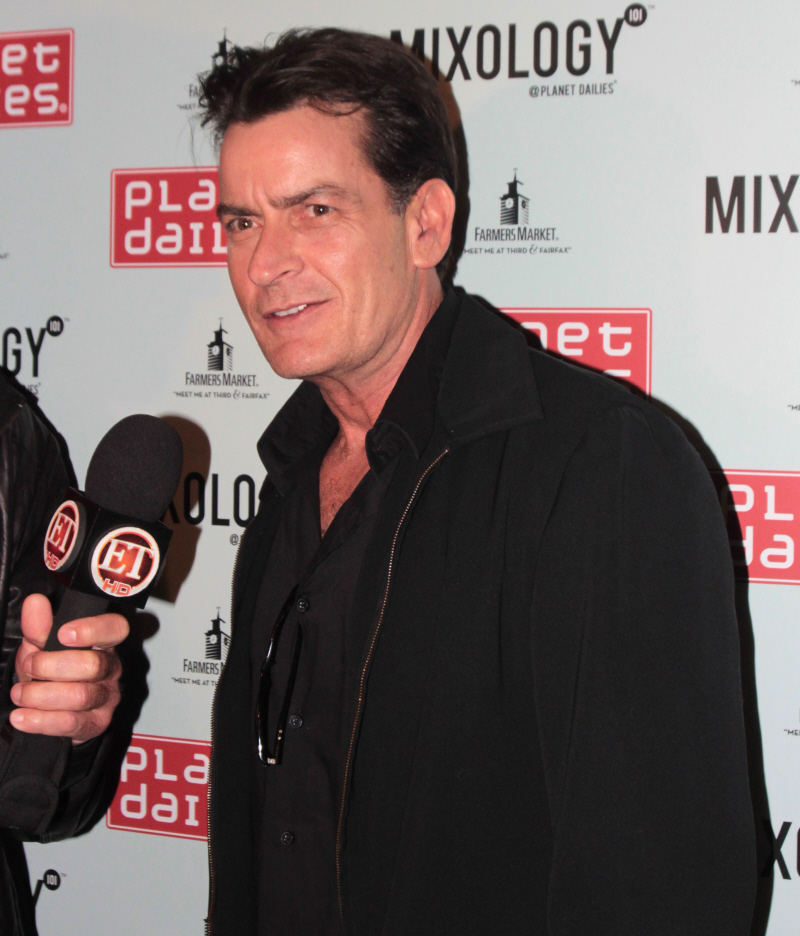 Photos courtesy of Fame/Flynet and WENN.