Sheryl Crow has a benign brain tumor, which she says explains her memory loss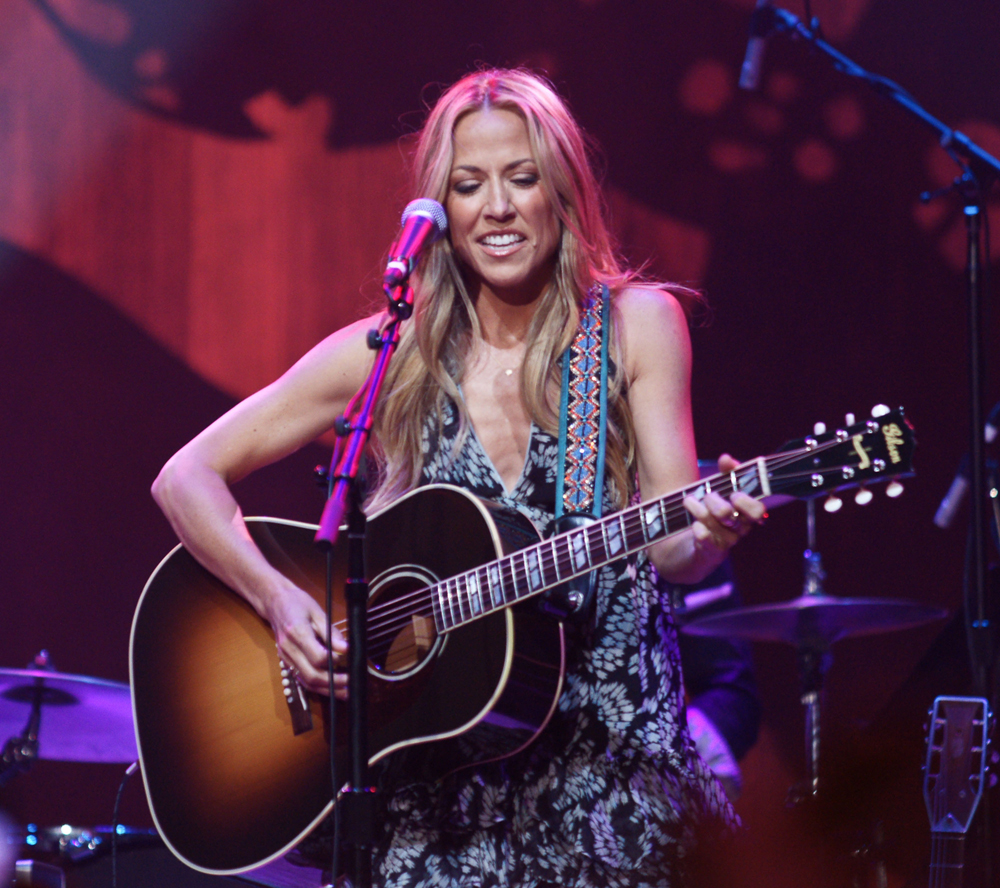 Sheryl Crow has endured a rather difficult road with her health in the past decade or so — she famously battled breast cancer in 2006 and came back swinging. Now Sheryl has revealed that, after experiencing problems with memory loss (including forgetting some of her own lyrics onstage), she went in for an MRI and learned that she's got a brain tumor. Luckily though, the tumor is benign! At this point, Sheryl doesn't plan to have surgery, which is probably because her doctors aren't yet aware whether the tumor will grow. Where the brain is concerned, surgery for a benign growth could present more risks than benefits. Still it's scary to even think about the prospect of a tumor in one's brain even though Sheryl doesn't seem terribly upset about it; in fact, she seems almost relieved to learn that she wasn't imagining her memory issues. Here's part of the interview with Review Journal in which Sheryl reveals that she has the tumor:
Sheryl Crow has a brain tumor, but she's not worried about it because it's benign. She gave me this startling news with a smile during an otherwise lovely interview.

"I worried about my memory so much that I went and got an MRI. And I found out I have a brain tumor," Crow said Friday in a suite at The Hotel in Mandalay Bay.

"And I was, like, 'See? I knew there was something wrong.'"

I didn't know whether Sheryl was joking or not because we had just been laughing about how she recently forgot some lyrics on stage. But she wasn't kidding.

"I haven't really talked about it," she said. "In November, I found out I have a brain tumor. But it's benign, so I don't have to worry about it. But it gives me a fit."

A month ago, Sheryl forgot part of "Soak Up the Sun" on stage in Florida. She told fans, "I'm 50, what can I say? My brain's gone to (expletive)."

"Oh gosh," she told me. "I will tell you a funny story. I have a history of forgetting my lyrics."

At the Hard Rock Hotel in the 1990s, she forgot the intro to "A Change Would Do You Good."

"Not only could I not remember the first line, I couldn't remember the first line to any of the verses. I started laughing so hard! And I looked over at my guitar player, and he's bent over like he's gonna just start peeing."

"I think that was the night a whole bunch of us wound up at a strip club. It was Brad Pitt, and Mick Jagger and Sting! It was just cuckoo crazy, and I was still just getting started, you know. I was, like, 'Wow, Vegas. This is more than I could even dream of.'"
[From Review Journal]
Wouldn't it be great to have stories like partying with Brad and Mick in Vegas? Forget Sting, but the other two would be phenomenal to meet. On a more serious note, I hope Sheryl's prognosis continues to be a good one, and hopefully, she won't need to have brain surgery to remove the tumor at a future date. Fingers crossed.
By the way, this is Sheryl in a bikini at age 50. Kill me now.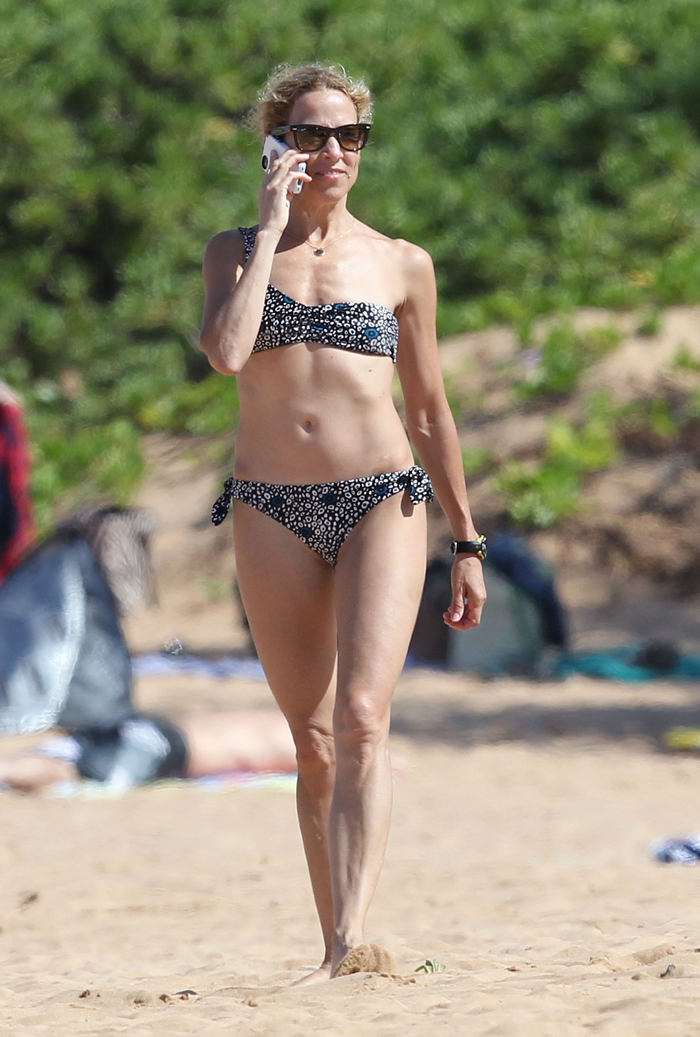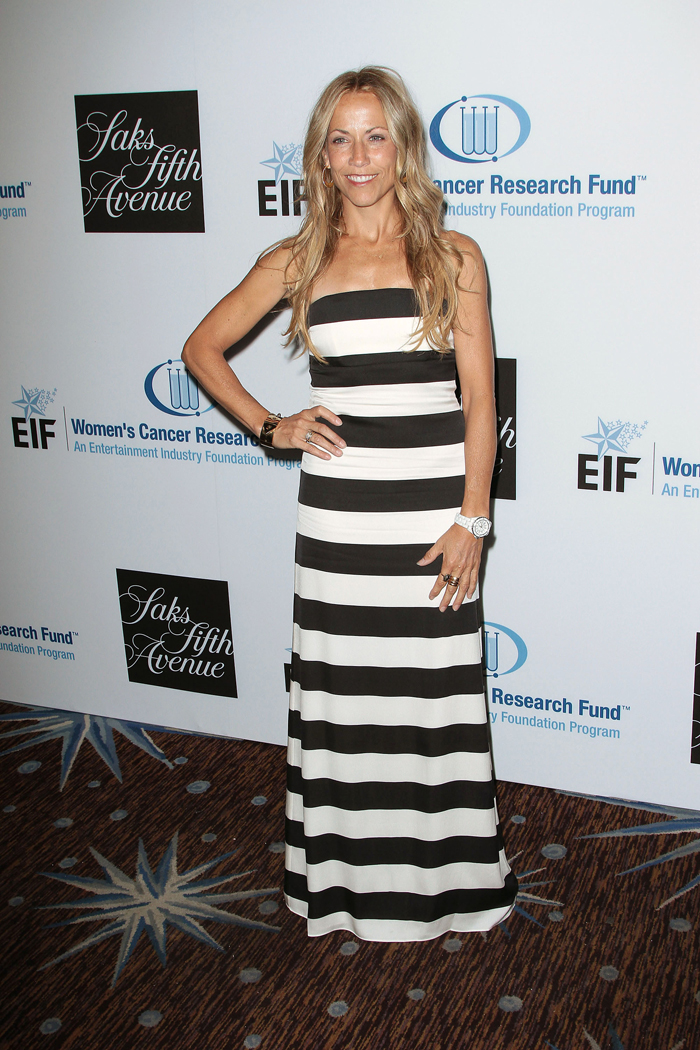 Sheryl at the We Walk The Line: A Celebration of The Music of Johnny Cash tribute in Austin on 4/20; Sheryl in Maui on 2/23; Sheryl at the EIF's Women's Cancer Research Fund benefit on 4/18; photos courtesy of Fame/Flynet and WENN
Written by Bedhead

Posted in Sheryl Crow

- Friends reunion on Ellen [Popsugar]
- Lindsey Vonn watches Tigers kids [Lainey Gossip]
- George Michael fell out of a car going 70mph [D-Listed]
- Real Housewives of Orange County recap [Reality Tea]
- New Man of Steel trailer [Pajiba]
- Jared Padalecki's hot bod [Buzzfeed]
- Doctors confirm Taylor Swift's new boobs [Evil Beet]
- Catherine Zeta-Jones finished treatment [CDAN]
- Anna Paquin hates the paps [Celebslam]
- Lance Armstrong is gross [The Blemish]
- What is Barbara Palvin wearing? [Moe Jackson]
- This is Petra Nemcova? [SVC]
33 Responses to "Sheryl Crow has a benign brain tumor, which she says explains her memory loss"