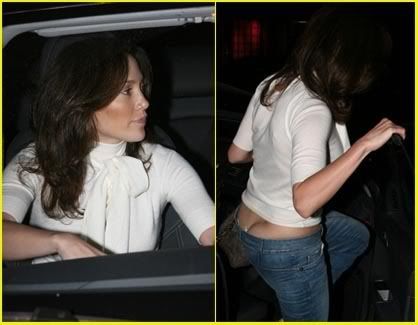 JLo! At least we're only subjected to her ass crack and not her entire nether region. She could have some floss-like thong on, but it's hard to see.
JLo's first ex husband, waiter Ojani Noa, wants to cash in with a huge tell-all book about his one-year marriage to the pop star. She made him sign a confidentiality agreement as part of a settlement for firing him as the manager at her Miami restaurant, and the two are now battling it out in court. He vows to continue fighting, because he's probably got nothing better to do. It doesn't look like he has a lawyer yet though:
Latina superstar Jennifer Lopez is facing a court battle in her ongoing legal dispute with her first ex-husband – Ojani Noa has vowed to fight her "to the end." The singer/actress filed her suit against the former waiter in April, after Noa announced plans to detail their one-year marriage in a tell-all book. She also obtained a restraining order barring Noa from revealing intimate details of their sex life.

Noa and Lopez signed an agreement last year, ruling he could not disparage the star or make money from disclosing intimate details from their brief marriage. But Noa told a Los Angeles judge Friday that he regrets agreeing to the preliminary injunctions.

He said, "I want to fight this thing to the end. My life has not been the same since this lawsuit was filed." The judge told Noa he must hire a lawyer by January 17 or represent himself in court.
He probably has a lot of sordid details to reveal about J.Lo and she fears that they'll get out. What better way to head off revealing news than by showing some skin?
Thanks to Faded Youth for the header picture.