Does Justin Theroux hate "living in a fishbowl" as Jennifer Aniston's piece?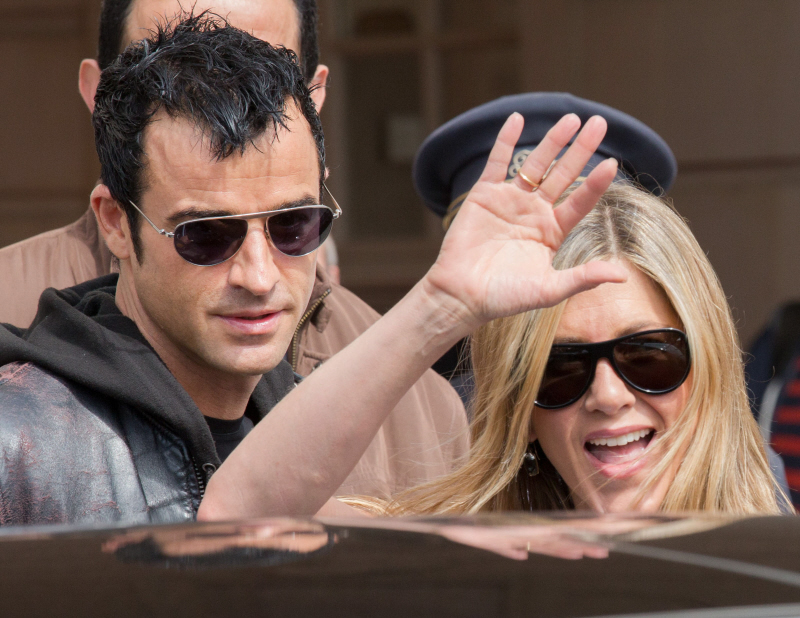 All week we've been looking at photos of Jennifer Aniston and Justin Theroux looking varying degrees of "loved up" in Paris. Even though the Pity Party Patrol accuses me of all kinds of negative thoughts against She Who Screams At The Ocean, I actually buy that Justin and Jennifer are "loved up". They are the real deal. It's not some sketchy situation where some faux-hipster dude is hired to be her official piece for a certain amount of time. JustJen 4 EVA!!!!! Anyway, I say all of that because In Touch and Star Magazine are both running anti-JustJen pieces this week, claiming that Justin is OVER IT. I covered some parts of the Star story yesterday, but here's In Touch's version:
Things aren't quite picture-perfect for Justin Theroux and Jennifer Aniston. Sources says Justin – an actor and writer who, until recently, treasured his low-key lifestyle in New York – is having a tough time fitting into his love's Hollywood world.

"He hates being approached by fans every time they go out," an insider says. "He feels like he's living in a fishbowl."

"He misses the freedom to be creative and funky," the friend says. But then again, "He has met people he never dreamed of meeting."

Lately, Justin's nostalgia for his pre-Jen days has grown intense, so much so that he's reached out to Heidi Bivens, the woman he dated for 14 years before unceremoniously dumping her for Jen.

"He's expressed remorse about what he did to her," the insider reveals. "He really misses her. He feels like he lost his best friend, and now he thinks they should stay in touch."

Friends say that Justin went from being "the star" in his relationship with Heidi, a costume designer, to being Jennifer's "sidekick". A friend says, "In public, it's all about Jen."

Justin's feelings about Heidi are only one part of his general malaise, sources say. A prime example? Although the couple initially planned to share a home in Manhattan, they've all but relocated to California. "He misses his old life," a friend explains. "He misses hanging out with his artist friends and their intellectual conversations."

"Still, Justin doesn't want to break up… he really does love Jennifer."
[From In Touch, print edition]
LOL @ "He misses hanging out with his artist friends and their intellectual conversations." OMG, are you saying that Jennifer Aniston doesn't have intellectual conversations?!? Ask her about her hair, and you shall receive a masters thesis on the subject. Also: this dude counts Terry Richardson as one of his BFFs. I'm just sayin'… let's not hop on the "Justin is an intellectual" PR campaign.
Now, does Justin look remorseful or like he's full of dread and angst for a hipster life not led? Not really. Justin makes the occasional pissy face, but for the most part he seems fine with being photographed with his lady. And I think the whole Heidi Bivens thing – where he began seeing Jennifer Aniston, THEN split up with Heidi and made her move out of their apartment (even though she probably could have claimed common-law-wife status) – all of that says to me "Justin is moving on to bigger and better things!" In his own mind, that is. Maybe he does feel wistful about Heidi, but then Jennifer buys him another toy or something pretty, and he forgets all about Heidi Whatshername.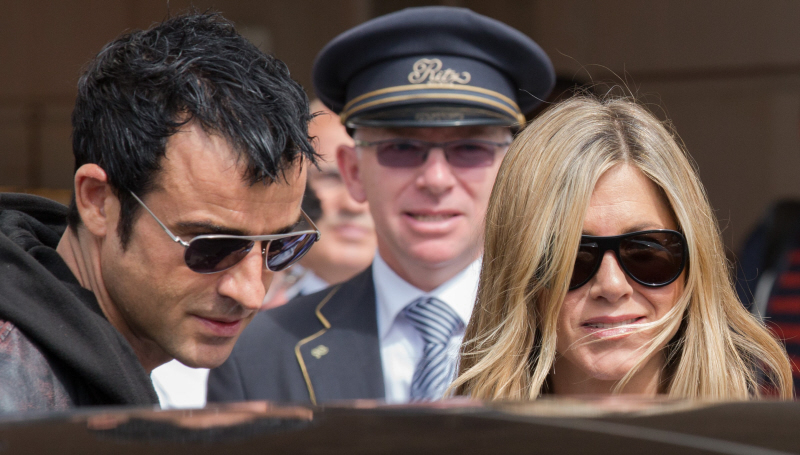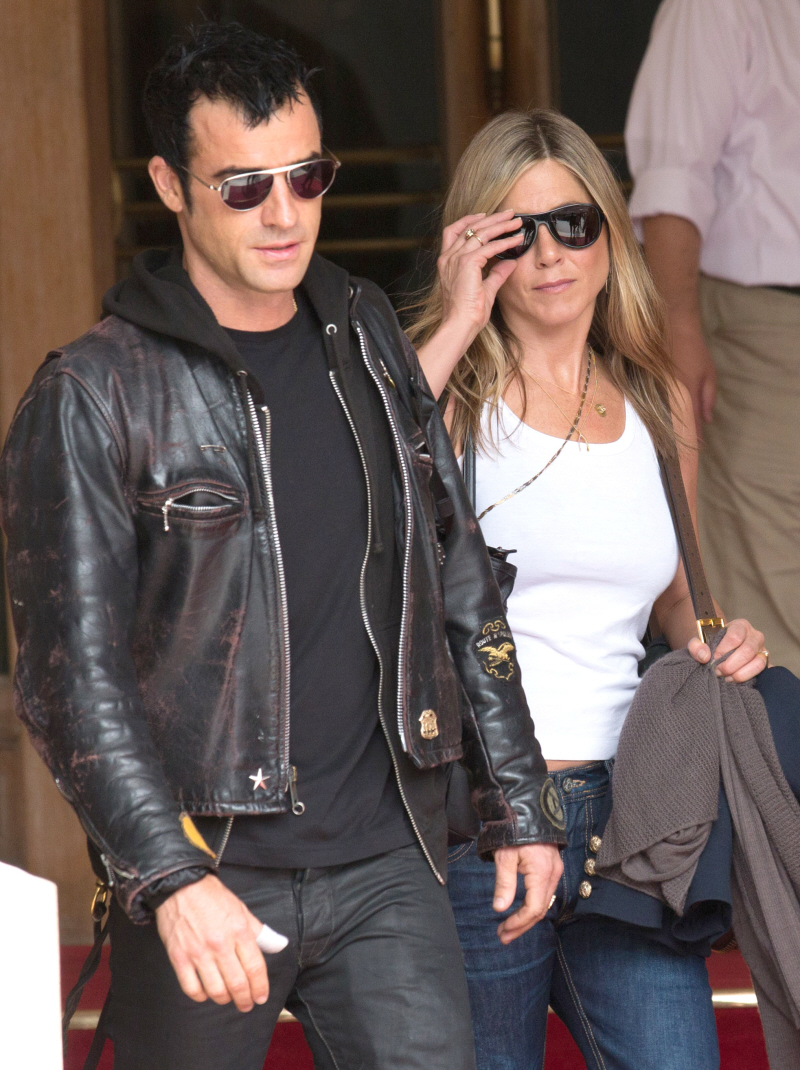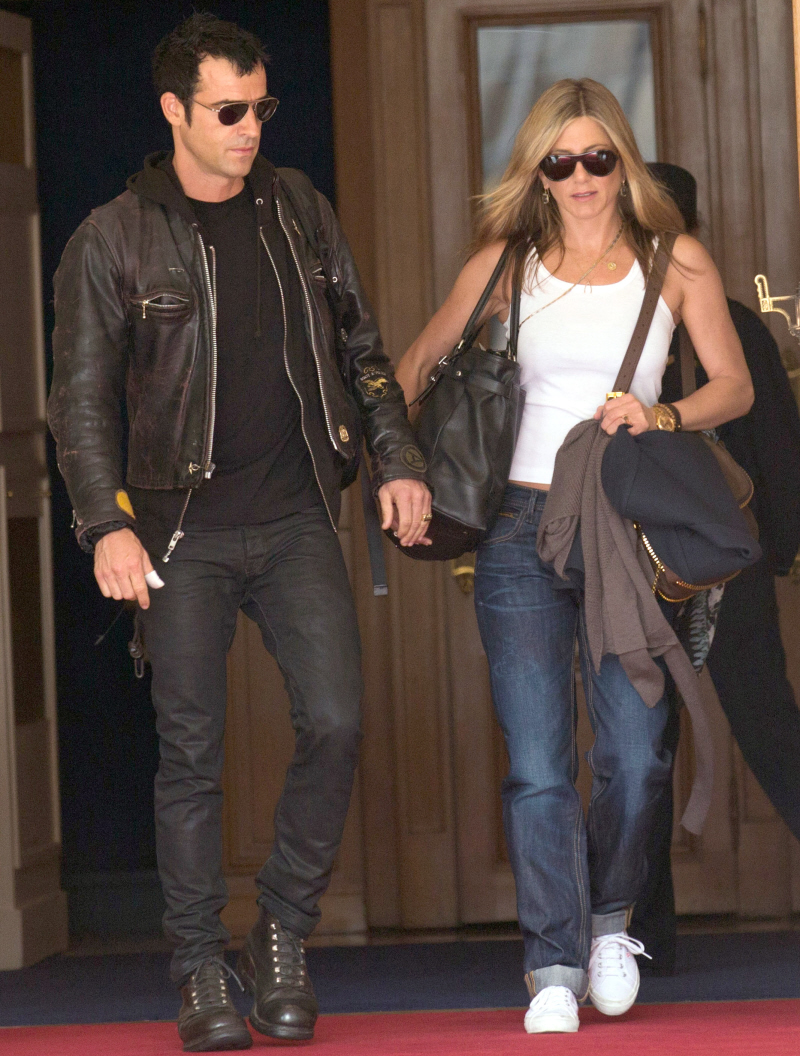 Photos of Jennifer and Justin exiting their hotel on Thursday, courtesy of Fame/Flynet.

Written by Kaiser

Posted in Jennifer Aniston, Justin Theroux

- The Blemish interviews Carmen Electra [The Blemish]
- Rumer Willis joins Pretty Little Liars [Lainey Gossip]
- Morgan Freeman falls asleep during interview [D-Listed]
- Fug or fab: Isla Fisher [Go Fug Yourself]
- Tamra Barney confirms spinoff [Reality Tea]
- Movie franchises that rebounded [Pajiba]
- Why Dylan McKay is the perfect boyfriend [Buzzfeed]
- Saoirse Ronan could have been a Lohan [Evil Beet]
- GIFs from Cannes [Popsugar]
- Cat massages a dog [CDAN]
- Heather Graham is so pretty [Celebslam]
- What is Lucy Hale wearing? [Moe Jackson]
128 Responses to "Does Justin Theroux hate "living in a fishbowl" as Jennifer Aniston's piece?"