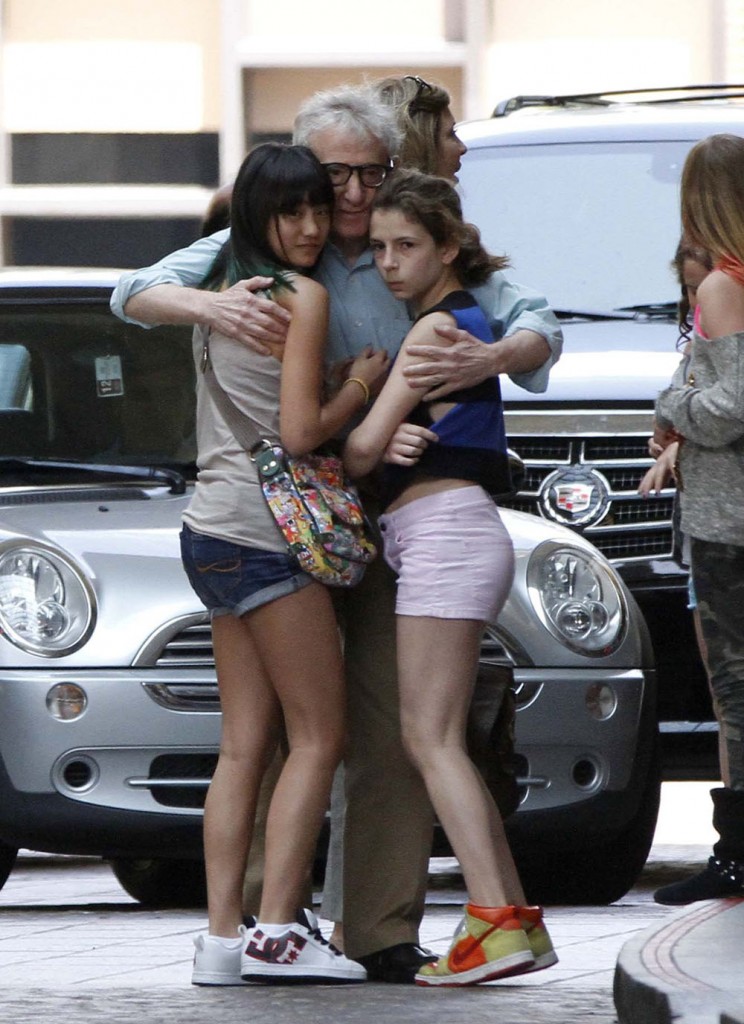 Yesterday we ran the story that Woody Allen's only biological son, Ronan Farrow, had tweeted a happy Father's Day message in which he quipped "or, as they call it in my family, happy brother-in-law's day." Ronan's mom, Woody's ex partner Mia Farrow, then retweeted the message, adding "Boom." I thought that might be the end of my interest in this story, because I don't want to think too hard about Woody grooming one of Mia's adopted children for his own purposes. (Woody's wife Soon Yi Previn is now 41, but she was barely legal when she started "dating" Woody, who was a father figure to her by some accounts. Kaiser wants me to point out that they didn't live together, though, and that Soon Yi was never his daughter, legally or otherwise.) Then someone posted a link to this Vanity Fair article from 1992, which I couldn't put down, all eight pages of it. If you have some time to kill, it's fascinating. As many of you mentioned it makes me concerned for Woody's current daughters, adopted with Soon-Yi and pictured here.
Some hold the opinion that Mia accused Woody of sexually abusing their seven year-old adopted daughter together, Dylan, at the time of their breakup because she was hurt and outraged that he had taken up with barely legal Soon-Yi right under her nose. There have been accusations that Mia coached Dylan to claim that Woody abused her. The case against Woody in this Vanity Fair article is convincing. It's of course only one side of the story, and Woody was ultimately not convicted of abusing Dylan. Given his behavior with Soon-Yi, I didn't find this other story hard to believe. Here's part of the article, which I would recommend you read in full if you're interested in this case. (Note that "Satchel" is Ronan Farrow's given name.)
Calling attention to someone's birthday-party behavior may seem trivial at best. However, Dr. Coates, who just happened to be in Mia's apartment to work with one of her other children, had only to witness a brief greeting between Woody and Dylan before she began a discussion with Mia that resulted in Woody's agreeing to address the issue through counseling. At that point Coates didn't know that, according to several sources, Woody, wearing just underwear, would take Dylan to bed with him and entwine his body around hers; or that he would have her suck his thumb; or that often when Dylan went over to his apartment he would head straight for the bedroom with her so that they could get into bed and play. He called Mia a "spoilsport" when she objected to what she referred to as "wooing." Mia has told people that he said that her concerns were her own sickness, and that he was just being warm. For a long time, Mia backed down. Her love for Woody had always been mixed with fear. He could reduce her to a pulp when he gave vent to his temper, but she was also in awe of him, because he always presented himself as "a morally superior person."

One summer day in Connecticut, when Dylan was four and Woody was applying suntan lotion to her nude body, he alarmed Mia's mother, actress Maureen O'Sullivan, and sister Tisa Farrow when he began rubbing his finger in the crack between her buttocks. Mia grabbed the lotion out of his hand, and O'Sullivan asked, "How do you want to be remembered by your children?" "As a good father," Woody answered. "Well, that's interesting," O'Sullivan replied. "It only lasted a few seconds, but it was definitely weird," says Tisa Farrow.

On August 4, Woody was in Connecticut to visit the children, and Mia and Casey went shopping, taking along Mia's two most recently adopted children—a blind Vietnamese girl named Tam, 11, and Isaiah, a seven-month-old black baby born to a crack-addicted mother. While they were gone, there was a brief period, perhaps 15 minutes, when Woody and Dylan vanished from sight. The baby-sitter who was inside searched high and low for them through the cluttered old farmhouse, but she couldn't find them. The outside baby-sitter, after a look at the grounds around the house, concluded the two must be inside somewhere. When Mia got home a short time later, Dylan and Woody were outside, and Dylan didn't have any underpants on. (Allen later said that he had not been alone with Dylan. He refused to submit hair and fingerprint samples to the Connecticut state police or to cooperate unless he was assured that nothing he said would be used against him.) Woody, who hated the country and reportedly brought his own bath mat to avoid germs, spent the night in a guest room off the laundry next to the garage and left the next morning.

That day, August 5, Casey called Mia to report something the baby-sitter had told her. The day before, Casey's baby-sitter had been in the house looking for one of the three Pascal children and had been startled when she walked into the TV room. Dylan was on the sofa, wearing a dress, and Woody was kneeling on the floor holding her, with his face in her lap. The baby-sitter did not consider it "a fatherly pose," but more like something you'd say "Oops, excuse me" to if both had been adults. She told police later that she was shocked. "It just seemed very intimate. He seemed very comfortable."

As soon as Mia asked Dylan about it, Dylan began to tell a harrowing story, in dribs and drabs but in excruciating detail. According to her account, she and Daddy went to the attic (not really an attic, just a small crawl space off the closet of Mia's bedroom where the children play), and Daddy told her that if she stayed very still he would put her in his movie and take her to Paris. He touched her "private part." Dylan said she told him, "It hurts. I'm just a little kid." The she told Mia, "Kids have to do what grown-ups say." Mia, who has a small Beta video camera and frequently records her large brood, made a tape of Dylan for Dylan's psychologist, who was in France at the time. "I don't want to be in a movie with my daddy," Dylan said, and asked, "Did your daddy ever do that to you?"

According to people close to the situation, Mia called her lawyer, who told her to take Dylan to her pediatrician in New Milford. When the doctor asked where her private part was, Dylan pointed to her shoulder. A few minutes later, over ice cream, she told Mia that she had been embarrassed to have to say anything about this to the doctor. Mia asked which story was true, because it was important that they know. They went back to the doctor the next day, and Dylan repeated her original story—one that has stayed consistent through many tellings to the authorities, who are in possession of the tape Mia made. The doctor examined Dylan and found that she was intact. He called his lawyer and then told Mia he was bound by law to report Dylan's story to the police.

Mia, who never sought to make the allegations public, also told Dr. Coates, who is one of three therapists Woody Allen has seen on a regular basis. Coates too told Mia that she would have to report Dylan's account to the New York authorities, but that she would also tell Woody. Mia burst out crying, she was so afraid. Ironically, the next day, August 6, Woody and Mia were supposed to sign an elaborate child-support-and-custody agreement, months in the negotiating, giving Mia $6,000 a month for the support of Satchel and Dylan and 15-year-old Moses, the other child of Mia's whom Woody had adopted on December 17, 1991. Mia believed Woody's sessions with Dr. Coates had definitely improved his demeanor with Dylan, but because of her concern about Woody's past history, she had insisted that he not have unsupervised visitation until Dylan and Satchel were through the sixth grade, and that he no longer be able to sleep over at her country house, as he had so far insisted on doing, but stay in a guest cottage across the pond.
[From Vanity Fair's archive, 1992 article]
Again, this is wholly Mia's side. She's responding, via the press, to allegations by Woody that she made up the details about Dylan's molestation because she was a crazy vindictive spurned woman. I believe this story and find it pretty chilling. Again, this man seduced Soon-Yi, but he claims he was never much of a father figure to her and wasn't around her much. It all sounds like excuses after the fact.
After we published that story, I found these recent photos of Woody hugging up on his two adopted daughters, Manzie Tio Allen and Bechet Dumaine Allen, in Beverly Hills on Friday. I'm one of those affectionate moms and I often hug my son. I don't think it's weird to hug or kiss your kids. I also found this older photo of Woody out with the girls as young children, and he's holding both of their hands. I can't get a definitive age for his daughters, but they look to be about 14 and 13 now. From what we know of Woody's history, and about the other allegations against him, I just get a strange impression of this. He knows he's being photographed, so why doesn't he hug up on his wife instead of his daughters? It's possible he hasn't seen them in a while and is greeting them here.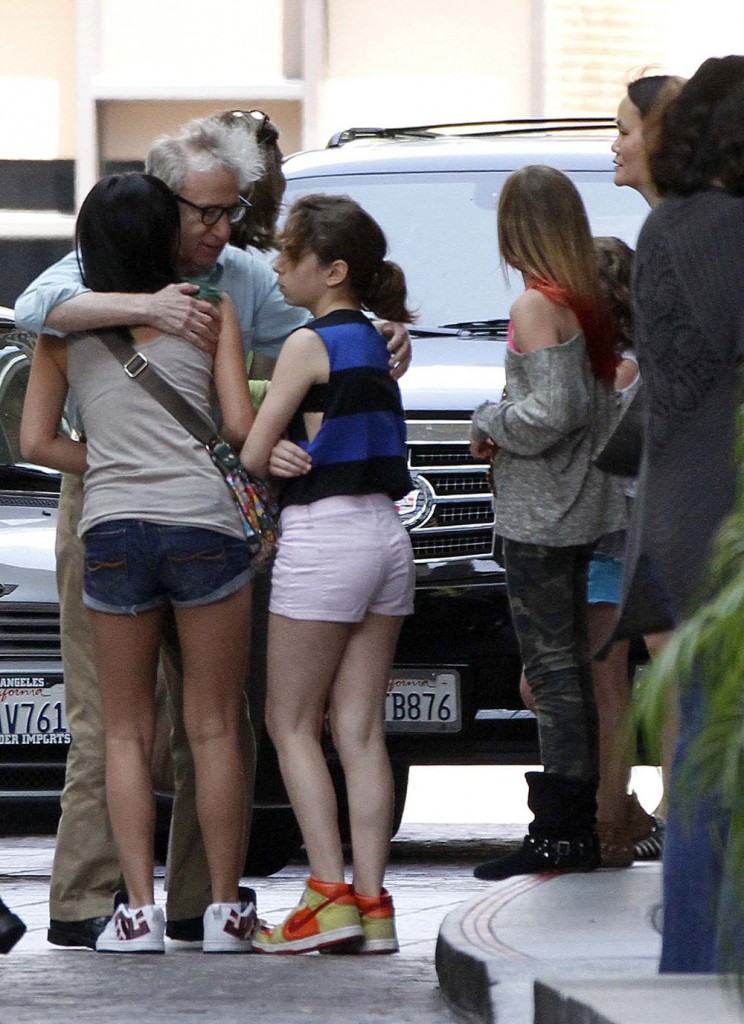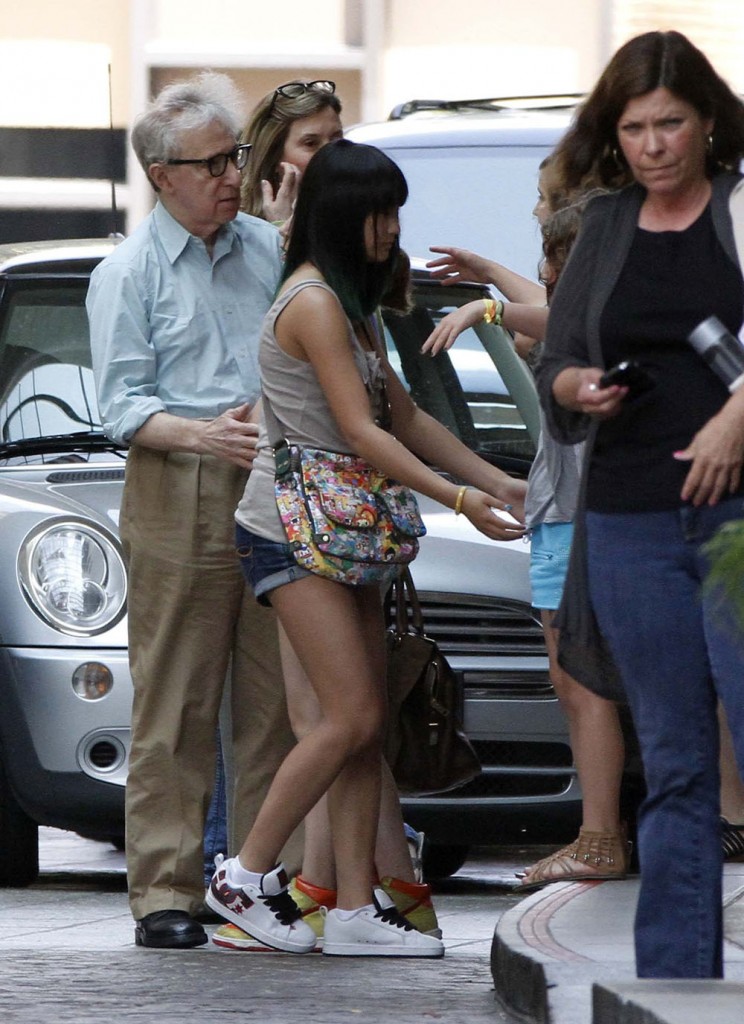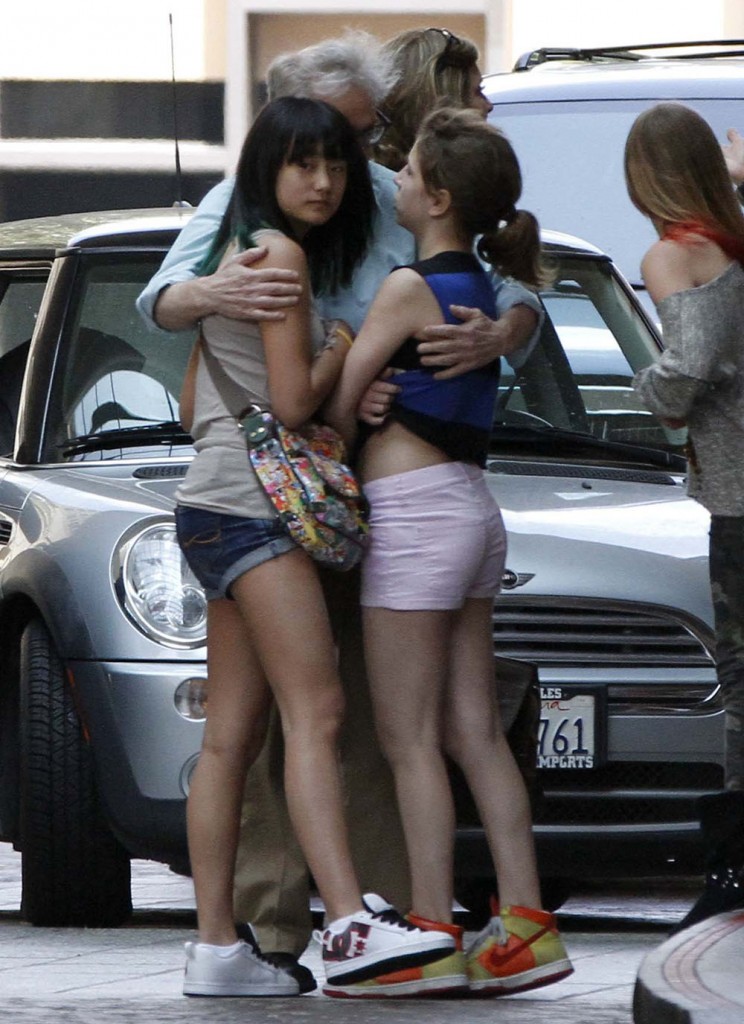 Photo credit: FameFlynet