Emma Watson seen out with dyed bichon frise puppy (update)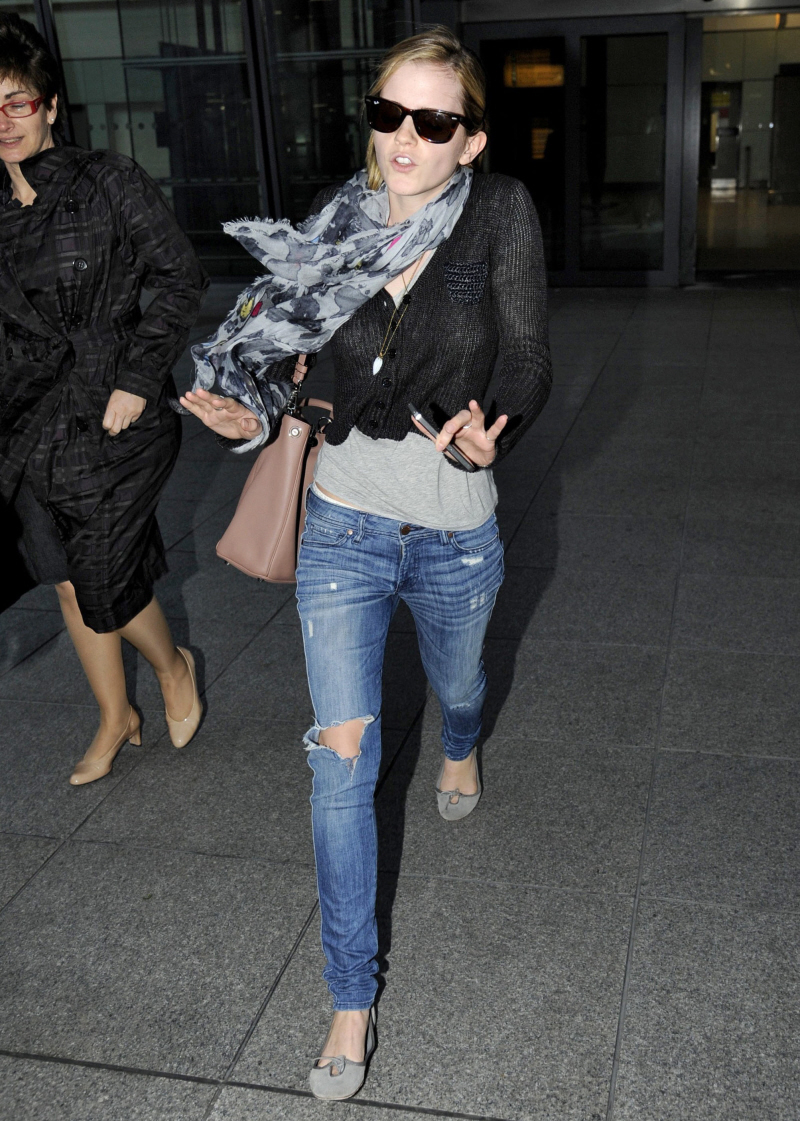 We don't have access to the Emma Watson photos I'm going to be referencing, so you have to go here to The Mail to see them. They're photos of Emma with her dog, a little bichon frise named Darcy, and Emma has had her puppy dyed pink. Now… ugh. I know Emma has a lot of fans and they're very vocal and yes, I'm not their favorite person. But RLY? Even if the dye is completely organic – which it is in this instance – why would you do this to a dog? It's one of my bigger peeves about animal-owners. Granted, I've only had big dogs, dogs that don't get designer outfits or vegetable dyes. But dyeing your animal is so… Paris Hilton.
Picasso had his rose period – and now so too does Emma Watson's dog Darcy, after the Harry Potter actress dyed her a shocking shade of bubblegum pink. Thanks to a fashionable £90 treatment, the one-year-old bichon frise now has a look that might go down well with pink-loving Hogwarts professor Dolores Umbridge – even if it has raised eyebrows among some animal-lovers.

Ms Watson was spotted with the pink pooch on the streets of Bethnal Green, East London, on Friday, after having the dye treatment at Groom Dog City. Owner Stuart Simons said: 'Emma has dyed Darcy twice. Pink is our biggest colour, but I do look after another bichon called Casper who comes in for a blue mohican.'

He said the beetroot-based semi-permanent dye is harmless. 'All the dyes I use are completely animal-friendly. They are made from vegetable dye. I wet the dog, rub it on like a shampoo, leave it for five minutes and then wash it off. Because Darcy is white, it takes really well. She is a very calm dog, absolutely lovely, and she enjoys her groom.'

But TV vet Emma Milne said: 'Dogs are not playthings; they are not dolls. If you are putting a chemical on a dog's fur, you could cause that dog problems. Even if the dye is completely safe – and the dye that Emma Watson has used should be absolutely fine – you are still altering the way the dog looks and smells to other animals. Potentially, it could have an effect on the way that dog interacts with other dogs. A dog is still a living object that hasn't had any say on whether it wants to be pink.'

Unsurprisingly, Mr Simons – whose own dyed dogs have featured in campaigns for fashion house Mulberry – disagrees.

'Lots of people say it's cruel to dye a dog but I say, it takes no time, it doesn't affect their skin and they don't look in the mirror and go, "Oh, I'm so embarrassed." Rather, they get so much attention in public and all the strokes and interaction, it can't be a bad thing.'

He also believes his salon will see a sharp increase in 'doggy dyes' during the Olympics. 'Oh yes,' he said. 'I expect to get a lot of requests for red, white and blue. And I may be able to do the Olympic circles on poodles.'
Is that a strong argument, the one that the animal rights woman is making? That you're messing with the dog's natural smell and look and that's wrong? Eh. I'm all for grooming. And I've used Pert Plus on my puppy many times (he hates baths). But I think the argument against dyeing an animal is simply "It's tacky to do that to your dog." Or, "Why would you do something that Paris Hilton would do?"
UPDATE: Emma got on Twitter to deny that the dog is even hers: "Ayeye. Just to clarify one more time that I don't have a dog. @PinkDarcyDog is pink because her owner is raising money for breast cancer."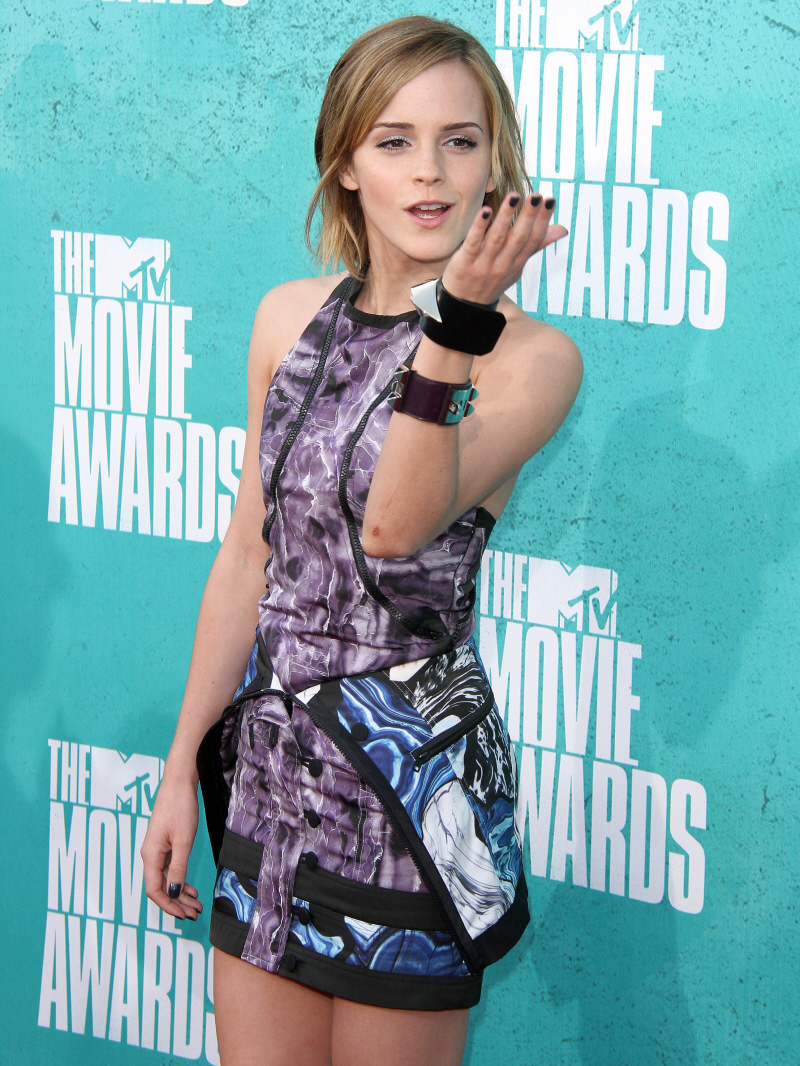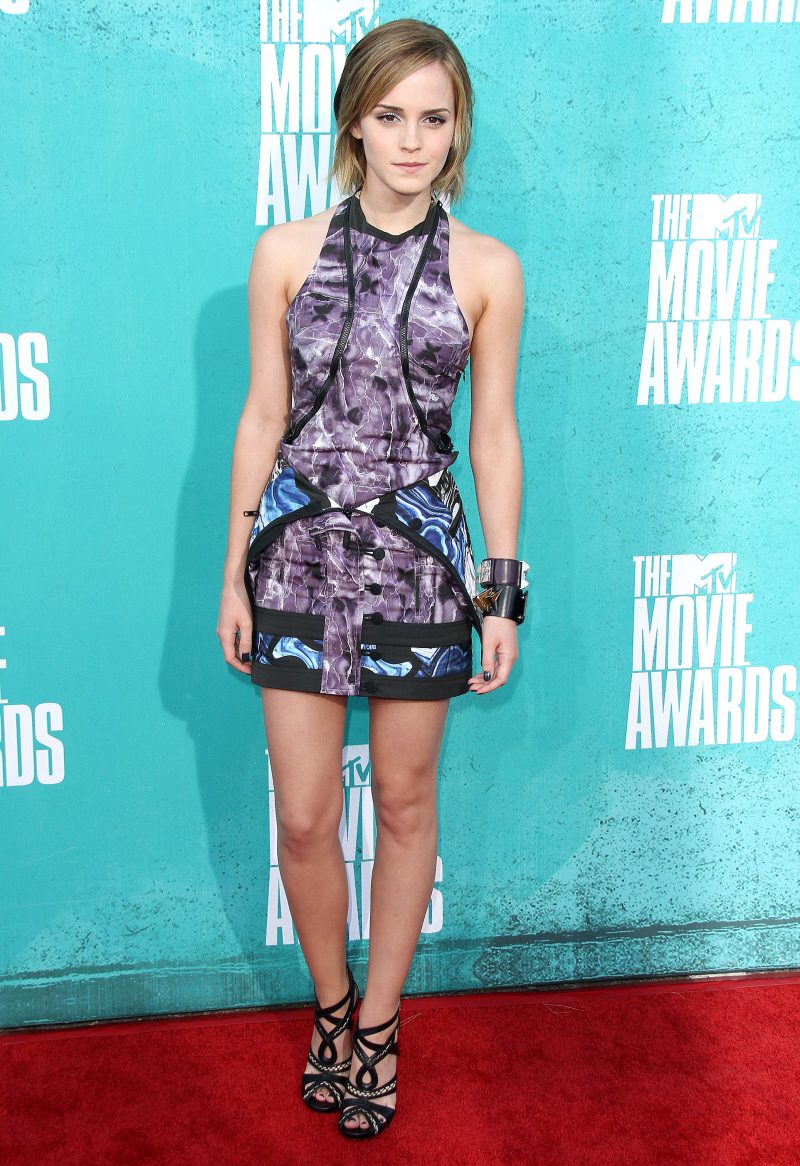 Photos courtesy of Fame/Flynet.

Written by Kaiser

Posted in Animals, Emma Watson

- The Blemish interviews Carmen Electra [The Blemish]
- Rumer Willis joins Pretty Little Liars [Lainey Gossip]
- Morgan Freeman falls asleep during interview [D-Listed]
- Fug or fab: Isla Fisher [Go Fug Yourself]
- Tamra Barney confirms spinoff [Reality Tea]
- Movie franchises that rebounded [Pajiba]
- Why Dylan McKay is the perfect boyfriend [Buzzfeed]
- Saoirse Ronan could have been a Lohan [Evil Beet]
- GIFs from Cannes [Popsugar]
- Cat massages a dog [CDAN]
- Heather Graham is so pretty [Celebslam]
- What is Lucy Hale wearing? [Moe Jackson]
59 Responses to "Emma Watson seen out with dyed bichon frise puppy (update)"