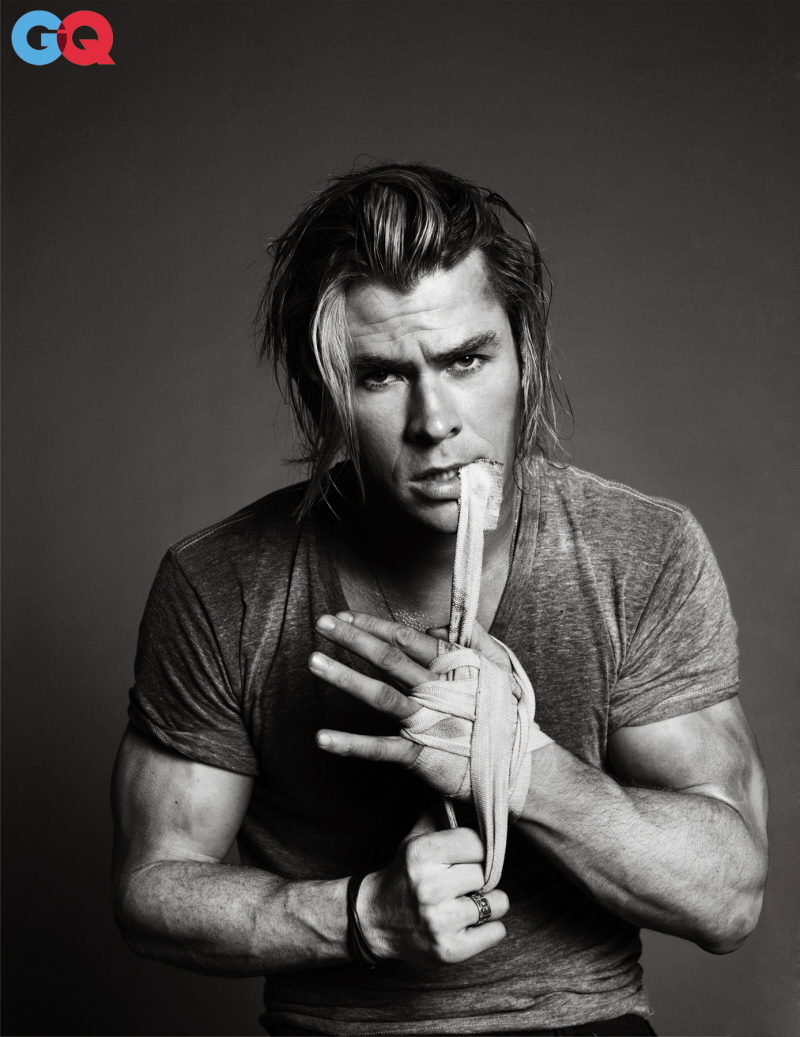 I have to admit, I've never really been into the Hemsworth boys. I like beefcake, don't get me wrong, but I need beefcake-plus to get me hot. Like, beefcake-plus-funny, or beefcake-plus-talent. And I've just never seen much of the "plus" from the Hemsworth boys. But I'm still open to them, and I'll keep watching. Chris Hemsworth is profiled in the new issue of GQ (the one with Kate Upton's rack), and it's basically like "p0rn for women" if you get off on tight denim and giant, muscular arms. Which, admittedly, is pretty hot. Go here to see GQ's slideshow (trust me, it's worth it), and here are some highlights from the short piece:
Chris Hemsworth on his physical appearance helping his career: "[My body image has] helped me get a job, sure. But you hope it's not the only thing that helped."

On his Huntsman character: "A lost soul and a drunk."

Before shooting his "drunk" scenes in SWATH, he would twirl: "It really shakes everything up, and you feel a bit more alive," he says. "I actually started spinning in circles before the scenes where I didn't need to be drunk."

He's witnessed stranger rituals: "I worked with a guy once who would chant, I'm beautiful and I have a secret, I'm beautiful and I have a secret."
Yeah, he's not going to light the world on fire with his superior conversation skills. But he seems like a decent enough dude, and… THOSE ARMS. I could write poetry about his arms. I have to ignore the caveman face (yeah, I said it) and just focus on his body.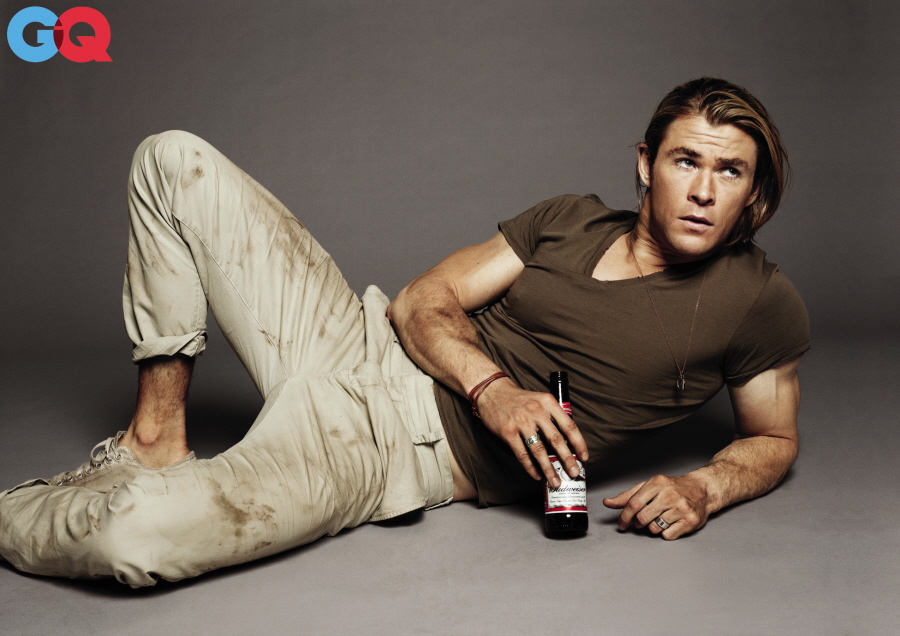 I'm also including some photos of Chris with his two girls, Elsa Pataky and daughter India Rose.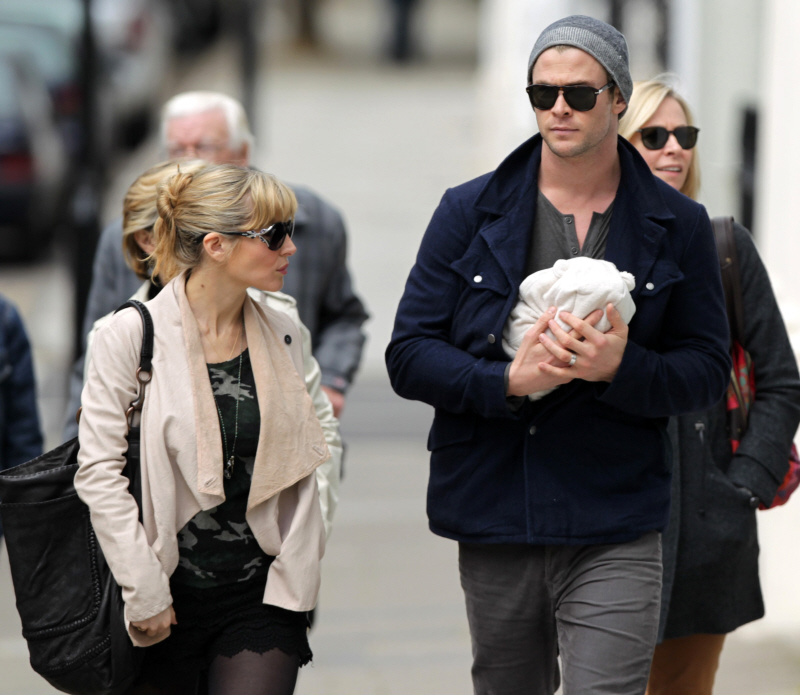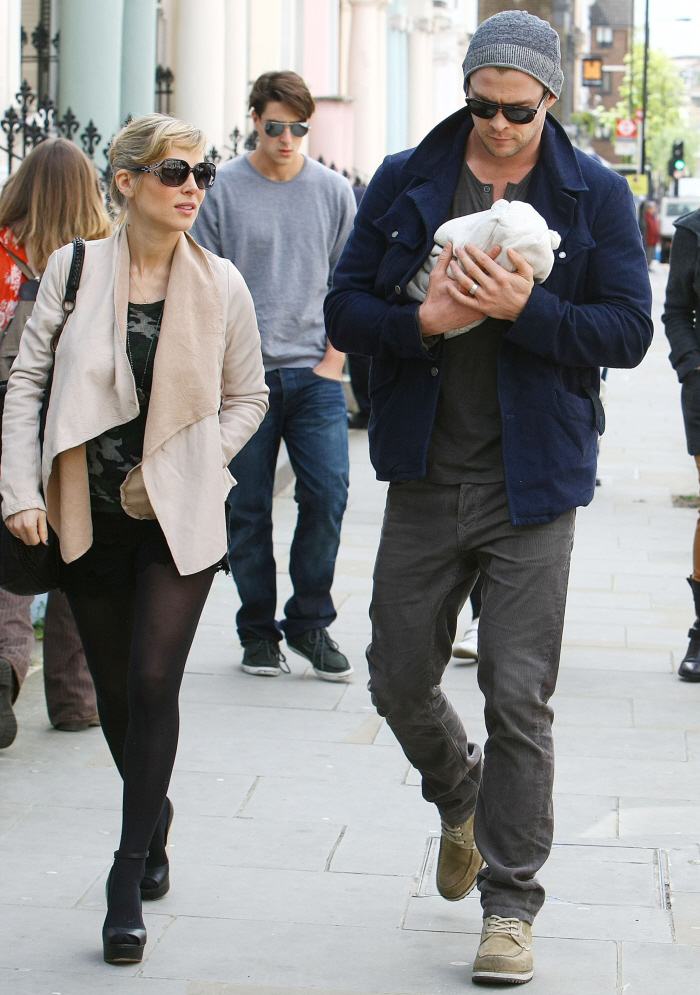 Photos courtesy of Fame/Flynet and Paola Kudacki / GQ.