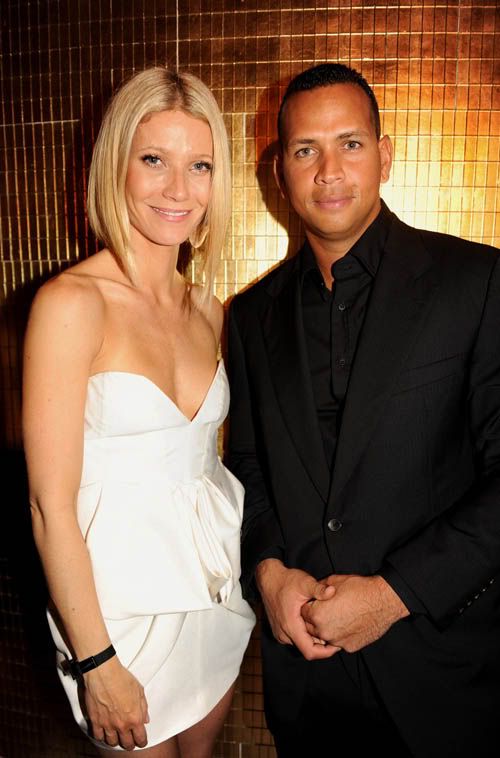 Rodriguez with Madonna's best buddy Gwyneth Paltrow in Miami on 11/15/08. Credit: WENN
Despite an unwillingness to devote himself to Kabbalah studies, Yankees star Alex Rodriguez is still showing a devotion to his older lover that eclipses his commitment to family. Alex's ex wife Cynthis Rodriguez recently sent an e-mail to her friends complaining about her husband's decision to spend Thanksgiving in New York with Madonna and her kids instead of staying in Miami to spend the holiday with his children:
The Yankee slugger, who ditched his wife of six years, Cynthia, after becoming besotted with Madonna, is a "soul-less" man who is "abandoning" his kids on Thanksgiving for his lover, according to what Cynthia is telling friends.

"Access Hollywood" reports that Cynthia, who's in the final stages of her divorce from A-Rod, wrote an e-mail to a confidant noting: "My 6-foot-3, 220-pound soul-less, soon-to-be ex-husband is abandoning his kids on Thanksgiving to be with Madonna . . . She called and he ran on her command back to New York City . . . Gross!"

Instead of ushering in the holidays in Miami with his children, Natasha, 4, and Ella, 1 – A-Rod, 33, is hosting a dinner at his Manhattan apartment for Madonna, 50, and her kids, Lourdes, Rocco and David, and manager Guy Oseary.

The friend of Cynthia said A-Rod's furious ex described Madonna in "not so nice terms" in the e-mail.

To add insult to injury, after Rodriguez left Miami at Madonna's beck and call, his lawyer called Cynthia and wanted her to sign the couple's divorce settlement.
[From NY Post]
A one year-old child isn't likely to miss her dad on Thanksgiving, but a four year old can probably understand that daddy is not there for a holiday event. That's harsh of Rodriguez and I know it's rude to say but I'm disappointed that he's not on the outs with Madonna. Both Rodriguez and Madonna were seen out separately with their mutual manager Guy Oseary over the weekend looking glum and I was hoping that it meant that they were each telling him about their their bustup.
The NY Post claims an insider told them that "Alex likes a woman with a strong hand. He likes to be told what to do. He's a bit of a cipher." I had to look up what cipher meant in this instance as I thought it was something they solved in those National Treasure movies. According to the American Heritage dictionary, it's "One having no influence or value; a nonentity." Not to his kids he isn't.