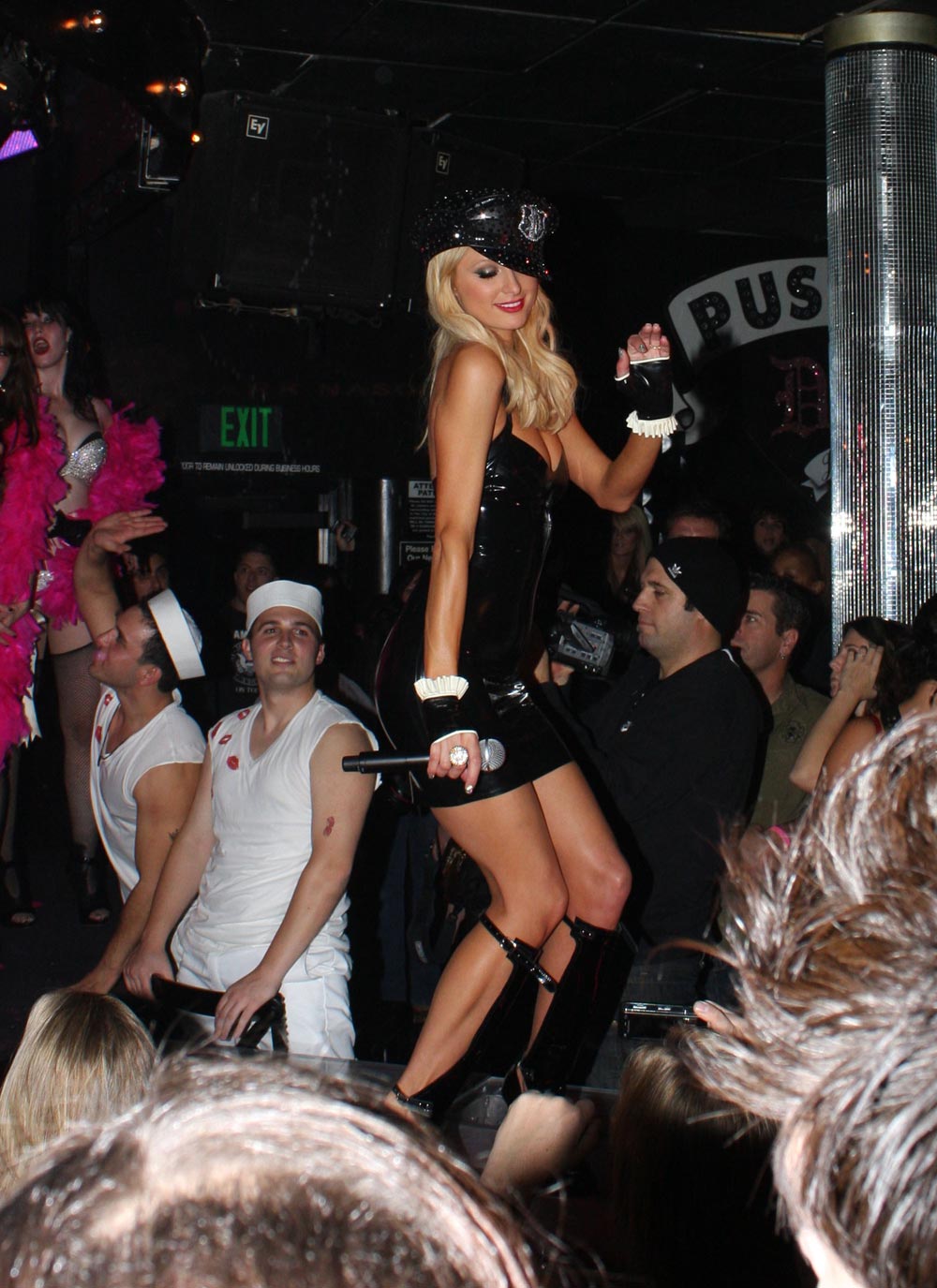 In the pictures of Paris dancing on a table next to a Pussycat Dolls performance this weekend there's only one guy looking at her and it's like a brief bemused glance. The next night was the AMAs and Paris headed to a party for Christian Audiger's daughter's 16th birthday party, where the Pussycat Dolls were performing again. When the crowd was asked if they wanted to see her they started booing. Plus no one is watching her reality show. Poor Paris.
Paris Hilton's popularity has plummeted. The heir-head, whose show, "Paris Hilton's My New BFF," on MTV has low ratings, was booed so badly at the Kress in Hollywood this weekend, she refused to take the stage. Hilton was at a birthday party for designer Christian Audigier's daughter, Crystal, and was supposed to introduce the Pussycat Dolls. But when Audigier took the stage and yelled to the crowd, "Do you want to see Paris Hilton?" our spy said, "The entire room – which had just cheered when they thought Britney Spears was coming – booed loudly. Paris was practically in tears and left without taking the stage."
[From The NY Post]
It's a good thing Paris didn't bother because no one would have paid attention to her anyway. She reportedly dumped Benji in order to free herself up to party more, but she's not feeling the love when she goes out. Benji has got to find that amusing. She said she's "still in love with him," and I bet she's going to come crawling back to him asking for another chance. Do you think he'll give it to her?
Photos are of Paris at the Pussycat Dolls performance on 11/22/08 and at the AMAs on 11/23. Credit: Fame. She is also shown at Crystal Audiger's 16th birthday party on 11/23. Credit: WENN