Ashley Greene stopped partying when she was 18, and she doesn't drink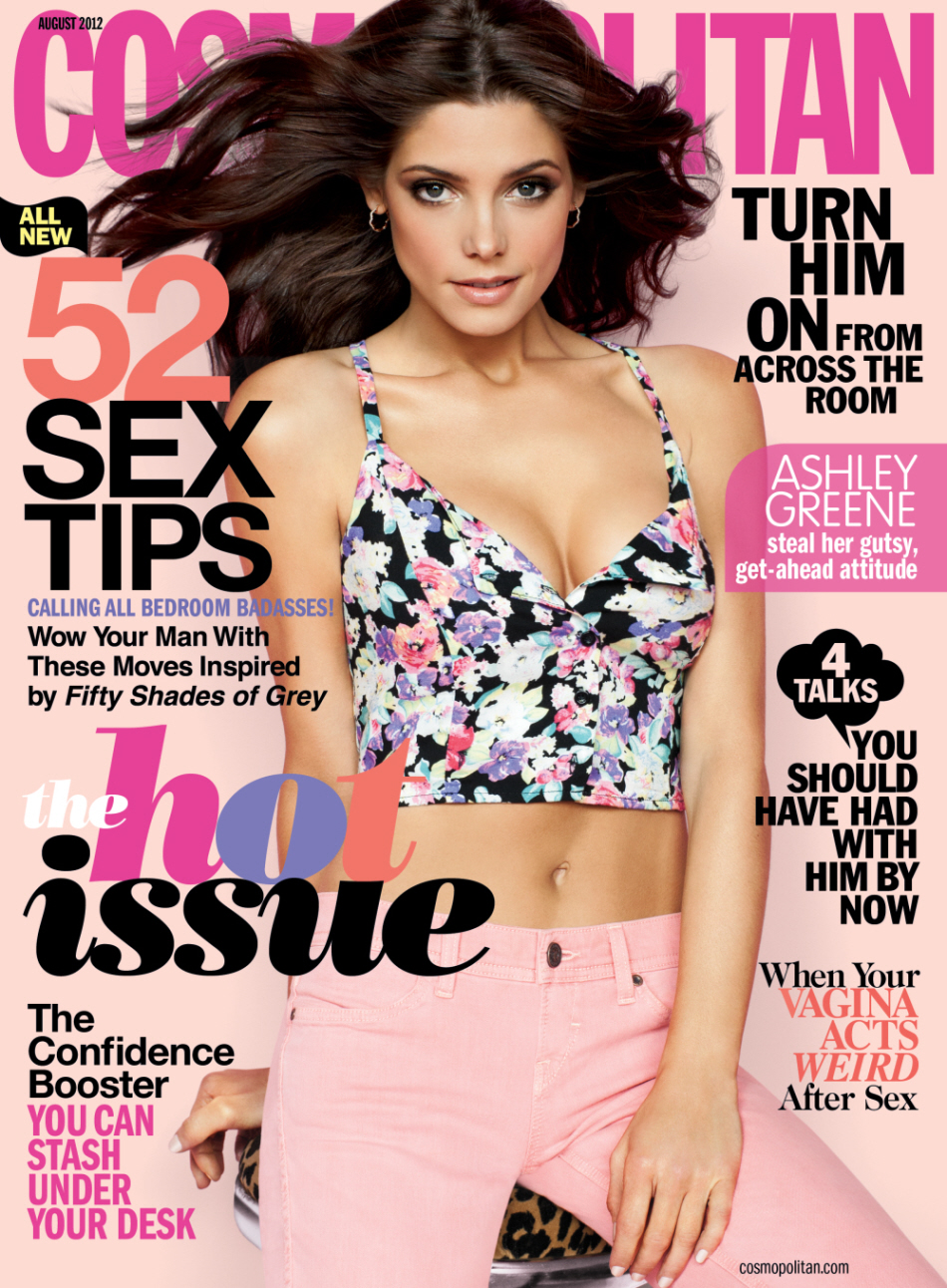 Ashley Greene is the cover girl for the August issue of Cosmopolitan. It's kind of meh, right? Meh bordering on God-awful. Between the wind machine, the pink jeans and the crop-top/bustier, I feel like this is a cover from the 1980s. But what can you really do with Ashley Greene in an editorial for a women's magazine? Obviously, the men's magazines know what to do with her – which is why Esquire has a pictorial with Ashley, and a short interview. Maybe my problem is that Ashley isn't that photogenic? It's true. Anyway, Ashley is making the magazine rounds because she's promoting Butter, that film that people have been talking about for what feels like two years. Is it finally coming out? Hallelujah. Ashley is like the sixth lead in the film, though – she's billed after Jennifer Garner, Ty Burrell, Olivia Wilde and Hugh Jackman. Still, she managed to squeeze a cover out of it. That's something! Oh, I just saw this – she's also promoting The Apparition, a dumb-looking horror movie in which summoned spirits molest her (or whatever). Some highlights from Ashley's two interviews (you can read the full Esquire piece here):
On getting married: "I'm not one of those girls who sits at home thinking, By 25, I have to be married. Right now, I'm like I'm 25, I need to book my next movie! My parents have such a beautiful marriage. I'm not someone who takes it lightly. So I'm not going to get married until I know I'll be with someone forever."

On whether she has a type: "It's about chemistry and a connection. I've changed so much over the past 10 years. What I wanted when I was 16, I didn't want when I was 20, and that's changed to something else now that I'm 25. Having a type is not for me"

Always traveling: "You make five movies with the same people and they really do feel like family. But film those same five movies in different locations, and none of the locations ever really feels like home."

She's not really a party girl: The party-girl Ashley Greene, the one who can wear any dress, anytime, and make it look like it's about to fall off, is not without illusion. Ashley Greene does not drink, doesn't really party. "In my second year in Los Angeles, when I was eighteen, I wasn't getting any bookings," she says, "so I stopped going out, stopped partying. It was a matter of getting to the work. I had to focus."

Twilight: "What Twilight gave me was years to consider how I wanted to work otherwise."

She's 25 years old: She says she looks forward to being thirty. "It's a good age," she says. "It's an age of choices. I know, don't rush it, right?"
[From Esquire & Cosmopolitan]
She's kind of vapid, but she manages to be more clever about some things than, say, Megan Fox. Megan Fox was a genius at saying dumb sh-t just for the sake of getting attention. Ashley might want to try doing that a little bit, just so most people could actually pick her out of a lineup. But it's a good thing that she's not a Party Girl. I believe that. I believe that seeing how Lindsay Lohan destroyed her career with booze and blow and crack, I think that changed a generation of young actresses for the better. Lindsay became the cautionary (crack) tale. She became the poster girl for How To Destroy A Promising Career. Ashley and Lindsay are the same age – and although Ashley is incredibly boring and full of herself, I'd rather have a dozen more young actresses like her rather than one Cracken.
Photos courtesy of Cosmo & Esquire.

Written by Kaiser

Posted in Ashley Greene

- Mariah Carey lip synced on American Idol [CDAN]
- Colin Firth is looking good [Lainey Gossip]
- Internet celebrity charged with murder! [D-Listed]
- What is Paz Vega wearing? [Go Fug Yourself]
- New bachelors on The Bachelorette [Reality Tea]
- Goodbye to The Office [Pajiba]
- Bachelor Sean's fiance cheats on him [Evil Beet]
- Britney Spears out with her man [Popsugar]
- Nina Dobrev works it [Popoholic]
- Cindy Crawford needs to lay off the 'tox [Celebslam]
- Who said it: Carrie Bradshaw or The Dalai Lama? [Buzzfeed]
56 Responses to "Ashley Greene stopped partying when she was 18, and she doesn't drink"