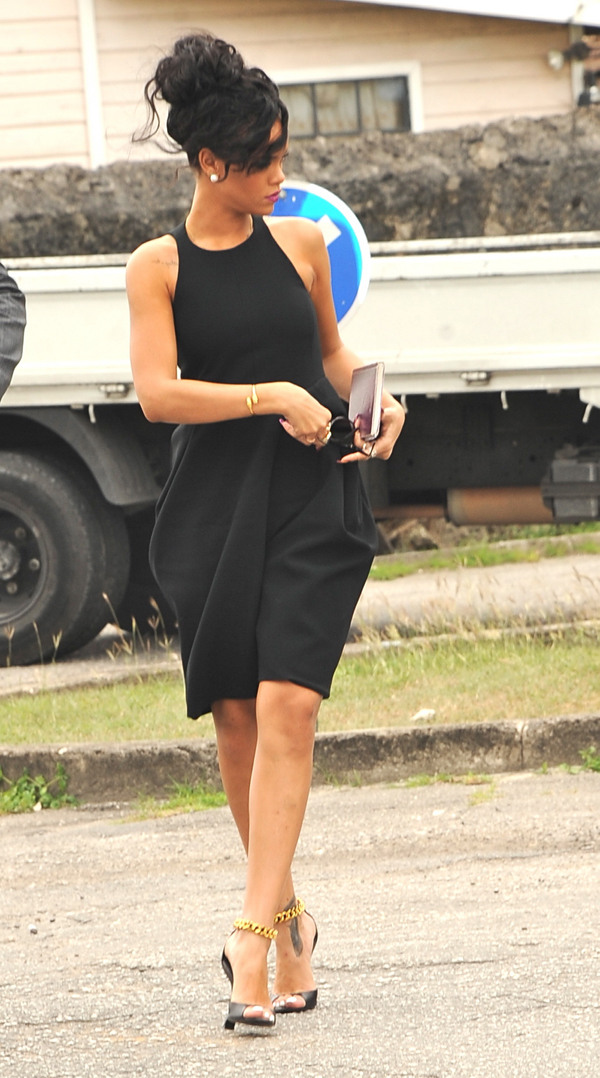 Here are some photos of Rihanna and her grandmother's funeral in Barbados. I know that, on most days, we speak of Rihanna in terms of her trashy behavior and very questionable attire. She also tends to talk a lot of smack on her Twitter page, but Rihanna often posts photos of her family (with whom she is very close) as well. So now those worlds are colliding after Rihanna's beloved "GranGranDolly," Clara Braithwaite, passed away. We've posted some photos of Rihanna with her Granny before, and it's clear that the two had a special relationship. Now Rihanna is publicly mourning on Twitter as well: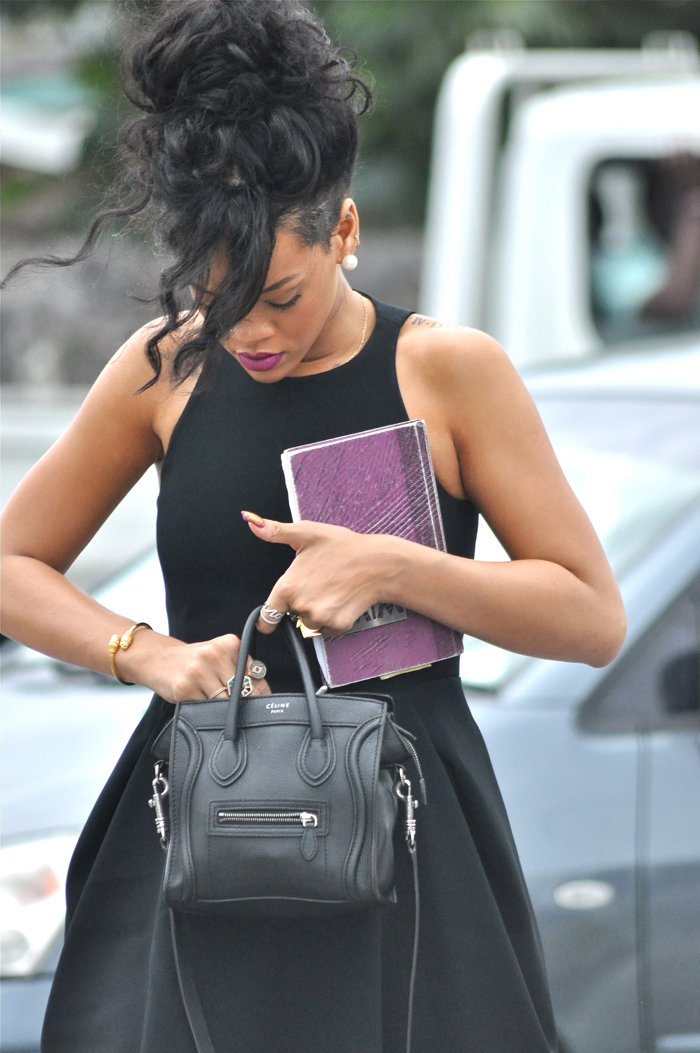 Rihanna was in full mourning when she attended her beloved late grandmother's funeral in Barbados. The singer looked visibly pained as she made her way to the ceremony sporting a simple black shift dress, with her jet black locks styled into a beehive.

The 24-year-old's unique style still came across in the demure outfit as she donned a pair of heelless black shoes. With her head down and hair covering her made-up face, the pop star looked devastated when she was seen emerging from a chauffeured car.

She put on a brave face to perform at the Wireless Festival in London's Hyde Park over the weekend. But as she prepared to attend Dolly's funeral today, Rihanna was still clearly struggling with her death.

Drowning her sorrows and showing the strain, the star tweeted a picture of herself, make-up free and holding what appears to be a beer in her hand. With heavy bags under her eyes, the singer – who attended a memorial service for her grandmother in New York last week – looked absolutely exhausted in the snap.

Rihanna captioned the photograph: "I had to!!! Sorry granny," clearly referring to Dolly.
[From Daily Mail]
At first, it seems so skeevy that the paps have attended the funeral of a pop star's grandmother with intent to capitalize therein. However, it can also be argued that Rihanna invites such scrutiny when she posts photos of her holding a beer bottle while referencing her Granny. Obviously, Rihanna lives her life in a very public way — I just hope this tragic event doesn't push her further down the spiral.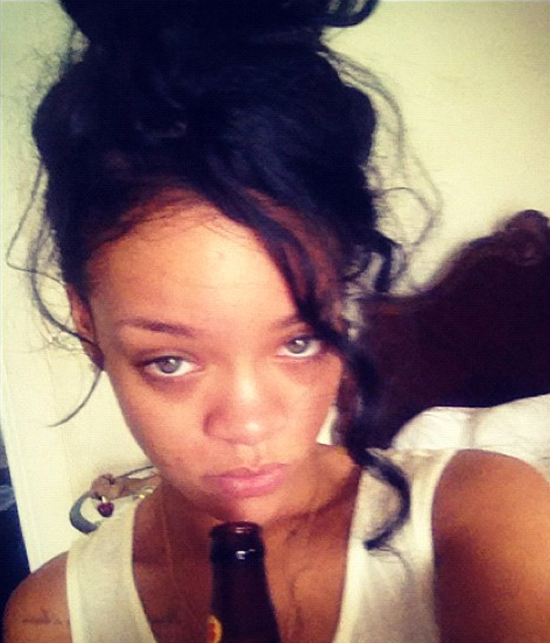 After the funeral, RiRi traded in her heels for some Chucks. I kind of love the look.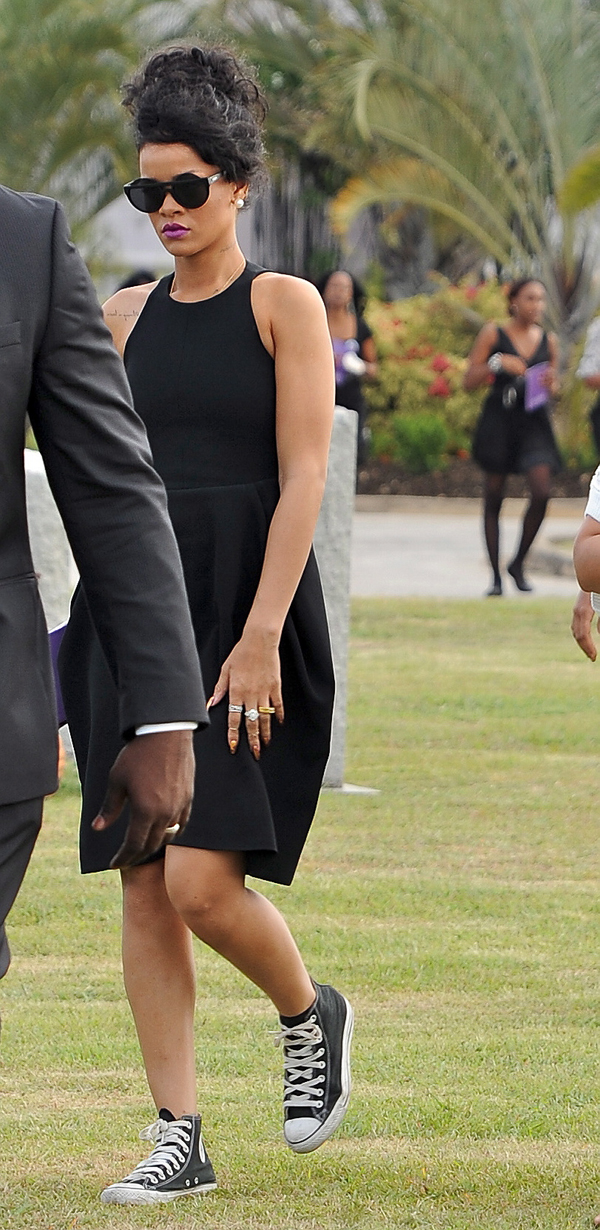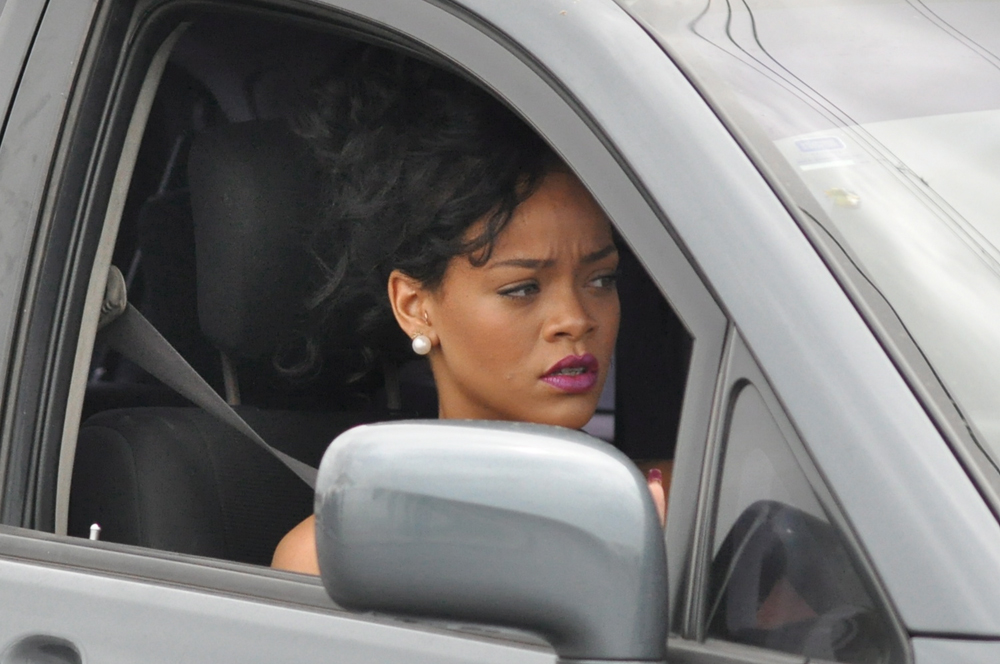 Photos courtesy of WENN