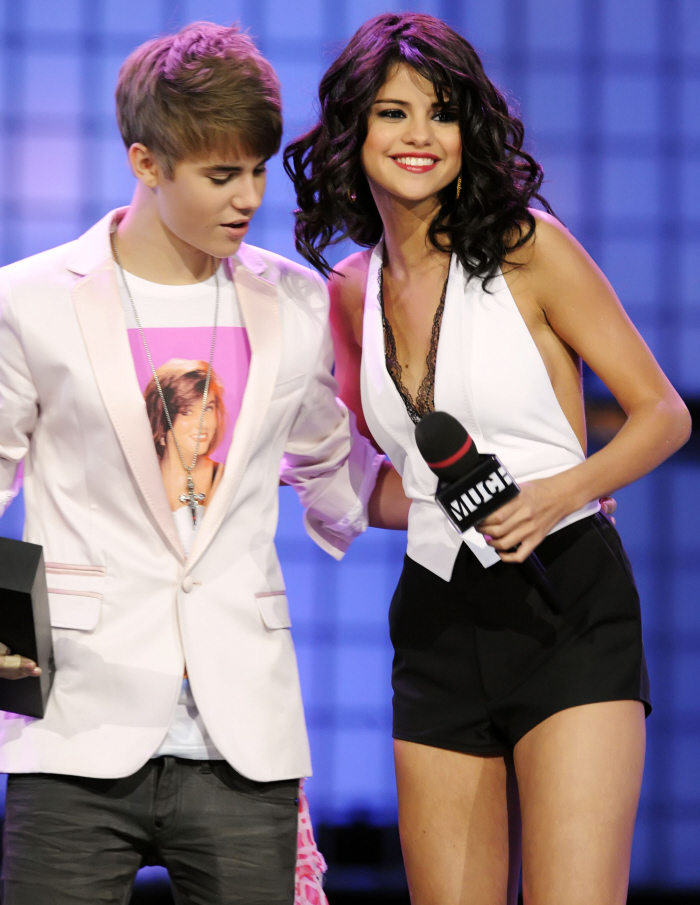 "I think we should see other p—-BOOBS!! What was I saying?" – Justin Bieber, 2012.
A week ago, TMZ reported that Selena Gomez and Justin Bieber were and are "on the rocks". Apparently, Selena and Justin have already broken up a few times and then gotten back together a few times and they're currently "on" but that could totally change because Y'ALL!! They're teenagers. Anyway, Us Weekly has a similar story in this week's issue, and I just wanted to cover some of the highlights from the piece – some of the story is covering old ground (SG and JB have broken up a few times, etc), but some of the quotes from unnamed sources… good God. It will make you thankful you weren't famous when you were 18 and all of your friends were feeding quotes about you to the tabloid press. The highlights:
Selena Gomez and Justin Bieber are sturggling to hold on to each other. Bieber, 18, has spent the last year and a half wooing Gomez – renting LA's Staples Center for a private screening of Titanic, lavishing her with gifts, treating her to a helicopter tour of Toronto – but sources say the pair have been on the brink of a breakup for months.

"They fight and then make up all the time," says a friend. At issue? Schedules that mean spending too much time apart – and plenty of girls willing to ease Justin's loneliness.

"Justin loves Selena, but he's starting to feel antsy," reveals a source close to Justin. "He's in his prime and can get any girl he wants. He has definitely thought about being free."

At Justin's March birthday bash, Selena and Justin stayed close and "Selena kept telling everyone she wanted to have Justin's babies." But just days later, Gomez left for Florida to shoot Spring Breakers and Justin stayed behind in LA.

"Selena's schedule is crazy and has become a source of contention. She has broken big plans – like a trip to Mexico – with Justin six times, and he complains."

By mid-May, Bieber was losing patience.

"He feels he should be tapping all the girls who come around," says the Bieber source. "It's hard."

Justin tried to initiate a split, but Gomez wasn't having it. "She freaked out," says the source. "So he apologized and got back together with her."

Then, at the MuchMusic Awards in June, Justin was acting "weird" says a source, and then he had a mini-breakdown. As his trademark hair was styled, "Justin was not in a good way. He was upset and crying, saying the relationship was over."

But – surprise! – it wasn't. Come July, the two were cuddling in LA. The source says, "They are kids! Of course they fight. They can both be dramatic."

In the end, "Justin is still crazy about her and knows how lucky he is to have her," says the Bieber insider. "Everything is not always perfect, but for now they are happy."
[From Us Weekly, print edition]
Isn't that story just full of gems? Selena telling everybody that she can't wait to have Justin's babies and then suddenly she meets James Franco on the set of Spring Breakers and suddenly she doesn't have time for The Bieb? And then when Justin tried to dump her, she freaked out and he couldn't just end it right there, he had to eat it and apologize? I kind of love Selena. I really have begun to wonder if Selena doesn't have some major game. As for Justin "being in his prime" and wanting to "tap" all of the girls, everywhere… well, he's 18, y'all. For every Aaron Johnson, there are a million Biebers.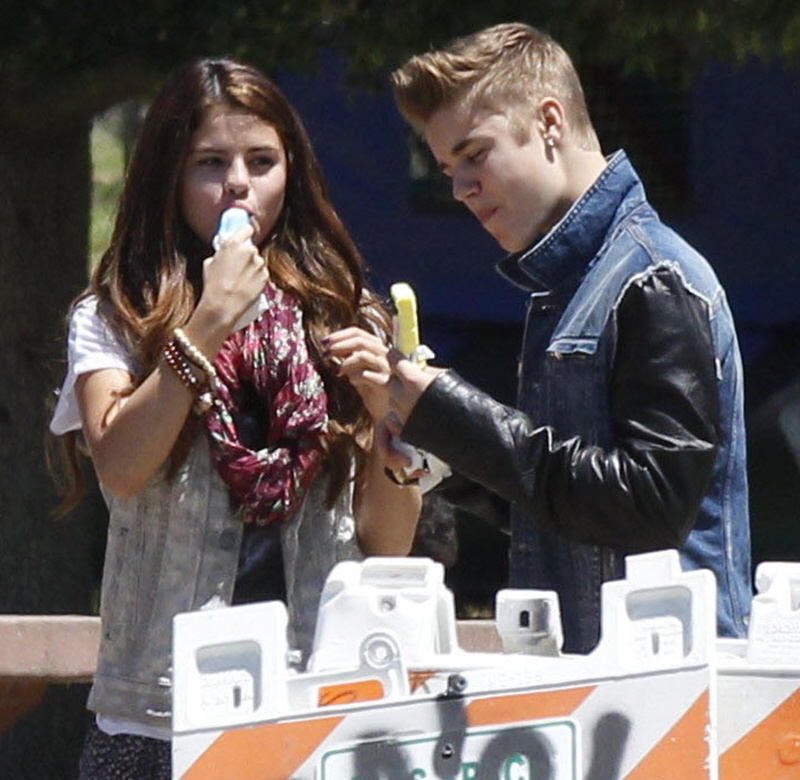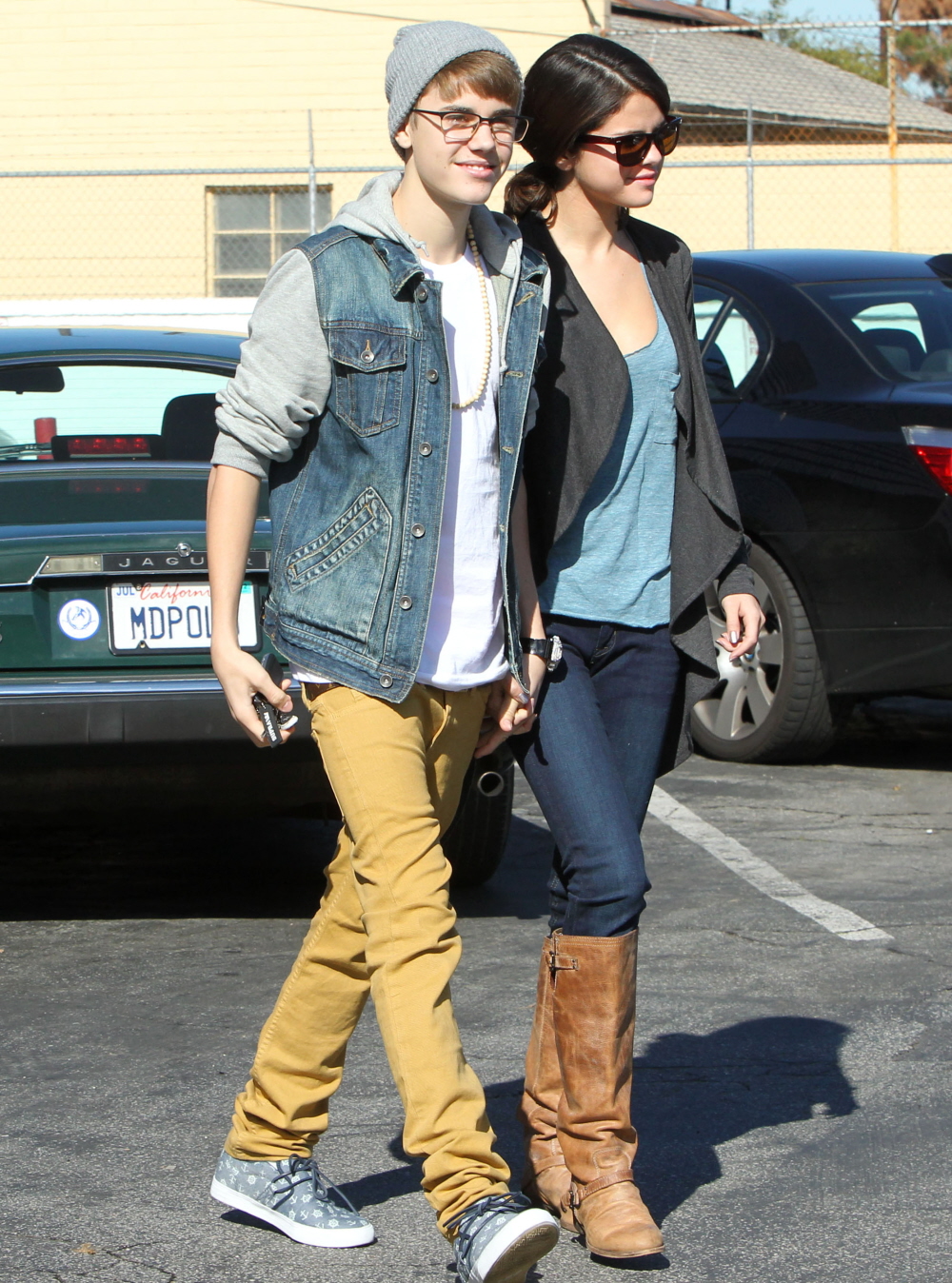 Photos courtesy of Fame/Flynet and WENN.