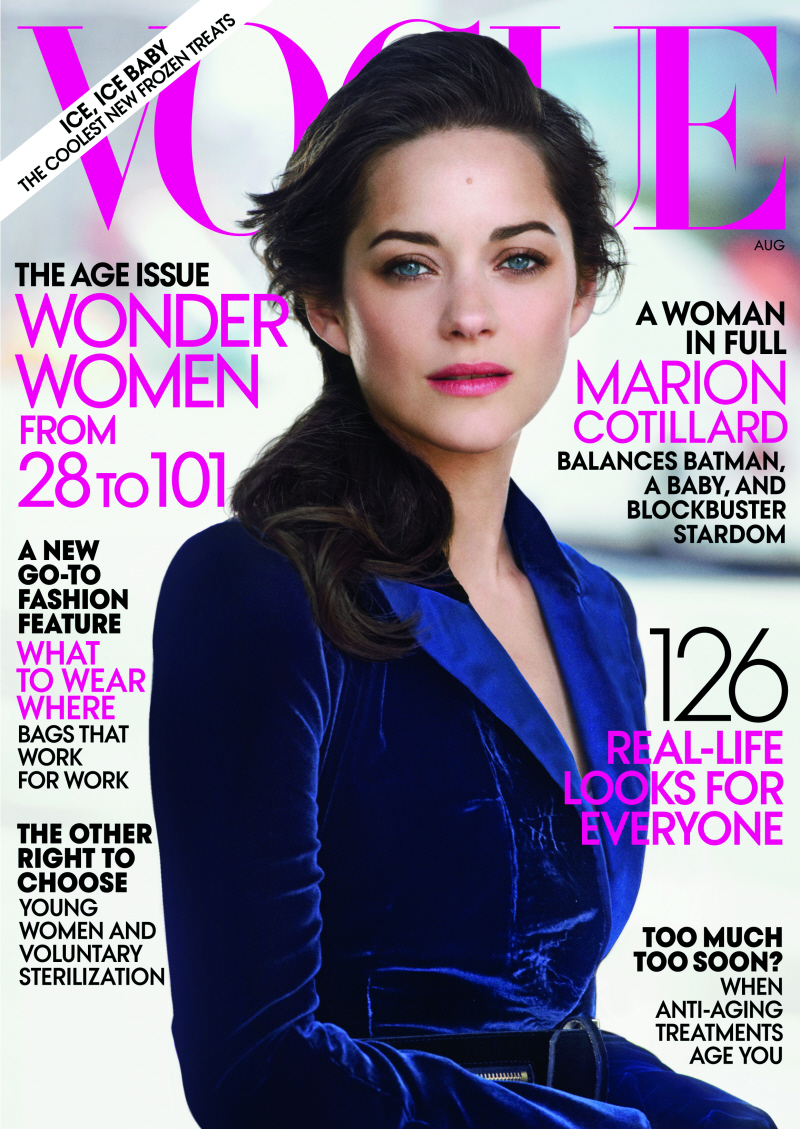 Marion Cotillard scored her second American Vogue cover for the August issue, "The Age Issue." Marion is 36 years old, so I guess she's there to represent women in their 30s… which isn't so bad, considering who Vogue could have gone with. The photos by Peter Lindbergh are very pretty – not incredibly exciting, but it's difficult to take a bad photo of Marion, and she's gorgeous in every single shot. Marion scored the cover because of her supporting part in The Dark Knight Rises… which is very weird to me. I wonder why Anne Hathaway didn't get the cover of Vogue to support the film? Annie's barely been on any magazine covers to promote TDKR. Weird. Anyway, Vogue doesn't seem to be putting their full cover profiles online anymore, so here are the only highlights available:
She's a bohemian activist and an Academy Award-winning actress; she's a muse to Christian Dior and mom to one-year-old Marcel; she's the indie reine of French cinema with Hollywood under her spell; and in August, she appears on the cover of Vogue's Age Issue.

The many sides of Marion Cotillard converge in Peter Lindbergh's photographs and Tom Shone's profile, which together portray the irresistibly glamorous 36-year-old at a particularly transformative time in her life. Sure, she won the Best Actress Oscar for her extraordinary performance as one of the most extraordinary performers—Édith Piaf—of the last century. And sure, she's had parts custom made to put her striking talents to the test, from La Vie En Rose to her upcoming blockbuster star turn in this month's The Dark Knight Rises.

Cotillard, however, happens to be rounding out a year in which she not only learned to speak Polish (for James Gray's still-untitled movie) and swim without the use of her legs (for Jacques Audiard's upcoming Rust and Bone), but one in which she gave birth to her son (with French actor-director boyfriend Guillaume Canet) and was back on set almost immediately, to play the eco-businesswoman who lures a grieving Batman out of his Batcave.

"She's Superwoman," says director Christopher Nolan, who was so intent on Cotillard costarring in his film that he adjusted his $250 million production schedule around her delivery hospital dates.

But there are multiple dimensions to every superheroine, as our cover story reveals. The daughter of an actress and a mime, growing up in suburban Paris, a young and incredibly shy Cotillard memorized American movies—from Singin' in the Rain to Poltergeist—immersive habits that have stuck ("I was in a very, very special state the whole shoot and even after," she says of playing Piaf).

These days, whether chasing Marcel through Central Park, dodging the French press with Canet (her "Gallic Brangelina" other half), or seeing her own dark masked face rise on billboards in Times Square, Marion Cotillard has to confess: "I've never been more exhausted. But I've never had more energy. This is the paradox of being happy. That's where it comes from."
"To play the eco-businesswoman who lures a grieving Batman out of his Batcave…?" First of all, how Freudian. Second of all, WTF? There were rumors that Marion was playing Talia al Ghul, daughter of Ra's al Ghul (played by Liam Neeson in the first Nolan-Batman film). But from the beginning, Marion's character name was called "Miranda Tate" and the hints as to her character basically made it seem like Miranda and Bruce Wayne have some business meetings together and they might have sex. But what about Catwoman, y'all?!?! Doesn't Batman get it on with Catwoman? Does Bruce Wayne have one lover and Batman has another? Batslut, more like.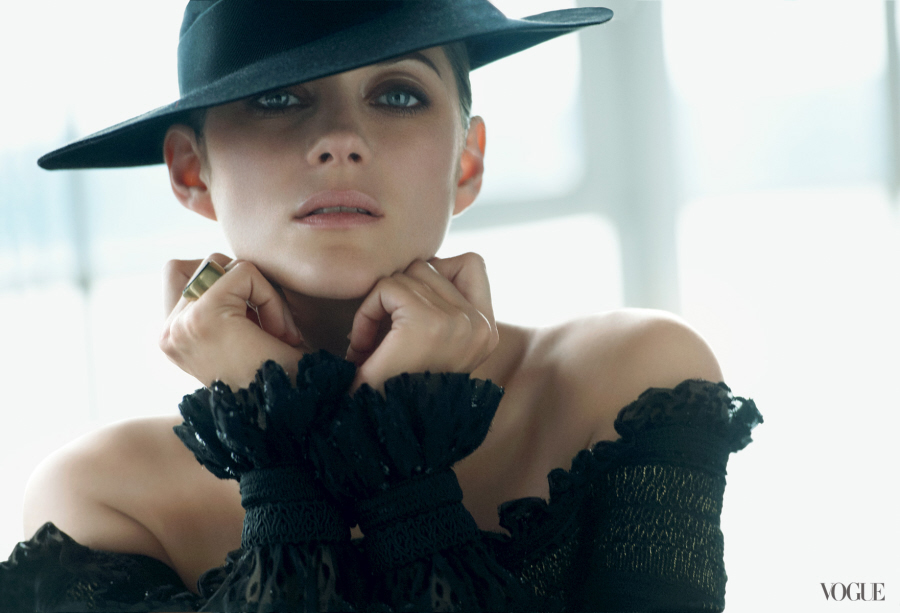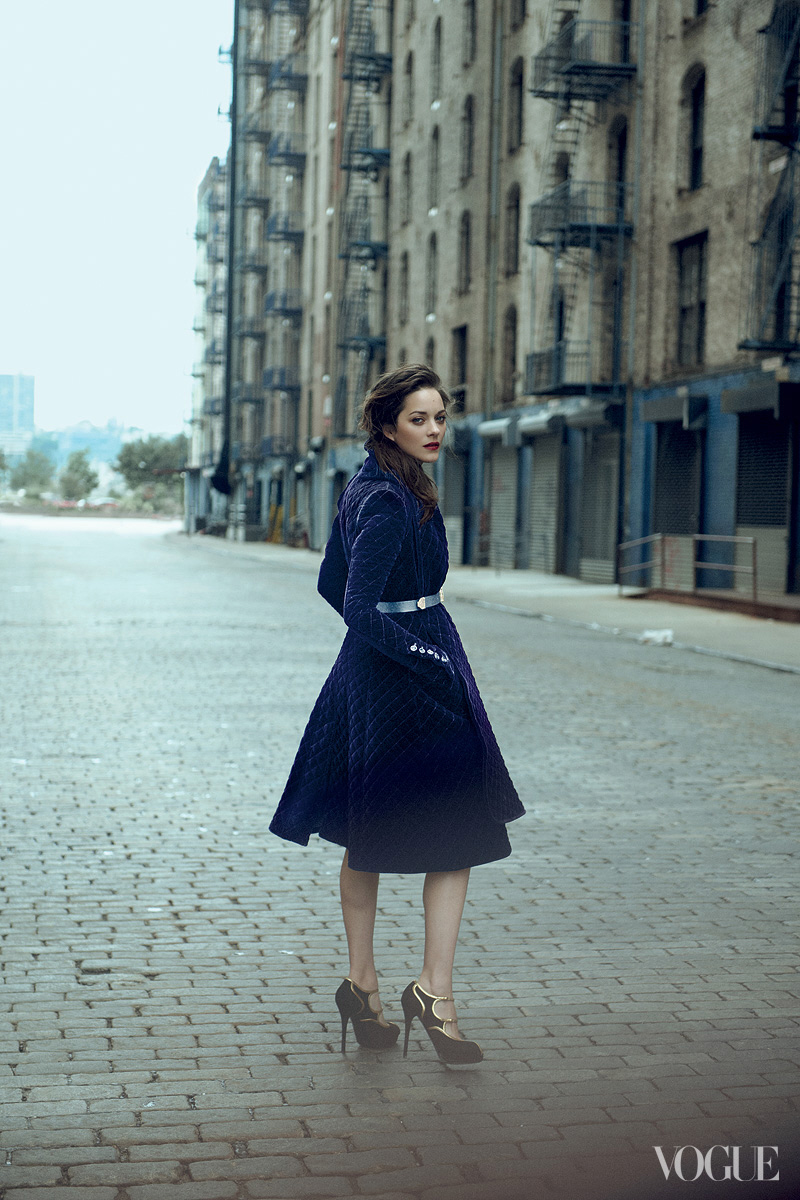 Photos courtesy of Peter Lindbergh/VOGUE. Slideshow here.