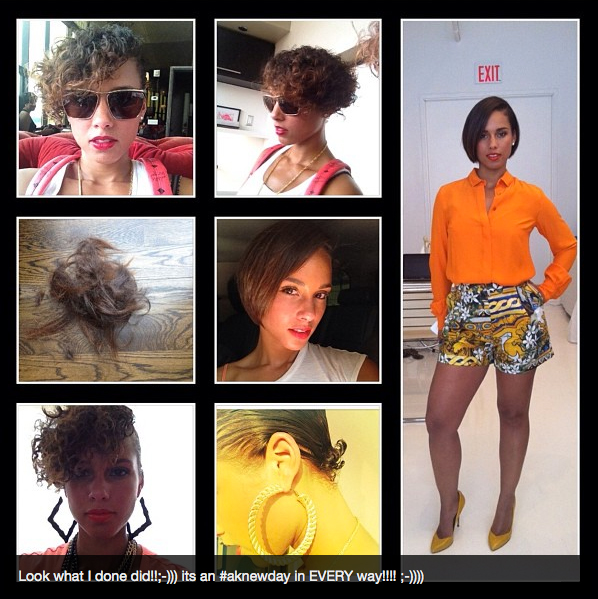 We really do live in the Twitter age where celebrities and civilians alike feel free to share both exciting and mundane details about their lives with the world. Now Alicia Keys has decided to post some personal photos of her new, cropped hairdo on the social networking site. She seems entirely enthused about this latest look, and even her husband Swiss Beatz is joining in with the praise. Perhaps I'm a bit jaded, but it seems like he's just trying to stay out of the doghouse after stepping out on his marriage with such frequency. Here's some of what the two of them tweeted:
She came on the scene with cornrow braids and has been known to experiment with head-turning hairstyles. So it's no surprise Alicia Keys surprised fans today with photos of her latest look.

The singer debuted a drastic new cut on Thursday, showcasing her shorter locks worn straight and curly, telling fans on Twitter: "Look what I done did!!;-)))"

Modelling her cropped cut, the singer showed how with a deep part her ringlets fell across her face in an Eighties-inspired style. A more sleek look shows Alicia with a straightened mane, next to inches of hair that had just been lopped off.

Other profile shots show just how much hair the singer had cut off – her gelled ends curling up just slightly. A full-length snap shows the Grammy-winner in a tangerine blouse and patterned shorts, throwing out a hip as she confidently shows off her bob.

The cut follows the release of Alicia's latest single, "New Day," prompting her to finish captioning the pictures: "its an ‪#aknewday‬ in EVERY way!!!! )))"

Alicia's husband Swizz Beatz shared his approval of the new look on the micro-blogging website, writing: 'My baby done cut it all off New Day 4 real amazing !!!!"
[From Daily Mail]
Generally speaking, a drastically shorter haircut can feel quite liberating, right? I really wish I could go there as well, but I'm stuck with the dilemma of needing to have hair long enough to put in a ponytail for the gym. Otherwise, I'd just look like a wet puppy because I sweat a lot when I work out. Like, what's the point of being at the gym if you don't sweat? Anyway and enough about me — Alicia looks pretty cute with her new cut. Too bad it won't change the fact that her husband is a douche and a half.

Here's Alicia with her longer hair back in March at Paris Fashion Week.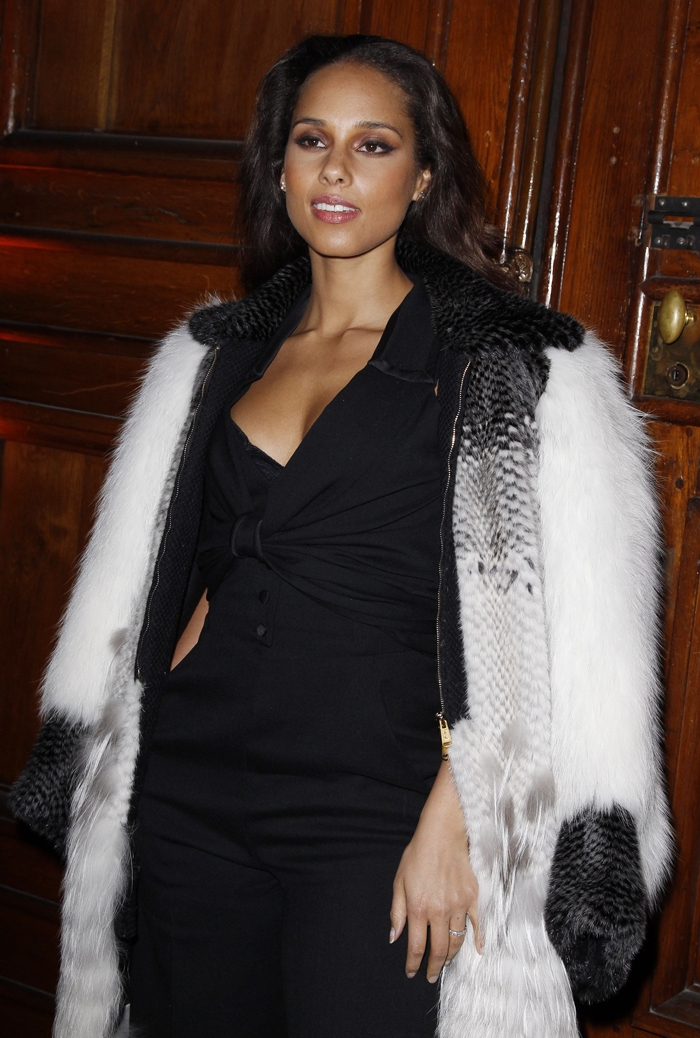 Photos courtesy of Fame/Flynet and Twitter