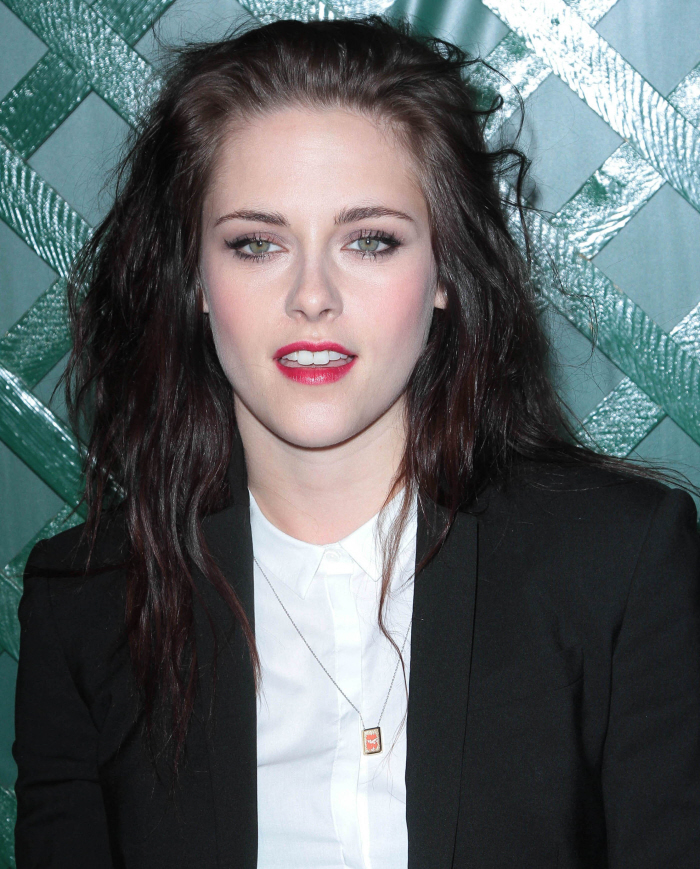 I've always liked two things about Kristen Stewart: she has the ability to pull off really strong, really "done" makeup looks, and she has great hair. Consistently, her makeup looks awesome when she's on a red carpet. And just as consistently, her hair looks like hell. I suspect that Kristen's natural hair is naturally wavy, even curly, and very thick. Instead of taking care of her beautiful mane, she leaves it unwashed and unkempt, and it often looks really greasy, and in need of a good root dye. What am I trying to say? That I have no problem believing that Kristen is one of those girls who either "forgets" to shower or simply does NOT shower on a regular basis. So, when Kristen is depressed or anxious… what really changes? Not much, according to Radar's source. Apparently, Kristen has been staying with a producer friend, and she hasn't been showering because she's so distraught.
Kristen Stewart has been staying with producer Giovanni Agnelli ever since fleeing the home she shared with Rob Pattinson, RadarOnline.com is exclusively reporting.

He has offered the actress the run of his home, in the trendy Sunset Plaza area, until she feels able to head out and face the public again under the harsh glare of her cheating scandal.

"Kristen is acting like a heartbroken teenager," a source tells RadarOnline.com exclusively. "She is crying her eyes out non-stop and does not want to communicate with anyone."

"She is beyond mortified and humiliated and she is also broken hearted," the source says. "She says she truly loved Rob. She says he was her soul mate, but she blew it and now she is scared that she has lost him forever. She is pretty much inconsolable."

Stewart hasn't been seen since she issued a public apology to Pattinson, her Twilight costar and real-life boyfriend, for what she called a "momentary indiscretion" with her Snow White and the Huntsman director Rupert Sanders.

"Kristen hasn't showered or changed or washed her hair in several days," the insider reveals. "She is laying around in her T-shirt and shorts and eating ice cream. She really wants to believe that she can win back Rob, but I think deep down she knows that isn't the case."

Agnelli, who produced Stewart's 2010 movie, Welcome to the Rileys, has been tweeting support of his friend, insisting she never had sex with Sanders. "There was no on set affair" he wrote last week.

"Giovanni has been very, very attentive to her every need," our source says. "He has been fielding all her calls via her cellphone and vetting who she gets to speak to, so not many people can get through to her right now."
"She is laying around in her T-shirt and shorts and eating ice cream" = How I watch the Olympics. Although I did shower last week. And I shower regularly. Because I need to. Because I feel really gross if I don't shower at least once a day, usually twice a day. Even when I was Kristen's age, and even when I was super-busy and running all over the place – I still showered every day. I don't understand people who don't. As for Kristen's close friendship with Giovanni Agnelli… yeah… I'm very suspicious. Why not stay with her parents? Why not stay with a girlfriend?
Meanwhile, People Mag had an interesting story about Liberty Ross and Rupert Sanders…
Since news broke of Kristen Stewart's hook-up with Rupert Sanders, the married director of Snow White and the Huntsman, her boyfriend Robert Pattinson has been coping with heartbreak. He's not the only one. Sanders's wife of seven years, Liberty Ross, was "devastated," a source tells PEOPLE of the model-turned-actress, who played Stewart's mother in the hit film.

"They seemed like a perfectly happy family," the source says of Ross and Sanders, who have two children. "This was devastating for her."

Though Sanders, 44, was recently spotted out wearing his wedding ring, that is no indication that Ross has forgiven her husband. In fact, another source tells PEOPLE that the couple have not seen each other since Sanders told Ross about cheating with Stewart, 22.

"She's been focused just on her kids through this," the source says. "It's what she cares about the most."

However, the shock of the scandal is apparently fading. "Now she's really feeling strong and looks forward to resuming her life," the source says.

But that doesn't mean a reconciliation is in the works. According to the source, nothing has been decided.
"Now she's really feeling strong and looks forward to resuming her life" – it sounds like Liberty is probably resolved to move back to England, right? Maybe Liberty and Rupert will work out, maybe they won't, but I suspect this affair will be Liberty's bargaining chip to move out of LA, where she was clearly not happy.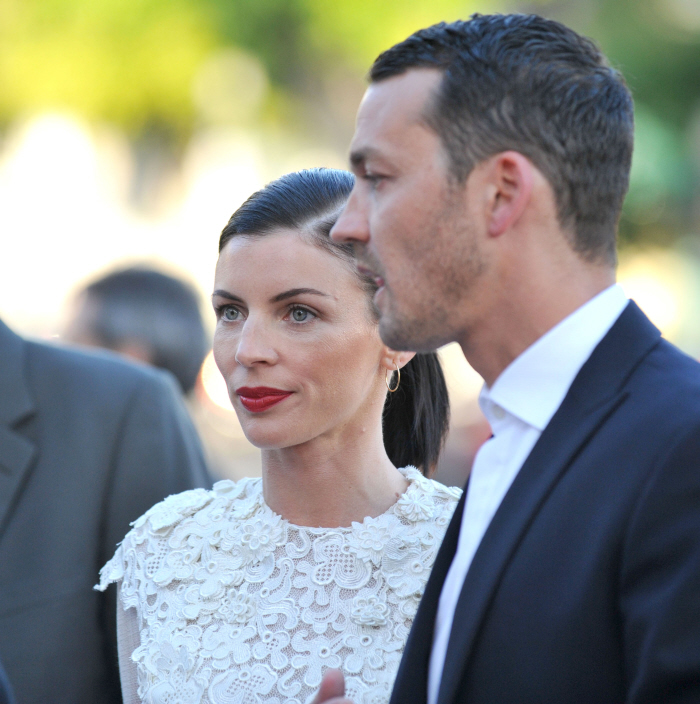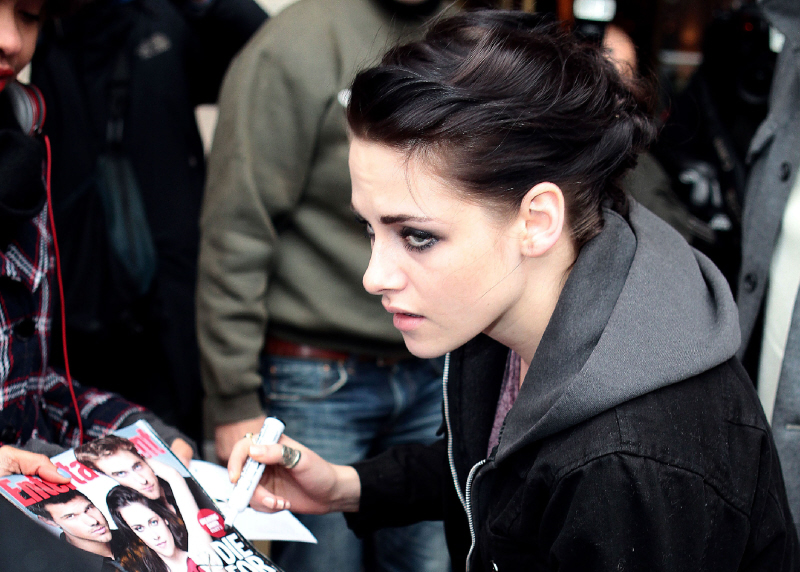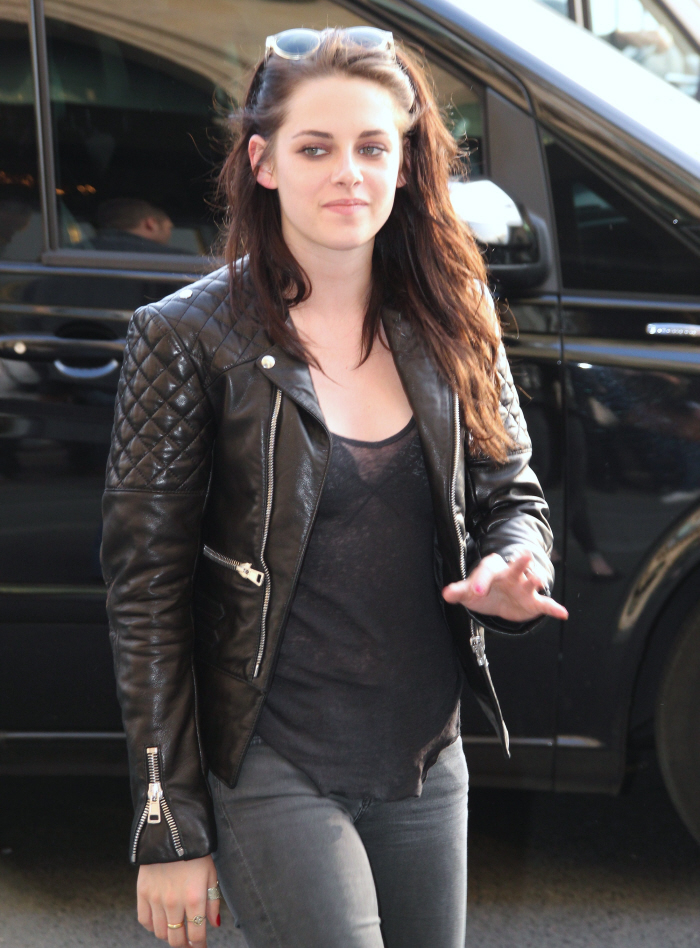 Photos courtesy of Fame/Flynet.