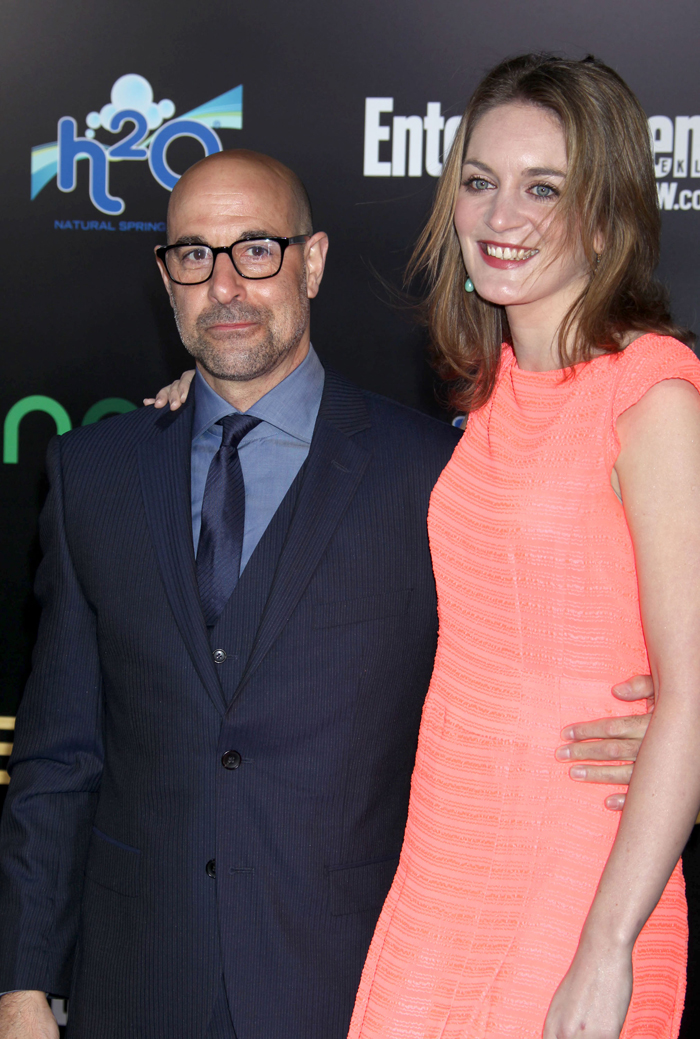 So has anyone out there noticed that Stanley Tucci has been wearing a wedding band for the past few months? Because I haven't exactly been poring over Tucci pics without a reason, but when I do see Tucci, I'm definitely not looking at his ring finger, if you know what I mean. Wait! That remark was in reference to his sizeable … talent. Obviously.
Indeed, Tucci has been sporting a ring on that very important finger, and no enterprising journalist had thought to ask him if he'd gone and gotten himself hitched. Until now, that is, when a NY Daily News writer bumped into Tucci on the red carpet and got him to admit that, yes, he is now a married man! Tucci and his new bride, Felicity Blunt (sister of Emily) went and secretly did the deed a few month ago, apparently: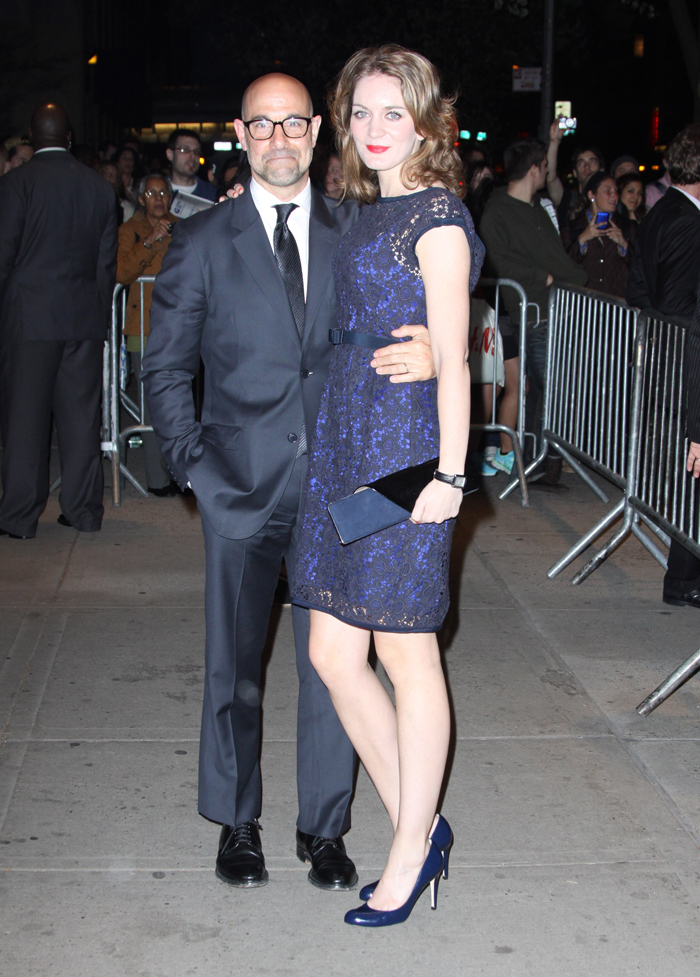 STANLEY TUCCI is a married man. The Hunger Games actor, who got engaged to actress Emily Blunt's younger sister, Felicity, in October, confirmed to us Monday that the two have secretly tied the knot. When we asked Tucci and his blushing bride, who was sporting double bands on her ring finger, at the Hope Springs screening at the School of Visual Arts if they were newlyweds, the 51-year-old was hesitant. "Yaaa-yess," he said, finally confirming. When we repeated the question, Tucci, who had the London-based literary agent on his arm, gave a more affirmative response: "Yes." The actor, who was there to support his Devil Wears Prada co-star Meryl Streep, told us he didn't need any pointers from the flick, which is about re-charging your love life. "I have all the tricks!" he joked. A source close to Tucci, who has been wearing a band on his ring finger for months, says the couple plans to have a second, more formal wedding with friends and family.
[From NY Daily News]
The family resemblance between Felicity and Emily is very strong, right? Congrats to Stanley and his lovely bride, who will hopefully enjoy a lifelong union filled with tons of fabulous, head-shining sex. Hey, Stanley is one hot (mostly) bald guy.
Also, these wedge-heeled sandals are atrocious, but I like that Stanley seems to love his lady in heels.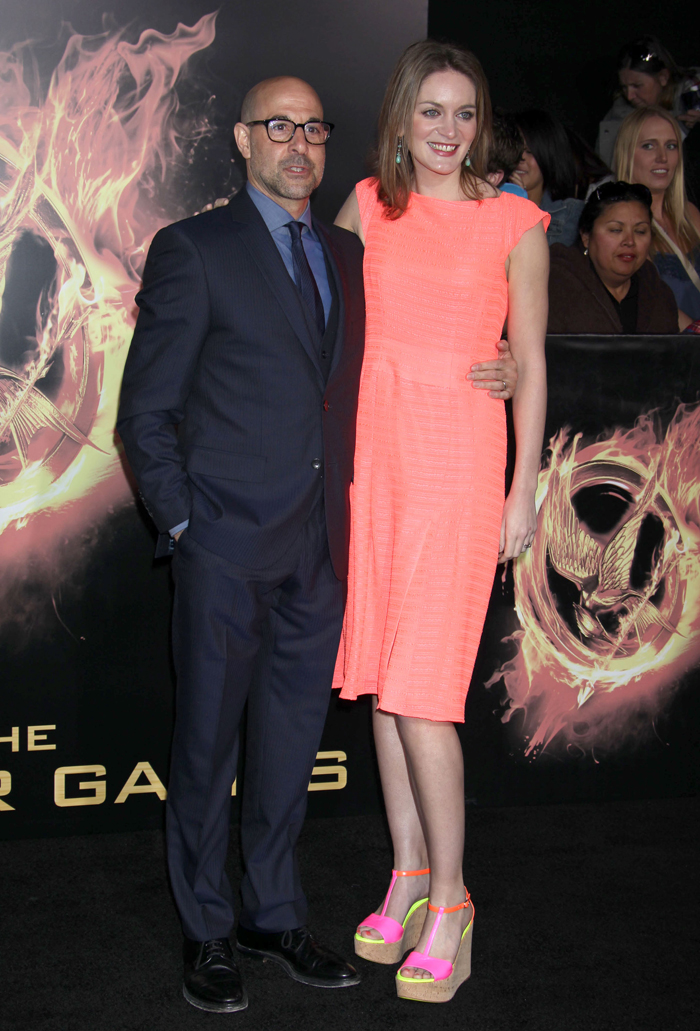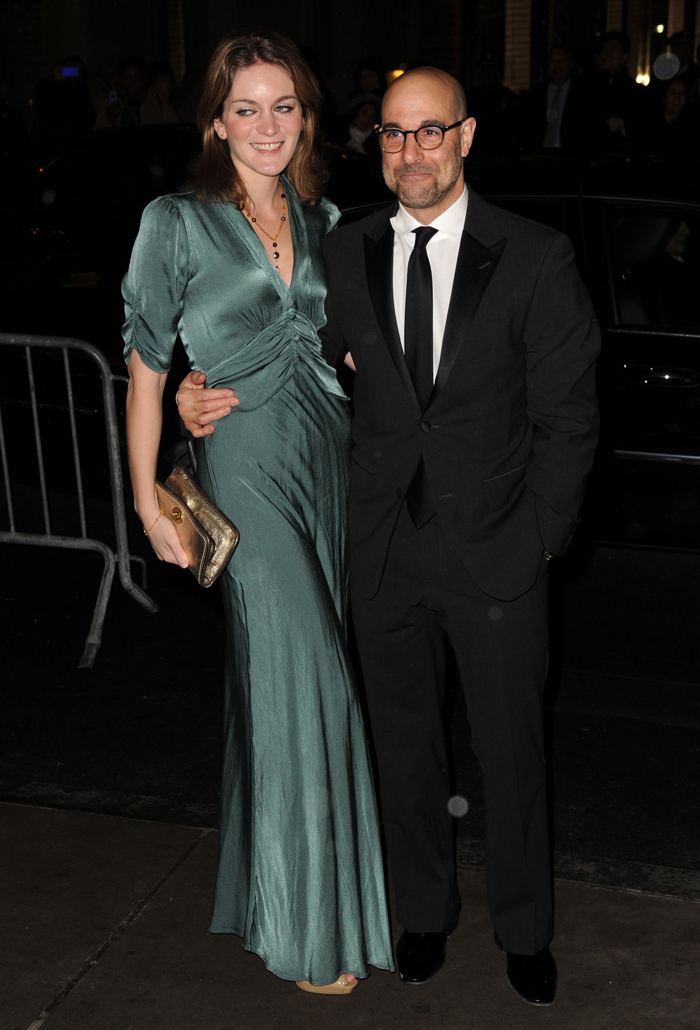 Photos courtesy of Fame/Flynet