Visit NBCNews.com for breaking news, world news, and news about the economy
Olympic athlete Lolo Jones had a fourth place finish in the 100 meter hurdles, something she called "heartbreaking" after years of grueling training. Lolo was interviewed yesterday by The Today Show's Savannah Guthrie (Which begs the question: where's Ann Curry?! She should be doing these interviews where the guests needs comforting.) Lolo broke down crying not only about her performance at The Games, but about an opinion piece in The NY Times which called her out for playing the press and using her looks and compelling personal story for media coverage.
Jones opened up about a Saturday New York Times piece that compared her to Anna Kournikova, the former tennis pro known more for her good looks than her accomplishments on the court.

"I think it was crazy just because it was two days before I competed, and then the fact that it was from a U.S. media,'' Jones told Savannah Guthrie before fighting back tears. "They should be supporting our U.S. Olympic athletes and instead they just ripped me to shreds. I just thought that that was crazy because I worked six days a week, every day, for four years for a 12-second race and the fact that they just tore me apart, which is heartbreaking.

"They didn't even do their research, calling me the Anna Kournikova of track. I have the American record. I am the American record holder indoors, I have two world indoor titles. Just because I don't boast about these things, I don't think I should be ripped apart by media. I laid it out there, fought hard for my country and it's just a shame that I have to deal with so much backlash when I'm already so brokenhearted as it is."

On Tuesday night, Jones tweeted that she had a "broken heart'' after missing an Olympic medal finish by one-tenth of a second. Her disappointment followed her performance in the 2008 Olympics, when she was leading the race and clipped the ninth hurdle to finish eighth. She took no solace that the Tuesday night race was the fastest one in Olympic history, with Australia's Sally Pearson running an Olympic-record 12.35 seconds to edge American Dawn Harper by two-hundredths of a second to win.

"Definitely, I was crushed afterwards,'' Jones said. "I know I had the best race of my season. Not the best race of my life, but I had the best race of my year, so I just try to look at that. It doesn't take away from the pain that I was close to once again having a medal and not getting it."
Jones tried to find the silver lining in reaching the Olympic finals after several setbacks in the past year.

"I think it's disappointing in one extreme as in I didn't get the medal, but in another extreme, a year ago I was having spinal cord surgery,'' she said. "I mean if I look at that, spinal cord surgery, two hamstring injuries and you fought through all of that, so I take time to focus on that and not the negativity I've received."

Jones has drawn criticism for her openness with the media about everything from her personal life to struggles with injuries. However, she hopes that her story will inspire others to overcome adversity.

"Putting your heart out there, obviously it opens you up to a lot of negativity, but at the same time if I could just reach somebody out there,'' she said. "Maybe there's a little girl who thinks she can be an Olympic athlete and she sees all the things I struggled through to get here. Yeah, I didn't walk away with a medal or run away with a medal, but I think there's lessons to be learned when you win and lessons to be learned when you lose.''
I have to say, watching that interview got me teared up! I really felt bad for her. You can tell she put her heart and soul out there and that she was devastated. (I'm an emotional person and I cry while watching the athletes in the medal ceremonies too.) Lolo is a public figure, though, she needs to protect herself against criticism and learn to deal with it. She shared the story of her rough upbringing with the press, and she shared the fact that she's a virgin. It's easy to see why people would think that she's trying for headlines, but in her mind she was showing that she was able to triumph over difficult circumstances. She needs to learn how to do that when it comes to setbacks in her career as well. It's such an accomplishment to even compete in the games.
Lolo plans to compete in the 2016 Olympics, and in another interview she said she doesn't regret doing interviews or promotion ahead of this year's games. "The Olympics are only once every four years so you have to take advantage of all your opportunities, both to be an inspiration to people and help support your sponsors who help you. I don't regret doing any stories or being in magazines. For me, it was a chance to do things like get tips on eating healthy and working out to people."
It's not just the press calling out Lolo for getting a lot of attention. Her fellow American competitors, silver medal 100 meter hurdler Dawn Harper and bronze medal winner Kellie Wells were on the NBC Sports network yesterday. (Australian Sally Pearson took home gold in that event.) They had a few choice words to say about the media's focus on Lolo, who of course didn't end up placing.
Silver medalist Dawn Harper: I just felt as if I worked really hard to represent my country in the best way possible, and to come way with the gold medal [in 2008] and to honestly seem as if, because their favorite didn't win all of sudden it's just like, 'Were going to push your story aside, and still gonna push this one.'

Bronze medalist Kellie Wells: I think that, on the podium tonight, the three girls that earned their spot and they got their medals and they worked hard and did what they needed to do, prevailed. And that's all that really needs to be said.
Here's the video of that interview.

Dawn Harper, silver: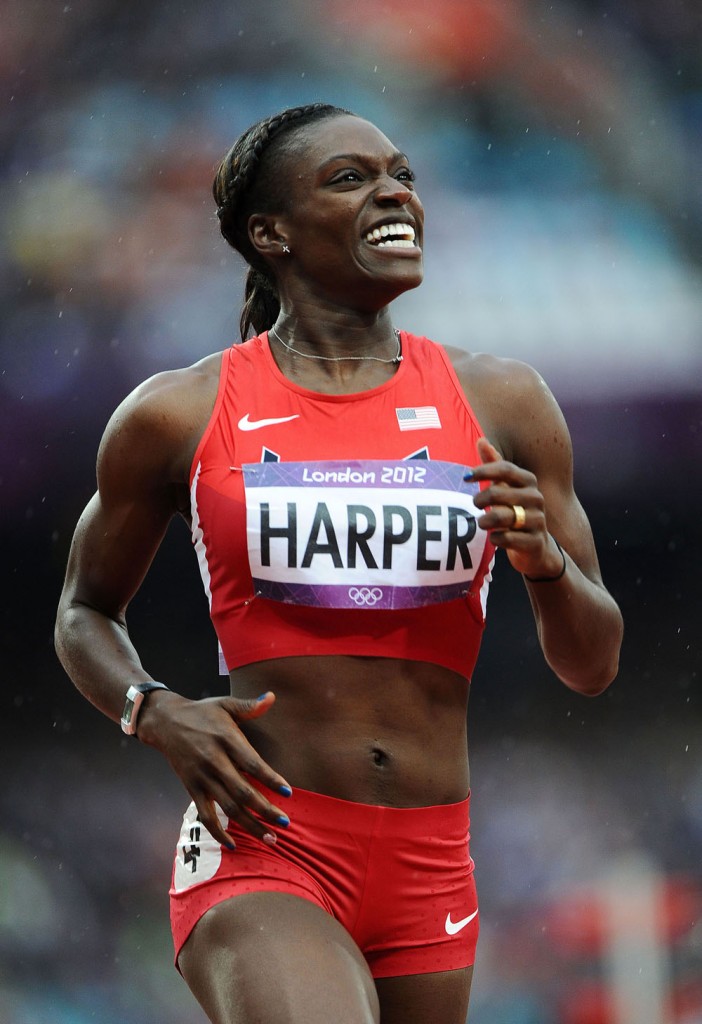 Kellie Wells, bronze: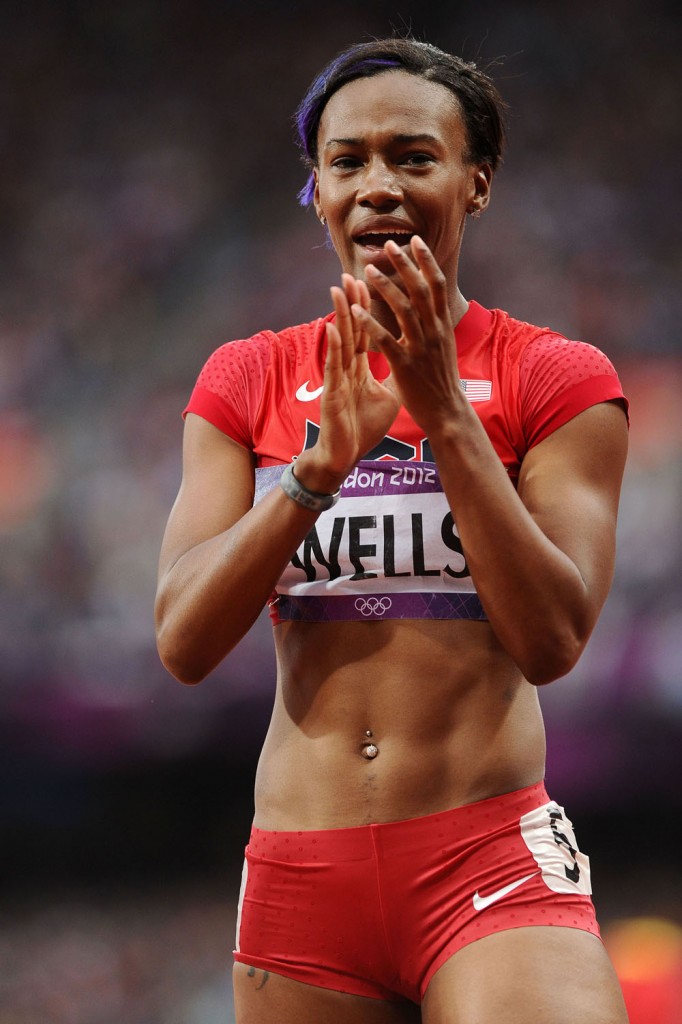 Sally Pearson, gold: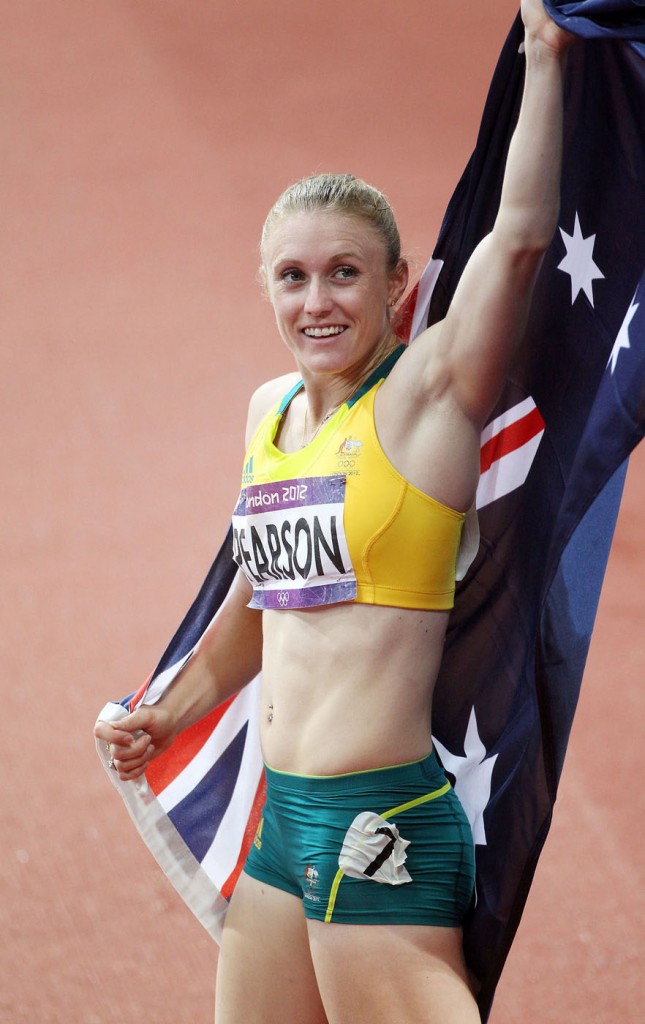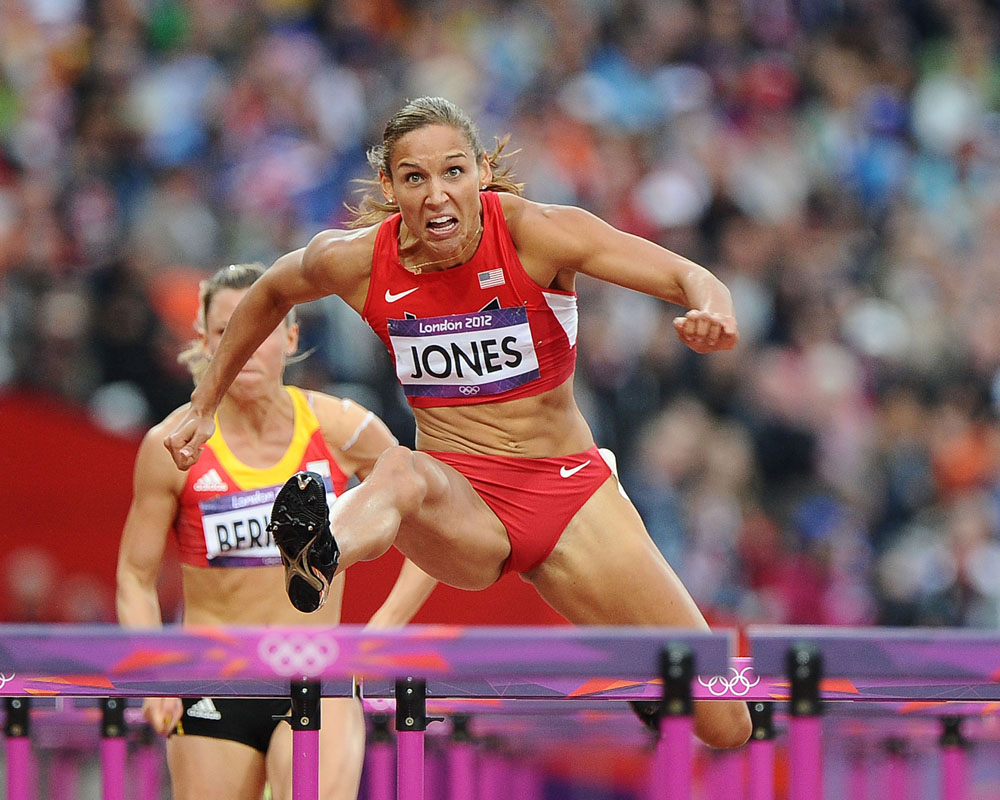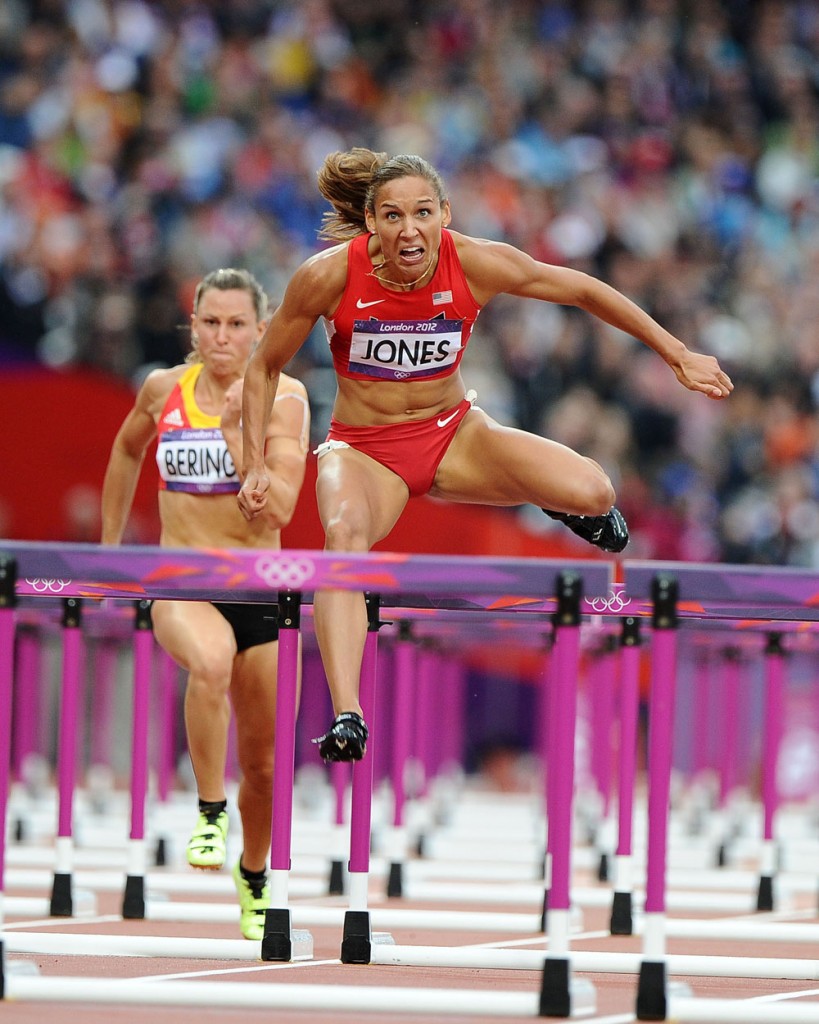 Photo credit: WENN and Fame. I didn't pick the worst photos of Lolo, these are just the ones we had.