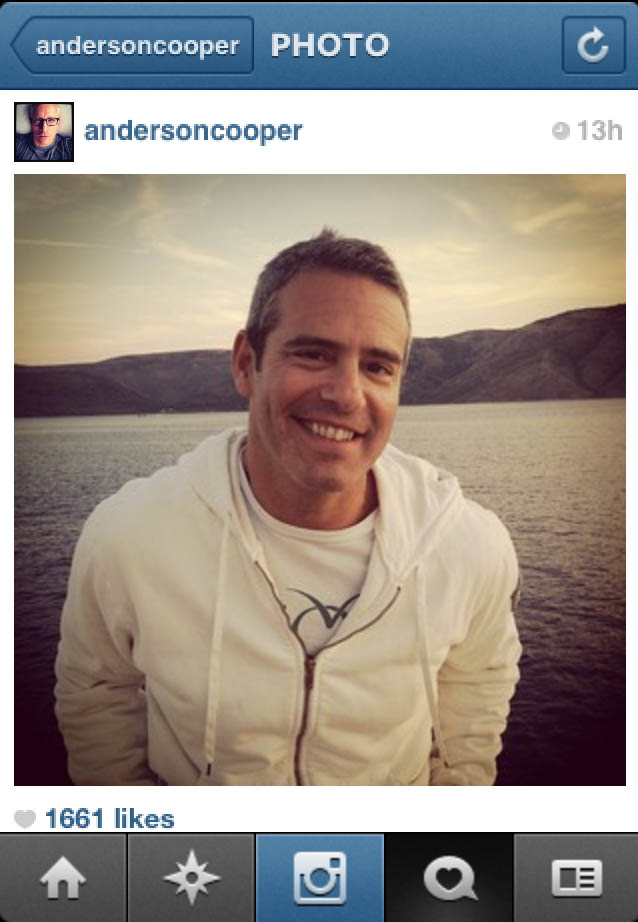 Anderson instagrammed the above pic with the caption "Look who just took the same Instagram pic as me."
Yesterday we heard that Anderson Cooper was on vacation in Croatia with his boyfriend when he was confronted with those awful photos of his boyfriend making out with another guy in public. It would have made for an awkward vacation if that was the case – or was it? Cooper recently posted a photo on Instagram of Bravo VP and "Watch What Happens Live" host, Andy Cohen, along with the caption "Look who just took the same Instagram pic as me." (That picture is above.) That same Instagram pic he's referring to was a sunset in Croatia, judging by their recent Instagram photos, taken at the same time. (Note: I installed Instagram on my iPad for this story and am not a fan. Why do they limit you to an iPod/iPhone size app and why can't you use it to see photos on a PC? Update: thanks to Mimi for pointing me to Webstagram. You still need to sign up for Instagram through the app though.)
So this means that Andy and Anderson are on vacation together, and that they might be a new couple! Granted some people are saying that they've been friends for years, and that they're with a group of friends, but I want to believe they're together. People have been rooting for them to hook up for some time. We've heard that Anderson and Andy are friends, and last year The Enquirer ran a story that Andy was hoping to date Anderson, even though Anderson was in a long term relationship.
Maybe those photos of Anderson's (ex?) boyfriend, Ben Maisani, making out with another guy were staged to send a message that Ben wasn't the one Anderson was referring to when he wrote that he was gay and that "I love, and I am loved." Maybe Anderson was in a new relationship with someone who encouraged him to come out of the closet. Maybe Anderson dumped Ben for Andy, and Ben was pissed and wanted to get back at him, prompting Anderson to post that photo of Andy. Whatever went on, it doesn't look like it's as cut and dried as we thought.
I'm thinking that In Touch got it wrong and that Anderson wasn't on vacation with Ben, he was on vacation with Andy. (Andy instagrammed a photo of himself on the water three days ago, so he's probably been there the whole time.) Yay! I really hope they're together. I don't know much about this Ben guy, but he owns a gay bar. I can't help but think he's not worthy, you know?
Thanks to Gawker for the lead for this story!
I found these photos on one of those Instagram collection sites. I think they're from last year, as the Enquirer ran one of them in their story around that time.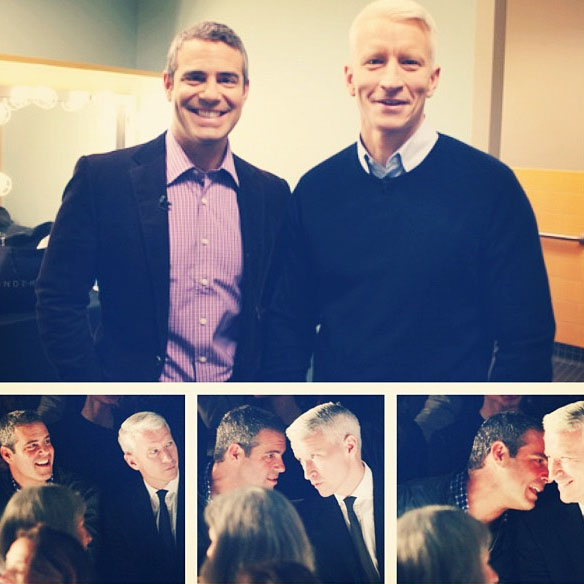 Update: Clearer version of Andy's photo – so cute!