'Cosmopolis' director: "The strength of the 'Twilight' movies is not the acting"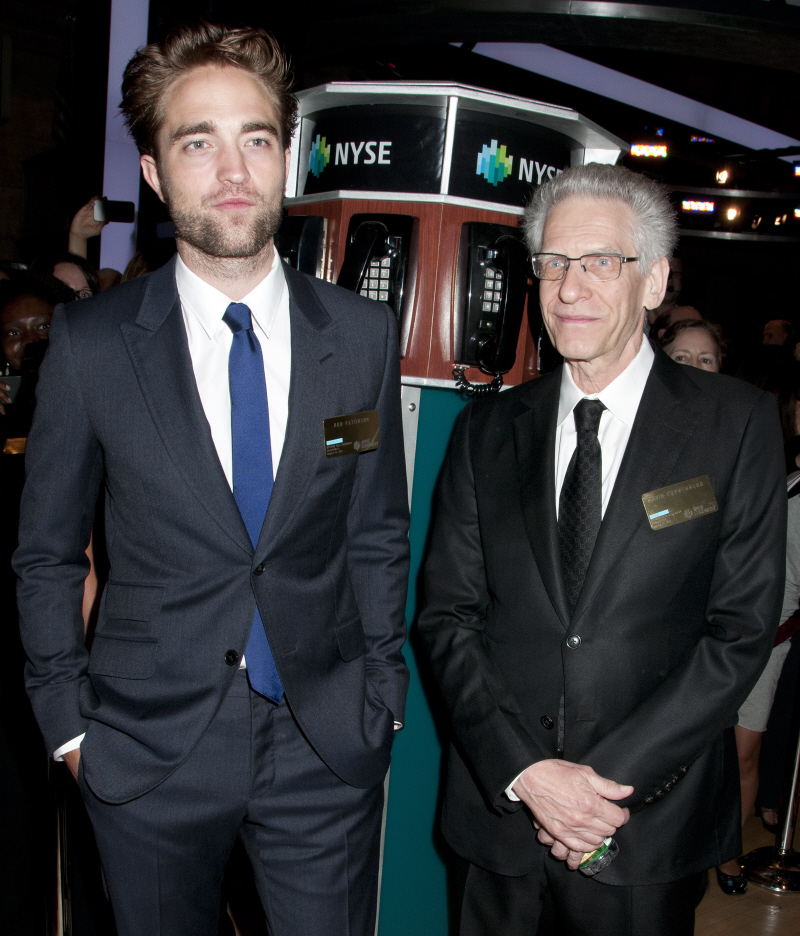 Ah, so many Robert Pattinson stories. What I've learned this week is that Rob deserves some kind of medal (a small but quietly substantial medal) for being a total professional and managing to get through a week in New York, full of interviews and appearances, without going completely insane. I think Rob earned a lot of respect from a lot of different people this week. Of course, I've also learned that the media can be a fickle bitch, because even though every media outlet would love an exclusive with a sparkly vampire, every media outlet has been running negative reviews of Cosmopolis. Maybe not all – Rotten Tomatoes' Top Critics rating is 53%, which is decent enough. But I'm surprised to see two prominent bad reviews at People Magazine and Us Weekly, and E! News is running a process story about all of the bad reviews in general. So, while people like Rob and he'll definitely get more and more work, he's yet to prove that he can do any kind of role but "sparkly vampire."
Meanwhile, the Los Angeles Times has this unintentionally hilarious Sparkles interview – Rob sat down with David Cronenberg for the piece, and all of the asides with and about Cronenberg are hilarious. My favorite part is when Cronenberg subtly bashes the Twilight franchise – here are some highlights from the piece:
"Media culture is a monstrous thing," Robert Pattinson lamented Wednesday afternoon, jamming fries into his mouth between puffs on his electronic cigarette. "You can't win. The annoying thing is that you can't attack them, but you can't defend yourself. The best thing you could possibly do is punch a paparazzi and give them their big payday."

Sitting alongside Pattinson for moral support at the Mandarin Oriental hotel on Columbus Circle was "Cosmopolis" director David Cronenberg. The Canadian filmmaker, whose challenging art house films almost never garner such wide attention, was there as a sort of buffer but also appeared to be quietly amused by the media circus. The actor's manager would not allow Pattinson to sit alone for an interview with The Times, and even suggested that reporters not ask him about his personal life, or "Twilight."

While both of his "Twilight" costars, Stewart and Taylor Lautner, have each taken center stage in studio pictures, Pattinson has mostly stayed in the indie world. His biggest non-"Twilight" film to date was last year's "Water for Elephants," a modestly budgeted period romance with Reese Witherspoon that took in a respectable $117 million worldwide. Pattinson's less-commercial projects, however, have tanked at the box office — the Sept. 11 drama "Remember Me" only collected $8 million domestically in 2010, and the 19th century-set drama "Bel Ami" flopped in June, never expanding beyond 15 theaters.

Cronenberg, who adapted "Cosmopolis" from Don DeLillo's book of the same name, said he felt Pattinson was right for the part largely because of his good-looking face, which appears in nearly every frame of the movie. Before casting him, the director watched all of the films the London native has appeared in, and viewed a number of interviews with Pattinson on YouTube to get a better sense of his personality.

"The strength of the 'Twilight' movies is not the acting," acknowledged Cronenberg. "But it's not understood that doing 'Twilight' requires presence and professionalism. Are you saying this is an Academy Award performance, or Alec Guinness? That's a whole other discussion. But you throw somebody on a grueling set like that — a normal person would be dead in an hour."

Warming to his own defense, Pattinson interjected: "With this movie people keep saying, 'Is this gonna be the movie where he can prove he can act?' It's like, 'What do you think I have been doing?'"

"By the way," Cronenberg added, "he's a British guy doing an American accent. People don't realize that there are a lot of very good actors who cannot do accents, and they don't give Rob credit for that."

"Oh, give me anything!" Pattinson said with a laugh and taking a drag on his cigarette, which glowed an electronic red with each inhale.

Still, it's clear Pattinson sometimes questions his acting ability. Before production began on "Cosmopolis," he said he was so unsure of his ability to pull off the role that he sat "trembling, absolutely terrified" during the first screen test.

The nerves are somewhat surprising, considering Pattinson's part in "Cosmopolis" doesn't seem all that distant from his own life. Like his character in the film — who remains isolated in a limousine for hours as he slowly traverses Manhattan to get a haircut — Pattinson said that since "Twilight" opened, he has "had four years of gradually being put more and more into smaller and smaller boxes, and you have a desire to break out." He's also a part of the 1% — according to Forbes, he earned $12.5 million for the last two "Twilight" pictures — a number he says is "completely not true."

"Weirdly, I went to the bar the other day and there were a bunch of people protesting some 1% thing," he recalled. "I drive this kind of [junky]-looking truck sometimes because I started surfing — it's this 2001 Silverado I bought off of Craigslist for, like, $2,000 or something. So I was hiding in the back of the truck when I saw the protest thinking, 'I don't want to get involved in this.'"

The demonstrators, Pattinson said, didn't recognize him and a friend. "When the protesters saw us, they were like, 'We're not even shouting at you. You're driving this piece of …. You're not part of the 1%.'"
Yeah… I came away from that loving David Cronenberg: "The strength of the 'Twilight' movies is not the acting." LOL. Thank you!! And then he goes on to say that all he learned about Robert from Twilight is that Rob is present and professional.
Rob also sat down with MTV, and he ended up talking about the end of the Twilight franchise, saying: "It's an amazing experience. It's a huge chunk of my life, and the end of the movie, the last few scenes, kind of look back at the whole series. It's so sweet. I feel so much older now. The idea of if I had to do a sequel now, it would be like 'I'm not 17 anymore.' " Here's the video: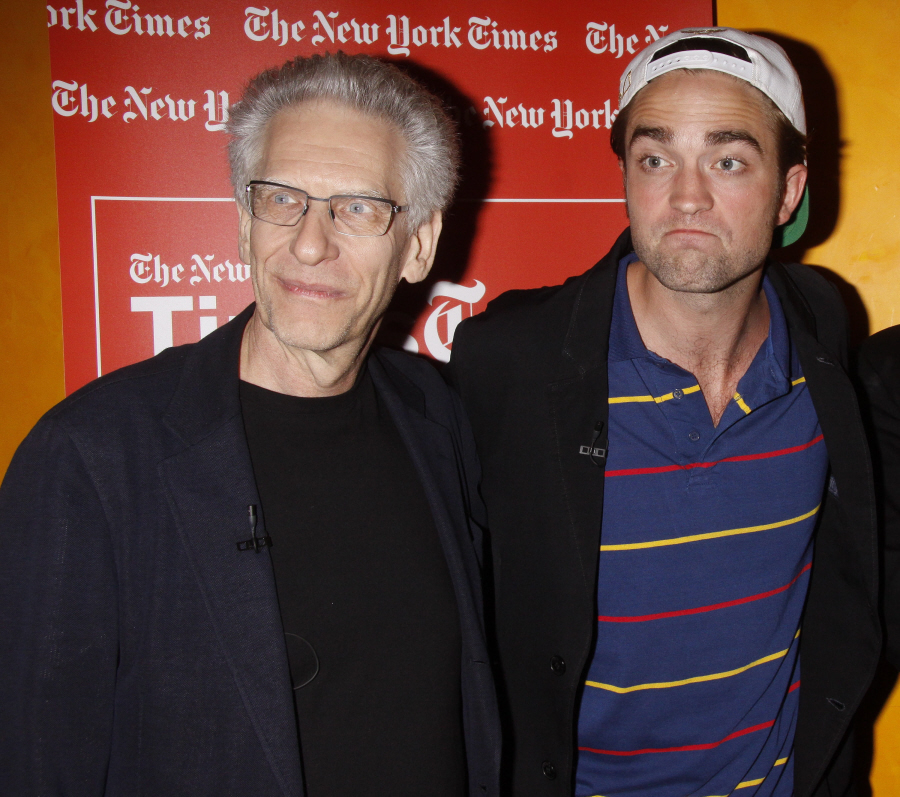 Photos courtesy of WENN.

Written by Kaiser

Posted in Robert Pattinson

- Zach Galifianakis is awesome [Buzzfeed]
- Prince at the Billboard Music Awards [D-Listed]
- Bieber's Billboard look [Go Fug Yourself]
- Married to Medicine recap [Reality Tea]
- Celebrity first marriages [Pajiba]
- The last Mad Men baffled a lot of people [Lainey]
- Karolina Kurkova's crazy hot dress [Moe Jackson]
- Jennifer Garner on set [Popsugar]
- Kitten vs. Lizard [CDAN]
- Doetzen Kroes' great butt [Celebslam]
- Shameless star Jeremy Allen White [OMG Blog]
- RIP Ray Manzarek [Bossip]
54 Responses to "'Cosmopolis' director: "The strength of the 'Twilight' movies is not the acting""