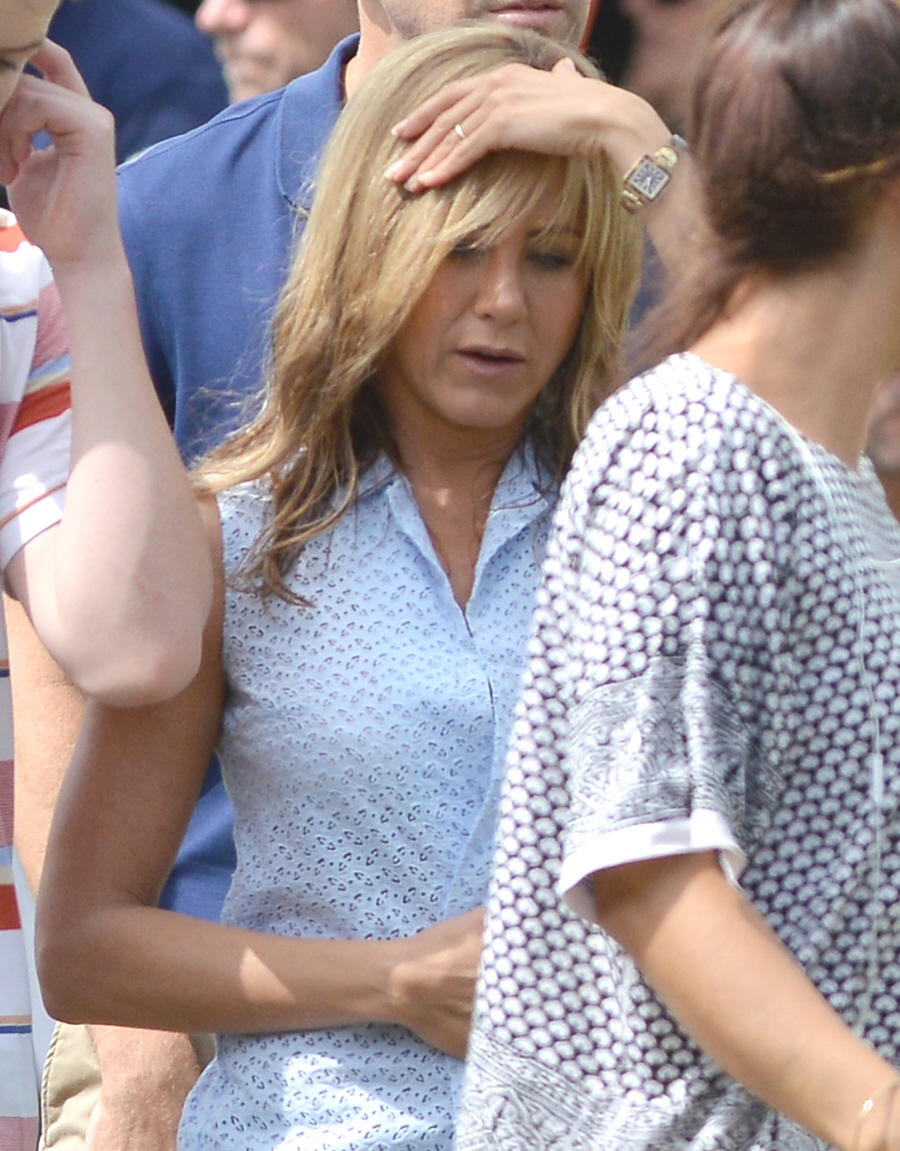 Fame/Flynet is promoting these photos as "Newly engaged star Jennifer Aniston shows off her engagement ring on the set of her new film "We're the Millers" on August 20, 2012 in Wilmington, North Carolina." Er. Is that really what's happening here? Here are the possibilities:
1. This is totally Jennifer's engagement ring, she just has it turned around so the diamond is facing towards her palm.
2. This is totally Jennifer's engagement ring, and Justin Theroux is super-cheap and the diamond is so small, it's practically invisible.
3. This is Jennifer's wedding band! Because JustJen eloped months ago.
4. This is Jennifer's prop wedding band for the film We're the Millers, considering she's in costume as a hooker turned pretend wife/mother, and the wedding band is part of her character's character.
5. This is a prop ring because Justin Theroux hasn't bought her engagement ring yet because CONSPIRACYBrangelinaUNCOOL, etc.
6. This is a prop ring because Jennifer hasn't had the chance to buy her own engagement ring, which will obviously be much bigger than the ring Brad gave The Leg.
7. This is Jennifer Aniston's wedding band from her marriage to Brad Pitt. Because sometimes she wears it while eating ice cream and watching 'Say Yes To the Dress'.
8. This is a promise ring given to her by a Jonas Brother.
9. This is the same ring she's been wearing for months, ever since she started dating Justin Theroux.
10. This is a ring she stole from Heidi Bivens. Obviously.
11. This is a ring that somehow, somewhere, in some way equals BABIES!
Is that enough? Are there possibilities I didn't get to? Let's be real – we'll eventually see her engagement ring. I'm excited for the big reveal to happen, and I hope that when it happens, it will be at some major event and everybody will get lots of photos from The Ring in different angles and we can all Ooo and Ahh and judge the ring. But that day hasn't come yet. Pace yourselves!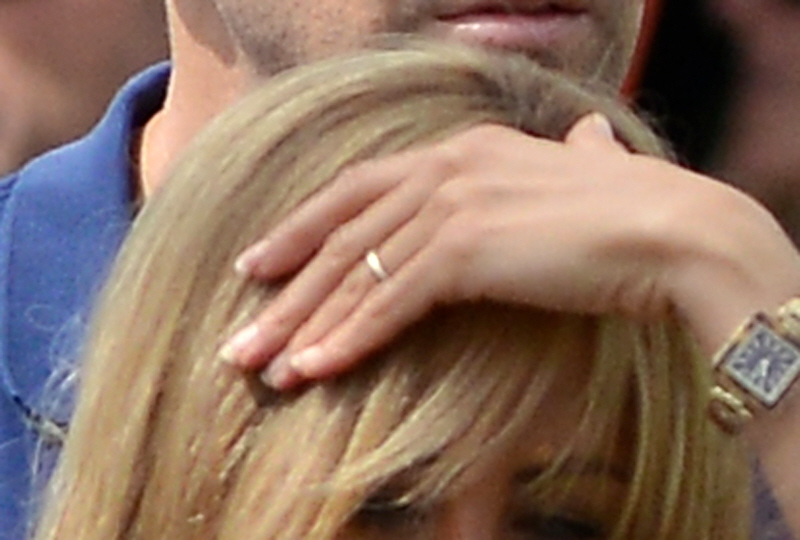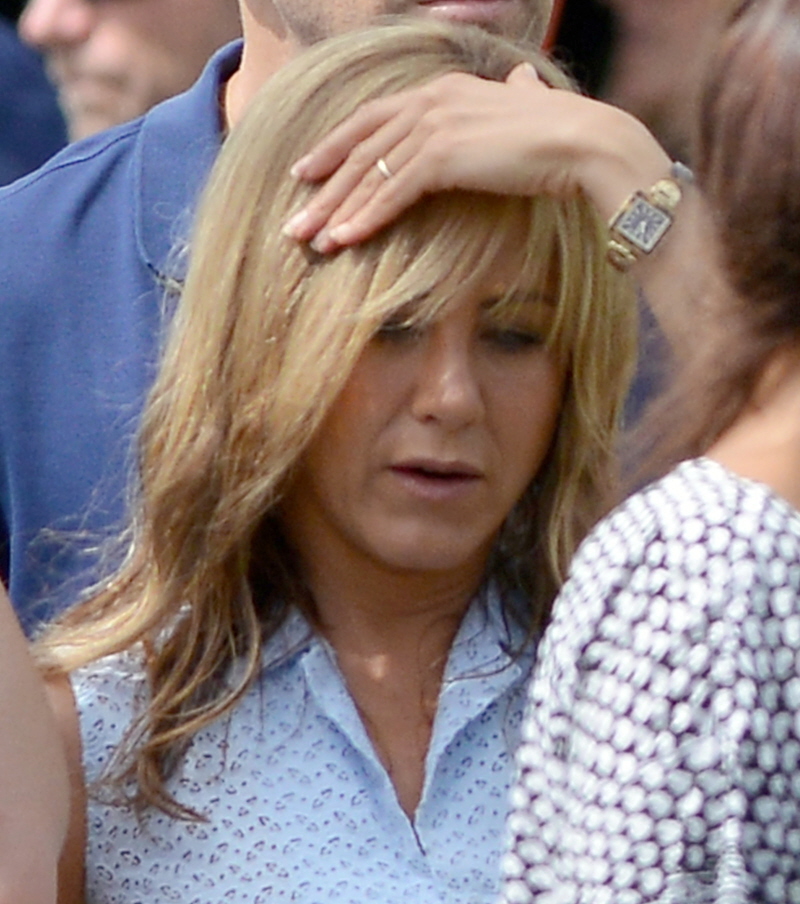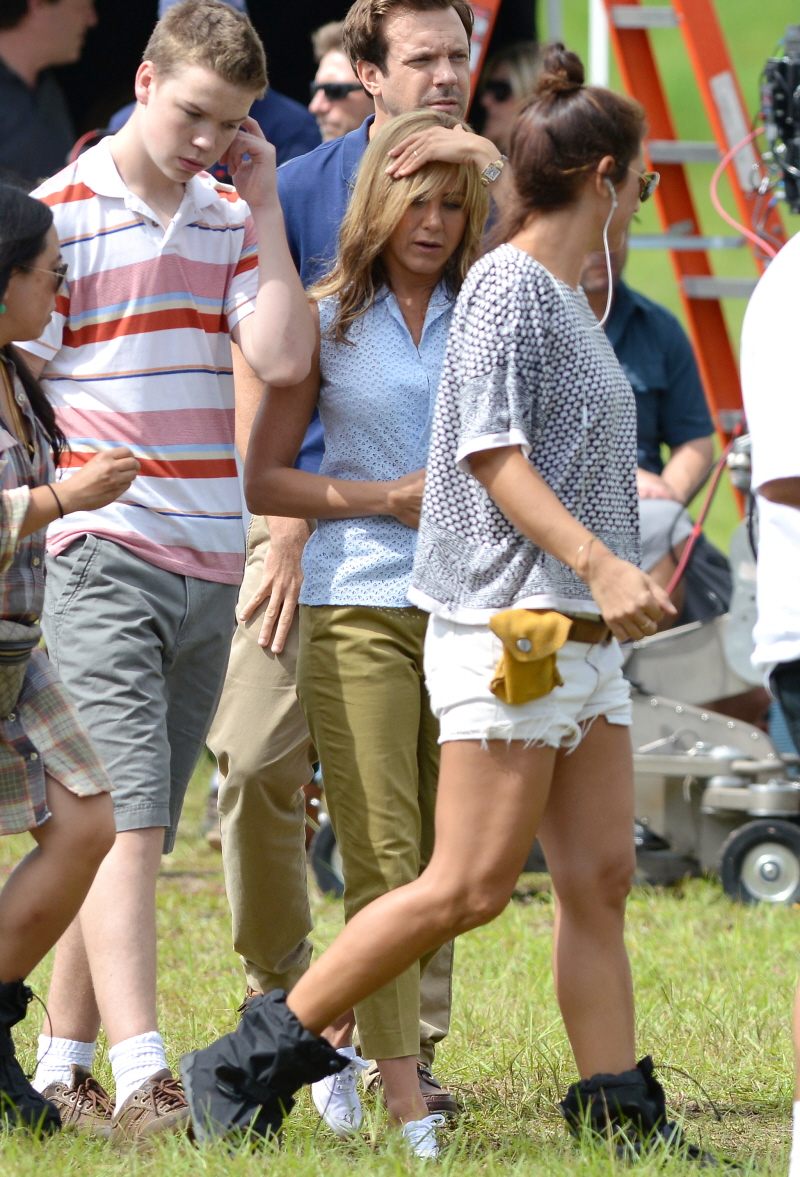 Photos courtesy of Fame/Flynet.